Wisin biography
Wisin. His birth name is Juan Luis Morera Luna (December 19, 1978) reggaeton singer. He was born in Cayey, Puerto Rico. The economic situation of his family was not easy, it was a poor family that had to work very hard to secure basic rights. After finishing school, Wisin began earning a living as a barber. As a teenager, he had some ability to sing rap and the famous and popular reggaeton. He was a friend of Yandel, with whom he would later create the dynamic duo, known as Wisin y Yandel.
The latter had studied theater and interpretation. Both had the same musical tastes and soon debuted recording some songs in compilation albums. Now, they collaborated on the album Sin Miedo 3, under the production of DJ Dicky; in 1997, in the compilation La Mision, Vol 1, edited by the label Fresh Production. The success of this compilation gave way for the singers to produce Los Reyes del Nuevo Milenio, Wisin y Yandel's first album. The fame of this duo was remarkable. Continue posting issue after issue and won important awards.
In 2002 they won the Tu Música Award for the best rap and reggaeton duo. But after the fame and boom of this duo, began to emerge rumors about their separation. In 2004, Wisin El sobreviviente appeared and Quien contra mi? de Yandel, first solo albums. The sales figures for both record jobs were remarkable. In 2005 Wisin y Yandel, as if to deny the rumors it was, presented Pa'l Mundo. It included songs that became famous immediately, and that quickly managed to be nominated for the Billboard Awards.
On the initiative of Wisin, the duo undertook a new project is the creation of their own record label, called WY Records, the first production was: Los Vaqueros and Los Vaqueros Wild Wild Mixes (remix of the previous one). In the year 2007 they were known as Los Extraterrestres because of the impact they generated in the world of reggaeton. Actually, the duo especially Wisin was considered one of the best reggaeton singers of the moment by Don Omar. From then on, they released successful productions such as The Reloaded Extraterrestrials, Another Dimension, and Wisin & Yandel: The Mastermind.
They continued publishing new topics in the successive editions of La Misión. For 2016 they launched From new to old, Otherwise, followed by My life … My Life, the three were golden records. Thanks to the fame of these singers a film was made starring the duo inspired by their lives. Her musical work was also recognized with the Tu Música prize for best rap and reggaeton duo, in 2002. Two years later, Wisin began to carry out solo projects. Some years passed and some records for Wisin's career to consolidate.
In 2007 they released the album Los Extraterrestres, with the participation of international artists such as Eve and Fat Joe. During the following years, they continued making important tours around the world, producing discs and albums, among other tasks typical of a star. On October 4, 2013, Wisin released his first single called Que viva la Vida, this was part of his second studio album. Later he released a remix version of the single with the Brazilian singer Michel Teló. Thanks to the great friendships of Wisin, he was able to perform several singles with important participation such as Puerto Rican Ricky Martin and singer Jennifer Lopez.
But the frequent collaboration in their singles was also causing criticism because their fans said they wanted to hear Wisin in its glory. In short, in the musical medium artists like Arcángel; one of the pioneers of the genre who commented that Wisin has not achieved success on his own and has had to be accompanied by renowned artists to advance. The separation with Yandel has hurt him, they said at the time. Other reggaeton singers wrote lyrics to him in a tone of mockery and criticism. He participated in important events such as the Antofagasta Festival, and then later in Argentina with Carlos Vives and Daddy Yankee.
Thanks to the single, Notas de Amor, he achieved first place on the Billboard Latin Airplay in the United States and entered Latin Music's Top Latin Songs / Crossover charts in Colombia and reached third place on the list. Wisin received four nominations at the Billboard Latin Music Awards. From then on she has had several interventions in recognized events, for example, she was with Anahí in the Premios Juventud. He was on the tour of Carlos Vives and they sang a duet in Bogotá filling the stadium of this city.
Actually, most of the tours in which Wisin has participated have been in the company of other artists. In September 2016, he launched Vacaciones, ranking first in the Billboard Latin Airplay. Escape with me was a great success of the year 2017 with Ozuna, I have more than 100 million views on YouTube. In November of 2017, she releases her third single called Move Your Body with Timbaland and Bad Bunny.
Apparently, Wisin was very satisfied with the results obtained from his productions in which important exponents of urban, pop and trap genres have collaborated. At the end of 2017 Wisin released his fourth studio album called Victory under the label Sony Music Latin. Wisin has been a man very dedicated to his family conformed by his wife Yomaira Ortiz Feliciano and his children Yelena Morera Ortiz, Dylan Morera Ortiz, Victoria Morera Ortiz. He is a very loving husband and father.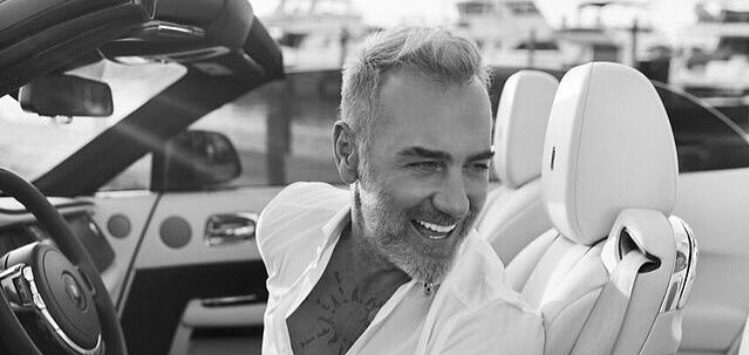 Gianluca Vacchi biography
Gianluca Vacchi (August 5, 1967) Born in Bologna, Italy. Italian businessman and artist, known for his eccentricity and the way he manages his money, throwing lavish and expensive parties. His lifestyle is frequently shared by the businessman through his social networks.
Vacchi is a man of more than 50 years who has attracted the attention of various people, not only for his eccentricity but also for his physical attractiveness. He currently has more than 15 million followers on instagram and since 2014 he has become popular with the hashtag #GVLifestyle.
There is only one life and you have to live it trying to enjoy everything you can.

Gianluca Vacchi
Family and studies
Gianluca Vacchi grew up in a wealthy family. From an early age he was interested in business. He studied economics and then began to be part of the family business. Later he founded the company IMA, a company dedicated to the creation of pharmaceuticals, cosmetics and others. Over time, Vacchi diversified his businesses, participating in different business projects. While doing this, he increased his capital, becoming a billionaire in a matter of a few years.
Change of lifestyle
After several years in the industry, Gianluca Vacchi left the family business in charge of his cousin and dedicated himself fully to enjoying his life, since at the age of forty he had not explored and enjoyed everything he achieved in those years. After thinking about the way he had lived until then, he decided to change his lifestyle. He started by working on his physique, improving his diet and exercising. He complemented this, with hours in the sauna and cryotherapy and shortly after the effort began to show.
At 47, he became known on social networks with a photo in which he was seen riding with the famous American actor Zac Efron.
Since then, he began to attract the attention of the public for his sensual dances, his eccentric and expensive parties. Likewise, through the networks he showed the large number of properties he owned: mansions, houses on the beach, yachts, motorcycles, cars and even a helicopter.
In 2016, the videos of Vacchi and his girlfriend at the time, Giorgia Gabriele, dancing to different Latin music songs, went viral. It was then that it became a trend. Many were interested in the lifestyle of the 49-year-old man, surrounded by beautiful women and with an exorbitant fortune. Since then, the daily life of the famous Italian has been shared by social networks. He is currently one of the most famous adult influencers on the platform.
The following year he ended his relationship with his girlfriend Gabriele, and a short time later he was seen with the beautiful Colombian model, Ariadna Gutiérrez. That same year he published his book Enjoy (2016), which, in Vacchi's words, is a conceptual biography. In this book, he talks about his experiences, gives advice and encourages people to enjoy life to the fullest.
During this period of his life, the Italian has been seen with famous Latin, American and European artists, which has increased his popularity. Among the artists with whom he has been associated are the singers: J. Balvin, Luis Fonsi, Sebastián Yatra, Ozuna, Daddy Yankee and Yandel, among others. In 2017, Vacchi was seized by Banco BPM. He later explained that this does not greatly affect his fortune and that it was all a disagreement with the bank.
Facet as DJ
In recent years, Gianluca Vacchi has dabbled in music as a DJ, working with great figures such as Steve Aoki, Nicola Zucchi, Christian Lena and Albertino, among others. He currently has a contract with the Spinnin 'Records label. His first song, entitled Viento, appeared under this label on August 13, 2017. This song currently has more than 27 million views on YouTube.
After Viento, Tump-it came out, a theme that quickly became a trend. In August he released the song Sigamos Bailando, his collaboration with Yandel and Luis Fonsi. Later he released the song Waglio, in collaboration with Alessio and in 2019, he released Asho mami and Mueve.
Vacchi has made several tours as a DJ and worked in clubs such as Amnesia Ibiza, Sutton Club and Sutton Barcelona, among others.
Gianluca news
Currently Vacchi, is romantically involved with the young model Sharon Fonseca. On May 10, 2020, during the celebration of Mother's Day, he announced via Instragram that he and his girlfriend were expecting their first child.
Birth of your child
On October 28, Gianluca and Sharon announced the birth of their daughter Blu Jerusalema Vacchi, true to their style, this announcement was made through their Instagram accounts.