Roberto Benigni Biography
Roberto Benigni (October 27, 1952) actor and film director. He was born in Misericordia, Arezzo, Italy. Thanks to the film Life is beautiful (1997), three Oscar winner of the Hollywood Academy won full recognition. He was part of the generation of Italian comedians of the early nineties, Benigni began his acting career in experimental theater and was inclined to the comic facet that he would take advantage of in his professional life.
His work on the screen as an actor began in 1970. He assumed roles in films such as Hot Beds (1979), by Luigi Zampa, or The moon (1979), directed by Bernardo Bertolucci, performed leading roles in films that did not transcend either locally or internationally, although their level was prominent. He was contacted by Federico Fellini and Jim Jarmusch to collaborate on The Voice of the Moon and Under the Weight of the Law (1986) and Night on Earth (1992), respectively.
By that time he was developing his skills as a director. In this sense, at the beginning of the eighties, he debuted with Tu mi turbi (1983), it soon forged some successes of Italian cinema such as Non ci resta che piangere (1984, co-directed with Massimo Troisi), Johnny Palillo (1991) and The monster (1995). His works were described as Tuscan humor, Benigni managed to create a comic, desacralizing and funambulesque prototype. He handled very carefully the body expression of the actors, also played with words to obtain surreal or grotesque comic effects.
As we mentioned earlier, Life is beautiful was the film production that earned him popularity and respect from the circle. The story is told in a small town in Italian Tuscany, where Guido (who wants to become a bookseller) and his friend, the poet Ferruccio, live worried about love and money, without realizing the increasingly threatening anti-Semitism that the government Fascist and his alliance with the Nazis are unleashing. It is a tape that easily moves the fibers of its spectators because it combines a historical event and a story that is born in the imagination of the Italian director.
The film is full of drama but at the same time a tender sense of humor; what at first seems like another story about the Jewish holocaust becomes a song of hope. The truth is that Life is beautiful, managed to be matched to the works of the master Charles Chaplin, especially: The great dictator (1940), for his diatribe against Nazism, and the kid (1920), for the delicacy with which he deals with the relationship with a child.
Then, the success of this last film produced a revaluation of his works, as well as an interest in his person. In June 1999, Ben Gurion University of Israel appointed him an honorary doctorate. He later participated in the French blockbuster Astérix and Obélix against César, in which he played the popular Astérix. As the director, Benigni has signed in recent years Pinocchio (2002), had no good comments in the United States, and the tiger and the snow (2006). His last performance was in A Roma with love. He has won the Oscar Awards, BAFTA Awards and Actors Guild Awards.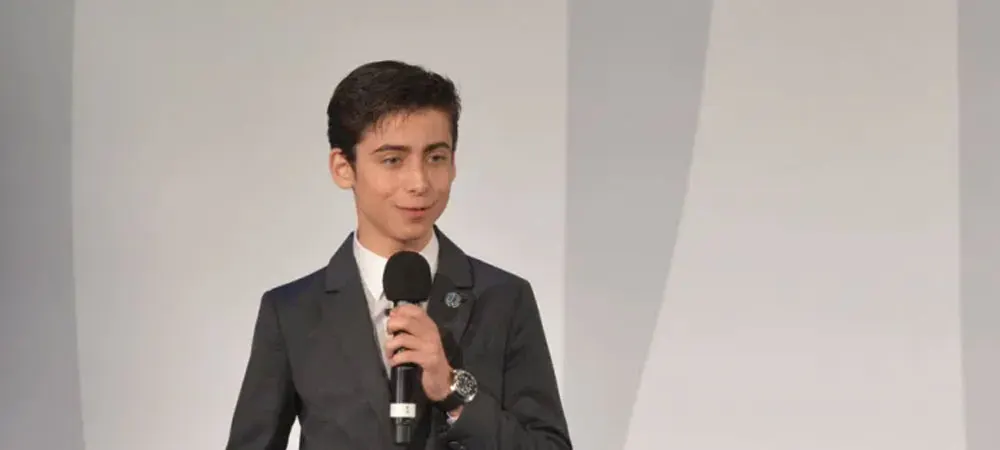 Biography of Aidan Gallagher
Aidan Gallagher (September 18, 2003) is an American actor, known for playing Nick Harper in the Nickelodeon series Nicky, Ricky, Dicky & Daw (2014-18). He was born in Los Angeles, United States. He began acting at nine years old and at ten he made his debut in You & Me (2013), by Paula Hunziker. He later worked in Jacked Up and We Make That Lemonade; and in 2014 he rose to fame as the protagonist of the popular children's series Nicky, Ricky, Dicky & Dawn. Since 2019 he has played Number Five in the Netflix series The Umbrella Academy.
Early life
Gallagher was born on September 18, 2003 in Los Angeles, United States, the son of television manager Rob Gallagher and Lauren Gallagher. From an early age he showed an interest in production and direction: at eight years old, Aidan would work with a group of friends recording stop motions with legos and some action short films. Later, with the support of his parents, Aidan began to make his way in acting. He participated in several of his father's projects and works.
In 2013, at just ten years old, Aidan made his television debut on Modern Family. That same year, he debuted in cinema with You & Me (2013), a short film by Paula Hunziker starring Tyler Blackburn and Molly Berg. In addition, he obtained his first leading role in the comedy telefilm Jacked Up (2013) by Fred Savage, alongside Missi Pyle and Patrick Warburton.
Career of Aidan Gallagher
One year after his debut on Modern Family, Aidan obtained the role that brought him fame in the Nickelodeon series Nicky, Ricky, Dicky & Daw (2014-18), as Nick, one of the quadruplets of the Harper family who usually has answers for everything. For his comic and tender scenes, the Harper quadruplets gained the audience's appreciation and the series was extended until 2018, bringing him numerous successes.
In the meantime, Gallagher would work on We Make That Lemonade (2014), by Ian Pfaff alongside Mace Coronel and Lizzy Greene; and in the Nickelodeon specials Ho Ho Holiday Special (2015) and Summer Camp Special (2017).
The Umbrella Academy (2019-2022)
In February 2019, Gallagher began acting in The Umbrella Academy, the Netflix series based on the homonymous work by Gerard Way (of My Chemical Romance), which stars Elliot Page (Vanya Hargreeves), David Castañeda (Diego Hargreeves), Robert Sheehan (Klaus Hargreeves), Tom Hopper (Luther Hargreeves) and Emmy Raver-Lampman (Allison Hargreeves). In the series, Gallagher plays Number Five, a superhero whose power is time-jumps and who returns to the past after discovering an apocalyptic future. The sarcastic humor of his character made him the favorite of fans.
After the success of the first season, the series was renewed for a second season that premiered on July 31, 2020. In November 2020, Netflix renewed the series for a third season with a premiere date of June 22, 2022.
Aidan Gallagher's musical career
With regard to his musical career, Aidan is a consummate singer, composer, guitarist and pianist. In 2019 he debuted with the singles "TIME," "FOR YOU" and "BLUE NEON". That same year, he participated in Trinity Rose's single Miss You and later released "I LOVE YOU". After his debut, Gallagher performed at the South by Southwest's Big Break Accelerator Program Showcase (2020), making him the youngest solo artist to perform at the festival.
In July 2020, he released a third single 4 of July.
Currently, Aidan has his own YouTube channel and a patreon for exclusive paid content.
Songs
Blue Neon (2019)
Miss You with Trinity Rose (2019)
Time (2019)
For You (2019)
I Love You (2020)
4 of July (2020)
Environmental activism
In June 2018, Aidan made history by becoming the youngest Ambassador of the United Nations. As such, Aidan has represented the youth of the world in several climate action initiatives. In 2019 he participated in the Global Climate Action Summit and was invited to the Illegal Wildlife Trade Summit by the UK Government.
Personal life of Aidan Gallagher
Gallagher has been involved in several environmental organizations, such as Waterkeeper Alliance, WildAid and Oceanic Preservation Society. In 2018 he was named United Nations Goodwill Ambassador for the Environment. Gallagher is vegan and Jewish.
Regarding his love life, in his adolescence Gallagher dated model Hannah McCloud for six months. He was also romantically linked to Jessica Balkin and Trinity Rose.
Curiosities
He was cataloged as #2 in the IMDB Top 10 Breakout Stars of 2020
In 2018, Variety magazine included him in its list of 25 and under leading actors.
He was nominated for two Kids Choice Awards for his role in Nicky, Ricky, Dicky & Daw (2014-18).
His Blue Neon Tour musical tour had to be postponed due to the Covid-19 pandemic.
For his music he has received an honorable mention in the International Songwriting Competition 2019 and the Vox Pop Independent Music Awards in the acoustic category 2020.