Personal information
Full name

Michael Jerome Williams, Jr.

Birthdate

May 28, 1986

Age
36 años
Occupation

Professional football player

Nationality

U.S

Height
6'4"
Parents

Leigh Anne and Sean Tuohy (adoptive parents)

Zodiac sign
Gemini
Michael Oher Biography
Michael Oher (May 28, 1986)is a professional American football player. He was born in Memphis, Tennessee, United States. His birth name is Michael Jerome Williams, Jr., his parents were Denise Oher, and his father, Michael Jerome Williams, both paid very little attention to him throughout their childhood because they had serious addiction problems to drugs and alcohol. Besides, his father was absent for several months due to being in prison. Hence, his school performance was low, he was expelled from several schools. Subsequently, he was placed in a foster home.
Early life
His father died in a prison. The only thing that kept Oher from this tragic situation was football. He was helped by Tony Henderson, who along with his family helped him get into Briarcrest Christian School. He was on the 2003 football team, was selected as the Division II Lineman of the Year, and as a starting member of the Tennessee All-State team. After finishing the season he was chosen as one of the best offensive linemen in the United States. In 2004, Leigh Anne and Sean Tuohy adopted him. His new family provided sports and academic support. Oher also excelled in other sports such as disco, basketball, and track and field. After Oher finished high school, he enrolled in an NCAA Division I college. He made it to 23rd in the first round of the draft.
Career
Big Mike is his nickname and he is known for his imposing figure of 315 lbs, but he is a kind and caring guy. Therefore, his adoptive home decided to support him in his dream. Michael Oher became 'All America' and has built a great present in the NFL. In 2008, he signed a contract with the Baltimore Ravens for 5 years and $ 13.8 million.
He started as a right tackle, but then did it as a left tackle for 8 weeks while replacing teammate Jared Gaither. Subsequently, thanks to a good quality of play, the Ravens selected 23rd Oher in the first round of the 2009 NFL Draft. On April 26 of that year, he returned to have the jersey number 74. He had significant participation in the victory against the New England Patriots and did not allow a single sack to his quarterback, so the Ravens won 33- 14. He earned the NFL offensive rookie of the year award from the Associated Press.
On February 3, 2013, he achieved the championship ring by defeating the San Francisco 49ers in Super Bowl XLVII. The following year he signed a 4-year, $ 19.9 million contract with the Tennessee Titans. But, he did not fulfill all the time that he had agreed with the Titans and went on to play for the Carolina Panthers. Oher signed a two-year, $ 7 million deal a month after breaking up with the Tennessee Titans.
At one point, his health was affected by severe headaches that caused problems in his sports performance.
The Blind Side
His story has been so inspiring that a film about his life titled The Blind Side, starring the talented actress Sandra Bullock, was released, a role that earned her an Academy Award. The athlete did not like the film because it does not tell the story of his life as he was, although it left him significant earnings for it raised $ 309 million.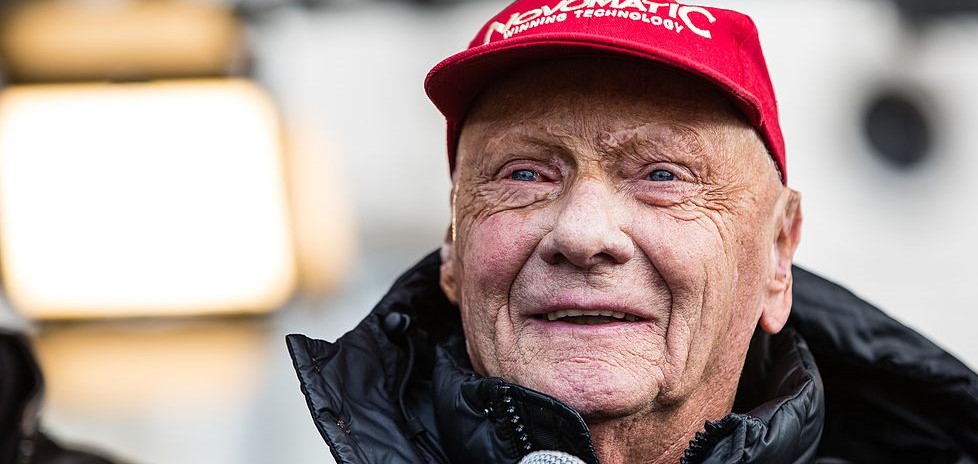 Niki Lauda Biography
Nikolaus Andreas Lauda (February 22, 1949- May 20, 2019) He was born in Vienna, Austria. Austrian motorsport driver, famous for having been Formula 1 world champion on three occasions (1975, 1977 and 1984), with the Ferrari and McLaren teams. He started as a pilot at the end of the 1960s and shortly thereafter made his debut as a Formula 3 racer (1970). He started in Formula 1 under the shield of March in 1971 and four years later got his first big win as a Ferrari racer. Having achieved his first two titles in the seventies, Lauda left Ferrari to join the McLaren team, with which he won his last title in 1984. Known for his precision and great talent, Lauda left the tracks in 1985. Since then he concentrated completely on his role as an entrepreneur while owning the airline Nikki.
FAMILY AND BEGINNINGS
Born into a wealthy family, Lauda had Elisabeth and Ernst-Peter Lauda as parents. He received a careful education oriented to the business world. However, he decided to abandon this path to devote himself completely to the world of automobile competitions at the end of the 1960s, contrary to the will of his parents, who hoped that Lauda was a man of business. He began to participate in car races in 1968 and two years entered the world of Formula 3 (1970). Demonstrating his great talent and dexterity, Lauda became a Formula 2 racer in just one year. In 1971, he made his debut as a Formula 1 racer under the team of March Engineering, a team created in the late sixties by Alan Rees Graham Coaker, Robin Herd, and Max Mosley.
CAREER AS A DRIVER
After his debut with the team March in 1971, Lauda was known in the circuits of that year and 1972 for his skill and accuracy on the tracks. However, did not get any title. In 1973, he joined the official team of BRM, a team where he remained for a short time, since, in 1974, he was hired by Ferrari, thanks to the good references that also gave the pilot Clay Regazzoni, to the team in which he worked at that time. Starting his adventure with Ferrari, Lauda managed to make his first triumphs on the tracks, getting that same year the Awards of Spain and Holland. His expertise at the wheel, allowed him to make his way to the world and get his first title of world champion in Formula 1 in 1975.
After the successful 1975 season, Lauda managed to excel in the season towards the 1976 title, winning in four of the six races, however, his path was hampered when he suffered a major accident at the German Grand Prix. In this competition, the runner lost control of the car in a curve, which caused the car to crash with the protection fence and caught fire a few seconds later in the middle of the track. After the explosion, another car collided with this causing the sinister out of proportion, shortly after this, Lauda managed to leave with some injuries on his face and limbs. He was in recovery for a month and a half and returned to the tracks months before the competitions were over.
After coming back into the competitions, Lauda obtained several triumphs that took to him to stand out in the general classification, nevertheless, lost the title before James Hunt by a point. The singular duel of these two competitors during the season of '96 became the source of inspiration for Ron Howard's film, Rush (2013). In 1977, Lauda won his second Formula 1 title, winning the Grand Prix of Germany, South Africa, and the Netherlands. Having deteriorated his relationship with the Ferrari team since 1976, Lauda decided to leave the team to join the Brabham-Alfa Romeo team in 1978. He remained in this with a less competitive vehicle until 1979, year in which, tired of the bad results, he decided to get away from the tracks to devote himself completely to his first project as an entrepreneur, the newly created airline Lauda Air (1979 -2000). After being away from the tracks for two years, Lauda returned in 1982 as a member of the official McLaren team.
Two years after joining McLaren, Lauda got his last title of champion by facing his teammate, Alain Prost. After announcing his definitive retirement in 1985, Lauda dedicated himself completely to his business as an entrepreneur, being then the owner of the low-cost airline Niki, which he had consolidated thanks to the alliance he had with Air Berlin. Although he did not return to the tracks, Lauda stayed tied to the Formula 1 until his death, he worked as a commentator and even got to be hired as a counselor of Ferrari, a company with which he worked for several years.
As an adviser of the team, Lauda impulse the signing of Michael Schumacher, a pilot that would give numerous titles to the team in the course of the first years of the new millennium. Beginning in the 2000s, he worked for Jaguar and a few years later joined the commentary team of RTL (2010). During his last years of life, he was the technical advisor and partner of Mercedes. This outstanding Austrian pilot and businessman, died on May 20, 2019, in Vienna, Austria, after suffering several health complications, linked to his advanced age.