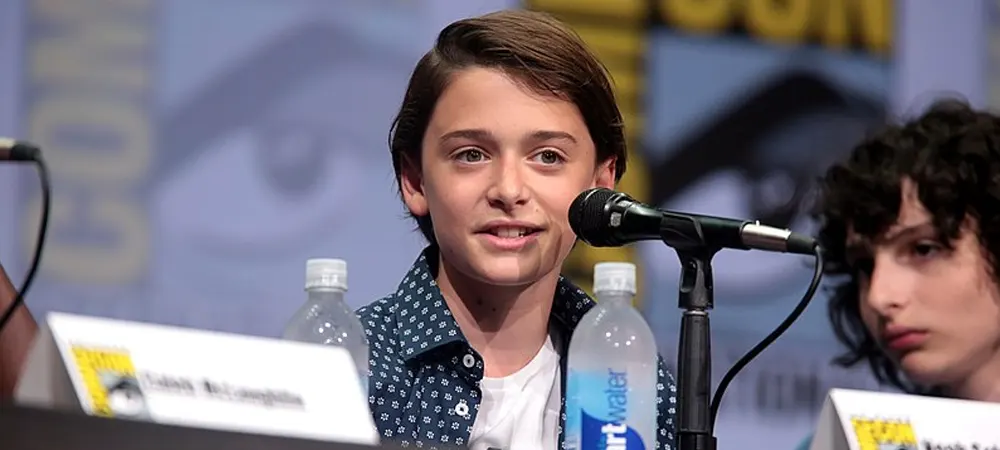 Personal information
Full name

Noah Cameron Schnapp

Birthdate

October 3, 2004

Age
18 years old
Occupation

Actor

Nationality

American

Zodiac sign
Libra
Biography of Noah Schnapp
Noah Schnapp (born October 3rd, 2004) is an American actor, best known for playing Will Byers on the critically acclaimed Netflix series, Stranger Things. He started acting at the young age of six, and made his big screen debut in the 2015 Oscar-winning film, Bridge of Spies. He also lent his voice to the character of Charlie Brown in the same year in the movie Snoopy & Charlie Brown: Peanuts, The Movie. In 2016, he became a household name when he landed the role of Will Byers on Stranger Things and he continued to work in films like We Only Know So Much, The Circle, and Abe.
Family and Early Beginnings
Noah Schnapp is the son of Karine and Mitchell Schnapp, and has twin sister named Chloe. His parents are from Montreal, with American ancestry. He showed interest in arts and performing from an early age, being part of several school productions and community theater shows. He likes to write and act his own creations with the help of his twin Chloe.
In 2015, at just 11 years old, he made his first acting debut in Steven Spielberg film, Bridge of Spies, as Roger Donovan and shared credit with Tom Hanks and Amy Ryan. The movie which revolves around the release of a political prisoner during the Cold War, was a major hit, winning several awards such as Academy Award for Best Supporting Actor, David di Donatello for Best Foreign Film, and Satellite Award for Best Art Direction and Production Design.
The same year, he lent his voice to the animated character Charlie Brown in the film Snoopy & Charlie Brown: Peanuts, The Movie and also for the video game, The Peanuts Movie: Snoopy's Grand Adventure, both were an new adaptation of Charles Schulz's classic series, directed by Steve Martino.
Acting trajectory of Noah Schnapp
A year after his debut, Schnapp hit the spotlight with his role as Will Byers in the hit Netflix series Stranger Things. The show was premiered in July 2016, it tells the story of a group of teenagers whose lives are affected by the mysterious disappearance of Will Byers. As the story unfolds, it becomes more complicated and each teenager must face the strange and spooky events happening in the fictional town of Hawkins.
The show was a massive hit with the audience and critics alike, winning multiple awards such as SAG for Outstanding Performance by an Ensemble in a Drama Series, Nickelodeon Kids' Choice Award for Favorite TV Show and MTV Movie & TV Awards for Best Show. Noah also got an MTV award for Best Scared-As-S*** Performance for his role as Will Byers on the show.
In the series, Schnapp shares the lead role with Finn Wolfhard, Millie Bobby Brown, Gaten Matarazzo, Sadie Sink and Caleb McLaughlin. Other notable cast members include Winona Ryder, David Harbour, Natalia Dyer, Cara Buono, and Joe Keery.
In addition to his work on Netflix, Schnapp has also appeared in the music video for Panic! At the Disco's "LA Devotee." In 2018, he appeared in the films We Only Know So Much, The Circle and Legend of Hallowaiian. In 2019 he starred in Abe, a film directed by Fernando Grostein Andrade, with co-starring Dagmara Domińczyk, Alexander Hodge, Devin Henry and Teddy Coluca. He also appears in the upcoming film Waiting for Anya, where he will be acting along Anjelica Huston and Jean Reno.
Noah Schnapp identifies as gay
On January 5, 2023, through a video shared on TikTok with all his followers, Noah publicly revealed his identity as a gay person. He also shared that he had come to realize that he had more similarities with the character he plays on "Stranger Things," Will Byers, than he had previously imagined. In the video, he also spoke about how his loved ones, such as his family and friends, received the news, mentioning that many of them said "we already knew."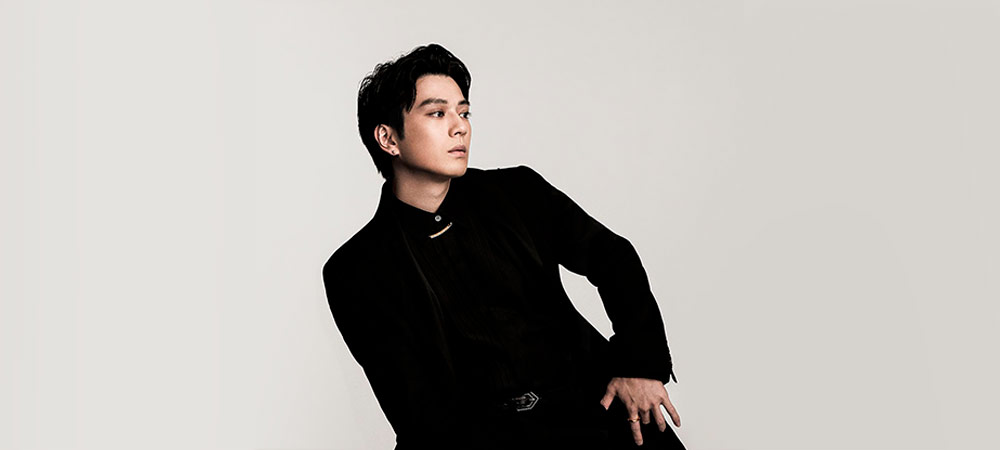 Arata Mackenyu Biography
Mackenyu Maeda (前田 真剣佑), also known artistically as Arata Mackenyu or simply Mackenyu (November 16, 1996), is an actor from Los Angeles, California, United States. He is renowned for his outstanding portrayal of Roronoa Zoro in the live-action adaptation of "One Piece".
Early years
Mackenyu Maeda, better known as Arata Mackenyu or simply Mackenyu, is an actor of Japanese descent who grew up in Los Angeles, United States. He is the son of the renowned martial artist and actor, Sonny Chiba, and Tamami Chiba. In addition, he has an older half-sister named Juri Manase and a younger brother named Gordon Maeda.
Mackenyu comes from a prominent family with a deep-rooted tradition in the world of acting. This passion for performing has been passed down from generation to generation, from his own father to his uncle Jiro Chiba, and even to his two siblings. Despite being born in the United States, Mackenyu holds Japanese nationality, a choice that involves renouncing his second nationality due to legal restrictions and cultural considerations in Japan. This commitment to his cultural heritage and his desire to reside in Japan led him to make this decision.
At Beverly Hills High School, where he successfully completed his studies and graduated.
Beginnings
In his adolescence, Mackenyu discovered his passion for acting after being inspired by Haruma Miura, with whom he would later share the lead role in "Brave: Gunjō Senki", sadly, shortly before the actor's tragic passing. Prior to this, he had been involved in projects alongside his father and other renowned performers, such as "Oyaji" and "Buzz (So-On: The Five Oyaji)".
In the year 2014, Mackenyu achieved his first leading role in a film called "Take a Chance". Additionally, he dazzled in a poignant short film portraying the life of a Japanese family affected by the aftermath of World War II, titled "Tadaima". This short film received the prestigious award for Best Narrative Short at the Asian American Film Festival in Philadelphia.
Career
His fame began to take off in 2015 when he secured the role of Eiji Tomari in "Kamen Rider Drive: Surprise Future". Just a year later, he joined the cast of the movie "Chihayafuru: Kami no Ku" ("Chihayafuru Part 1"), an adaptation of the manga "Chihayafuru", in which he portrayed Arata Wataya, a passionate karuta competitor. Subsequently, he was once again called upon to embody this iconic character in "Chihayafuru: Shimo no Ku" ("Chihayafuru Part 2").
In early 2016, Mackenyu took a significant step in his career by making his debut in the world of theater, participating in the Japanese musical "Boys Over Flowers" ("Hana Yori Dango: The Musical").
Mackenyu has experienced continuous growth in his acting career. Starting with his portrayal of Kazuya "Toji" Tojigamori in "Peach Girl", he continued to excel in the world of entertainment. In 2018, he starred in the series "Todome no Kiss" ("Kiss that Kills") as Takauji Namiki. Shortly thereafter, he reprised his iconic role as Arata Wataya in the movie "Chihayafuru: Musubi" ("Chihayafuru Part 3").
During the same period, he showcased his versatility by joining the supporting cast of "Pacific Rim: Uprising" as Ryoichi, a cadet and pilot of the jaeger Saber Athena.
Mackenyu had a successful year on the big screen in 2020. In January, he was part of the main cast in the film "Kaiji: The Final Game" as Minato Hirose. By the end of January, he took on the role of Aki Miyata in "Our 30 Minute Sessions".
A year later, in a new production, Mackenyu took on the lead role in the film "Brave: Gunjō Senki", where he portrayed Aoi Nishino, a student and member of the school archery club.
In 2021, Mackenyu made the decision to part ways with Top Coat and temporarily suspended all his activities in Japan, aiming to expand his career internationally. One of his early prominent roles in this new chapter of his acting career was that of Pegasus Seiya in the live-action adaptation of "Knights of the Zodiac", which hit the screen in May 2023. Furthermore, in 2022, we saw him in the role of Scar in "Fullmetal Alchemist: Revenge of Scar".
Furthermore, on August 31, 2023, the American audience marked the thrilling premiere of the live-action adaptation based on the popular manga and anime "One Piece". In this standout production, Arata Mackenyu took on a starring role, portraying Roronoa Zoro, a swordsman. He shared the set with Iñaki Godoy, Emily Rudd, Taz Skylar, Peter Gadiot, Morgan Davies, Jeff Ward, Jacob Gibson, among others.
Personal life
Since 2014, Mackenyu has made Tokyo, Japan, his home. In this city that has stolen his heart, he sealed his love by marrying Natsumi Okamoto. Currently, the couple is expecting their first child together.
Mackenyu is also a father to a child born when he was young. Speculation has arisen that the conception of his daughter may be related to a traumatic incident he experienced at the age of fourteen, involving a family friend. To date, Arata Mackenyu has chosen not to publicly address this matter, which has been handled with discretion and discussed very little.
Controversies and Accusations Involving Mackenyu
The Japanese actor is embroiled in multiple controversies in his home country, where several individuals, including a journalist, have publicly leveled accusations of rape and attempted murder against him. Regarding allegations of sexual abuse, three women have shared their experiences anonymously, detailing that Mackenyu would intoxicate them, stalk them, and at times, confine them, sometimes in the company of others. Additionally, there have been suggestions of more individuals making allegations, though these have not been publicly disclosed. As of now, the actor has not issued any comments on the matter.
Facts about Arata Mackenyu
He is a fan of anime, with one of his favorites being "Hunter x Hunter".
He changed his artistic name after portraying Arata Wataya.
He is fluent in English.
He resides in Tokyo.
Over the years, he has been part of live-action adaptations of famous anime series like Fullmetal Alchemist, Saint Seiya, Peach Girl, Tokyo Ghoul, Chihayafuru, and Rurouni Kenshin.
He had to pierce his ears for his role as Roronoa Mackenyu.
He learned to play the piano at the age of eleven.
Sadly, his father Sonny Chiba passed away due to complications from Covid-19.
He practices martial arts.
His father portrayed Hattori in Quentin Tarantino's film "Kill Bill Vol. 2".
He was a member of a musical band during his school years.
Filmography
Arata Mackenyu's Acting Roles:
Film
"Oyaji" (2007).
"Buzz (So-On: The Five Oyaji)" (2014).
"Tadaima" (2015).
"Kamen Rider Drive: Surprise Future" (2015).
"Take a Chance" (2015).
"Chihayafuru Parte 1" (2016).
"Chihayafuru Parte 2" (2016).
"Night's Tightrope" (2016).
"Bittersweet" (2016).
"Let's Go, Jets!" (2017).
"JoJo's Bizarre Adventure: Diamond Is Unbreakable Chapter I" (2017).
"Peach Girl" (2017).
"Pacific Rim: Uprising" (2018).
"Chihayafuru Parte 3" (2018).
"Over Drive" (2018).
"Impossibility Defense" (2018).
"Code Blue: The Movie" (2018).
"12 Suicidal Teens" (2019).
"Tokyo Ghoul S" (2019).
"NiNoKuni" (2019).
"Kaiji: Final Game" (2020).
"Our 30-Minute Sessions" (2020).
"Tonkatsu DJ Agetarō" (2020).
"Brave: Gunjō Senki" (2021).
"The Master Plan" (2021).
"Rurouni Kenshin: The Final" (2021).
"Fullmetal Alchemist: The Revenge of Scar" (2022).
"Fullmetal Alchemist: The Final Alchemy" (2022).
"Knights of the Zodiac" (2023).
TV
"Yume wo Ataeru" (2015).
"Sakurasaku" (2016).
"Tomorrow, I'll Surely Love You Again" (2016).
"Brass Dreams" (2016).
"Fugitive Boys" (2017).
"Kiss that Kills" (2018).
"Two Homelands" (2019).
"Our Dearest Sakura" (2019).
"Remote de Korosareru" (2020).
"The End of the Tiny World: Half A Year Later" (2021).
"Ichikei's Crow: The Criminal Court Judges" (2021).
"One Piece" (2023).