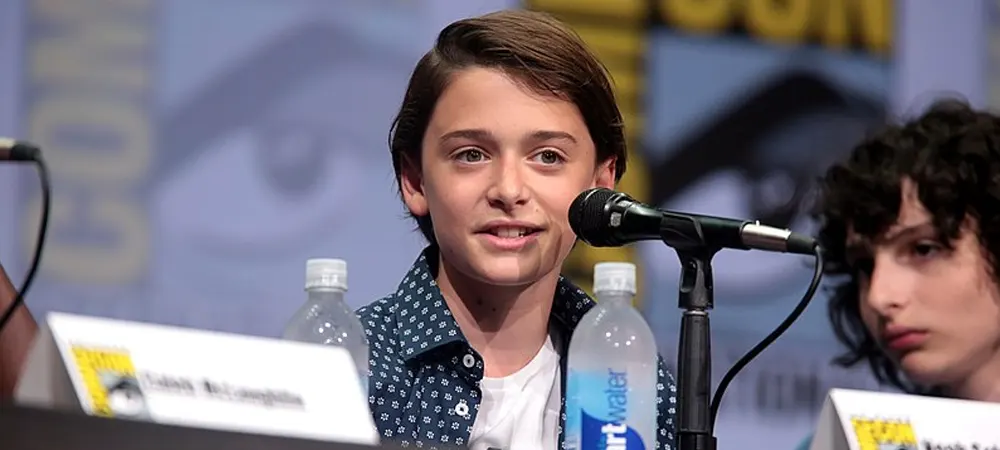 Personal information
Full name

Noah Cameron Schnapp

Birthdate

October 3, 2004

Age
18 years old
Occupation

Actor

Nationality

American

Zodiac sign
Libra
Biography of Noah Schnapp
Noah Schnapp (born October 3rd, 2004) is an American actor, best known for playing Will Byers on the critically acclaimed Netflix series, Stranger Things. He started acting at the young age of six, and made his big screen debut in the 2015 Oscar-winning film, Bridge of Spies. He also lent his voice to the character of Charlie Brown in the same year in the movie Snoopy & Charlie Brown: Peanuts, The Movie. In 2016, he became a household name when he landed the role of Will Byers on Stranger Things and he continued to work in films like We Only Know So Much, The Circle, and Abe.
Family and Early Beginnings
Noah Schnapp is the son of Karine and Mitchell Schnapp, and has twin sister named Chloe. His parents are from Montreal, with American ancestry. He showed interest in arts and performing from an early age, being part of several school productions and community theater shows. He likes to write and act his own creations with the help of his twin Chloe.
In 2015, at just 11 years old, he made his first acting debut in Steven Spielberg film, Bridge of Spies, as Roger Donovan and shared credit with Tom Hanks and Amy Ryan. The movie which revolves around the release of a political prisoner during the Cold War, was a major hit, winning several awards such as Academy Award for Best Supporting Actor, David di Donatello for Best Foreign Film, and Satellite Award for Best Art Direction and Production Design.
The same year, he lent his voice to the animated character Charlie Brown in the film Snoopy & Charlie Brown: Peanuts, The Movie and also for the video game, The Peanuts Movie: Snoopy's Grand Adventure, both were an new adaptation of Charles Schulz's classic series, directed by Steve Martino.
Acting trajectory of Noah Schnapp
A year after his debut, Schnapp hit the spotlight with his role as Will Byers in the hit Netflix series Stranger Things. The show was premiered in July 2016, it tells the story of a group of teenagers whose lives are affected by the mysterious disappearance of Will Byers. As the story unfolds, it becomes more complicated and each teenager must face the strange and spooky events happening in the fictional town of Hawkins.
The show was a massive hit with the audience and critics alike, winning multiple awards such as SAG for Outstanding Performance by an Ensemble in a Drama Series, Nickelodeon Kids' Choice Award for Favorite TV Show and MTV Movie & TV Awards for Best Show. Noah also got an MTV award for Best Scared-As-S*** Performance for his role as Will Byers on the show.
In the series, Schnapp shares the lead role with Finn Wolfhard, Millie Bobby Brown, Gaten Matarazzo, Sadie Sink and Caleb McLaughlin. Other notable cast members include Winona Ryder, David Harbour, Natalia Dyer, Cara Buono, and Joe Keery.
In addition to his work on Netflix, Schnapp has also appeared in the music video for Panic! At the Disco's "LA Devotee." In 2018, he appeared in the films We Only Know So Much, The Circle and Legend of Hallowaiian. In 2019 he starred in Abe, a film directed by Fernando Grostein Andrade, with co-starring Dagmara Domińczyk, Alexander Hodge, Devin Henry and Teddy Coluca. He also appears in the upcoming film Waiting for Anya, where he will be acting along Anjelica Huston and Jean Reno.
Noah Schnapp identifies as gay
On January 5, 2023, through a video shared on TikTok with all his followers, Noah publicly revealed his identity as a gay person. He also shared that he had come to realize that he had more similarities with the character he plays on "Stranger Things," Will Byers, than he had previously imagined. In the video, he also spoke about how his loved ones, such as his family and friends, received the news, mentioning that many of them said "we already knew."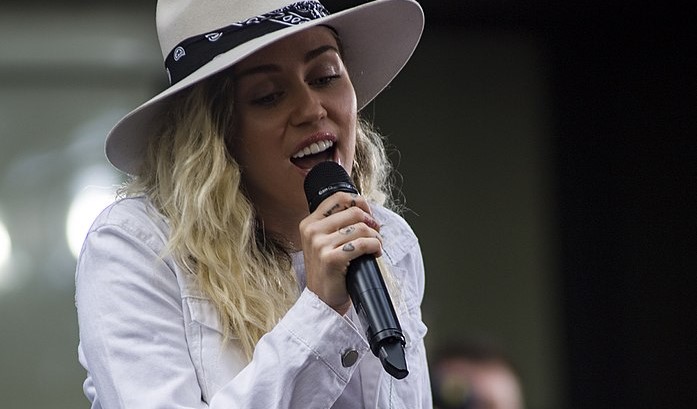 Biography of Miley Cyrus
Miley Ray Cyrus (born November 23, 1992) is an American actress, singer, and model. She was born in Franklin, Tennessee. Cyrus began acting at a young age on shows such as Doc (2001-03) and in 2006 she became a worldwide sensation for her portrayal of the teenage singer Hannah Montana on the Disney Channel series of the same name. Thanks to the success of the series, Cyrus quickly established herself as a singer, debuting in 2008 with Hannah Montana 2: Meet Miley Cyrus. In the following years, she solidified her status as one of the new stars of the pop scene with hit songs such as "7 Things," "Party In The U.S.A.," "When I Look at You," and "Wrecking Ball," among others.
Family and Early Life
Miley is the daughter of renowned country music singer-songwriter Billy Ray Cyrus and Leticia Finley. She has two brothers, Noah and Braison, and three half-siblings, Trace and Brandi, from her mother, and Cody from her father. Her birth name was Destiny Hope Cyrus, but over time she adopted the nickname Miley and later officially changed her name to Miley Ray Cyrus, with "Ray" being a tribute to her grandfather, Ronald Ray Cyrus (who passed away in 2006).
She grew up on a farm in Tennessee and showed an interest in music and the arts from a young age. She attended Heritage High School and later studied acting at the Armstrong Acting Studio in Toronto, Canada. She made her debut on the series Doc (2001-03) playing the role of young Kylie. Her father also starred in the show as the lead character, Dr. Clint Cassidy.
Career of Miley Cyrus
Two years after her television debut, Miley made her big-screen debut playing Ruthie in Tim Burton's film Big Fish (2003). A few years later, she rose to fame playing the pop star Hannah Montana in the Disney Channel series Hannah Montana (2006-11). The show revolved around a young singer who maintains a double life with the support of her family; on one hand she is the dazzling pop star Hannah Montana, and on the other, she is just a teenager who wants to have an ordinary life with her friends.
The series featured performances from Jason Earles, Emily Osment, Mitchel Musso, Moisés Arias and her father, Billy Ray Cyrus. It also had guest appearances from Nick Jonas, Taylor Swift, Selena Gomez, and Dolly Parton (who is Miley's godmother), among others. After its release, the series became a huge ratings success, running for five years and comprising four seasons, two movies, and several tours across the US. The success of the series led to Miley becoming a teenage icon, and she soon appeared in numerous films and other Disney series.
Miley Cyrus appeared in a special episode of Zack & Cody alongside Cole and Dylan Sprouse, had a small role in The Emperor's New School between 2007 and 2008, and later appeared in Wizards of Waverly Place with Selena Gomez. In 2009, she starred in Hannah Montana: The Movie alongside Lucas Till and a year later played Ronnie Miller in the dramatic film The Last Song (2010).
Later, she worked with Douglas Booth in LOL (2012) and appeared in Two and a Half Men, playing the outgoing character Misi. That same year, she had the lead role in So Undercover (2012) as an FBI agent infiltrating a university sorority. In 2015, she lent her voice to a character in Stone Quackers and a year later starred in the series Crisis in Six Scenes (2016) alongside Woody Allen and Elaine May. Recently, she had a small role in the series Black Mirror (2019).
Musical career
After becoming famous as Hannah Montana, Miley made her debut as a singer with Hannah Montana 2: Meet Miley Cyrus in 2008. The album, which marks the end of Hannah's career, contains the most popular songs from the series and some previously unreleased tracks with Miley's personal stamp. That same year she released Breakout, a twelve-song album that included the hits See You Again and 7 Things.
She then released the successful EP The Time of Our Lives (2009), which reached the top of the music charts and entered the Billboard 200. The EP included big hits like Party in the U.S.A. and When I Look at You. One year later, she returned with Can't Be Tamed, a thirteen-song album that managed to position itself in the top 10 in 15 countries. The album featured the singles Who Owns My Heart and Can't Be Tamed, with the latter debuting at number 8 on the Billboard Hot 100.
Three years later, she released the successful Bangerz album of thirteen songs that featured collaborations with Big Sean, French Montana, and Britney Spears on songs like Love Money Party, FU and SMS (Bangerz). This album included the popular song Wrecking Ball, whose video caused a stir and controversy. In 2015, she released the online download album Miley Cyrus & Her Dead Petz, which included songs like Dooo It! and BB Talk and collaborations like Tangerine with Big Sean and Tiger Dreams with Ariel Pink.
Two years later, she released Younger Now (2017), a work that featured production by Oren Yoel. Most of the songs were written by the singer and refer to her reconciliation with her ex-partner Liam Hemsworth. The album included songs like Week Without You, Inspired, and Malibu. The latter was presented at the Billboard Awards with a colorful performance.
In May of 2019, she surprised her fans with the release of She Is Coming, a six-song EP that included the singles D.R.E.A.M. and Mother's Daughter, a song that became a trend after the release of its music video.
Personal life of Miley Cyrus
The singer was in a relationship with Nick Jonas, Thomas Sturges, and Justin Gaston. In 2009, she began dating actor Liam Hemsworth, with whom she had an on-and-off relationship until their wedding in December 2018. The couple's marriage lasted for a short time, as they announced their divorce through social media after eight months of being together. According to media reports, the reasons for the separation include infidelity and drug use, but this has not been confirmed by the artists.
Recently, a series of pictures surfaced showing the singer kissing Kaitlynn Carter during her vacation in Europe. It seems that the singer and the model have been dating for two months, during the time the singer has been separated from her ex-husband.