Personal information
Full name

Finn Wolfhard

Birthdate

December 23, 2002

Age
20 years old
Occupation

Actor and musician

Nationality

Canadian

Band
Calpurnia
Parents

Eric Wolfhard
Mary Jolivet

Genders
Indie rock
Zodiac sign
Capricorn
Biography of Finn Wolfhard
Finn Wolfhard (born December 23, 2002) is a Canadian actor and musician known for his role as Mike Wheeler on the Netflix original series, Stranger Things, and for his role as Richie Tozier in the 2017 film It. Wolfhard was born in Vancouver, British Columbia, to a French Canadian family, with his father being an investigator of indigenous land claims.
Early Career
His career began when he was discovered while acting in a Craigslist commercial. With the support of his parents, he auditioned for The 100, getting the role of Zoran and receiving positive reviews for his performance. He then portrayed Jordie Pinsky on Supernatural before joining the cast of Stranger Things in 2016. The cast of the series won a SAG award for Best Performance by an Ensemble in a Drama Series.
Wolfhard also had a significant role in the cinematic adaptation of Stephen King's novel It, playing the character of Richie Tozier, released in September 2017. Despite his young age, he has already acted in prominent roles and has been praised by critics, with a promising career ahead. The director of It, Andy Muschietti, ordered the actor to audition again for his role in the film due to changes in the direction.
Wolfhard was selected to lend his voice to the Netflix animated series "Carmen Sandiego," where he brought to life Player, the main accomplice and friend of the main character. The series consists of twenty episodes and will premiere in 2019. In addition, in September 2017 it was announced that he would play the role of Tyler, a selfless and considerate pizza delivery man, in the film directed by Ken Marino, "Dog Days". He was also selected to participate in the adaptation of Henry James' novel "The Turn of the Screw" titled "The Turning". This year he has been chosen to play the role of young Boris Pavlikovsky, a Ukrainian student in "The Goldfinch", directed by John Crowley and adapted from the Pulitzer Prize-winning novel by Donna Tartt.
Finn Wolfhard's musical talent
Finn Wolfhard not only stands out for his talent in the acting world, but also for his ability in music. He is the lead vocalist and guitarist for the Vancouver-based alternative band Calpurnia. The group is also composed of Malcolm Craig, Ayla Tesler-Mabe and Jack Anderson. Calpurnia landed a record contract with independent label Royal Mountain Records in November of the last year and released their debut album "Scout" in 2018. The band had previously gained popularity by performing covers of famous bands such as Nirvana and The Beatles.
Stranger Things, a Success in Finn Wolfhard's life
On the other hand, his role in the Netflix series "Stranger Things" has brought him great success in his career. The series was nominated for the Golden Globes in 2016 and 2017 for Best Television Series-Drama and won the SAG award for Best Performance by an Ensemble in a Drama Series. Furthermore, it was also nominated for 18 Emmy categories in 2017 and 2018. His role in the movie "It" was also a great box office success, becoming one of the most successful horror films of all time.
Other Productions
Finn has also participated in other films such as "The Turning" and "Aftermath" and in independent productions like "The Resurrection".
He later appeared on The 100 and Supernatural. Finn is a very intelligent young man and he likes to carry out philanthropic works. Therefore, he has used his platform to create and promote a fundraising event for Sweet Relief, an organization that helps musicians in need. This non-profit organization was founded in 1993 by Victoria Williams.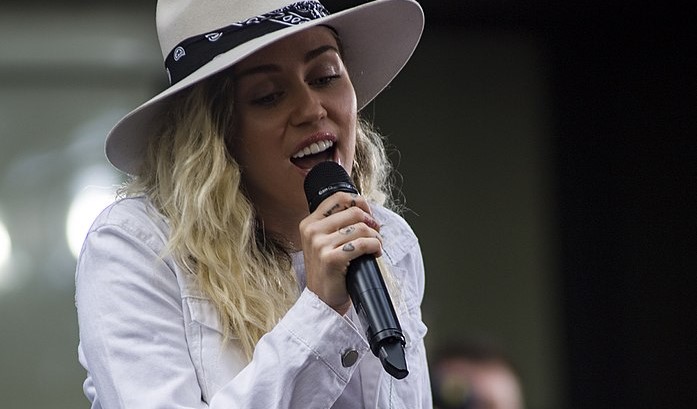 Biography of Miley Cyrus
Miley Ray Cyrus (born November 23, 1992) is an American actress, singer, and model. She was born in Franklin, Tennessee. Cyrus began acting at a young age on shows such as Doc (2001-03) and in 2006 she became a worldwide sensation for her portrayal of the teenage singer Hannah Montana on the Disney Channel series of the same name. Thanks to the success of the series, Cyrus quickly established herself as a singer, debuting in 2008 with Hannah Montana 2: Meet Miley Cyrus. In the following years, she solidified her status as one of the new stars of the pop scene with hit songs such as "7 Things," "Party In The U.S.A.," "When I Look at You," and "Wrecking Ball," among others.
Family and Early Life
Miley is the daughter of renowned country music singer-songwriter Billy Ray Cyrus and Leticia Finley. She has two brothers, Noah and Braison, and three half-siblings, Trace and Brandi, from her mother, and Cody from her father. Her birth name was Destiny Hope Cyrus, but over time she adopted the nickname Miley and later officially changed her name to Miley Ray Cyrus, with "Ray" being a tribute to her grandfather, Ronald Ray Cyrus (who passed away in 2006).
She grew up on a farm in Tennessee and showed an interest in music and the arts from a young age. She attended Heritage High School and later studied acting at the Armstrong Acting Studio in Toronto, Canada. She made her debut on the series Doc (2001-03) playing the role of young Kylie. Her father also starred in the show as the lead character, Dr. Clint Cassidy.
Career of Miley Cyrus
Two years after her television debut, Miley made her big-screen debut playing Ruthie in Tim Burton's film Big Fish (2003). A few years later, she rose to fame playing the pop star Hannah Montana in the Disney Channel series Hannah Montana (2006-11). The show revolved around a young singer who maintains a double life with the support of her family; on one hand she is the dazzling pop star Hannah Montana, and on the other, she is just a teenager who wants to have an ordinary life with her friends.
The series featured performances from Jason Earles, Emily Osment, Mitchel Musso, Moisés Arias and her father, Billy Ray Cyrus. It also had guest appearances from Nick Jonas, Taylor Swift, Selena Gomez, and Dolly Parton (who is Miley's godmother), among others. After its release, the series became a huge ratings success, running for five years and comprising four seasons, two movies, and several tours across the US. The success of the series led to Miley becoming a teenage icon, and she soon appeared in numerous films and other Disney series.
Miley Cyrus appeared in a special episode of Zack & Cody alongside Cole and Dylan Sprouse, had a small role in The Emperor's New School between 2007 and 2008, and later appeared in Wizards of Waverly Place with Selena Gomez. In 2009, she starred in Hannah Montana: The Movie alongside Lucas Till and a year later played Ronnie Miller in the dramatic film The Last Song (2010).
Later, she worked with Douglas Booth in LOL (2012) and appeared in Two and a Half Men, playing the outgoing character Misi. That same year, she had the lead role in So Undercover (2012) as an FBI agent infiltrating a university sorority. In 2015, she lent her voice to a character in Stone Quackers and a year later starred in the series Crisis in Six Scenes (2016) alongside Woody Allen and Elaine May. Recently, she had a small role in the series Black Mirror (2019).
Musical career
After becoming famous as Hannah Montana, Miley made her debut as a singer with Hannah Montana 2: Meet Miley Cyrus in 2008. The album, which marks the end of Hannah's career, contains the most popular songs from the series and some previously unreleased tracks with Miley's personal stamp. That same year she released Breakout, a twelve-song album that included the hits See You Again and 7 Things.
She then released the successful EP The Time of Our Lives (2009), which reached the top of the music charts and entered the Billboard 200. The EP included big hits like Party in the U.S.A. and When I Look at You. One year later, she returned with Can't Be Tamed, a thirteen-song album that managed to position itself in the top 10 in 15 countries. The album featured the singles Who Owns My Heart and Can't Be Tamed, with the latter debuting at number 8 on the Billboard Hot 100.
Three years later, she released the successful Bangerz album of thirteen songs that featured collaborations with Big Sean, French Montana, and Britney Spears on songs like Love Money Party, FU and SMS (Bangerz). This album included the popular song Wrecking Ball, whose video caused a stir and controversy. In 2015, she released the online download album Miley Cyrus & Her Dead Petz, which included songs like Dooo It! and BB Talk and collaborations like Tangerine with Big Sean and Tiger Dreams with Ariel Pink.
Two years later, she released Younger Now (2017), a work that featured production by Oren Yoel. Most of the songs were written by the singer and refer to her reconciliation with her ex-partner Liam Hemsworth. The album included songs like Week Without You, Inspired, and Malibu. The latter was presented at the Billboard Awards with a colorful performance.
In May of 2019, she surprised her fans with the release of She Is Coming, a six-song EP that included the singles D.R.E.A.M. and Mother's Daughter, a song that became a trend after the release of its music video.
Personal life of Miley Cyrus
The singer was in a relationship with Nick Jonas, Thomas Sturges, and Justin Gaston. In 2009, she began dating actor Liam Hemsworth, with whom she had an on-and-off relationship until their wedding in December 2018. The couple's marriage lasted for a short time, as they announced their divorce through social media after eight months of being together. According to media reports, the reasons for the separation include infidelity and drug use, but this has not been confirmed by the artists.
Recently, a series of pictures surfaced showing the singer kissing Kaitlynn Carter during her vacation in Europe. It seems that the singer and the model have been dating for two months, during the time the singer has been separated from her ex-husband.