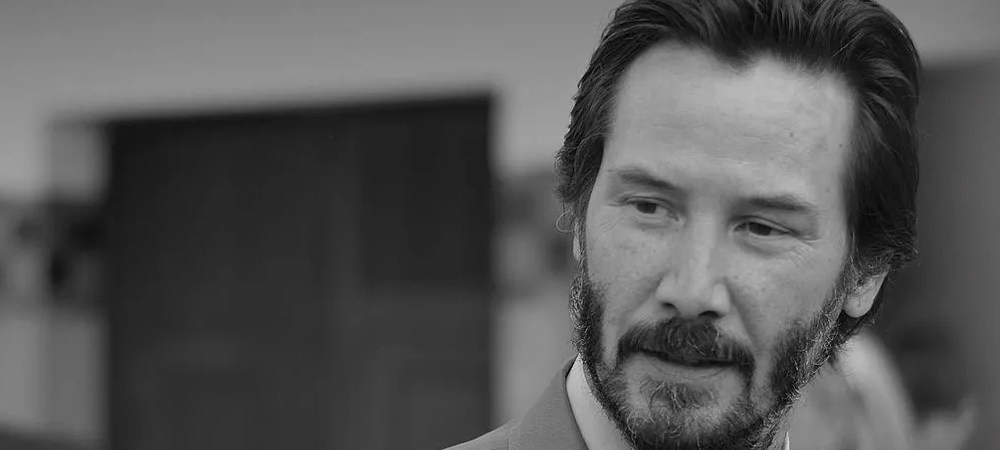 Personal information
Full name

Keanu Charles Reeves

Birthdate

September 2, 1964

Age
57 años
Occupation

Actor and director

Nationality

U.S

Couple

Alexandra Grant

Height
6 feet 1¼ inches (186 cm)
Parents

Patricia Taylor and Samuel Nowlin Reeves

Zodiac sign
Virgo
Keanu Reeves Biography
Keanu Charles Reeves (September 2, 1964) Born in Beirut, Lebanon. Lebanese-born American actor and director. Known for his performances in The Matrix (1999-2003) and John Wick (2014). He studied at Toronto's High School For The Performing Arts and was part of The Second City theater company.
He began on television with the series Going Great (1982) and Hangin 'In (1984) and made his film debut with Robert Fortier's One Step Away (1985). In 1986, he made his Hollywood debut in the film Youngblood and in 1991 he rose to fame with My Private Idaho, a drama in which he worked with James Russo. This was followed by major productions such as The Matrix (1999-2003), Maximum Speed ​​(1994), Constantine (2005), The Lake House (2006), John Wick (2014), and The Dark Side of Desire (2015). Reeves is currently considered one of the most versatile actors on the big screen.
Early life
Keanu is the son of British designer Patricia Taylor and Hawaiian geologist Samuel Nowlin Reeves. Despite being born in Lebanon, Reeves grew up in Canada and the United States. His father left the family when he was only two years old; soon after his parents' divorce, he lived with different father figures such as theater director Paul Aaron and manager Robert Miller. Back then, Reeves and his mother were constantly shifting from one location to another between the United States and Canada.
As a child, he played hockey and participated in plays. Interested primarily in the performing arts, he studied acting at the prestigious Toronto's High School For The Performing Arts and soon after joined The Second City theater company. With this, he gained experience, participating in numerous theatrical productions. Already in the 80s, he would take his first steps in the world of television, appearing in series such as Going Great (1982), Hangin 'In (1984), Night Heat (1985) and Comedy Factory (1985). That same year, he made his Canadian film debut with One Step Away (1985), by Robert Fortier, a drama in which he starred with Diana Belshaw and Kathleen Fee.
Career
Determined to reach a new level in his career, he moved to Los Angeles, where shortly thereafter he shot his first Hollywood film Youngblood (1986). Peter Markle's drama in which he shared credits with Rob Lowe and Patrick Swayze. That same year, he was seen in the telefilms Act of Vengeance, The Brotherhood of Justice and Under the Influence. He also worked on Disneyland and Flying, a drama in which he shared credits with Olivia d 'Abo. By the end of the 80s, he would begin to gain recognition playing important roles such as Chevalier Danceny in Dangerous Relationships (1988) and Ted Logan in Bill and Ted (1989).
Having gained recognition in the 1980s, Reeves managed to establish himself on the Hollywood scene with the films Love you to death (1990) by Lawrence Kasdan and Pointbreak (1991) by Kathryn Bigelow. That same year he rose to fame playing the role of Scott Favor in My Private Idaho (1991), a Gus Van Sant drama in which he shared the scene with James Russo and his friend River Phoenix. Over this decade he would work on numerous commercial successes such as Bram Stoker's Dracula (1992), by Francis Ford Coppola, and Jan de Bont's Maximum Speed ​​(1994), sharing the latter role with Sandra Bullock.
The Matrix success

At the end of the 90s, he would play Neo in Matrix (1999), a science fiction film that marked a before and after in the young actor's career since, from that moment, Reeves became one of the most sought-after actors on the Hollywood scene.
After replaying Neo in The Matrix Reloaded (2003) and The Matrix Revolutions (2003), Reeves starred in Constantine (2005), a Francis Lawrence action thriller that was inspired by the DC comic Hellblazer and featured performances by Rachel Weisz, Tilda Swinton, and Pruitt Taylor Vince. Later, he worked with Sandra Bullock in The Lake House (2006) and with Winona Ryder in A scanner darkly (2006). He was seen often in Street Kings(2008) and The Day that Earth Stood Still (2008), a remake of the Robert Wise film.
In 2013, he starred in the fantasy film about Ako's loyal ronins, 47 Ronin, and directed his first feature film Man of Tai Chi.
John Wick saga
A year later, he first played hitman John Wick in the saga of the same name. Currently, this saga has three installments: John Wick (2014), John Wick: Pacto De Sangre (2017) and John Wick – Chapter 3: Parabellum (2019).
Keanu Reeves also acted in The Neon Demon (2016), Siberia (2018), and the series Swedish Dicks (2016-18). He is currently recording Bill & Ted Face the Music, John Wick: Chapter 4 and Past Midnight.
Personal life
After almost two decades of singleness, Revees made public his relationship with visual artist Alexandra Grant on November 6, 2019, at the LACMA Art + Film Gala to which he was accompanied by the artist. It is worth mentioning that Reeves had a difficult time in 1999, the year in which his then-girlfriend Jennifer Syme gave birth to his daughter, Ava, who was born dead. The pain caused by the loss led to Syme and Reeves parting ways, despite their love for each other. Two years later, Syme died in a traffic accident, a fact that deeply affected the actor; since then no partner has been known to him.
Rami Malek Biography
Rami Malek (May 12, 1981) is an actor. He was born in Los Angeles, California, United States. His parents are of Egyptian origin. But they moved to the North American country to get better job opportunities. His father was a tour guide in Cairo and later in the United States worked as an insurance salesman. His mother was an accountant. His parents managed to give him and his siblings a good education, including his twin brother.
Early years
Rami Malek attended Notre Dame High School in Sherman Oaks, California, culminating in 1999. At the time, he entered theater classes with actress Kirsten Dunst. He graduated from the University of Evansville with a BA in Fine Arts in 2003. By 2004, Malek embarked on the difficult path to being a professional actor. So, he applied to be part of the series Gilmore Girls, appearing as a guest star. That same year he was a character dubber for the video game Halo 2. The following year, he earned his Screen Actors Guild card for his performance in the war drama Over There, where he appeared in two episodes. He later was in an episode of Medium and starred for two seasons on the series The War at Home.
Career
He made his big-screen debut with the production Night at the Museum (2006), playing the pharaoh Ahkmenrah.To the surprise of many, he did not reprise his role in the sequels: Night at the Museum: Battle of the Smithsonian (2009) and Night at the Museum: Secret of the Tomb (2014). He played Jamie in Keith Bunin's play The Credeaux Canvas at the Elephant Theater in Los Angeles. In 2010, Malek returned to television with the role of the terrorist Marcos Al-Zacar in the eighth season of the series 24. At that time, his work was highly applauded, critics praised him for his portrayal of Corporal Merriell "Snafu" Shelton on the 8 Emmys winning series, The Pacific. He has been highly sought after for difficult-to-play roles, such as misfits and intelligent characters with quirky and psychotic outlines.
Tom Hanks, after seeing his talent, asked him to participate in his movie Larry Crowne released in 2011. Later, we saw him in The Twilight Saga: Breaking Dawn – Part 2 giving life to the Egyptian vampire Benjamin. His Egyptian origin has been an important element because it has given him many opportunities in the world of cinema.
What awards has Rami Malek won?
He has been nominated for an Emmy Award, a Golden Globe Award, a Satellite Award, a Screen Actors Guild Award, two Dorians Awards, and won a Television Critics Award. For his starring role as Elliot Alderson in the acclaimed Mr. Robot series. He is an actor who has a successful path and has earned the love and admiration of the Hollywood world. He was part of the cast of Josh Washington, from the PlayStation 4 horror video game Until Dawn, to which he lent his voice and facial features. The video game was released on August 25, 2015.
He has had other supporting roles in film and television, such as Kenny in the Fox series The War at Home (2005-07), and Merriel "Snafu" Shelton in the HBO series The Pacific (2010). In short, he has appeared in the films Larry Crowne (2011), The Master (2012), The Twilight Saga: Breaking Dawn – Part 2 (2012), Short Term 12 (2012), Ain't Them Bodies Saints (2013) Need for Speed ​​(2014) and Buster's Mal Heart (2016).
Bohemian Rhapsody (2018)
Recently, the actor with Egyptian roots just finished filming as the protagonist in the biopic Bohemian Rhapsody (2018), where he plays the musician Freddie Mercury. This film will arrive in Colombia in November in the main cine venues. In the United States, it will be released on November 2nd. As for post-production, a trailer came out in May. The film was originally directed by Bryan Singer, but after various attitudinal problems, he was fired and replaced by English director and actor Dexter Fletcher. Within the cast, we can find important actors, for example, Ben Hardy, Joseph Mazzello, Allen Leech, and Lucy Boynton.
Malek's work is of great importance in the film because he must give life to one of the most recognized and important singers in the world. The actor must interpret it very well, such is the case that he had to make a dental prosthesis to resemble the character. Freddie Mercury had an overbite problem, which he never wanted to intervene for fear that his vocal register would change.
He won the Golden Globe for Best Actor, the Screen Actors Guild Award for Outstanding Performance in a Leading Role, the BAFTA Award for Best Actor and the Academy Award for Best Actor for his performance in Bohemian Rhapsody.
Malek starred in Mr. Robot from 2015 to 2019.