Personal information
Full name

Bradley Charles Cooper

Birthdate

January 5, 1975

Age
48 years old
Occupation

Actor

Nationality

U.S

Height
6ft ½ (184.2 cm)
Parents

Charles Cooper and Gloria Campano

Zodiac sign
Capricorn
Bradley Cooper Biography
His full name is Bradley Charles Cooper, he was born in Philadelphia, Pennsylvania, the United States on January 5th, 1975. He is an actor and former model. He is of Irish and Italian ascendance. His mother is Gloria Campano, who worked for the local NBC. His father was Charles Cooper (died January 15, 2011), who served as a stockbroker for Merrill Lynch. He has an older sister named Holly and was raised based on the Catholic religion.
Cooper completed his secondary studies in 1997 at the Germantown Academy (Fort Washington, Pennsylvania). Nicknames "Coop" and "Brad" studied English Language and Literature at Georgetown University and studied acting at the Actors Studio Drama School at New School University in New York after previously attending the Germantown Academy in Fort Washington, Pennsylvania. While studying, he worked at the Philadelphia Daily News and also served as a doorman at the Morgans Hotel.
His debut on the small screen was with the hit series "Sex and the city" (1999), then he obtained numerous roles in other television series, before achieving fame playing Will Tippin in "Alias", a television series created by JJ Abrams in which he shared the limelight with Jennifer Garner. Other television series, among the many he has been in, are: "The Street", "Touching Evil", "Jack and Bobby", "Kitchen Confidential" and "Nip / Tuck". As for his appearance on the big screen, he debuted with the feature film "Wet Hot American Sumer" (2001). Later, he could be seen in other films of the comedy genre: "Wedding Crashers" (2005), "Failure to launch" (2006), "The Rocker" (2008), and "He is not just that into you" (2009).
Among his works, movies such as: "The hangover" (2009), where he gave life to Phil Wenneck, who travels with some friends to the so-called Sin City to participate in a bachelor party. Two years later he repeated the character in "The Hangover 2, Now in Thailand! " (2011) and later in "The Hangover part 3 "(2013). In the comedy "He is not just that into you" (2009) was Ben, husband of the character played by Jennifer Connelly and lover of the character of Scarlett Johansson, while that same year, in "All About Steve" (2009) he played Steve, a cameraman who falls in love with the character of Sandra Bullock.
Later, in "The A-Team" (2010) he was in charge of bringing Templeton Peck to life on the big screen, in "Limitless" (2011) he played a writer who consumed an experimental drug that increased his creativity and in another comedy: "Silver lining playbook" (2012) was a co-star of Jennifer Lawrence, who two years later became his wife in a marriage drama set at the time of the Great Depression: "Serena" (2014). That same year, he became the protagonist of "The Sniper" (2014) by the great Clint Eastwood. A year later, he returned to make a collaboration with Jennifer Lawrence in "Joy" (2015) playing a telesales expert and participated in "Game Of Arms" (2016). In addition to all this, he has also participated in western-type films such as "The last cowboy" and has worked with several great actors such as Matthew McConaughey in the movie "Failure to lunch" and with Jennifer Aniston, Ben Affleck, and Drew Barrymore in "He's Not Just That Into You ".
Regarding his personal life, Bradley Cooper married actress Jennifer Esposito in 2006. A year after the wedding, the couple decided to divorce. Later, he was romantically involved with actresses Renée Zellweger and Zoe Saldana, and also with model Suki Waterhouse. Currently, he is in a relationship with model Irina Shayk, with whom he had a son in 2017. His work on "Silver Linings Playbook" led to his first Oscar nomination in the Best Actor category, and he was nominated again, in the next two years, for his roles in Hustle (2013) and the drama biographical American Sniper (2014).
As a fun fact, it is known that Cooper's favorite actor is Daniel Day-Lewis, who can speak French fluently, who off-screen, is a great lover of animals, who has two dogs that he rescued from the street named: Samson and Charlotte, and also, who loves to cook. He is currently immersed in a new adaptation of "A Star Is Born", in which he is the director, and which will also star, along with the renowned singer and actress: Lady Gaga, also in charge of composing the soundtrack. It is intended that the premiere of the film will take place on September 26, 2018.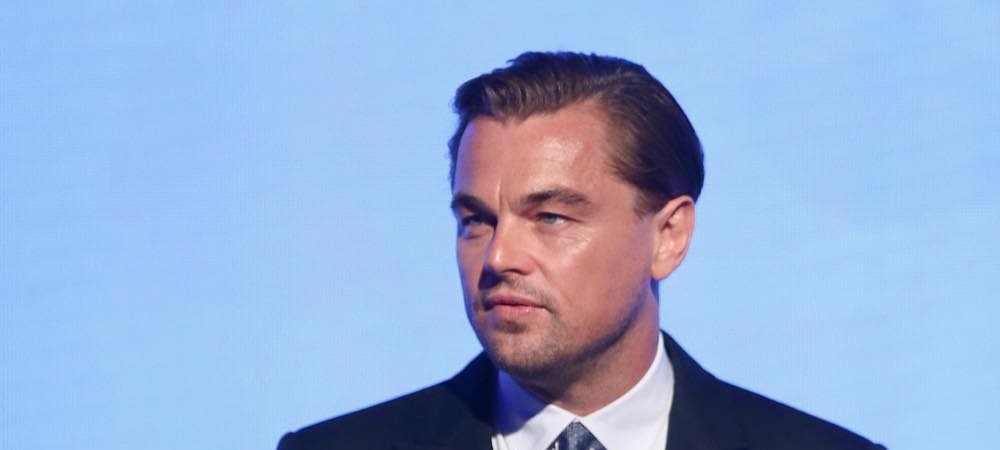 Biography of Leonardo DiCaprio
Leonardo Wilhelm DiCaprio is a renowned actor and film producer who has won numerous awards within the film industry. He was born on November 11, 1974, in Hollywood, Los Angeles, California, United States.
DiCaprio is an only child of Irmelin Indenbirken, a secretary born in Germany, and George DiCaprio, an underground comic artist and producer/distributor of comics. On his father's side, he has half-Italian (from Naples) and half-German (from Bavaria) ancestry. On the other hand, on his mother's side, his grandfather Wilhelm Indenbirken was German and his grandmother Helene Indenbirken was a German citizen born in Russia under the name Yelena Smirnova.
He was named Leonardo because, while his pregnant mother was looking closely at a painting by the great artist Leonardo da Vinci in a museum, DiCaprio gave a strong kick inside her belly. His parents divorced when he was only one year old, and they shared custody of Leonardo until 1997.
Studies, beginnings in acting.
As for his education, he did not attend university and only took basic courses at John Marshall High School in Los Angeles. His career in the world of image and acting began when he followed his older stepbrother, Adam Farrar, in television advertising, starring in a commercial for the Matchbox car brand at the age of fourteen and subsequently participating in educational films. At the age of five, he was also part of the children's television series "Romper Room", but had to leave it as it was detrimental to him.
"1990 – 1991: Debut in television and cinema"
In 1990, he made his true television debut when he was cast to be a part of the "Parenthood" ensemble, a series based on the film of the same name. He then landed minor roles in several series, including "The New Lassie" and "Roseanne," as well as a brief part in "Santa Barbara." His work in "Parenthood" and "Santa Barbara" earned him a nomination for the Young Artist Award for Best Young Actor. His big screen debut came in 1991 with the science fiction and horror movie "Critters." Later on, he became a recurring member of the cast of the ABC sitcom "Growing Pains," playing Luke Brower. However, DiCaprio didn't achieve success in the film industry until 1992, when he was selected by Robert De Niro from among 400 young actors for the lead role in "This Boy's Life," which also starred Ellen Barkin and De Niro himself.
1993 – 1996
Later, in 1993, DiCaprio played the mentally disabled younger brother of Johnny Depp in "What's Eating Gilbert Grape." The film's director, Lasse Hallström, admitted that he initially sought a less attractive actor, but he decided on DiCaprio because he had become "the most observant actor" among all who auditioned. The film was a great financial and critical success, resulting in Leonardo being highly praised for his performance, which led to him being awarded the National Board of Review for Best Supporting Actor and nominated for an Academy Award and a Golden Globe. Subsequently, he had roles in films such as "The Quick and the Dead" (1995) and was one of the leads in "Romeo + Juliet" (1996).
But his big break came with director James Cameron, who offered him the lead male role in Titanic (1997), a movie that not only won a considerable number of Academy Awards but also became a social phenomenon. Afterwards, DiCaprio gained greater acceptance in the cinematic world, so he was part of numerous films such as:
The Man in the Iron Mask (1998)
The Beach (2000)
Catch Me If You Can (2002)
The Aviator (2004)
The Assassination of Richard Nixon (2004)
Blood Diamond (2006)
Gardener of Eden (2007)
Body of Lies (2008)
Orphan (2009, as producer)
Shutter Island (2010)
Inception (2010)
Django Unchained (2012)
The Great Gatsby (2013)
Runner Runner (2013)
The Wolf of Wall Street (2013)
The Revenant (2015)
The Audition (2015).
Curiosities
Interestingly, he was nominated for an Oscar five times: Best Supporting Actor for What's Eating Gilbert Grape, Best Actor for The Aviator, Blood Diamond and The Wolf of Wall Street. This generated a lot of jokes and talk of a supposed "curse" in Hollywood. But in 2015, he finally won the award thanks to his great performance in "The Revenant".
It should also be noted that DiCaprio is a committed environmentalist who has received praise from environmental groups for choosing to fly on commercial flights instead of private planes like most celebrities, and for driving an electric hybrid vehicle and having solar panels in his home.