O. J. Simpson biography
O. J. Simpson (July 9, 1947) actor and football player. His original name is Orenthal James Simpson. He was born in San Francisco, California. His mother worked in a hospital, Eunice, and Jimmy Lee Simpson, his father, was a cook. As a child, he endured a strong condition in his legs due to rickets, he had to use devices to be able to walk until he was five years old. His parents separated in 1952 and he was left in charge of his mother.
The lags of his illness did not prevent him from playing football. At the University of Southern California, he played, his speed as a running back made him be chosen as an All-American player. A year later, he won the Heisman Trophy for best university player and a year later he made his professional debut in the Buffalo Bills of the National Football League. With Buffalo, he catapulted as the best NFL rusher in the 1972 season. In 1973 he won the record for being the first player to advance more than 2,000 yards in a season; in 1975 he broke the record of touchdowns in a season, reached 1,800 yards in advance.
O.J. Simpson felt that he had already achieved great goals in football, so he retired in 1979. He went on to dedicate himself to the sports speech. And subsequently, he entered the world of acting. Also, it was in many advertising propaganda, due to his fame. In 1985 he was elected to the Pro Football Hall of Fame. Simpson developed a successful triumphant career as an actor, participated in several productions, such as: mini-television series, the film Roots; dramatic films such as, The Cassandra Bridge, The Klansman, Capricorn One, The Colossus in Flames, and in comic films, Back to the Beach and the trilogy Grab it as you can. His capital was such that in 1979, he founded his own film company, Orenthal Productions.
On the other hand, his charisma and kindness opened the doors to him in this world, O. J. Simpson won many contracts for commercial firms for his personality more than for his expertise. For example, he was a spokesperson for the car rental company Hertz and Pioneer Chicken, as well as Honeybaked Hams, the Corporation pX. Then, he advertised a line of drinks from Napa Naturals and came out in commercial ads for Dingo Cowboy Boots. Apart from his acting career, Simpson was a commentator for Monday Night Football and The NFL on NBC. His popularity led him to host an episode of Saturday Night Live.
He married Marguerite L. Whitley. They had three children: Arnelle (1968), Jason (1970), and Aaren Lashone (1977). His marriage was really devastating. Five months after the separation, her daughter Aaren drowned in the family pool at the tender age of one year. He started dating Nicole Brown, a waitress at the nightclub La Margarita. By 1985 they were already married. The couple had two children, Sydney Brooke (1985) and Justin Ryan (1988). His wife filed for divorce on February 25, 1992.
O.J. Simpson was arrested a few days after his ex-wife and a friend of hers was murdered, on the night of Sunday, June 12, 1994, police found the bodies of Nicole Brown and Ronald Goldman in the apartment in the Brentwood neighborhood of Los Angeles, home of Nicole. The victims were stabbed and slit; the two 9 and 6-year-old sons of Brown and Simpson slept inside. Four days after the murders and after having interrogated Simpson thoroughly, Los Angeles police told Simpson's lawyers that they were going to bring charges against his client, following the agreement that he would turn himself in on the morning of the 17th. June.
But O.J never arrived, Simpson's lawyer, Robert Shapiro, told the agents that his client had disappeared at noon and that the last time he had been noticed was in the company of his friend and former teammate Al Cowlings. Then, O. J. Simpson had become a fugitive, the police sought the help of the public to find him. Robert Shapiro also appeared before the media, exhorted his client to surrender for the sake of their children.
The former sportsman had left a letter in which he denied being involved in the murder and expressed suicidal intentions. On the afternoon of June 17, 1994, millions of people in the United States watched live through multiple television broadcasts how the police pursued a Los Angeles interstate highway, a white Ford Bronco. In it, the former American football star was traveling with his friend Al Cowlings. This persecution would be the preamble of the mediatic trial for the murder that Simpson was subjected to for nine months and in which he would be acquitted.
Two decades later, the retransmission of the ephemeral flight of the former NFL league player is considered an inspiration for many reality shows that flooded US television in the years that followed. But the Problems with the law did not stop, in September 2007, he was arrested in Las Vegas, Nevada, accused of numerous crimes, including armed robbery and kidnapping. In 2008, he could not escape the tragic fate he had already avoided, was convicted and sentenced to 33 years in prison.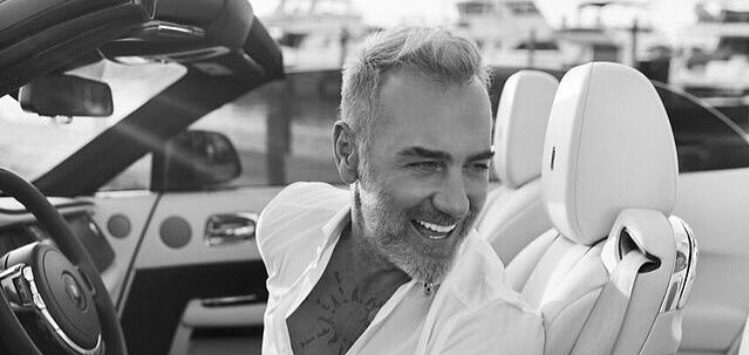 Gianluca Vacchi biography
Gianluca Vacchi (August 5, 1967) Born in Bologna, Italy. Italian businessman and artist, known for his eccentricity and the way he manages his money, throwing lavish and expensive parties. His lifestyle is frequently shared by the businessman through his social networks.
Vacchi is a man of more than 50 years who has attracted the attention of various people, not only for his eccentricity but also for his physical attractiveness. He currently has more than 15 million followers on instagram and since 2014 he has become popular with the hashtag #GVLifestyle.
There is only one life and you have to live it trying to enjoy everything you can.

Gianluca Vacchi
Family and studies
Gianluca Vacchi grew up in a wealthy family. From an early age he was interested in business. He studied economics and then began to be part of the family business. Later he founded the company IMA, a company dedicated to the creation of pharmaceuticals, cosmetics and others. Over time, Vacchi diversified his businesses, participating in different business projects. While doing this, he increased his capital, becoming a billionaire in a matter of a few years.
Change of lifestyle
After several years in the industry, Gianluca Vacchi left the family business in charge of his cousin and dedicated himself fully to enjoying his life, since at the age of forty he had not explored and enjoyed everything he achieved in those years. After thinking about the way he had lived until then, he decided to change his lifestyle. He started by working on his physique, improving his diet and exercising. He complemented this, with hours in the sauna and cryotherapy and shortly after the effort began to show.
At 47, he became known on social networks with a photo in which he was seen riding with the famous American actor Zac Efron.
Since then, he began to attract the attention of the public for his sensual dances, his eccentric and expensive parties. Likewise, through the networks he showed the large number of properties he owned: mansions, houses on the beach, yachts, motorcycles, cars and even a helicopter.
In 2016, the videos of Vacchi and his girlfriend at the time, Giorgia Gabriele, dancing to different Latin music songs, went viral. It was then that it became a trend. Many were interested in the lifestyle of the 49-year-old man, surrounded by beautiful women and with an exorbitant fortune. Since then, the daily life of the famous Italian has been shared by social networks. He is currently one of the most famous adult influencers on the platform.
The following year he ended his relationship with his girlfriend Gabriele, and a short time later he was seen with the beautiful Colombian model, Ariadna Gutiérrez. That same year he published his book Enjoy (2016), which, in Vacchi's words, is a conceptual biography. In this book, he talks about his experiences, gives advice and encourages people to enjoy life to the fullest.
During this period of his life, the Italian has been seen with famous Latin, American and European artists, which has increased his popularity. Among the artists with whom he has been associated are the singers: J. Balvin, Luis Fonsi, Sebastián Yatra, Ozuna, Daddy Yankee and Yandel, among others. In 2017, Vacchi was seized by Banco BPM. He later explained that this does not greatly affect his fortune and that it was all a disagreement with the bank.
Facet as DJ
In recent years, Gianluca Vacchi has dabbled in music as a DJ, working with great figures such as Steve Aoki, Nicola Zucchi, Christian Lena and Albertino, among others. He currently has a contract with the Spinnin 'Records label. His first song, entitled Viento, appeared under this label on August 13, 2017. This song currently has more than 27 million views on YouTube.
After Viento, Tump-it came out, a theme that quickly became a trend. In August he released the song Sigamos Bailando, his collaboration with Yandel and Luis Fonsi. Later he released the song Waglio, in collaboration with Alessio and in 2019, he released Asho mami and Mueve.
Vacchi has made several tours as a DJ and worked in clubs such as Amnesia Ibiza, Sutton Club and Sutton Barcelona, among others.
Gianluca news
Currently Vacchi, is romantically involved with the young model Sharon Fonseca. On May 10, 2020, during the celebration of Mother's Day, he announced via Instragram that he and his girlfriend were expecting their first child.
Birth of your child
On October 28, Gianluca and Sharon announced the birth of their daughter Blu Jerusalema Vacchi, true to their style, this announcement was made through their Instagram accounts.