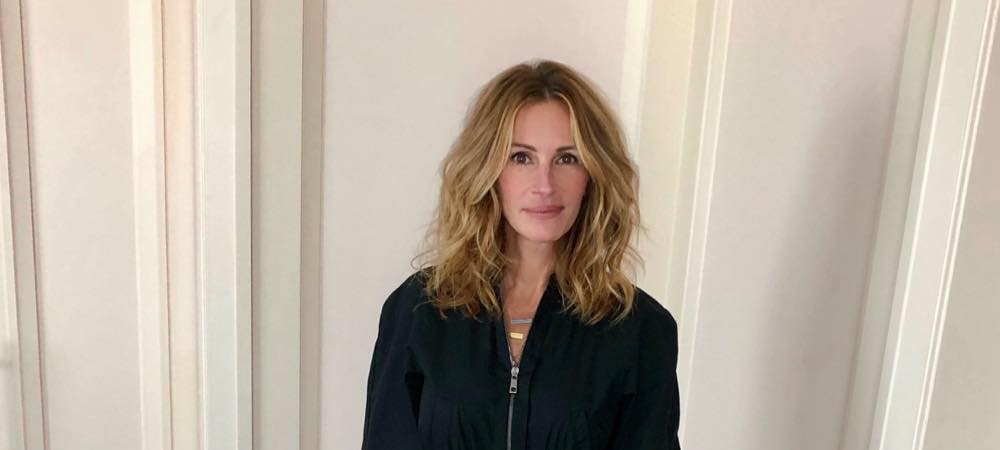 Personal information
Full name

Julia Fiona Roberts

Birthdate

October 28, 1967

Age
55 years old
Occupation

Actor, voice actress, executive producer, model

Nationality

American

Spouse

Lyle Lovett (marr. 1993; div. 1995)
Daniel Moder (marr. 2002)

Couple

Jason Patric (1991-1992)
Benjamin Bratt (1998-2001)

Height
1.75 m
Parents

Walter Grady Roberts and Betty Lou Bredemus

Awards
Winner of the Academy Award for Best Actress and 3 Golden Globes.
Zodiac sign
Scorpio
Biography in other languages
Biography of Julia Roberts
Julia Fiona Roberts (born October 28, 1967) is an American actress, producer, and model. She was born in Smyrna, Georgia. Her parents, Betty Lou Bredemus and Walter Grady Roberts, were actors and had an acting school. In 1972, her parents separated and her mother remarried, but also divorced in 1983. Despite the separation, Julia maintained a close relationship with her father until his death in 1977 from throat cancer. The loss of her father and later, the death of her half-sister from an overdose in 2014, brought her even closer to her siblings.
The beginnings of her acting career
Julia attended Fitzhugh elementary school and then Campbell high school. Initially, she had intended to study veterinary medicine, but ended up studying journalism. After graduating, she moved to New York in search of work, but surprisingly had the opportunity to play a small role in "Firehouse," without being credited. The performance sparked her interest in acting, so she decided to start her career in 1987. With the help of her brother Eric, who was also an actor, he contacted Peter Masterson to get her a role in the drama "Blood Red" (1989), which was not successful.
Roberts had to work various jobs while trying to get roles in theatrical productions: she took care of children, worked as a waitress at a pizzeria, sold in a store, among other things. She decided to study acting, but often could not attend classes due to a lack of money. She had the opportunity to participate in off Broadway theatrical productions and appeared in some television shows such as "Miami Vice," "Friends," and "Murphy Brown," as well as in some minor films like "Firehouse," "Baja Oklahoma," and "Satisfaction" (1988). That same year, she got a better role in "Mystic Pizza," directed by Donald Petrie.
Thanks to her talent, she was noticed by director Herbert Ross, who offered her a co-starring role in the film "Steel Magnolias" (1989). For this role, she was nominated for a Golden Globe and an Academy Award. Two years later, she was also nominated for these awards for her role in "Pretty Woman," a film that gave her worldwide fame. In addition to being mentioned in many magazines for her good performance, her romantic relationships with actors Liam Neeson, Kiefer Sutherland, Matthew Perry, Dylan McDermott, and Jason Patric were also widely reported and became mandatory reading in waiting rooms and beauty salons. It was even said that Julia used her romantic relationships to obtain roles in various productions.
Marriages
Later, the beautiful actress married Lyle Lovett, whom she met during the filming of The Player (1992). The marriage ended a few years later. Again, in the mid-2001, she ended her relationship with Peruvian actor Benjamin Bratt after four years of stable relationship, she met him in an episode of the series Law & Order, in which she was a guest star. At one point, Roberts' career remained at its peak, which is why she received important awards and honors.
The great Hollywood star
There came a moment when she was presented as a Hollywood great star, Julia Roberts was adored and her name in the credits guaranteed the box office success of any production. The glamour was in her figure. Roberts was characterized by her healthy habits, she practiced relaxation, gymnastics and learned healthy cooking, so it's no wonder she was the queen of the People's Choice Awards, a prize given to the star chosen by the public."
Her success with the film "Erin Brockovich"
She acted in Erin Brockovich (2000), directed by Steven Soderbergh, and with this performance received praise from critics and strengthened her acting ability. The film, based on real events, tells the story of a woman overwhelmed by debt, a single mother of three children and without a college education, who wins an impossible lawsuit against a large company for contaminating the water of a town, causing serious problems to the population. The actress demonstrated her versatility in different genres and her notable performance in the film earned her the Best Actress Oscar.
Roberts lent her voice to the animated films Ant Bully: Welcome to the Ant Hill (2006) and Charlotte's Web (2006). The following year, she participated in the political drama Game of Power (2007), playing Joanne Herring, a woman from high society. For her role in this film, she was once again nominated for a Golden Globe in the Best Supporting Actress category. Later, came the thriller Duplicity (2009), where she played a CIA agent and was once again nominated for a Golden Globe for Best Actress in a Comedy or Musical.
Performance in the film Valentine's Day
She also participated in the romantic comedy "Valentine's Day" (2010) which starred Jessica Alba, Bradley Cooper, Ashton Kutcher, Jennifer Garner, Jamie Foxx, Taylor Lautner, and Kathy Bates. Although the movie was not very successful, it earned $56 million in its first weekend, becoming one of the most successful romantic comedies. She was the official model of the successful Lancôme brand.
She received recognition at the San Sebastian Film Festival where her movie "Eat, Pray, Love" was presented. From then on, she was in several productions such as "Larry Crowne," "Mirror Mirror," "The Normal Heart," "Secret in Their Eyes," "Money Monster," "Mother's Day," lent her voice to the animated movie "The Smurfs: The Lost Village," was in "Wonder," and in 2018 acted in "Ocean's Eight."
Some of her awards:
Winner of the Oscar award for Best Actress.
Winner of three Golden Globes in the categories of Best Actress in a Drama, Best Actress in a Comedy or
Musical, and Best Supporting Actress.
A BAFTA award for Best Actress.
An Actor's Guild award for Best Leading Actress.