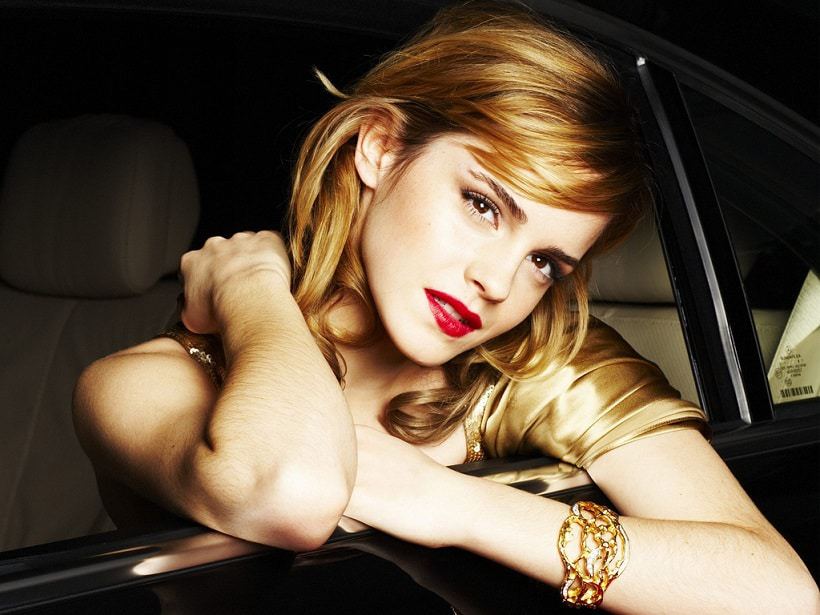 Emma Watson Biography
Emma Charlotte Duerre Watson, better known as Emma Watson, was born on April 15, 1990, in Paris, France. She is an actress, model and British philanthropist, known for playing Hermione Granger in the Harry Potter films.
Emma is the daughter of Jacqueline Luesby and Chris Watson, English lawyers. His third name, Duerre, was given by his paternal grandmother. Emma lived in Paris until she was five years old. Her parents separated and so she went to England to live with her mother in Oxfordshire and spend the weekends at her father's house in London. After the divorce of her parents, her mother and father remarried, and her brothers were born in their new marriage. Emma is the oldest of seven children; the little ones are her younger brother Alex, two half maternal brothers and three half-brothers from her father's new marriage.
She went to school at the Dragon School in Oxford, where she studied until 2003. At the age of six, she decided that she wanted to be an actress, and she was educated at the Stagecoach Theater Arts in Oxford, a part-time theater school where she studied singing, dancing and performance. Watson participated in various plays at her school, for example, Arthur: The Young Years, The Happy Prince and Alice in Wonderland. Emma Watson also participated in The Daily Poetry Competition and won the first prize when she was only seven years old.
Watson was chosen to play Hermione when she was nine years old, having previously participated only in school plays. Emma wanted to form a music group since she sings very well, but due to her fame, generated by the Harry Potter films, she said she prefers to wait a few years not to be known as "the Harry Potter girl."
Her first appearance on the screen after Harry Potter was in the telefilm Ballet Shoes, transmitted by BBC One on December 26, 2007. In 2008, she gave voice to Princess Pea in an animated film entitled The Tale of Despereaux, based on the book of the same name by Kate DiCamillo. In 2011, she participated in My Week with Marilyn; and in 2012, starred with Logan Lerman The Perks of Being a Wallflower, a film based on Stephen Chbosky's novel with the same name.
In 2013, Emma Watson presented The Bling Ring, a film directed by Sofia Coppola. In 2015, she starred in the Spanish director Alejandro Amenábar's film entitled Regression, a thriller released in September in which she worked with Ethan Hawke and his Harry Potter partner, David Thewlis.
In July 2009, Watson said that she chose Brown University, located in Providence, Rhode Island, for her university studies. In September 2009, she began studying English Literature. In March 2011, she announced that she was going to pause her studies in order to promote the latest Harry Potter film and focus on her projects as an actress. Even so, she enrolled at the University of Oxford to study English as a complement to Brown's course and made it clear that she would return to finish her studies.
Emma Watson has rejected several "incredible offers" to act because she did not want to interrupt her classes because "the experience of the university is very important". On May 25, 2014, Watson graduated from Brown University (USA), with a degree in English Literature.
Her beginning as a model was in 2009 with the British Fall / Winter campaign of the Burberry brand. She also participated in the Spring / Summer 2010 campaign of the same firm. As of 2011, she was the face of Lancôme, after having carried out four campaigns for the brand. In addition, she helped as a stylist in conjunction with the People Tree and the Italian Alberta Ferretti, in the launch of collections of organic clothing.
In June 2011, Watson agreed to pose for the British artist Mark Demsteader, in order to produce a collection of 30 paintings made with different techniques such as Aguada, charcoal, ink, and oil. By accepting, Watson requested that 10% of the proceeds from the sale of the paintings be donated to CAMFED International, a British non-governmental organization (NGO) working in rural Africa, which seeks to introduce girls to the school environment providing them with books, uniforms and other supplies.
In September 2012, Watson ended up representing CAMFED International as her official ambassador, and said she was "happy to support Camfed and the incredible work they do."
In 2013, Emma Watson posed for the photos in favor of the Natural Beauty campaign, by the American photographer James Houston, with the intention of raising funds for the Global Green USA, a non-governmental organization focused on sustainability and the preservation of the environment. The exhibition was launched on April 22, on Earth Day, in New York and Los Angeles.
In October 2013, she was declared Woman of the Year by the review British GQ. In 2014, she received the Best British Style award at the British Fashion Awards, and in July 2014, the UN named her Ambassador of Good Will.
Rami Malek Biography
Rami Malek (May 12, 1981) is an actor. He was born in Los Angeles, California, United States. His parents are of Egyptian origin. But they moved to the North American country to get better job opportunities. His father was a tour guide in Cairo and later in the United States worked as an insurance salesman. His mother was an accountant. His parents managed to give him and his siblings a good education, including his twin brother.
Early years
Rami Malek attended Notre Dame High School in Sherman Oaks, California, culminating in 1999. At the time, he entered theater classes with actress Kirsten Dunst. He graduated from the University of Evansville with a BA in Fine Arts in 2003. By 2004, Malek embarked on the difficult path to being a professional actor. So, he applied to be part of the series Gilmore Girls, appearing as a guest star. That same year he was a character dubber for the video game Halo 2. The following year, he earned his Screen Actors Guild card for his performance in the war drama Over There, where he appeared in two episodes. He later was in an episode of Medium and starred for two seasons on the series The War at Home.
Career
He made his big-screen debut with the production Night at the Museum (2006), playing the pharaoh Ahkmenrah.To the surprise of many, he did not reprise his role in the sequels: Night at the Museum: Battle of the Smithsonian (2009) and Night at the Museum: Secret of the Tomb (2014). He played Jamie in Keith Bunin's play The Credeaux Canvas at the Elephant Theater in Los Angeles. In 2010, Malek returned to television with the role of the terrorist Marcos Al-Zacar in the eighth season of the series 24. At that time, his work was highly applauded, critics praised him for his portrayal of Corporal Merriell "Snafu" Shelton on the 8 Emmys winning series, The Pacific. He has been highly sought after for difficult-to-play roles, such as misfits and intelligent characters with quirky and psychotic outlines.
Tom Hanks, after seeing his talent, asked him to participate in his movie Larry Crowne released in 2011. Later, we saw him in The Twilight Saga: Breaking Dawn – Part 2 giving life to the Egyptian vampire Benjamin. His Egyptian origin has been an important element because it has given him many opportunities in the world of cinema.
What awards has Rami Malek won?
He has been nominated for an Emmy Award, a Golden Globe Award, a Satellite Award, a Screen Actors Guild Award, two Dorians Awards, and won a Television Critics Award. For his starring role as Elliot Alderson in the acclaimed Mr. Robot series. He is an actor who has a successful path and has earned the love and admiration of the Hollywood world. He was part of the cast of Josh Washington, from the PlayStation 4 horror video game Until Dawn, to which he lent his voice and facial features. The video game was released on August 25, 2015.
He has had other supporting roles in film and television, such as Kenny in the Fox series The War at Home (2005-07), and Merriel "Snafu" Shelton in the HBO series The Pacific (2010). In short, he has appeared in the films Larry Crowne (2011), The Master (2012), The Twilight Saga: Breaking Dawn – Part 2 (2012), Short Term 12 (2012), Ain't Them Bodies Saints (2013) Need for Speed ​​(2014) and Buster's Mal Heart (2016).
Bohemian Rhapsody (2018)
Recently, the actor with Egyptian roots just finished filming as the protagonist in the biopic Bohemian Rhapsody (2018), where he plays the musician Freddie Mercury. This film will arrive in Colombia in November in the main cine venues. In the United States, it will be released on November 2nd. As for post-production, a trailer came out in May. The film was originally directed by Bryan Singer, but after various attitudinal problems, he was fired and replaced by English director and actor Dexter Fletcher. Within the cast, we can find important actors, for example, Ben Hardy, Joseph Mazzello, Allen Leech, and Lucy Boynton.
Malek's work is of great importance in the film because he must give life to one of the most recognized and important singers in the world. The actor must interpret it very well, such is the case that he had to make a dental prosthesis to resemble the character. Freddie Mercury had an overbite problem, which he never wanted to intervene for fear that his vocal register would change.
He won the Golden Globe for Best Actor, the Screen Actors Guild Award for Outstanding Performance in a Leading Role, the BAFTA Award for Best Actor and the Academy Award for Best Actor for his performance in Bohemian Rhapsody.
Malek starred in Mr. Robot from 2015 to 2019.