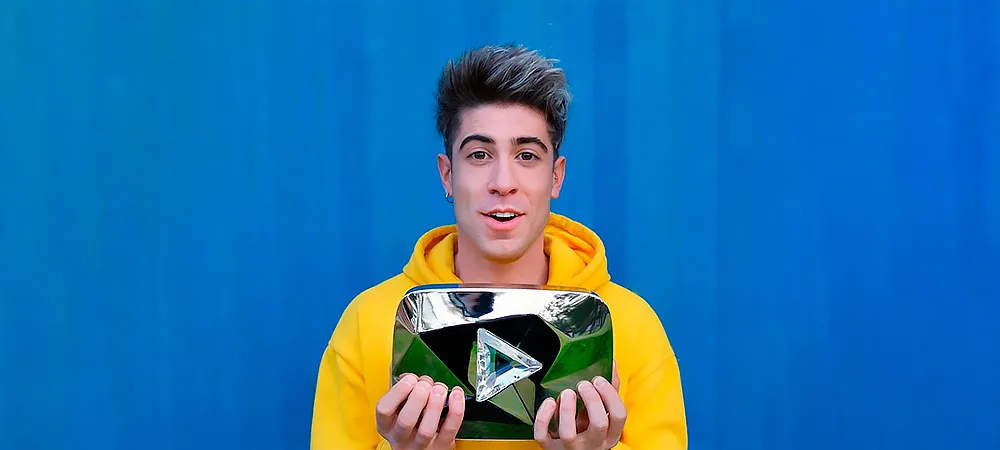 Personal information
Full name

Alejo Igoa Sachi

Birthdate

August 23, 1996

Age
26 years old
Occupation

Youtuber and influencer

Nationality

Argentine

Couple

Asbel Nazar (2018-Present)

Height
1.73 m
Parents

Sergio Igoa and Gabriela Sachi

Zodiac sign
Virgo
Biography of Alejo Igoa
Alejo Igoa Sachi (born August 23, 1996), better known as Alejo Igoa, is a YouTuber and influencer. He was born in Posadas, Province of Misiones, Argentina.
Who is Alejo Igoa?
Alejo Igoa is an Argentine YouTuber, son of the couple of teachers Sergio Igoa and Gabriela Sachi. He has four siblings, an older brother named Joaquín and two younger sisters, Paloma and Malena. He studied at a school in Concepción de la Sierra, but later moved to Rosario to study architecture.
When he considered whether or not to continue in university, he shared his doubts with his parents, who decided to support him, but gave him an ultimatum: he would have to find a job, as they did not plan to support him if he was not studying. Although Igoa tried hard to find work, he was not successful. Finally, he decided to dedicate himself to creating content on YouTube, following the example of the American YouTubers he admires.
Beginnings on YouTube
Alejo fully immersed himself in the YouTube platform at an early age. On his birthday, he asked his parents to buy him a camera for photos, without telling them he wanted to start making videos. His first video on YouTube was "Sólo se vos mismo," published on January 31, 2014. Although it was difficult, he gradually built up a group of admirers and followers, but he had not yet reached his highest point.
His content is varied, but he mainly focuses on making vlogs and challenges with his friends or other YouTubers. Most of his audience is between 13 and 18 years old, but Alejo does not try to limit himself to just them.
Alejo Igoa opened his heart
In 2016, almost three months before the end of the year, Alejo released a very personal video, opening up to his audience. In it, he talks about his sexual orientation.
Diamond Plate
Alejo has lived in different countries with the aim of learning more about the cultures, getting to know his audience better and promoting his work as a digital content creator. This technique, combined with his videos and personality, have been the perfect combination for the YouTuber's success. YouTube has awarded him the Diamond Plate, as his audience exceeds 18 million subscribers.
Ver esta publicación en Instagram
Alejo has collaborated with Juan Pablo Jaramillo, Kevqueb, Tonny Boom, Sofía Castro, Jonas Montanaro, La Divaza, among others.
Personal life
In 2017, rumors circulated that Alejo Igoa and La Divaza were in a relationship and were referred to as "Divalejo". The influencers met on a trip to Israel and shared videos together, which sparked interest among their followers.
In a video in which he answered uncomfortable questions, Igoa was asked about his relationship with La Divaza. However, he always avoided confirming or denying that they were a couple. Instead, he mentioned that La Divaza stayed overnight at his house during the "You Musica Live" performance.
La Divaza commented on Igoa's clarifications and said they were not entirely true. She admitted that during her stay at Alejo's house, he left her sleeping on the living room furniture.
To this day, Igoa avoids talking about his relationship with La Divaza and only makes gestures when the subject is brought up.
Alejo and Asbel have been together since 2018 and currently continue to have a strong relationship and enjoy their love.
Igoa has a hedgehog named Pinky, a husky dog named Odín, and an akita inu named Lua.
Interesting facts about Alejo Igoa
He loves lights. He likes them so much that his home is full of lights.
He is vegan.
He doesn't eat candy.
He doesn't like chocolate bars.
He loves eating ice.
A lot of his videos have comments disabled.
He loves plants.
He is not a believer in horoscopes.
He likes playing Free Fire.
His name is not Alexander, it's Alejo.
Alejo Igoa has over 6.4 million followers on Instagram.

Biography of Kunno
Guillermo Kunno (born May 8, 2000), also known as Kunno or Papi Kunno, is a Mexican TikToker and influencer who gained fame in 2020 after his video "Kunno Caminata" went viral on TikTok. Kunno started his adventure on TikTok in February 2019. He is known for being controversial; he has a large number of followers and detractors. In 2020, he ventured into acting, appearing in one of the episodes of "Como dice el Dicho." Later, he made his singing debut with the single "Tal vez No" and in 2022, he appeared as a guest on the series "Wild Rhythm."
Who is Kunno?
He is a singer, TikToker, and social media celebrity of Mexican origin. He was born in Monterrey, Nuevo León, on May 8, 2000. His first name is Guillermo. His parents are Lucy and Guillermo, and he has a brother named Chris. His parents named him Kunno after actor Kuno Becker, who is known for playing Santiago Muñoz in the Goal movie series (2005-08). Kunno is a member of the LGBTQ+ community and openly displays his identity on social media. From a young age, he became interested in makeup.
Kunno: TikTok Star
Like other young stars, Kunno found fame on the TikTok platform in February 2019. He quickly gained followers with his reaction videos, choreographies, and other content, though he also became known for his controversial statements. In the course of 2020, Kunno was heavily criticized for his unfavorable comments about women and his reactions to videos of younger individuals. Because of this, he has been accused of misogyny and normalizing pedophilia.
Despite the controversy, Kunno achieved fame in mid-2020 after his video "Kunno Caminata" to the song "4k" by El Alfa and Noriel went viral. The video became so popular that his number of followers surpassed 11 million. By 2021, his number of followers reached 19 million. At the time, the "Kunno Caminata" was copied by several celebrities such as Thalia, Erika Buenfil, and Livia Brito. The video and its choreography remained popular for several months.
@.kunno

Quien se iba a imaginar todo lo que lograría esta caminata🤩
Controversial HolaFan!
After achieving fame, controversy did not leave Kunno behind. In September 2020, the TikToker was heavily criticized for joining the HolaFan! platform, where artists charge for special mentions, greetings, etc. The cost of his greeting was 1,200 Mexican pesos, which fans considered excessive. Later that month, he left the platform.
Kunno as an actor
Also in September 2020, Kunno achieved one of his biggest dreams: to be an actor. he made his acting debut on September 26, 2020, in one of the episodes of the series "Como Dice el Dicho," where he played the role of Gabo. Two months later, in November 2020, Kunno appeared in the music video for "Bichota" by Colombian singer Karol G.
In 2021, he appeared in the music video for "Chupable" by El Alfa "El Jefe" with Chicky Bom Bom and Ryan Castro. In the video, Kunno appeared several times dancing with the singers and other invited dancers.
Debut and musical career of Kunno
On January 13, 2021, he made his singing debut with the release of the single "Tal vez no" on Spotify and YouTube, as well as other digital platforms. The song quickly gained millions of plays on both sites, becoming very popular on social media. In less than a year, the song surpassed 20 million views on YouTube.
In June 2021, he released his second single "Crush" and in September, "Que perra soy" was released. Both singles were popular on social media, especially on TikTok where several challenges and trends appeared.
@.kunno

Ya estamos a nada de comenzar a grabar el videoclip de #QPS 😍🔥 a quienes hagan el trend… SERÁN PARTE DE EL😳✨ seguiré reaccionando🤩
The following month, Kunno collaborated with El Cherry Scom and Rodrigo Rodríguez on the single "Hoy Te Toca."
"I consider myself what I am: a celebrity and an artist" – Kunno
In February 2022, Kunno appeared in the music video for "Suelta" by Dimelo Flow with Rauw Alejandro, Mr. Vegas, María Becerra, and Fatman Scoop. After its release, the song quickly reached a million plays on YouTube. Later, in May, Kunno released the single "Yo Nunca Nunca," an EDM track by Poncho de Nigris, with Fano, Finisho, and Dj Cobra Monterrey.
Grammys 2021
In March 2021, the young TikToker announced that he would make a small appearance at the special Grammy Awards 2021 broadcast on E!. The news sparked a wave of reactions, both positive and negative, as many fans thought the TikToker would be present at the awards ceremony. However, Kunno did not participate in the awards ceremony but in the special on the red carpet: E! Front Row. The program saw him participate from social media and with a dress designed by Benito Santos.
Wild Rhythm
On March 2, 2022, Kunno appeared as a guest artist in two episodes of the series "Wild Rhythm": "To Hell with It" and "The Barrio." In the series, his participation was brief, as he was limited only to dancing, sharing scenes with dancers Luisa and Carolina Eusse and actress Paulina Dávila. In addition to Dávila, the series was starred by Greeicy Rendón.
30 facts about Kunno
He is homosexual, and, as he says himself: "Even if you don't believe it, I'm gay."
His real name is Kunno, although many people think it is just his artistic name.
His mother was inspired by actor Kuno Becker and gave it her own touch by adding an "n." Kunno is not his only name, he has a composite name… His name is Guillermo, like his dad, although he hates being called: Memo, Memin.
He has 16 tattoos on his body (2019).
He loves makeup.
He does not eat cheese in any of his presentations, that is to say: he does not eat pizza.
He does not like Michael Jackson.
He has never eaten beets or beets. He does not like their earthy smell.
His favorite animal is the Lion, he has it tattooed on his chest.
He is hyperactive, he has a lot, but a lot of energy.
He considers himself a little apathetic. One of his favorite words is: No!
His lucky number is 13.
He has it hidden in a tattoo.
His favorite drink is Strawberry-Kiwi Electrolite.
He has broken his head 3 times.
His biggest fear is a tsunami.
He speaks English and French. He says so.
He does not like shorts. He does not like that garment at all.
He loves the sun too much.
He was born in 2000.
According to Kunno himself, he never sweats his face.
He has many piercings.
His favorite series is Glee.
He is always dancing.
He has a huge ego, in his own words: He shines with his own light!
On TikTok he has collaborated with Rod Contreras and other Mexican influencers
He is close with Domelipa, he even recorded her proposal to Dekko.
He has a YouTube channel for vlogs, challenges, and content about his life.
He got to walk in the New York Fashion Week.
He talks about his experience with liposuction and his recovery on TikTok.
Songs
Tal vez no (2021)
Qué perra soy (2021)
Crush (2021)