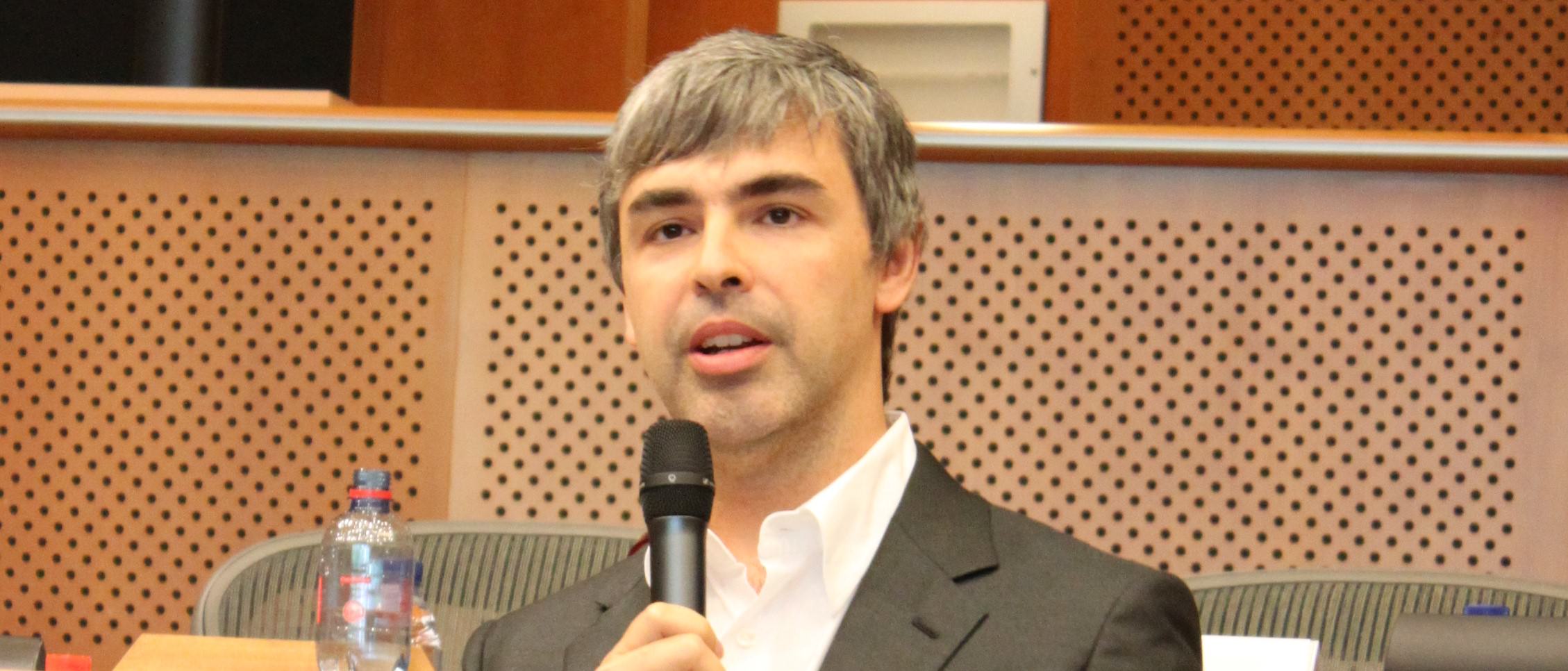 Larry Page biography
Larry Page (March 26, 1973) businessman and founder of Google. His baptismal name is Lawrence Edward Page. He was born in East Lansing, Michigan, United States. Page created by the hand of Sergei Brin the most famous search engine in the world today, Google. Her parents, Gloria Page and Carl V. Page, served as university teachers, her mother was a professor of programming at the University of Michigan and her father a professor of Computer Science and Artificial Intelligence at the University of North Carolina and University of Michigan.
His father made an important contribution as a pioneer and authority in the field of Artificial Intelligence. Now, Page from a child attended in Lansing to a school of the Montessori method. His passion for computers and computer science was inherited from his parents, and at the age of twelve, he already created various technological inventions. He read several books about Nikola Tesla, his idol of youth. Following the advice of his parents, he studied at East Lansing High School. Upon graduating with honors, he entered Michigan State University to study Computer Engineering.
Subsequently, he did a Ph.D. in Computer Science at Stanford University. Where he met Brin, who was pursuing postgraduate studies thanks to a grant from the National Science Foundation. Page was awarded by the Instituto de Empresa with an Honorary Master's Degree in Business Administration and also received the Alumni Society Recent Engineering Graduate Award from the University of Michigan. While in the winter of 1998, Brin began to develop an idea to create a search engine for the internet, the idea was developed with the help of Larry Page.
His great motivation was the inefficiency and the multiple errors of the search engines existing at that time. It is said that Page was a great help to Brin because his intelligence and also his great ability for business led to the creation of what is now Google. In short, Page was responsible for the high speed of Google. By 1995 Brin and Page were very good friends and shared their love of computers and both were very motivated to develop their internet search engine. His question was how to download the entire web. His intention was, then, to organize the world's information and make it universally accessible and useful.
They held several meetings with brilliant people in this field, and they met Andy Bechtolsheim, an investor from Sun Microsystems. They decided to present their idea, they also made a quick demonstration and they got that, without thinking twice, Bechtolsheim extended a check worth 100,000 dollars to start the project. Although with this amount achieved only the beginning of the project, the young people full of enthusiasm began to get other economic support and various sources of income.
As a result, Brin and Page managed to get two of the most relevant US venture capital firms, Kleiner Perkins Caufield & Byers and Sequoia Capital, to agree to finance their idea. They then collected 25 million dollars. The project was still ongoing. At first, they thought of the word googol to baptize their search engine, a term invented by the mathematician Edward Kasner to name the number 1 followed by 100 zeros. Then they changed their name to Google. We must mention that Yahoo! He played an essential role in driving Google.
Yahoo! collaborated encouraging the creation of its own search engine, the pair of colleagues began to offer in their popular portal the possibility of searching through that engine. For the year 2003, Google swept daily searches, had about 112 million, compared to Yahoo! which only supported approximately 42 million. Page was shown as a leader since he generated important results and demonstrated his ambitious ideas. Therefore, Page was CEO of Google until 2001. The reason is that Page began to be less involved in the day-to-day management of the company.
Something really innovative was that Google allowed cyberusarios to easily locate images, newsgroups and searches using the Open Directory thematic directory tool, an international volunteer project that catalogs web pages by hand. After a few years, thanks to the popularity of Google, colleagues received a Webby, a prize. For 2011, Larry decided to regain the title of CEO. He reorganized the company's top management and launched Google+, Chromebook, Google Glass, and other services. Page continued to lead Google until 2015, until he became the CEO of the parent company, Alphabet.
Currently, Page devotes a large part of his time to research new technologies, meet with important entrepreneurs. He is always in search of new things for Moonshot of Alphabet. He currently ranks number 8 on the list millionaires of Forbes, with a fortune of 44,500 million dollars. Although little is known of his private life, it was learned that in 2013 he suffered paralysis of the vocal cords. In 2007, he married Lucinda Southworth, a scientific researcher. The couple has two children. His most valuable properties are apart from its mansion, a 59-meter super-yacht, and a heliport.
Larry also devotes part of his wealth to other causes such as Planetary Resources, which aims to mine asteroids; Tesla; and Twigtale, a personalization startup for children's books. He also invested in the Carl Victor Page Memorial Foundation in honor of his father. He has also invested a lot of money in "Zee. Aero" a very innovative aircraft company. Page is also an investor in Kitty Hawk, the company recently built an electric airplane for just one person. Larry was named "Global Leader of Tomorrow" at the World Economic Forum. He is a member of the National Advisory Committee (NAC) of the University of Michigan School of Engineering, the creators of Google received the Marconi award in 2004. He is currently the President of Products of Google Inc.


Spotify History
Spotify is a multiplatform application of Swedish origin created in the mid-first decade of 2000 by web designer and entrepreneur Daniel Ek. It began its history as an application for computers in 2008 and a year later presented the mobile and dynamic version for smartphones. After signing a contract with numerous record labels such as Sony BMG, Hollywood Records, Warner Music, and Universal Music, among others, Spotify launched into the conquest of the music world by expanding its business and including services such as access to specialized magazines and other related applications. With the musical field.
Consolidated as one of the most important applications in the music industry, Spotify has managed to connect with its users maintaining the freemium model (free and paid) and facilitating its use through alliances with important social networks (Facebook, Twitter, Instagram, Snapchat, etc.)
DANIEL EK AND THE SPOTIFY BEGINNINGS
After starting his career as an entrepreneur at age fourteen, Daniel Ek, creator of Spotify began a new bet in the online marketing business with Advertigo (2005), a company that he successfully managed until its sale to the international giant Tradedoubler in 2006. It was at that time when the Spotify project began to take shape with the support of Martin Lorentzon, founder of Tradedoubler. Ek quickly convinced Lorentzon of the potential of his new project and this without hesitation gave his investment for the application to be created. While discussing the name of the new project, Lorentzon, and Ek, they stayed with Spotify, because their sound and meaning pleased them (spot: place – identify: identity).
Once the name was chosen, Ek and Lorentzon, registered the brand and began working on the project with the support of a group of designers and engineers, including uTorrent developer and creator, Ludvig Strigeus. After a few months of work the application was completed in 2006, however, its launch was postponed due to negotiations with the record companies and the licensing, so it took two years to launch the application.
Spotify was launched on October 7, 2008, as a streaming music playback application for computers, available at that time only in some European countries such as Finland, Sweden, Norway, United Kingdom, Spain, and France. Since then users could access an extensive music library without downloading anything. At that time the application had its well-known free account, however, it could only be accessed if invited, otherwise, a paid subscription would have to be made. By changing times and with the emergence of smartphones, Spotify understood the need to expand and reinvent itself, building its mobile application in 2009, in addition to the Premium and Unlimited modes.
GROWTH AND CONSOLIDATION
After gaining popularity in a few years and becoming one of the most used new applications, Spotify landed in the US market, signing a contract with important record labels, which understood the importance of being in the app and the potential it had to spread to Your artists In 2011, it was established in the United States and began to compete with recognized and important music applications such as iTunes, which it has currently surpassed in number of active users, Amazon Music, Pandora and the newly created Tidal (2014). Shortly after starting his adventure in the United States, Ek announced that the application would change and diversify by becoming a platform that could host various applications related to the world of music, because as he pointed out: Music goes beyond of the music.
Since then the application has become multiplatform in which third-party applications such as TuneWiki (letters), CrowdAlbum (photography) and Billboard (lists and charts) are included, among many others. Also, several extensions and options were created that personalize the use of the app, so that each user can enjoy and explore the world of music in the app in the way they like.
For this same period, the platform surprised users with the integration of specialized channels and magazines such as Rolling Stone, Moi, and others that jumped to the platform pleasing users with a variety of music lists for all tastes. Three years after becoming a platform, Spotify eliminated the limit of hours of listening for free users, including short advertisements that cannot be skipped. That same year, the app opted for marketing, sales and user experience by partnering with Topspin and Starbucks, being the first music app that has space in places like cafes.
After consolidating itself as one of the most-used apps of recent times, Spotify created various alliances with social networks such as Facebook, Twitter, Instagram, Snapchat, among others, allowing its users to access the app and share its content in various ways, thus improving the user experience.
Since 2016, the app has managed to connect with its users through various lists designed for all kinds of tastes, with which users can discover new artists, new songs, the most listened to songs and others that they had forgotten. Some of the most listened to lists are Discover Weekly, Billboard Hot 100, Hipster International, Digster HIP HOP HITS !, Billboard R & B / Hip-Hop Songs, Top Trap Latino, among others. However, it should be ruled out that the different extensions that the app currently has facilitated and personalize its use, improving the user experience. Some of the most important extensions are Forgotify, The Set Listener and Vidfish.
PRESENT
The success achieved with the renewal of the application led its creator to think about expanding further entering the stock market in 2018 with a market value of $ 26.5 billion. Since then, the app has not stopped growing and innovating, improving the user experience and consolidating itself as one of the most important apps of the moment. Facing tough opponents like Tidal, Pandora, and iTunes, in addition to the voices that announce their downfall. Currently, Spotify has more than 207 million users and it is available in 65 countries in Europe, America, Asia, and Oceania.