Pierre Curie Biography
Pierre Curie was a French scientist and physicist, the precursor in the studies of radioactivity and the one who discovered piezoelectricity. He was born in Paris on May 15, 1859. Pierre was the son of Eugène Curie and Claire Depoully. In his childhood, he was educated in the family environment, since his father thought that the home was the way to develop his intellect and his personal abilities.
By 1875, after having graduated as a scientific bachelor, he began to show a strong interest in mathematics, demonstrating great numerical strengths and spatial geometry, a knowledge that he used in his studies of crystallography. In that same year, he began his studies in physics at the Faculty of Sciences of the Sorbonne.
In the year 1878, he obtained his license in sciences (What is currently a master) he could not do his doctorate, because he did not have enough financial resources, so he had to start working as a laboratory assistant at the Sorbonne.
While working as a laboratory assistant, Pierre Curie began to do his first research related to the measurement of the wavelength of infrared radiation, in these works he was accompanied by his brother Jacques. After analyzing several results, in 1880, he discovered piezoelectricity, a phenomenon that consisted of generating electrical potential by compressing a crystal (Quartz). Sometime later, again with the help of his brother, they showed that the crystals could also be deformed by the application of the electric potential.
Around 1882, he was appointed the director of the Sorbonne laboratories, where he worked until 1889, to work at the Municipal School of Physics and Industrial Chemistry in Paris. In the year 1884, he published a memoir that dealt with the symmetry of crystals.
He explained the universal principle of symmetry in the year 1894, with which he explained that the symmetries present in the causes of a physical phenomenon are also found in their consequences. A year later, he obtained his doctorate in science, after making an excellent presentation on the magnetic properties of bodies at different temperatures.
He proposed and developed a torsion scale with sensitivity for the study of magnetic phenomena. In addition, he made a study on ferromagnetism, paramagnetism, and diamagnetism. With the result of these studies, he discovered the effect of temperature on paramagnetism, currently known as Curie's law. He also discovered the so-called Curie point, which explained that ferromagnetic substances have a temperature above which they lose their ferromagnetic character.
In the year 1903, Pierre Curie won the Nobel Prize in Physics in conjunction with Marie Curie and Henri Becquerel, where they were recognized for the excellent services given in research on radiation. In that same year, he also received the Davy Medal from the Royal Society of London.
Pierre Curie died in Paris on April 19, 1906, after being run over by a horse-drawn vehicle. His remains were taken from the family vault to the Pantheon in Paris.
In 1910, the Congress of Radiology decided to call the unit of radioactive activity curium, in honor of Pierre Curie.
On November 6, 1939, Fernand Rigaux discovered an asteroid, which was named asteroid (7000) Curie, in honor of Pierre Curie and Marie Curie. In honor of the scientist's memory, there is also the synthetic curium element (Cm) discovered in 1944, as well as the Curie crater on the Moon and the Curie crater on Mars.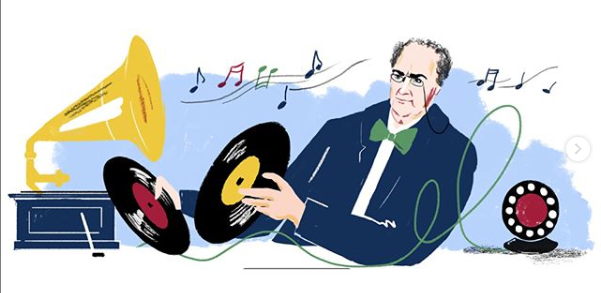 Emil Berliner Biography
Emil Berliner (May 20, 1851 – August 3, 1929) inventor. He was born in Hannover, Germany. He grew up in a Jewish environment. Due to a complex economic situation, he had to work to help his parents from a young age, so he did not attend school regularly. His first paid job was as a painter, for later, at age 16, to enter as a clerk in a food store.
According to his experience, he began to be interested in the production methods of the factory where he worked. He was a very versatile man since he built a weaving machine that improved existing ones; It was one of the many inventions of German. In 1869, when a system of repression against Jewish families was installed, Berliner obtained a position in a company located in Washington, United States. The family raised the money needed to support his trip and, especially, to prevent his son from being sent to the army ranks. Then, Emil settled in New York with the idea of ​​finding a job. He returned to Washington. Despite the economic difficulties, he studied at the Cooper Institute electricity and physics.
Motivated by scientists who were researching about the conversion of sound into electrical impulses that could be transmitted on wires; Berliner experimented with the electrical transmission of sound. Thanks to his research he was granted an assistant position of Dr. Constantine Fahlberg in his prestigious chemical laboratory. Soon he invented two electrical mechanisms that reproduced the sound more authentically and made it transmissible in the distance.
The responsibility for creating the prototypes of the microphone and the transformer was Berliner, the two basic mechanisms for electronic communication, in addition to building a carbon transmitter microphone and an iron diagram transmitter. It is clear that sometimes his inventions were inconvenient, but Berliner managed to solve these problems. Occasionally, he used objects that had not previously been used or integrated into an invention.
It was based on the telephone number of Reiss and Antonio Meucci and from there make some progress. Besides, he powered the device invented by Alexander Graham Bell. In this way, Berliner is identified as the inventor of the modern telephone. Berliner offered his invention to the subsidiary of the Bell Company in New York, the offer was finalized in the year of 1878 for $ 50,000. It was not long before the conflict with the Western Union arrived over the patent of the invention, the American courts appealed in favor of Berliner.
In 1881, together with his brother Joseph, he founded the Telephone-Fabrik Berliner, with branches in Vienna, Berlin, Budapest, London, and Paris. Later, he returned to Washington in 1883, where he advanced his independent research on the mechanical reproduction of sound. Berliner created new reproduction materials to improve his invention. One of his most significant contributions was the improvement of the phonograph, the first was patented in 1877.
I create a record player baptized gramophone, with a needle system that would be hegemonic until the end of the 20th century. In 1887 he patented his invention. A year later, the Franklin Institute in Philadelphia awarded him the Scott Medal for his contribution to the development of acoustics and sound reproduction. With collaboration, he founded the United States Gramophone Company in 1893; In 1897 he created the Berliner Gramophone Company in Montreal. He quickly arrived in Europe: he opened the Deutsche Gramaphon Gesellschaft and Britain's Gramophone Co.
We must indicate that Berliner worked in other areas such as aeronautics. Then, he was the first to use a light internal combustion engine. His work was very important because years later he joined the airplanes. His son, Henry Berliner, designed a helicopter that flew successfully in early 1919. His interest in the problems of sound reproduction was greater, which is why he strove to create acoustic tiles for use in auditoriums and concert halls. His contribution was recognized in 1913 and he was awarded the Elliot Cresson Medal in recognition of his scientific contribution to telephony and acoustics. He died on August 3, 1929, as a result of a heart attack.
WORKS
Conclusions
The Milk Question and Mortality Among Children Here and in Germany: An Observation
Some Neglected Essentials in the Fight against Consumption
A Study Towards the Solution of Industrial Problems in the New Zionist Commonwealth
Muddy Jim and other rhymes: 12 illustrated health jingles for children