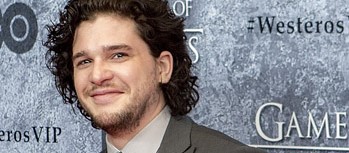 Harington Kit biography
Christopher Catesby Harington (December 26, 1986) actor. His stage name is Kit Harington. He was born in Acton, United Kingdom. His family comes from the noble Barons of Harington. One of his ancestors was the writer John Harington. Harington enjoyed a comfortable position and great comforts. His father, Sir David Richard Harington, owned a bookstore. While his mother, Deborah Jane Catesby, played as a playwright. He studied the first years at Southfield School.
After attending Chantry High School, in Martley until 2003. Since he was in school he realized that his passion was the arts, especially dramatic theater. So, he studied drama and theater at Worcester Sixth Form College, he received his degree in 2005. With the intention of studying elsewhere and expanding his knowledge in 2008, he entered the Central School of Speech and Drama, an institution that was attached to the University of London. His first works as an actor were made in the field of theater. He participated in a casting for the role of protagonist of War Horse and was selected.
Then Steven Spielberg would shoot a film about War Horse that premiered in 2011. The work won two Olivier Awards, so Harington began to be recognized. He also worked in Posh (2010), the work of Laura Wade. Now, he got his first job for television giving life to Jon Snow in the series Game of Thrones, of HBO, which he played since 2011. This series of international scope is developed in the fictional continents of Westeros and Essos and narrates the fights of power among noble families as they fight for control of the Iron Throne of the Seven Kingdoms.
Actually, many critics claimed that because of his lineage this role was perfect for the actor. Jon Snow is the illegitimate son of Ned Stark, the Lord of Winterfell, an ancient stronghold of the fictional realm of Westeros. Two years later, he was elected Actor of the Year at the Young Hollywood Awards 2013. He had previously been nominated for the Saturn Award for Best Supporting Actor in Television, and in 2016, he was nominated for a Primetime Emmy Award for Best Supporting Actor in a Drama series.
His fame and good work were such that he began to be called for various productions, Kit no longer had to worry about making castings. Recently, he became one of the highest paid actors on television. He has had several important participations, for example: in 2011, he started in the cinema shooting the sequel to Silent Hill, entitled Silent Hill: Revelation, which premiered the following year. In 2014, he made the leading role of Pompeii film in which he became a slave who was then a gladiator, also acted in Testament of Youth, a film that recreated the first world war.
In that same year, he obtained a place in the production Seventh Son, film based on the novel The Spook's Apprentice, had a secondary role. In 2015, he returned to work with HBO this time in the telefilm 7 Days in Hell, a fake documentary in which he played a tennis player. Kit Harington starred in Spooks: The Greater Good on the British television series Spooks. In that year it was confirmed that he would replace the famous Robert Pattinson in Brimstone (2016). The entertainment magazines confirmed that Harington had finally publicly accepted his love affair with the actress Rose Leslie; co-star in Game of Thrones.
It only took a year for the couple in love to commit themselves. After Snow, his fame grew and although he has always maintained a relatively low profile and a discourse of humility, all eyes are on him, that is why he tries to keep his private life under reserve. He has been an actor committed to social and philanthropic causes, for that reason he participated in a video of UNHCR in order to ask for help for Syrian war refugees. This video was made together with Cate Blanchett, Jesse Eisenberg and other prominent members of Hollywood.
He played an important role in The Death and Life of John F. Donovan with Jessica Chastain, Natalie Portman, Kathy Bates, and Susan Sarandon, it is necessary to indicate that has been more successful in productions for the small screen. His reputation, however, is highly respected. Now, something that has enchanted his fans is the imposing mane of Kit Harington who let it grow because they asked him for the role of Jon Snow.
He accepts that he has become a little vain because of his hair. For his performances, he has received several nominations and awards, among them we can highlight: Best TV cast (2012 – 2014 and 2015) in the Awards of the Actors Guild for the Drama Game of Thrones. And in 2016 at the Primetime Emmy Awards he received the award for Best Supporting Actor for his performance in Game of Thrones.
Rami Malek Biography
Rami Malek (May 12, 1981) is an actor. He was born in Los Angeles, California, United States. His parents are of Egyptian origin. But they moved to the North American country to get better job opportunities. His father was a tour guide in Cairo and later in the United States worked as an insurance salesman. His mother was an accountant. His parents managed to give him and his siblings a good education, including his twin brother.
Early years
Rami Malek attended Notre Dame High School in Sherman Oaks, California, culminating in 1999. At the time, he entered theater classes with actress Kirsten Dunst. He graduated from the University of Evansville with a BA in Fine Arts in 2003. By 2004, Malek embarked on the difficult path to being a professional actor. So, he applied to be part of the series Gilmore Girls, appearing as a guest star. That same year he was a character dubber for the video game Halo 2. The following year, he earned his Screen Actors Guild card for his performance in the war drama Over There, where he appeared in two episodes. He later was in an episode of Medium and starred for two seasons on the series The War at Home.
Career
He made his big-screen debut with the production Night at the Museum (2006), playing the pharaoh Ahkmenrah.To the surprise of many, he did not reprise his role in the sequels: Night at the Museum: Battle of the Smithsonian (2009) and Night at the Museum: Secret of the Tomb (2014). He played Jamie in Keith Bunin's play The Credeaux Canvas at the Elephant Theater in Los Angeles. In 2010, Malek returned to television with the role of the terrorist Marcos Al-Zacar in the eighth season of the series 24. At that time, his work was highly applauded, critics praised him for his portrayal of Corporal Merriell "Snafu" Shelton on the 8 Emmys winning series, The Pacific. He has been highly sought after for difficult-to-play roles, such as misfits and intelligent characters with quirky and psychotic outlines.
Tom Hanks, after seeing his talent, asked him to participate in his movie Larry Crowne released in 2011. Later, we saw him in The Twilight Saga: Breaking Dawn – Part 2 giving life to the Egyptian vampire Benjamin. His Egyptian origin has been an important element because it has given him many opportunities in the world of cinema.
What awards has Rami Malek won?
He has been nominated for an Emmy Award, a Golden Globe Award, a Satellite Award, a Screen Actors Guild Award, two Dorians Awards, and won a Television Critics Award. For his starring role as Elliot Alderson in the acclaimed Mr. Robot series. He is an actor who has a successful path and has earned the love and admiration of the Hollywood world. He was part of the cast of Josh Washington, from the PlayStation 4 horror video game Until Dawn, to which he lent his voice and facial features. The video game was released on August 25, 2015.
He has had other supporting roles in film and television, such as Kenny in the Fox series The War at Home (2005-07), and Merriel "Snafu" Shelton in the HBO series The Pacific (2010). In short, he has appeared in the films Larry Crowne (2011), The Master (2012), The Twilight Saga: Breaking Dawn – Part 2 (2012), Short Term 12 (2012), Ain't Them Bodies Saints (2013) Need for Speed ​​(2014) and Buster's Mal Heart (2016).
Bohemian Rhapsody (2018)
Recently, the actor with Egyptian roots just finished filming as the protagonist in the biopic Bohemian Rhapsody (2018), where he plays the musician Freddie Mercury. This film will arrive in Colombia in November in the main cine venues. In the United States, it will be released on November 2nd. As for post-production, a trailer came out in May. The film was originally directed by Bryan Singer, but after various attitudinal problems, he was fired and replaced by English director and actor Dexter Fletcher. Within the cast, we can find important actors, for example, Ben Hardy, Joseph Mazzello, Allen Leech, and Lucy Boynton.
Malek's work is of great importance in the film because he must give life to one of the most recognized and important singers in the world. The actor must interpret it very well, such is the case that he had to make a dental prosthesis to resemble the character. Freddie Mercury had an overbite problem, which he never wanted to intervene for fear that his vocal register would change.
He won the Golden Globe for Best Actor, the Screen Actors Guild Award for Outstanding Performance in a Leading Role, the BAFTA Award for Best Actor and the Academy Award for Best Actor for his performance in Bohemian Rhapsody.
Malek starred in Mr. Robot from 2015 to 2019.