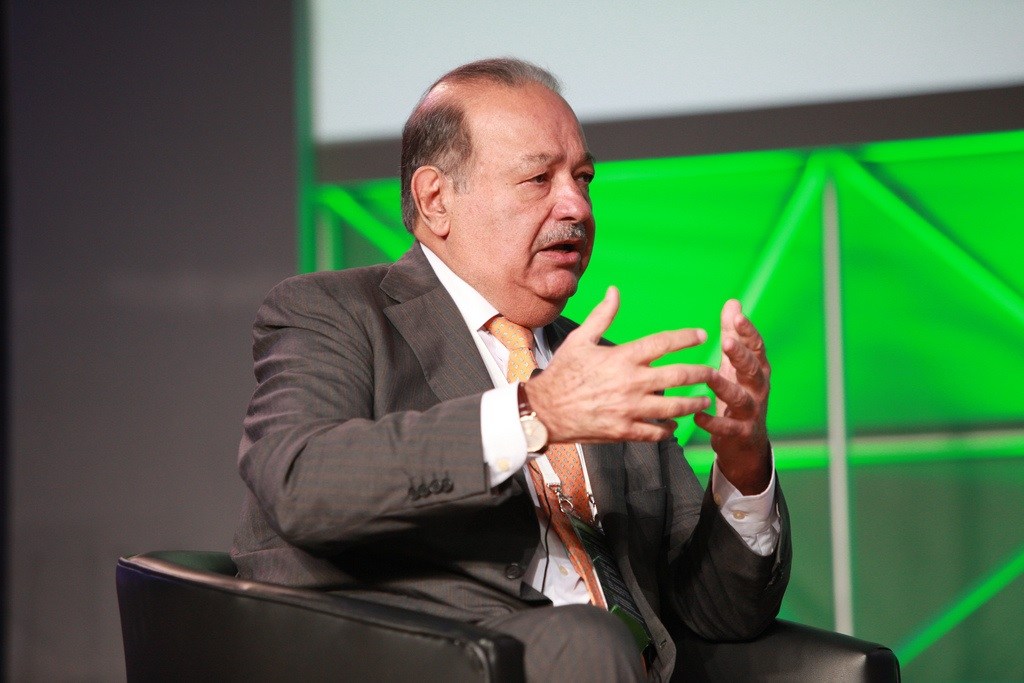 Carlos SlimBiography
Carlos Slim Helú is the son of Julián Slim Haddad who arrived in Mexico from Lebanon fleeing from the Ottoman Empire and his obligatory instruction to belong to the army at the age of 15. In Mexico, he would meet Dona Linda Helú, originally from Mexico, but with Lebanese parents. Linda Helú's father, José Helú, was the one who brought the first Arabic printing press to Mexico and founded one of the first community magazines focused on Lebanese immigrants.
Carlos Slim was born on January 28, 1940, in Mexico City, where his parents had already built a great deal of business and recognition. Surrounded by his brothers, he grew up among entrepreneurial teachings because it is said that his father gave them money and helped them to administer it, making him carry his own balance sheets from a very young age. For this reason, with only 12 years old, he opened his first check and bought stocks of the National Bank of Mexico.
In 1953, his father died and Carlos Slim was only 13 years old. His steps took him to the Faculty of Engineering of the National Autonomous University of Mexico (UNAM) because he decided to study Civil Engineering and at the same time taught algebra and linear programming.
"We must impose our will on our weaknesses." Carlos Slim
In 1965, he started to create the base of the Carso Group and the real estate firm Carso founded in 1966, at that time he married Soumaya Domit Gemayel. From that time on, a prominent position was established in the field of entrepreneurs, industrial, real estate, and commercial areas. In 1982, while the country was going through a critical period due to debts, the nationalization of the banking and the paralyzed economy, his group proposed to invest actively. Here is a list that Carlosslim.com put on his page: "In this period, various investments and acquisitions are made, including Cigatam, Hulera el Centenario, Bimex, Reynolds Aluminio; shortly after, the purchase of Seguros de México was completed, thus forming the Grupo Financiero Inbursa, composed of the Casa de Bolsa Inversora Bursatile, Seguros de México, and La Guardiana bonds."
Around 1985, Grupo Carso acquired control of Artes Gráficas Unidas, Papel Factories Loreto, and Peña Pobre, as well as most of Sanborns and its subsidiary Dennys. In 1986, the company Minera FRISCO and Empresas Nacobre, as well as its different subsidiaries, was acquired. Control was also purchased from the Euzkadi tire company, the leader in the market at the time, and years later, the majority of General Tire was acquired. In 1991, he acquired the chain of Hoteles Calinda (today, OSTAR Grupo Hotelero) Bonding, as well as one of the biggest investors.
In the 90s, Carlos Slim bought TELMEX, which today has developed a worldwide reach and has invested a lot of money in the Latin American telecommunication infrastructure where his company operates. This was under the mandate of Carlos Salinas de Gortari who carried out a privatization policy, so Carlos Slim could buy Teléfonos de México, S.A. (Telmex) together with France Telecom of France and SBC Telecom of the United States.
Soumaya, his wife, died in 1999 leaving six children: Carlos, Marco Antonio, Patrick, Soumaya, Vanessa, and Johanna.
The Carso group that also owns América Telecom (América Móvil) revolutionized the market with the prepaid cell phone system that drove mobile sales like never before.
Thus, fluctuating between hotel groups, bakeries, construction and even actions of The New York Times, Carlos Slim has established himself as one of the most successful entrepreneurs at the moment and has also focused on other aspects such as philanthropy and the creation of Non-profit organizations. For instance, in 1986 he created the Carso A.C. Foundation, now the Carlos Slim A.C. Foundation, to contribute to the development and training of human capital in Mexican society, which focuses on health, sports and education.
Also, at the end of 1995, he constituted the Telmex Foundation dedicated to "programs of education, health, nutrition, justice, culture, human development, environment, sports and aid in natural disasters." Therefore, he has not only done a good job with his business but also with the helping-other-people job, not only has created these foundations but has also supported others, in 2008 he donated 110 million dollars to the ALAS Foundation, created by the singer Shakira to support Latin American children.
"All times are good for those who know how to work and have what to do." Carlos Slim
On this same side, but more specifically on a cultural level, he created the Soumaya Museum in 1994 which created more than 64,000 jobs that are also responsible for investigating and conserving the Mexican artistic heritage. Slim also created the Historical Center Foundation of Mexico City. On the other hand, he has focused on other branches such as ecology and sustainable development in the country.
As today he has received many recognitions for his great work as the Medal of Honor for Business Merit of the National Chamber of Commerce of Mexico City until the Medal of the President of George Washington University, the highest award of this institution, in recognition of his business and philanthropic leadership. It seems that in recent years he has been delegating functions to his three sons as one day his father did with him.

Luciano Benetton Biography
Luciano Benetton (May 13, 1935) Born in Ponzano, Treviso, Italy. An Italian businessman and fashion designer, co-founder of the Benetton Group company, one of the most popular and important fashion companies in the world. After working for several years as a clerk in a clothing store, Benetton ventured as an entrepreneur selling the garments her sister made. When he won recognition, he created with his brothers the firm Fratelli Benetton (1965), with which he expanded and ventured into various commercial sectors linked to the world of fashion, such as perfumery. Under his command, the company became famous in the nineties for the publication of a series of controversial advertisements directed by Oliviero Toscani. He entered politics in the 1990s and left the company in charge of his son in 2012.
FAMILY AND BEGINNINGS
Born in an Italian province with an extensive textile tradition, Benetton had as a father a small businessman who died of malaria in 1945, having emigrated to Africa to work as a truck driver. Benetton, who at that time was only nine years old, left school to work and be able to support his mother and three sisters. He got a job as a clerk in a fabric and clothing store, where he stayed for several years. In 1955, a young twenty-year-old Benetton proposed to his sister, who at the time worked weaving clothes for a workshop, who worked together and created their own business, she would cook and sell her work in various stores.
With little money the two of them started their project and understanding that they had to sacrifice their comfort to grow, they sold some of their personal items, such as a bicycle, a guitar and other objects of little value, with which they collected the money to buy their first machine to knit. At that time, his sister Giuliana spent more than 18 hours in front of the machine, creating her first jerseys, which Luciano initially sold at the store she worked on and shortly thereafter began promoting them in other stores, gradually winning a clientele faithful. Determined to grow the business, Benetton created his own sample and presented it to various merchants in the town, in a short time getting his first large order, which consisted of 700 garments.
As the demand progressively increased, the brothers began to expand and hire more artisan employees, making themselves known in the region for their work and quality. Thanks to their hard work and the recompense they had, they founded in 1965 the commercial firm Fratelli Benetton, together with their brothers Gilberto and Carlo. The four brothers continued to work and publicize the brand, which in a short time became one of the best-known clothing companies in the country. By the end of the 1960s, the company opened its first headquarters abroad, establishing a store in Paris.
LUCIANO BENETTON'S PATH
After creating his signature Fratelli Benetton with his three brothers (Giuliana, Gilberto, and Carlo), Benetton took command of the company in 1974, at which time the company was known nationally and internationally. By the mid-1970s, the Benetton group was a multinational that had nine factories, five in its country and four abroad (Scotland, Spain, the United States, and France). Over the years the company continued to grow and to reach more than 1,300 stores abroad by the end of the 1980s. In addition to stores in the United States, Spain, France, and Scotland, they had stores in Bucharest (Romania), Prague (Czech Republic) and Budapest (Hungary). Each year the group sold more than seventy million garments and earned more than 152,000 million pesetas, trading on the stock exchanges in Frankfurt, Tokyo and New York (Wall Street). These gains made him one of the most prominent textile sector entrepreneurs of the time, along with great personalities such as Amancio Ortega and Isak Andic.
Understanding that the business needed to diversify to continue growing, Benetton launched a bathroom line, created a perfume manufactured by Hermés and designed a financial holding company called Edizione, which diversified in infrastructure, beverages, food, real estate, and agriculture. In a short time Edizione bought Nordica, a renowned sporting goods and clothing company for it, with which it was not only established as one of the most relevant companies in Italy, but also as one of the most complete fashion companies in the world (casual clothes, sports clothes and work clothes, etc).
The company's success was affected in the 1990s, with the publication of a series of controversial commercials directed by photographer Oliviero Toscani. In the ads you could see a newborn baby covered in blood, a nun kissing a priest and a family accompanying a dying young man with AIDS. Although the campaign was designed to make the viewer reflect on the importance of the other, human rights and miscegenation, the message was lost and the viewers were scandalized, criticizing the firm for the proposal. Criticism continued when Benetton appeared naked covering her private parts in a newspaper to announce the Clothing Redistribution Project campaign, a charitable operation that sought to collect used clothing and send it to the Third World.
Although he was harshly criticized for his campaigns and eccentricity, Benetton entered politics in 1992. He obtained a seat in the Senate as a member of the Italian Republican Party, however, his passage through it was overshadowed by the emergence of the investigation against him for the bankruptcy of Fiorucci. Leaving politics and focused on business, Benetton secured a large number of properties in Argentina, becoming one of the most important landowners in the country. By the end of the 1990s, the company had expanded, earning more than 300,000 million pesetas a year. In the new millennium, he included in his business his sons Alessandro and Rocco, who were in charge of the company at his departure in 2012. The story of this renowned designer and businessman was collected in the Benetton autobiography, the color of success (1991).