William Levy biography
William Levy (August 29, 1980), Cuban actor. His full name is William Gutiérrez Levy. He was born in Havana, Cuba. He grew up with his mother, Barbara, his maternal grandfather and stepfather. Due to the disagreement of his stepfather with the revolutionary regime of Fidel Castro, he decided to emigrate to the United States, where he received political asylum. Over the years, he managed to get William, who at that time was 15 years old, and his mother to move to the North American country where William Levy entered a modest high school. In this educational center, he devoted himself more than to baseball. Which gave him the opportunity to obtain a university scholarship, where he chose to study business administration. He alternated his studies with some acting classes and with the modeling he studied at the Next Models agency. Then, he left the university due to lack of time and a greater interest in acting. So, he focused his life on the entertainment industry.
He studied acting in Miami, Los Angeles, and Mexico. He was in two reality shows of Telemundo: Isla de la tentacion and Protagonistas de Novela 2, respectively. In the second, a reality that aims to gather several aspiring actors who must compete to be worthy of a contract with the television network achieved a good performance that allowed small contracts after its completion. In addition, in the program, he met Mexican-American actress Elizabeth Gutierrez, with whom he had a relationship and his children were born Christopher Alexander in March 2006, and Kailey in March 2010.
Actually, modeling helped him a lot to start being known in the world of fame. The young man knew that his athletic and sympathetic appearance could be used in his favor. He began working on several soap operas for Venevision Internacional television network. The first novels in which he participated, in supporting roles, were Forget Never and Cornered. Then appeared in My life is you, with the beautiful Scarlet Ortiz. Carla Estrada gave her contact to work on Mexican television in the production of Televisa, Pasión, she was the character that gave the impulse that her career needed, and for which she was known to the public and her environment. Later, he obtained his first lead in the telenovela Care with the Angel, where his role as Juan Miguel, stole the hearts of the viewers, and had great repercussion in the United States, through the Univision network.
Also, William Levy ventured into the cinema, in the movie Retazos de Mi Vida, shot in different areas of Guayaquil. A moving film that recounts the life of Lorena Peña, a guerrillera, and Salvadoran revolutionary. William works in this film with Christian Bach, Erika Velez, Maria Teresa Guerrero, and Giovanna Andrade. On the giant screen, he also worked in the dubbing of animated films, lending his voice to the film Planet 51. The acting life of William Levy has moved into outstanding television productions of great success in the Americas. For example, the telenovela Sortilegio, of the year 2009 starring with the actress Jacqueline Bracamontes.
At the end of 2009, this artist also made remarkable appearances in the world of theater: he produced and starred in the play A Lover to Measure, this work was presented at major theaters in several Mexican cities. After this, he left aside the theater to dedicate himself to the production of the third season of Mujeres Asesinas, to the protagonist of the telenovela El Triunfo del Amor, together with Maite Perroni. Simultaneously, he worked in advertising for the firm Dolce & Gabbana¸ and the music video of the artist Jennifer Lopez, entitled I'm into you. He returned to the world of the reality show, this time participating in Dancing with the Stars, reached the third place with his partner Cheryl Burke.
In October of 2011, William Levy was again in the theater this time replacing the actor Jorge Salinas in the play Perfume de Gardenia. At the beginning of the following year, he appeared in two episodes of the VH1 Single Ladies television series. Two years later, he starred opposite Ximena Navarrete in the telenovela La tempestad. In 2014, he debuted in Hollywood with the role in the film The Single Moms Club, and in the same year, in the film Addicted. Thanks to his good role, he later appears in the horror film Resident Evil: Final Chapter (2016).
He is cataloged as a loving being, fairly faithful and very devoted to his family. He has had a good relationship with Elizabeth. Before the natural calamity experienced by Hurricane Irma in Florida, he helped the neighboring community in an improvised brigade to collect debris and rubbish. He is a very simple person and prefers to be away from the cameras and mouths of celebrity journalists. Despite this, he was involved in a controversy where Jacqueline Bracamontes revealed having had a small Roman with William Levy during the recordings of the novel Sortilegio in 2009. A situation that brought him a serious family situation, but in the end, he managed to cope.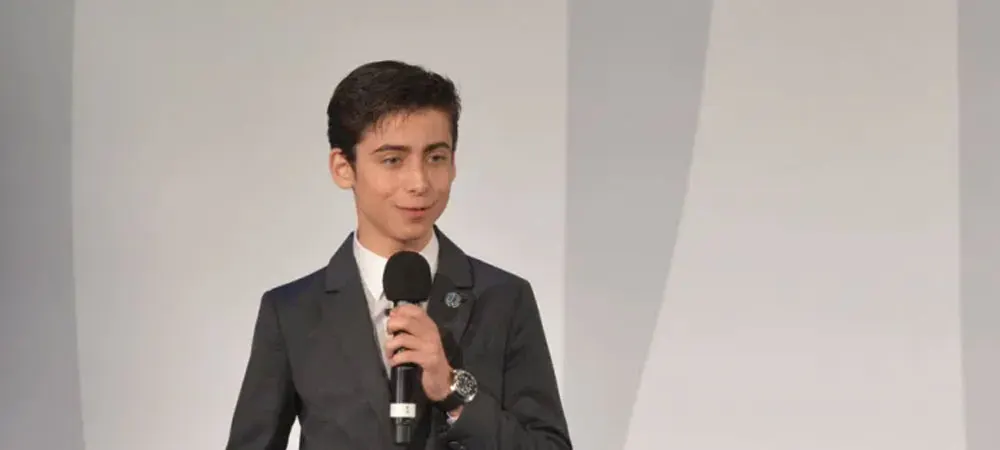 Biography of Aidan Gallagher
Aidan Gallagher (September 18, 2003) is an American actor, known for playing Nick Harper in the Nickelodeon series Nicky, Ricky, Dicky & Daw (2014-18). He was born in Los Angeles, United States. He began acting at nine years old and at ten he made his debut in You & Me (2013), by Paula Hunziker. He later worked in Jacked Up and We Make That Lemonade; and in 2014 he rose to fame as the protagonist of the popular children's series Nicky, Ricky, Dicky & Dawn. Since 2019 he has played Number Five in the Netflix series The Umbrella Academy.
Early life
Gallagher was born on September 18, 2003 in Los Angeles, United States, the son of television manager Rob Gallagher and Lauren Gallagher. From an early age he showed an interest in production and direction: at eight years old, Aidan would work with a group of friends recording stop motions with legos and some action short films. Later, with the support of his parents, Aidan began to make his way in acting. He participated in several of his father's projects and works.
In 2013, at just ten years old, Aidan made his television debut on Modern Family. That same year, he debuted in cinema with You & Me (2013), a short film by Paula Hunziker starring Tyler Blackburn and Molly Berg. In addition, he obtained his first leading role in the comedy telefilm Jacked Up (2013) by Fred Savage, alongside Missi Pyle and Patrick Warburton.
Career of Aidan Gallagher
One year after his debut on Modern Family, Aidan obtained the role that brought him fame in the Nickelodeon series Nicky, Ricky, Dicky & Daw (2014-18), as Nick, one of the quadruplets of the Harper family who usually has answers for everything. For his comic and tender scenes, the Harper quadruplets gained the audience's appreciation and the series was extended until 2018, bringing him numerous successes.
In the meantime, Gallagher would work on We Make That Lemonade (2014), by Ian Pfaff alongside Mace Coronel and Lizzy Greene; and in the Nickelodeon specials Ho Ho Holiday Special (2015) and Summer Camp Special (2017).
The Umbrella Academy (2019-2022)
In February 2019, Gallagher began acting in The Umbrella Academy, the Netflix series based on the homonymous work by Gerard Way (of My Chemical Romance), which stars Elliot Page (Vanya Hargreeves), David Castañeda (Diego Hargreeves), Robert Sheehan (Klaus Hargreeves), Tom Hopper (Luther Hargreeves) and Emmy Raver-Lampman (Allison Hargreeves). In the series, Gallagher plays Number Five, a superhero whose power is time-jumps and who returns to the past after discovering an apocalyptic future. The sarcastic humor of his character made him the favorite of fans.
After the success of the first season, the series was renewed for a second season that premiered on July 31, 2020. In November 2020, Netflix renewed the series for a third season with a premiere date of June 22, 2022.
Aidan Gallagher's musical career
With regard to his musical career, Aidan is a consummate singer, composer, guitarist and pianist. In 2019 he debuted with the singles "TIME," "FOR YOU" and "BLUE NEON". That same year, he participated in Trinity Rose's single Miss You and later released "I LOVE YOU". After his debut, Gallagher performed at the South by Southwest's Big Break Accelerator Program Showcase (2020), making him the youngest solo artist to perform at the festival.
In July 2020, he released a third single 4 of July.
Currently, Aidan has his own YouTube channel and a patreon for exclusive paid content.
Songs
Blue Neon (2019)
Miss You with Trinity Rose (2019)
Time (2019)
For You (2019)
I Love You (2020)
4 of July (2020)
Environmental activism
In June 2018, Aidan made history by becoming the youngest Ambassador of the United Nations. As such, Aidan has represented the youth of the world in several climate action initiatives. In 2019 he participated in the Global Climate Action Summit and was invited to the Illegal Wildlife Trade Summit by the UK Government.
Personal life of Aidan Gallagher
Gallagher has been involved in several environmental organizations, such as Waterkeeper Alliance, WildAid and Oceanic Preservation Society. In 2018 he was named United Nations Goodwill Ambassador for the Environment. Gallagher is vegan and Jewish.
Regarding his love life, in his adolescence Gallagher dated model Hannah McCloud for six months. He was also romantically linked to Jessica Balkin and Trinity Rose.
Curiosities
He was cataloged as #2 in the IMDB Top 10 Breakout Stars of 2020
In 2018, Variety magazine included him in its list of 25 and under leading actors.
He was nominated for two Kids Choice Awards for his role in Nicky, Ricky, Dicky & Daw (2014-18).
His Blue Neon Tour musical tour had to be postponed due to the Covid-19 pandemic.
For his music he has received an honorable mention in the International Songwriting Competition 2019 and the Vox Pop Independent Music Awards in the acoustic category 2020.