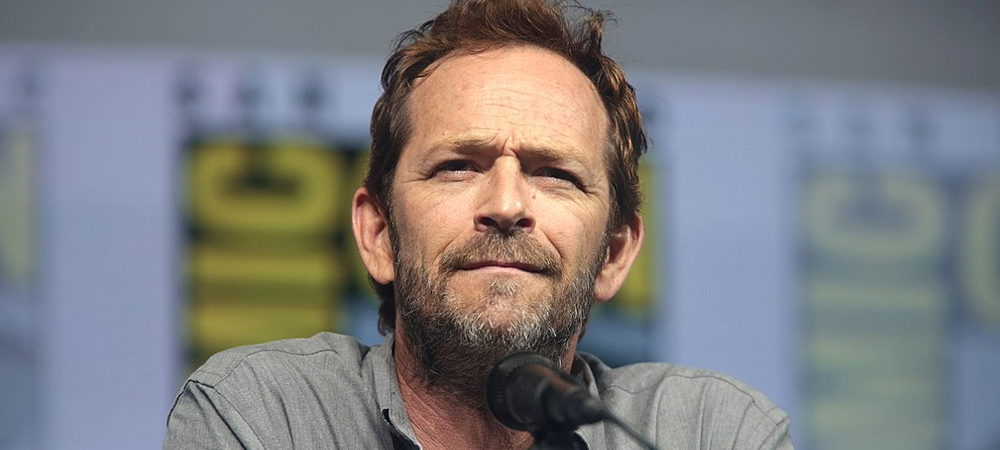 Personal information
Full name

Coy Luther Perry III

Birthdate

October 11, 1966

Date of death

March 4, 2019

Occupation

Actor

Stage name
Luke Perry
Nationality

U.S

Spouse

Rachel Minnie Sharp (1993-2003)

Parents

Ann Bennett and Coy Luther Perry Jr.
Luke Perry Biography
Luke Perry (October 11, 1966 – March 4, 2019)was an actor. He was born in Mansfield, Ohio, United States. His birth name is Coy Luther Perry III. One of his most popular roles was developed in the series Beverly Hills 90210, known for his role as Dylan McKay and in the popular Riverdale series for taking on the role of Fred Andrews. He studied at Fredericktown High School.
Beginnings
His mother, Ann Bennett, was a housekeeper, and his father, Coy Luther Perry Jr., was a steelworker. When Perry finished his studies he decided to work in a paving company to pay for his acting studies. By landing a role in Beverly Hills 90210, Perry achieved great rewards for his role on the show. He participated in the productions The Enemy and Dirt, Luke was the protagonist in the drama series Jeremiah and took on the role of Jeremiah, narrates a post-apocalyptic future, a deadly virus that infects the world population. As a consequence there are very few survivors left, few reach puberty.
Career
During his career, he has participated in several productions, in some of them, he not only acted but also joined the production area. One of the tapes he co-produced was the independent film: The Florentine, starring Michael Madsen, Jim Belushi, Hal Holbrook, and Mary Stuart Masterson. In the cine, some of his best performances are Riot, Normal Life, American Strays, Buffy, the Vampire Slayer. One of his first performances as a professional actor was in Twisted Sister: Come Out and Play. He used his voice to bring characters to life in the animated series Mortal Kombat, Family Guy, The Hulk, Johnny Bravo (episode Luke Perry's Guide to Love), and The Simpsons. He has been on Spin City, Will & Grace, Saturday Night Live, Night Visions, and Windfall.
The American-born actor was part of the cast of Criminal Minds (he assumed the role of a leader of a cult). In 2017, his participation in The CW's Riverdale series, based on the Archie comics created by John L. Goldwater, was confirmed. He took on the role of Fred Andrews, father of the protagonist (portrayed by KJ Apa)
Personal life
Perry was the husband of Rachel Minnie Sharp for ten years, in 2003 they divorced. The couple had two children, Jack and Sophie. In 2015, several precancerous tumors were detected in his colon. This motivated him to carry out several campaigns to detect and prevent colon cancer early. Death Perry suffered a stroke while at his home, located in Los Angeles, this happened on February 27, 2019. Unfortunately, on March 4, his health was compromised, and he died.
Rami Malek Biography
Rami Malek (May 12, 1981) is an actor. He was born in Los Angeles, California, United States. His parents are of Egyptian origin. But they moved to the North American country to get better job opportunities. His father was a tour guide in Cairo and later in the United States worked as an insurance salesman. His mother was an accountant. His parents managed to give him and his siblings a good education, including his twin brother.
Early years
Rami Malek attended Notre Dame High School in Sherman Oaks, California, culminating in 1999. At the time, he entered theater classes with actress Kirsten Dunst. He graduated from the University of Evansville with a BA in Fine Arts in 2003. By 2004, Malek embarked on the difficult path to being a professional actor. So, he applied to be part of the series Gilmore Girls, appearing as a guest star. That same year he was a character dubber for the video game Halo 2. The following year, he earned his Screen Actors Guild card for his performance in the war drama Over There, where he appeared in two episodes. He later was in an episode of Medium and starred for two seasons on the series The War at Home.
Career
He made his big-screen debut with the production Night at the Museum (2006), playing the pharaoh Ahkmenrah.To the surprise of many, he did not reprise his role in the sequels: Night at the Museum: Battle of the Smithsonian (2009) and Night at the Museum: Secret of the Tomb (2014). He played Jamie in Keith Bunin's play The Credeaux Canvas at the Elephant Theater in Los Angeles. In 2010, Malek returned to television with the role of the terrorist Marcos Al-Zacar in the eighth season of the series 24. At that time, his work was highly applauded, critics praised him for his portrayal of Corporal Merriell "Snafu" Shelton on the 8 Emmys winning series, The Pacific. He has been highly sought after for difficult-to-play roles, such as misfits and intelligent characters with quirky and psychotic outlines.
Tom Hanks, after seeing his talent, asked him to participate in his movie Larry Crowne released in 2011. Later, we saw him in The Twilight Saga: Breaking Dawn – Part 2 giving life to the Egyptian vampire Benjamin. His Egyptian origin has been an important element because it has given him many opportunities in the world of cinema.
What awards has Rami Malek won?
He has been nominated for an Emmy Award, a Golden Globe Award, a Satellite Award, a Screen Actors Guild Award, two Dorians Awards, and won a Television Critics Award. For his starring role as Elliot Alderson in the acclaimed Mr. Robot series. He is an actor who has a successful path and has earned the love and admiration of the Hollywood world. He was part of the cast of Josh Washington, from the PlayStation 4 horror video game Until Dawn, to which he lent his voice and facial features. The video game was released on August 25, 2015.
He has had other supporting roles in film and television, such as Kenny in the Fox series The War at Home (2005-07), and Merriel "Snafu" Shelton in the HBO series The Pacific (2010). In short, he has appeared in the films Larry Crowne (2011), The Master (2012), The Twilight Saga: Breaking Dawn – Part 2 (2012), Short Term 12 (2012), Ain't Them Bodies Saints (2013) Need for Speed ​​(2014) and Buster's Mal Heart (2016).
Bohemian Rhapsody (2018)
Recently, the actor with Egyptian roots just finished filming as the protagonist in the biopic Bohemian Rhapsody (2018), where he plays the musician Freddie Mercury. This film will arrive in Colombia in November in the main cine venues. In the United States, it will be released on November 2nd. As for post-production, a trailer came out in May. The film was originally directed by Bryan Singer, but after various attitudinal problems, he was fired and replaced by English director and actor Dexter Fletcher. Within the cast, we can find important actors, for example, Ben Hardy, Joseph Mazzello, Allen Leech, and Lucy Boynton.
Malek's work is of great importance in the film because he must give life to one of the most recognized and important singers in the world. The actor must interpret it very well, such is the case that he had to make a dental prosthesis to resemble the character. Freddie Mercury had an overbite problem, which he never wanted to intervene for fear that his vocal register would change.
He won the Golden Globe for Best Actor, the Screen Actors Guild Award for Outstanding Performance in a Leading Role, the BAFTA Award for Best Actor and the Academy Award for Best Actor for his performance in Bohemian Rhapsody.
Malek starred in Mr. Robot from 2015 to 2019.