Personal information
Full name

Kylian Sanmi Mbappé Lottin

Birthdate

December 20, 1998

Age
24 years old
Occupation

Soccer player

By-name

Donatello, Kiki

Couple

Ines Rau

Height
1.78 m
Parents

Wilfried Mbappé
Fayza Mbappé 

Awards
Golden Boy 2017; Once de Bronce 2019; Globe Soccer Awards best player 2021
Actual team
París Saint-Germain
Zodiac sign
Sagittarius
Biography of Kylian Mbappé
Kylian Sanmi Mbappé Lottin, known in the world of soccer as Kylian Mbappé or just Mbappé, is a French soccer player of Cameroonian and Algerian descent who plays as a striker; He is also recognized as one of the promising forwards in world soccer. He was born on December 20, 1998 in Paris, France and is the son of Wilfried Mbappé and Fayza Mbappé. From a very young age he showed an interest in soccer and stood out for his dribbling, speed, control and ball power; In addition, he highlighted that his favorite players have been Zinedine Zidane and Cristiano Ronaldo.
Club career
He made his professional debut with France's Monaco on December 2, 2015, in his team's draw against SM Caen in Ligue 1; he came on as a substitute for Fábio Coentrão in the 88th minute, becoming the youngest senior debutant for Monaco at the age of 16 years and 347 days, breaking Thierry Henry's record.
On February 20, 2016, Kylian Mbappé scored his first goal as a professional in his team's 3-1 victory over Troyes; in this way, he became the youngest player to score a goal for Monaco at the age of 17 years and 62 days. On March 6 of that same year, the player signed his first professional contract, which was registered for 3 years.
Kylian Mbappé scored his first hat-trick on December 14, 2016, when Monaco defeated Stade Rennais F.C. 7-0 in the round of 16 of the league cup.
On February 11, 2017, Mbappé scored his first hat-trick in Ligue 1, after Monaco's 5-0 victory over FC Metz. On February 21 of that same year, he scored the second goal for Monaco in the first leg of the UEFA Champions League round of 16 against Manchester City, where Monaco was defeated 5-3. On March 5, he scored two goals in Monaco's 4-0 victory over FC Nantes, becoming the youngest player in the last 30 years to reach that figure in Ligue 1.
In the return leg of the UEFA Champions League round of 16 against Manchester City, he contributed with a goal in Monaco's 3-1 victory (global 6-6) and advanced to the quarterfinals. On April 12, 2017, he scored 2 goals in Monaco's 2-3 victory in the first leg of the Champions League quarterfinals against Borussia Dortmund. His team managed to reach the UEFA Champions League semifinals, where it was eliminated by Juventus of Italy.
At the end of the 2016-2017 season, Mbappé became Ligue 1 champion with his team Monaco. In addition, he managed to score 26 goals in all the competitions played that season.
Consolidation with PSG
Kylian Mbappé's excellent performance made the best clubs in Europe interested in him. On August 31, 2017, Mbappé's loan to Paris Saint-Germain was made official, with a mandatory purchase option of 180 million euros at the end of the 2017-2018 season.
He made his debut with PSG on September 8, 2017 in his team's 5-1 victory over FC Metz; In addition, he managed to score his first goal with his new club in that game.
On October 23, 2017, Kylian Mbappé was awarded the Golden Boy award given by the Italian sports newspaper Tuttosport to the best player under 21 of the year. On October 7, 2018, he scored four goals for the first time in his career in the 5-0 victory over Olympique Lyon. At the beginning of the new year, he reached 20 goals in the season by scoring a hat-trick against En Avant de Guingam. On February 12, 2019, he scored in the 0-2 victory against Manchester United at Old Trafford. As a candidate for the Golden Boot of that season, a hat-trick allowed him to reach 30 goals in Ligue 1 on April 21, against Monaco. He was the second person to achieve this feat after Jean-Pierre Papin in 1990.​
Mbappé was the main reference of the club in what was one of the best times of his career (2018-19). The next season, the sport, like other areas of daily life, was affected by the outbreak of type 2 coronavirus, which became a pandemic in March 2020. The outbreak forced the UEFA, FFF, and LFP to cancel competitions, and competitions were not resumed until months later after a decrease in deaths due to population confinement.
For the 2020-21 season, after returning to the field, the team lost Ligue 1 to Lille Olympique Sporting Club, despite Mbappé being the top scorer in the tournament (with 27 goals). Then, PSG had a magnificent tournament, and after qualifying as first in their group, they faced Fútbol Club Barcelona in the round of 16. In the first leg, Mbappé scored a hat-trick that received praise and accolades in the international press. Finally, a 1-1 draw in the second leg secured PSG's qualification.
In the quarterfinals, they faced Bayern Munich, and Mbappé was decisive again with two goals in Germany. Mbappé contributed to the team's qualification for the semifinals; he also became the standout player of the tournament after scoring five goals away from home (against Barca and then against Bayern). In the final, Chelsea won the title.
One of Mbappé's dreams is undoubtedly to achieve glory at the club level, win the UEFA Champions League and the Club World Cup, the top competitions at that level. The year 2022 seemed to be the right time to achieve these goals, since PSG had a team full of stars such as Sergio Ramos, Lionel Messi, and Neymar.
After comfortably advancing in the Champions League group stage, he had to face a huge challenge, facing the all-time winner of this competition, Real Madrid C.F. It was a series full of emotions, as in the first leg Mbappé was able to show his quality, advancing PSG in the series. However, the second leg had special ingredients: a full and expectant Santiago Bernabéu Stadium looking to see what they thought would be their new signing: Mabappé. Kylian was up to the task, advancing PSG 0-2 and almost sentencing the key. Popular culture says '90 minutes at the Bernabéu are very long', and Mbappé firsthand experienced one of the magical nights at the Bernabéu; with Karim Benzema as the main star, who in just 17 minutes scored an anthology hat-trick that eliminated PSG and with it Mbappé's aspirations to be consecrated at the club level.
Current
Currently, Mbappé's stay at PSG was in doubt after the signing of Messi, as he wanted to lead a football project and the arrival of Messi could mean being in the shadow of the Argentine star. In addition, the famous elimination suffered at the Santiago Bernabéu left in the air the idea that Kylian might have opted for Real Madrid, a team he had been in talks with throughout 2022. However, after reaching a verbal agreement with Florentino Pérez, his plans took an unexpected turn and he decided to renew with PSG in mid-May 2022. This renewal, which will extend until 2025, was influenced by the intervention of the high French and Qatari political circles and sparked a great controversy on a global level, especially in the Spanish press.
Florentino Pérez: "This is not my Mbappé."
Ver esta publicación en Instagram
National team career
Kylian Mbappé began his journey with the French national team in the under-17 and under-19 categories. He made his debut on September 10, 2014 in the under-17 category, when the French national team defeated Ukraine 1-0.
After his debut with Monaco, he began to be called up to the under-19 national team of his country. He made his official competition debut on March 24, 2016, where he started and his national team won 1-0 against Montenegro. On March 26, he scored his first goal for France, in the 4-0 victory of his national team over Denmark. France qualified for the final phase of the UEFA European Under-19 Championship 2016 with a perfect score; In addition, Kylian Mbappé managed to win that competition with his national team, after defeating Italy 4-0 in the final.
On March 16, 2017, he was called up for the first time to the senior national team, to play the matches corresponding to the European eliminator for the 2018 World Cup in Russia. On March 25 of that same year, he made his debut with the senior national team, where the French national team won 3-0 against Luxembourg. On August 31, Mbappé managed to score his first goal with the senior national team, in the 4-0 victory of France against the Netherlands.
On October 10, 2017, Mbappé was part of the roster that qualified the French national team for the 2018 World Cup in Russia. In that World Cup, the French national team would be crowned champion for the second time in its history. Mbappé was one of the team's stars, contributing four goals: one against Peru, two against the Argentine national team and the final goal against Croatia. For his merits, he was awarded the award for Best Player of the tournament.
En 2021, Mbappé participated in the Euro 2020 and became the champion of the UEFA Nations League, scoring one goal and assisting in the 2-1 victory against Spain.
For the year 2022, he arrived consolidated as a world star at the World Cup in Qatar. Unlike the World Cup in Russia, the expectations for the French National Team and for Mbappé in particular were quite high; after the injury of the season's Ballon d'Or, Karim Benzema, the leadership of the team rested undoubtedly on Kylian's shoulders. For the process of the initial phase and the first elimination rounds, he counted on the brilliance of the roster, especially that of Antoine Griezmann. The performance of the French National Team was up to expectations, qualifying for the final of the tournament in which they will seek the third World Cup for France on December 18; Mbappé in particular will seek his second consecutive World Cup title.
Personal life
He was for a long time in a relationship with actress Emma Smet. In 2022 he was romantically linked to model and trans activist Ines Rau.
Teams
S. Monaco F. C. (2015-18)
Paris Saint-Germain F. C. (transferred 2017-18)
Paris Saint-Germain F. C. (2018- present)
Titles won
Ligue 1 of France (2016-2017 with Monaco; 2018-19, 2019-20, 2021-22 with PSG)
Champion of the UEFA Under-19 Championship 2016, with the French national team.
Coupe de France (2017-18, 2019-20, 2020-21)
Super Coupe de France (2019, 2020)
Individual recognitions
Part of the Tournament Team of the UEFA Under-19 Championship 2016.
Ligue 1 Player of the Month (April): 2017.
Ligue 1 Team of the Year 2017.
Best Young Player of the Year by the UNFP 2017.
Included in the Champions League Team of the Year 2016-2017.
Golden Boy 2017 award.
Kopa Trophy (best Under-21 player in the world) of 2018.
Bronze Team 2019.
Top scorer of the UEFA Nations League Final Four 2021.
Globe Soccer Awards Best Player of the World award in 2021.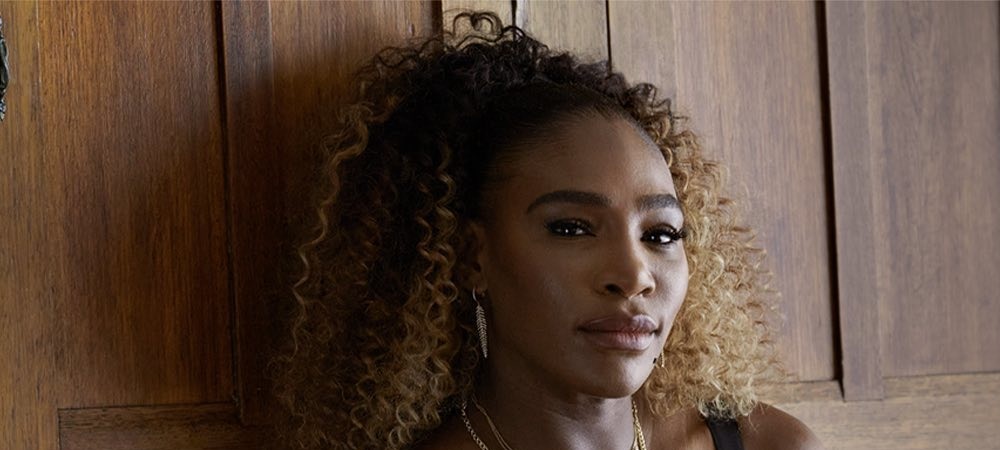 Biography of Serena Williams
Serena Jameka Williams Price (born September 26, 1981) is a professional tennis player from the United States, born in Saginaw, Michigan. Her father, Richard Williams, and her mother, Oracene, divorced in 2001. During her childhood, the family had to face difficulties due to her father's decisions, who, despite his favorable economic and social position, decided to move the family from Long Beach, on the West Coast of Los Angeles, to Compton, a closed and difficult neighborhood in the center of the city, with the goal of raising his daughters in a tough environment.
Beginnings in tennis
Since she was very young, she started training tennis, a sport that was mostly practiced by people of high economic standing. Serena trained tirelessly every day. Her father, Richard, supported her and saw her great talent, as well as his ambition to take advantage of her potential. Richard was always an ambitious and controlling man, so he became the manager of his two talented daughters. At the age of eleven, a rivalry emerged with her sister Venus, who also trained and had exceptional performance. At that time, she had won 63 consecutive regional level games.
Contract with Reebok
In 1991, Richard decided to seek out a well-known star coach located in Florida, Rick Macci. His father's decision had quick results and the family moved to a luxurious place in Florida after his daughter signed a contract with Reebok. Although Serena's progress was not as notable compared to Venus', she always showed her strength on the court. At the age of fourteen, she had the opportunity to enter the professional circuit with notable success. However, two years passed before she began to compete seriously.
How did she manage to finish her studies?
Venus has always been an inspiration to Serena. So, in 1997, when Venus reached the final stages of the US Open, but lost to then world number one Martina Hingis, it was a hard blow for the family but also a reason to keep training relentlessly. Due to their sporting responsibilities, the sisters finished school irregularly at an exclusive school of only thirty students located in Lake Placid, the Dwightwood Academy. Serena graduated in June 1999, the school administrators allowed her to graduate even though her grades were not the best because they knew that her future and talent was to compete professionally in this sport.
First African American player to win a Grand Slam
Although it seemed that the 1999 season was going to be better for Serena, it ended up being better for Venus. Then, Serena overtook Venus by winning her first Grand Slam title at the US Open. That moment in the history of Serena, her family, the United States, and also the African American population was glorious. It was the first time an African American player had won a Grand Slam. To add to the happiness, on April 5th of that year, Serena was able to enter the top ten and shortly after, in the doubles category, she and her sister won the French Open and the Federation Cup.
The Williams sisters
It is known that, on many occasions, while they were young, the Williams sisters had problems produced by competition and by the specialized press publications that usually compared them. In the year 2000, Venus defeated Serena in the final of the Lipton tournament. Serena showed great serenity and heartily congratulated her sister. Later, she won the Paris Indoor. That year, in the Wimbledon competition, Venus eliminated Serena in the semifinals, and later raised the title against Davenport. Additionally, both won doubles in two major tournaments: Roland Garros and the US Open.
By that time, the Williams' dominance was already being talked about and it was natural that when referring to one sister, the other would also be mentioned. Although they rarely competed together, their bond was very strong. Serena was already imposing herself as one of the best in the women's professional circuit. In 2002, she defeated Venus in the Wimbledon final with a score of 7-6 and 6-3. This was the best moment of her career as she reached the top spot in the Women's Tennis Association (WTA) ranking and by that time she already had sixteen international circuit titles.
On September 9th, Serena, 20 years old, amazed at the US Open with her latest display of power by defeating Venus in the final with a score of 6-4 and 6-3 in just 72 minutes. With this victory, she managed to tie with her elder sister in their personal matchups (5-5) and in Grand Slam titles, both with four each. It is important to highlight that Serena's impressive season included six titles, 45 wins and only 4 losses. An injury to her ankle prevented her from participating in the Australian Open, allowing American Jennifer Capriati to triumph.
Fifth Grand Slam title.
The following year, Serena did not win at Roland Garros, where she surprisingly fell in the semifinals to Belgian Justine Henin-Hardenne. However, she did win at Wimbledon, where the Venus-Serena final from the previous year was repeated. Serena added her fifth Grand Slam title. She was involved in a legal conflict with a German man who was harassing her. After being reported, he was arrested and imprisoned on March 3, 2002 for stripping in front of the reception of a hotel in Scottsdale (Arizona), where Serena was staying. Serena's father threatened the harasser with death and Serena threatened to kill him if her daughter suffered any harm.
Causes of her temporary retirement from tennis.
In September 2003, the family mourned when Yetunde, her sister, was murdered by a common criminal. After this, the sisters were off the courts for a while. Serena started taking acting classes with an experienced teacher in Los Angeles. In acting, she finds a moment of escape and claims to forget about her sporting commitments. Serena received the ESPY Athlete of the Year Award. Her popularity as an athlete allowed her to be a model and official image for several sports brands.
Contracts, performance, marriage.
First she signed with Puma, then with Nike, with whom she signed for an exorbitant amount of money. After studying acting, she began studying design, so now she is the designer of a sportswear brand: Aneres, she usually wears her clothes in competitions. We have not only seen her on the courts and in the advertisements but also in TV series such as ER, Law & Order, and Hair Show, among others. In 2016, she equaled the record of German Steffi Graf with 22 Grand Slam titles. In addition, she enjoyed a beautiful romantic relationship with Reddit co-founder Alexis Ohanian. They got married in 2016 and currently have a son.