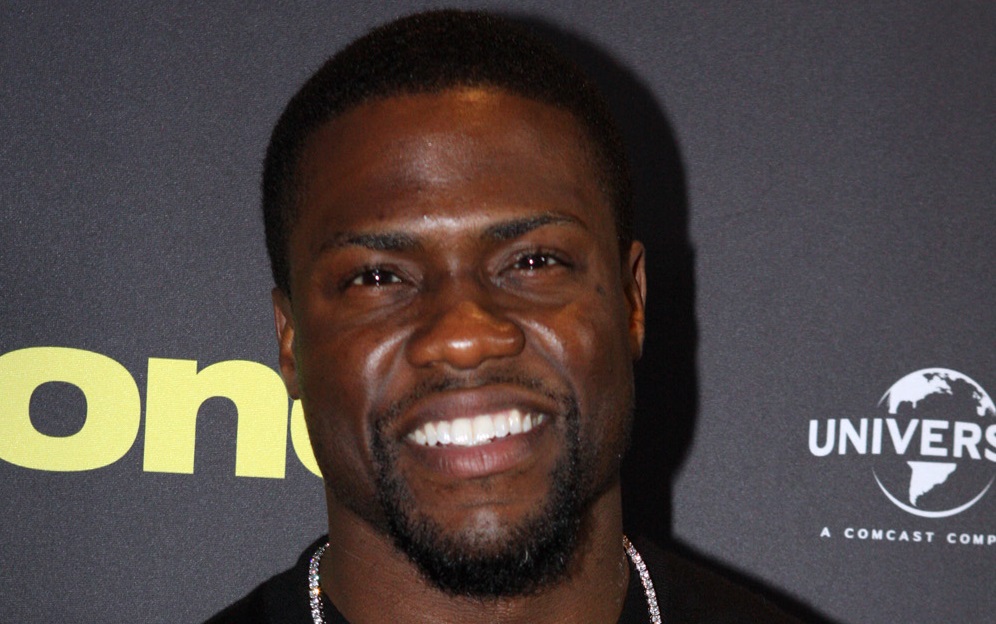 Kevin Hart biography
Kevin Darnell Hart, better known as Kevin Hart (July 6, 1979) was born in North Philadelphia, Pennsylvania, United States. He studied at George Washington High School, then attended Temple University for two years, without completing his studies. He started working as a shoe salesman, although this job did not please him. As a result of this he ventured into the world of comedy, little by little he was getting contacts until he found a job as a full-time comedian. Over time, his expertise increased. He won a small role in the television series produced by Judd Apatow, called Undeclared. The following year, he made his debut in the cinema, in a film related to urban crime in the best style of comedy called Paper Soldiers.
Hart married Torri Hart, a girl he met in the world of the comedy, in 2003. Two years later, his first daughter, Heaven Leigh Hart, was born. Kevin is a loving and quite overprotective father. On February 18, 2008, his second son, Hendrix Hart, was born. In 2010, unfortunately, the love relationship between Kevin and Torri came to an end, Torri stated that the reasons for the break were the possible deception with which today is his wife. Kevin Hart legally separated from his wife and concluded their relationship on good terms, despite having thrown negative comments to each other.
In 2013, Kevin Hart was arrested for drunk driving and being involved in a traffic accident that did not have much impact. His Mercedes Benz collided with a tanker on the highway in southern California. He was charged with misdemeanor DUI. On August 5, 2013, Hart was sentenced to three years of probation.
The life of Kevin Hart, especially, in his childhood had many voids his father's problem with drugs caused him great emotional problems, fortunately, his father, Robert, has recovered from his addiction and the relationship between them has begun to narrow. With respect to his mother, Nancy, Hart created comedy routines inspired by her, exposes her as a loving person, but at the same time intimidating. She battled cancer, but her fight ended in 2006.
His career as a comedian and comedy actor has been successful, in 2008, he was in the video of Three 6 Mafia and subsequently, Hart appeared in a series of eBay commercials. Also in 2009, he played a sorcerer, in a television series, Kröd Mändoon and the Flaming Sword of Fire. His acting ability and recognition allowed him to be in films, such as The 40-Year-Old Virgin, Soul Plane, Paper Soldier, Scary Movie 3, Along Came Polly, Scary Movie 4, Death at a Funeral, Little Fockers, Not Easily Broken, and One Day in Jersey. In 2005, he was nominated for the Platinum Mic Visores Award. He dedicated himself to live comedy performances for Comedy Central. In 2010, Hart appeared in the Air Jordan commercials with Dwyane Wade. Hart has built his fame on the basis of comedy, many characters from the world of fame admire him, one of them is colleague Mike Benner.
Kevin Hart has played the celebrity game several times in the NBA All-Star Weekend. Then Hart was chosen Celebrity All-Star Game in the NBA. Although his stay in the game of 2012 did not last long, thanks to a verbal and physical confrontation he had with the match referee. In that game, Hart scored eight points and six assists. For his love and astuteness for basketball, he was the coach of an American team.
Hart hosted the MTV Video Music Awards in 2012, a ceremony held at the Staples Center in Los Angeles, California. His great friend Judd Apatow, a director who drove his career on the small screen, was the one who recommended him as host in this important and multitudinous event.
Hart is developing several film projects. The first of them is the comedy Let Go, starring alongside David Denman and Gillian Jacobs; he was also with Jason Segel, Emily Blunt and Chris Pratt in the romantic comedy The Five-Year Engagement; finally, the actor interpellated the South African Olympic champion, Precious McKenzie, in the biographical drama called The Impossible Dream, whose cast was made up of Nick Nolte, Kim Basinger, and John Rhys-Davies.
This great comedian and actor for his talent and care has managed to be among the ten most famous celebrities in recent years, according to Forbes. Precisely has won the amount of 87.5 million dollars, ranking sixth in the list. The comedian shows off his private jet, where he travels with his family, loves to collect large cars and gold watches is also a dog lover. He is currently married to Eniko Parrish, model, and acting student. And his next movie is the action and fantasy film Jumanji.
Rami Malek Biography
Rami Malek (May 12, 1981) is an actor. He was born in Los Angeles, California, United States. His parents are of Egyptian origin. But they moved to the North American country to get better job opportunities. His father was a tour guide in Cairo and later in the United States worked as an insurance salesman. His mother was an accountant. His parents managed to give him and his siblings a good education, including his twin brother.
Early years
Rami Malek attended Notre Dame High School in Sherman Oaks, California, culminating in 1999. At the time, he entered theater classes with actress Kirsten Dunst. He graduated from the University of Evansville with a BA in Fine Arts in 2003. By 2004, Malek embarked on the difficult path to being a professional actor. So, he applied to be part of the series Gilmore Girls, appearing as a guest star. That same year he was a character dubber for the video game Halo 2. The following year, he earned his Screen Actors Guild card for his performance in the war drama Over There, where he appeared in two episodes. He later was in an episode of Medium and starred for two seasons on the series The War at Home.
Career
He made his big-screen debut with the production Night at the Museum (2006), playing the pharaoh Ahkmenrah.To the surprise of many, he did not reprise his role in the sequels: Night at the Museum: Battle of the Smithsonian (2009) and Night at the Museum: Secret of the Tomb (2014). He played Jamie in Keith Bunin's play The Credeaux Canvas at the Elephant Theater in Los Angeles. In 2010, Malek returned to television with the role of the terrorist Marcos Al-Zacar in the eighth season of the series 24. At that time, his work was highly applauded, critics praised him for his portrayal of Corporal Merriell "Snafu" Shelton on the 8 Emmys winning series, The Pacific. He has been highly sought after for difficult-to-play roles, such as misfits and intelligent characters with quirky and psychotic outlines.
Tom Hanks, after seeing his talent, asked him to participate in his movie Larry Crowne released in 2011. Later, we saw him in The Twilight Saga: Breaking Dawn – Part 2 giving life to the Egyptian vampire Benjamin. His Egyptian origin has been an important element because it has given him many opportunities in the world of cinema.
What awards has Rami Malek won?
He has been nominated for an Emmy Award, a Golden Globe Award, a Satellite Award, a Screen Actors Guild Award, two Dorians Awards, and won a Television Critics Award. For his starring role as Elliot Alderson in the acclaimed Mr. Robot series. He is an actor who has a successful path and has earned the love and admiration of the Hollywood world. He was part of the cast of Josh Washington, from the PlayStation 4 horror video game Until Dawn, to which he lent his voice and facial features. The video game was released on August 25, 2015.
He has had other supporting roles in film and television, such as Kenny in the Fox series The War at Home (2005-07), and Merriel "Snafu" Shelton in the HBO series The Pacific (2010). In short, he has appeared in the films Larry Crowne (2011), The Master (2012), The Twilight Saga: Breaking Dawn – Part 2 (2012), Short Term 12 (2012), Ain't Them Bodies Saints (2013) Need for Speed ​​(2014) and Buster's Mal Heart (2016).
Bohemian Rhapsody (2018)
Recently, the actor with Egyptian roots just finished filming as the protagonist in the biopic Bohemian Rhapsody (2018), where he plays the musician Freddie Mercury. This film will arrive in Colombia in November in the main cine venues. In the United States, it will be released on November 2nd. As for post-production, a trailer came out in May. The film was originally directed by Bryan Singer, but after various attitudinal problems, he was fired and replaced by English director and actor Dexter Fletcher. Within the cast, we can find important actors, for example, Ben Hardy, Joseph Mazzello, Allen Leech, and Lucy Boynton.
Malek's work is of great importance in the film because he must give life to one of the most recognized and important singers in the world. The actor must interpret it very well, such is the case that he had to make a dental prosthesis to resemble the character. Freddie Mercury had an overbite problem, which he never wanted to intervene for fear that his vocal register would change.
He won the Golden Globe for Best Actor, the Screen Actors Guild Award for Outstanding Performance in a Leading Role, the BAFTA Award for Best Actor and the Academy Award for Best Actor for his performance in Bohemian Rhapsody.
Malek starred in Mr. Robot from 2015 to 2019.