Karl Lagerfeld Biography
Karl Lagerfeld (September 10, 1933 – September 19, 2019) was born in Hamburg, Germany. Designer considered one of the most relevant figures in the world of fashion. For his knowledge and undisputed talent was called the Kaiser of fashion. Lagerfeld's successful career began in the 1950s when he moved to Paris, he continued his studies and became known through the International Wool Secretariat, an award he won in the category of coats. Thanks to this award he made his way into the fashion scene, working as an assistant to Pierre Balmain, later joined the Italian firm Fendi and the Chanel house, which saved him from oblivion in a few years. After consolidating his career at Fendi and Chanel he founded his firm, which not only reaffirmed his talent but also made him one of the most important references in fashion
Early Years
Born into a upper-middle-class family, Lagerfeld studied at a private school in his hometown. During this period of training, he was noted for his intelligence and scathing personality, which was influenced by the character of his mother Elisabeth Bahlmann a cultured violinist daughter of the German politician, Karl Bahlmann; his father, Otto Lagerfeld was a renowned businessman, a descendant of a family of bankers, who earned his fortune by introducing evaporated milk in Germany.
While growing up in postwar Hamburg, Lagerfeld, longed for the splendor of the 80s of the 19th century, in which glamor and class flourished. When he finished primary school in Hamburg, he decided to move to France, where he continued his academic and artistic training. He attended Lycée Montaigne in Paris, an institution where he studied Drawing and History. However, he left school at sixteen.
Professional career
After settling in Paris he began to move in the Parisian fashion scene, designing and sketching his creations. In 1954, Karl Lagerfeld participated in the International Wool Secretariat, a fashion contest in which outstanding designers participated, who were making their way into the European fashion scene as Yves Mathieu-Saint-Laurent, a young designer considered Lagerfeld's rival, for his influence and talent. In the contest Saint-Laurent and Lagerfeld, they obtained the first position in the categories dressed and coats, respectively. Thanks to his triumph in the contest, Lagerfeld was hired as a junior assistant at Pierre Balmain, a renowned French firm, which at that time was seen as one of the most important sewing houses in the country. For this same period, his rival was hired by Dior, an event that accentuated the rivalry between young people.
Lagerfeld held the position of assistant at Pierre Balmain for about three years, as he got tired of not being able to shine in the firm with his work. As he mentioned in some interviews, he was not born to be an assistant; so he looked for a position more suited to his talent. After leaving Balmain, he was hired as creative director of House of Patou, a fashion house in which he designed numerous collections following Patou's style. After a short time, he resigned and began collaborating with the firm Tiziani, for which he designed various garments. Some of the sketches of this period were auctioned by the firm in 2014. In the course of these years, the brilliant designer dressed important figures like Elizabeth Taylor.
At the beginning of the 1960s, the young designer's career was strongly promoted, being hired by the fashion house Chloé, in which, after collaborating with few designs, he came to excel designing an entire collection. In 1967, he was hired by Fendi, to work in the department of clothing, accessories and leather accessories, in which he worked most of his life. His stage in Fendi is one of the most outstanding of his career, in the course of this Lagerfeld, he revolutionized the way Fendi presented himself, included various eclectic influences such as Eskimo-inspired designs, medieval armor, and kimonos, all these applying his vision, which was well-received by critics of the fashion scene. During his years at Fendi, he introduced successful ready-to-use lines and styles, which made Fendi a global fashion brand.
After excelling at Fendi for almost two decades, he was contacted by Alan Wertheimer, president of the Chanel house, who offered him the position of creative director of the house; by this time Chanel was going through a hard moment, barely kept afloat with the sales of perfumes and some clothing, since Gabrielle's death left the house uninspired and none of the designers hired in that period he had managed to recover the splendor and glamor that it had held for a long time. Taking into account the situation of the house, Lagerfeld considered the proposal as one of his biggest challenges, joined Chanel in 1983 and shortly after managed to consolidate the house again.
During the first years in the house, Lagerfeld, renewed the outdated style of Chanel, introducing appliques, sequins, and youth styles, without neglecting the elegance of the Chanel style. Starting the new millennium, Lagerfeld, decided to change his diet, losing 42 kilos in just one year, this feat was reported by him and his doctor in the bestseller The Karl Lagerfeld Diet (2004). With a new appearance he continued to design collections entire for Chanel and Fendi; per year he launched twelve collections, two for Fendi and ten with Chanel.
Lagerfeld, missed the most recent Chanel parade, due to fatigue, was subsequently admitted to the American Hospital in Paris, due to health problems. After several complications, he died on September 19, 2019.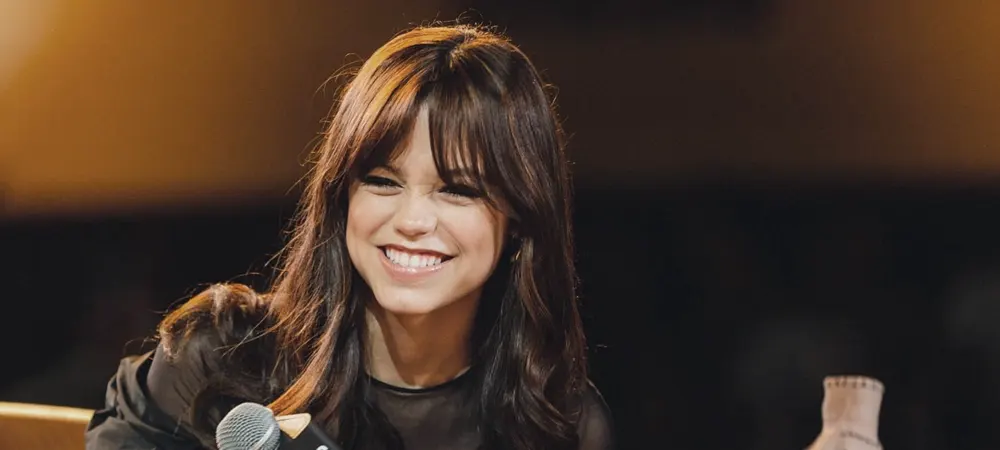 Jenna Ortega biography
Jenna Ortega is an American actress and writer, born on September 27, 2002 in Coachella, California. She is known for her role as Harley Diaz on the Disney series "Stuck in the Middle".
Not much is known about Ortega's early life and childhood. She is the fourth child of Natalie López and Edward Ortega, and comes from a large family with an older brother, two older sisters, and younger twin siblings. She began acting at a young age, and has mentioned that she would have liked to enjoy a more normal childhood experience.
Artistic career
Jenna Ortega showed an interest in acting from a young age. In 2012, she made her debut, appearing in an episode of the comedy series "Rob". She also appeared in an episode of "CSI: NY" as Aimee Moore.
In 2013, Ortega played the role of the vice president's daughter in "Iron Man 3". She also played Annie in "The Purge: Anarchy" that same year.
Ortega was chosen to play young Jane Villanueva in the series "Jane the Virgin". The show tells the story of Jane Villanueva, played by Gina Rodriguez, who becomes accidentally pregnant after being artificially inseminated. The series also stars Jaime Camil, Justin Baldoni, Yael Grobglas, Brett Dier, and Andrea Navedo.
In 2014, Netflix cast Ortega as Darcy, Richie's best friend, in the series "Richie Rich".
Ortega then joined the Disney family, playing Harley Diaz in the series "Stuck in the Middle". The show follows a large Latinx family, with Harley being the middle child among seven siblings. The show shows the chaos and fun of growing up in a big family.
Two years later, Ortega shared the screen with actor David Arquette in "Saving Flora" (A Great Friendship), playing the role of Dawn. In 2019, Netflix released the second season of its highly successful series "You". Ortega played Ellie, the younger sister of Delilah Alves. That same year, she joined the cast of "The Babysitter: Killer Queen" as Phoebe Atwell. In the following year, she appeared on screen with Jennifer Garner, Edgar Ramirez, Julian Lerner, and Everly Carganilla in the Netflix comedy "Yes Day".
In "The Fallout: Life After", Ortega played the role of Vada. The film is about Vada, a high school student who struggles to deal with the emotional aftermath of a school tragedy. The film also stars dancer and actress Maddie Ziegler, Shailene Woodley, Lumi Pollack, Niles Fitch, and Julie Bowen. This film marks a change in Ortega's acting career, as she began to take on more roles in horror and suspense films, such as "Scream 5", "X", and "Studio 666", which was directed by BJ McDonnell and the Foo Fighters.
In 2022, we will see Ortega as Wednesday Addams, also known as Merlina Addams, in Tim Burton's Netflix series "Merlina" (Wednesday). She is currently working on several film projects, and we look forward to seeing more from her in the future.
Ortega's voice has brought characters to life, such as Princess Isabel in the "Elena of Avalor" program and the film "Elena and the Secret of Avalor"; Gabriella Espinosa in "The Green Neighbors"; and Brooklynn in "Jurassic World: Cretaceous Camp".
In 2021, Ortega debuted as a writer with her book "It's All Love".
Ortega is not very active on social media, but she does post content about her family, friends, and work. In an interview, she mentioned that she tries to take breaks from social media, as she knows that it is one of the most commonly used forms of communication, but she needs a break from it. She has more than 8.6 million followers.