Joe Hart Biography
Charles Joseph John Hart is an English footballer who plays as a goalkeeper and is popularly known as Joe Hart. He was born in Shrewsbury, England on April 19, 1987, and is the son of Charles Hart and Louise Hart.
In 2003, he began his football career in the English second division team Shrewsbury Town, in which he played 46 games until 2006. In that same year, he went to Manchester City and only played two games, so the citizen team sent him to Tranmere Rovers of the Second Division, where he had 6 appearances. Even with the little rhythm of competition that Hart had, he was called by England's under-20 team to play in the World Cup qualifiers in Canada. After the Under 20 World Cup, Manchester City sent him to Blackpool FC, where he played 5 games and was the best player in each of them, saving key victories of his team.
The excellent performance shown by Hart made Sven-Göran Eriksson, coach of Manchester City at that time, interested in getting the services of the great goalkeeper. At that time he was also called for the first time to the England senior national team, where he made his debut in a match against the selection of Trinidad and Tobago.
At the beginning of the 2009-2010 season, Manchester City decided to relinquish goalkeeper Hart, as they had hired Shay Given as the first goalkeeper. The new team where Joe Hart was sent was Birmingham City. He had a successful season playing as a starter on 41 occasions, came out in several games, which caught the attention of Fabio Capello, coach of the England national team, who included him in the squad for the 2010 World Cup.
In the 2010-2011 season, he returned to Manchester City, where he had chances to play in some games, where he showed good performance, which made him consolidate in the starting team of the citizens. On August 14, 2010, he was the man of the match in a league game against Tottenham, after making five extraordinary saves that saved City from defeat. On August 23 of that same year, he was chosen as the player of the match again, after stopping 4 goal balls, saving the fall of his team.
In a match against the U-21 Swedish national team, he scored his first goal, after a definition from the penalty spot, where England won by 5-4. In that season, Joe Hart renewed his contract with Manchester City until 2016, where he played a total of 345 games.
Disputed the Eurocopa 2012 with the England national team, where he started in every game until the quarterfinal, where England was eliminated.
On May 12, 2014, he was summoned to play the World Cup in Brazil, where he played in the 3 games, to which England failed to overcome the group stage.
Joe Hart renewed his contract with Manchester City for 5 seasons, until 2019. The player was on loan for one year with Torino F.C and in the 2017-2018 season at West Ham although his card remains Manchester City.
He was called up to the England national team that disputed the qualifiers to Russia 2018, and which obtained the 9 of October to ratify its classification to that competition.
TITLES OBTAINED
FA Cup in the 2010-2011 season.
Premier League, in the 2011-2012 season.
Community Shield, in the year 2012.
League Cup, in the 2013-2014 season.
Premier League, in the 2013-2014 season.
League Cup, in the 2015-2016 season.
INDIVIDUAL AWARDS
Golden Glove of the Premier League 2011, 2012, 2013 and 2015.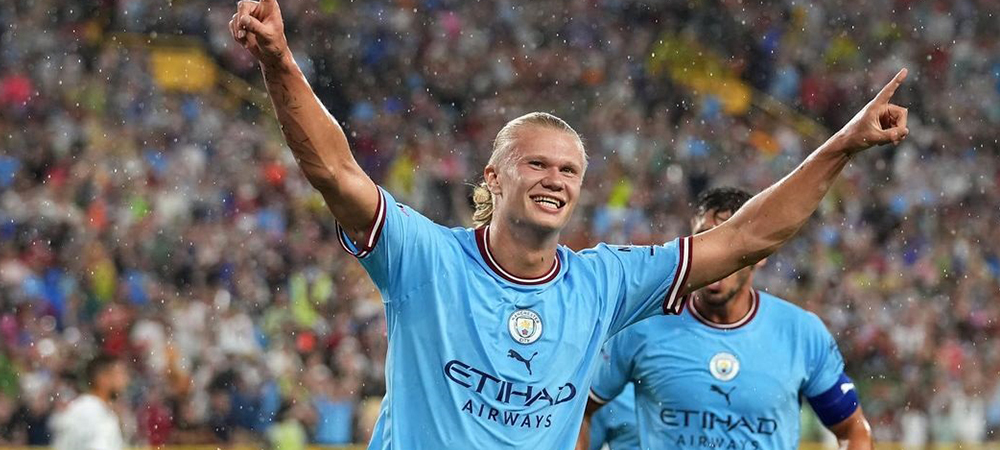 Biografía de Erling Braut Haaland
Erling Braut Haaland (born July 21, 2000) is a Norwegian-English professional footballer who plays as a forward. He achieved success with Borussia Dortmund, becoming the first player in Champions League history to score a hat trick in his debut match. Haaland began his career at Bryne F.K. at the age of 15, later moving to Molde in 2016 and signing with Salzburg in 2018. With Salzburg, he made history in 2019. With Borussia Dortmund, he became one of the most famous players in the Bundesliga. He has also been a member of the Norwegian national under-20 team.
Early Years
Haaland was born on July 21, 2000 in Leeds, England. He is the son of sports couple Alf Inge Haaland and Gry Marita. His father was a footballer who played for Leeds at the time of his birth, while his mother was an athlete and a Norwegian champion in heptathlon. From a very young age, football became his passion. Even when an injury forced his father to retire from the game, Haaland continued to play.
Erling Haaland's Early Career
Haaland began his career at the age of 15 with the Norwegian team Bryne F.K. During the 2015-16 seasons, he played for Bryne 2, the team's reserve squad, where he scored 18 goals in 14 games. In May 2016, Berntsen gave him his first chance with the first team. He made his debut on May 12, 2016 in a first division match against Ranheim. With Bryne, Haaland played in 16 games.
Molde (2017-18)
In February 2017, it was announced that he had signed with Molde. He made his debut for the team on April 26, 2017, scoring his first goal in a 3-2 victory against Volda TI in the Norwegian Cup. Two months later, on July 4, he made his league debut as a substitute against Sarpsborg 08. Haaland scored the winning goal in that match, his first in the Eliteserien. On September 17, 2017, he scored his second goal against Viking FK. Haaland ended his first season with 4 goals in 20 appearances with Molde.
During his second season under coach Ole Gunnar Solskjaer, Haaland scored 16 goals in 30 games. One of his most notable performances during his second season was on July 1, 2018, when he scored four goals against SK Brann in the first 21 minutes of the match. His impressive talent attracted the attention of Juventus and Salzburg.
Red Bull Salzburg (2018-20)
Haaland joined the Austrian team on August 19, 2018. His first season, however, did not go as expected. He played only five games and scored only one goal, so he was hardly taken into account. In the 2019-20 season, everything changed after he scored 9 goals in the under-20 match against Honduras. After this surprising match, Haaland became a key player for Salzburg. He made history with the team and in the Champions League, by scoring a hat-trick in the first half of his Champions League debut against Genk on September 17, 2019. In his second season with Salzburg, he played a total of 22 games, starting 11, and scored 28 goals.
Borussia Dortmund (2020-22)
At the beginning of 2020, Haaland signed with Borussia Dortmund of the Bundesliga. He made his debut on January 18, 2020 against FC Augsburg, scoring his first hat-trick in 23 minutes. He became the second player in the team's history to score three goals during his Bundesliga debut, after Pierre-Emerick Aubameyang. On February 18, 2020, Haaland scored both goals in the 2-1 victory against Paris Saint-Germain in the first leg of the Champions League Round of 16. He had several standout performances before the league closed due to the pandemia.
On May 16, 2020, he scored the first goal after the league break against Schalke; it was his tenth goal in domestic competition. A month later, he scored two goals in a 2-0 victory against Leipzig, securing a spot in the Champions League for the following season for Dortmund. On September 19, 2020, he scored another double in the 3-0 victory against Borussia Mönchengladbach. Then he returned to score in the 2-3 loss on September 30th against Bayern Munich in the German Super Cup and in the league again against Bayern on November 7th. On November 21st, he scored four goals in 32 minutes in the 5-2 thrashing of Hertha Berlin. On the same day, he became the first Norwegian to win the Golden Boy award. Three days later, on November 24th, he scored a double in the 3-0 victory over Club Brugge. He became the fastest player to reach 15 goals in the UEFA Champions League, with only 12 appearances in the tournament.
In December 2020, Haaland suffered a tendon injury that kept him out of action until January 2021. He returned to the team on January 3, 2021, in the match against VfL Wolfsburg. Six days later, he scored a double in the 3-1 victory as a visitor against Leipzig. Then, he scored two goals in the 2-4 defeat against Mönchengladbach on January 22nd. He scored two goals and recorded an assist in the 2-3 victory against Sevilla F.C. in the first leg of the Champions League Round of 16, and later scored two more goals in the return match to secure Dortmund's passage to the quarterfinals. Although Dortmund was eliminated, Haaland became the top goal scorer of the competition (with 10 goals).
With the season finished, Haaland was named the best player of the Bundesliga 2020-21 after scoring 27 goals in 28 matches played.
Manchester City (2022)
On June 13, 2022, the transfer to Manchester City F.C. was completed with a five-year contract. He made his debut on July 30, 2022, in Manchester's 3-1 defeat against Liverpool.
Teams
Bryne F. K. (2016)
Molde F. K. (2017-18)
C. Red Bull Salzburgo (2018-19)
Borussia Dortmund (2020-22)
Manchester City F. C. (2022-act.)