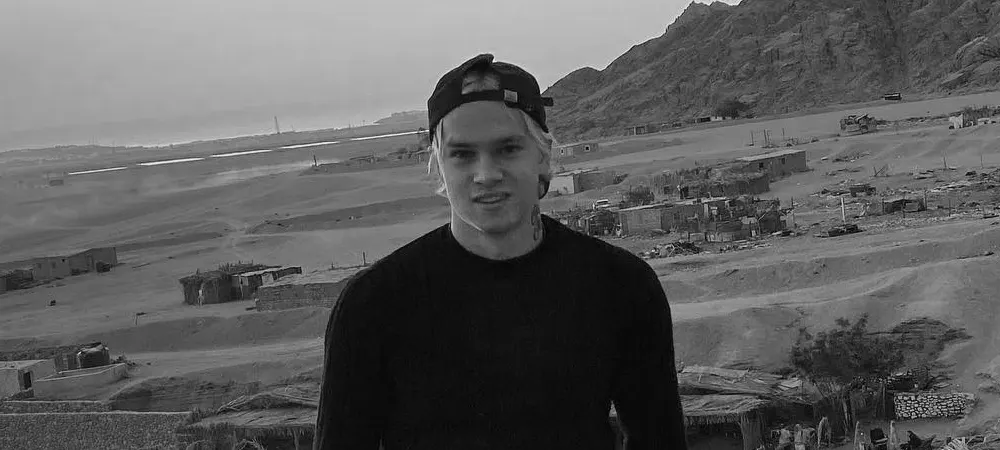 Personal information
Full name

Mykhailo Petrovych Mudryk

Birthdate

January 5, 2001

Age
22 years old
Occupation

Footballer

By-name

Misha

Nationality

Ukrainian

Height
1.75 m
Parents

Inna Nikolaevna Mudryk
Petrovyche Mudryk

Actual team
Chelsea F.C
Zodiac sign
Capricorn
Biography in other languages
Biography of Mykhailo Mudryk
Mykhailo Mudryk is a professional Ukrainian football player born on January 5, 2001 in Krasnohrad, Járkov Oblast. He is internationally recognized as one of the young promises of European football thanks to his outstanding performances in the Champions League with Shaktar Donetsk. In January 2023, his transfer to Chelsea F.C. generated great media attention.
Family life
Mykhailo Mudryk grew up surrounded by his family, consisting of his parents Inna Nikolaevna Mudryk and Petrovyche Mudryk, as well as his sister Tatyana. His deceased grandmother, Fedorova Lyudmila Dmitrievna, played an important role in his personal and spiritual formation, helping him overcome his fears from an early age.
Beginning in Football
Mykhailo Mudryk began his football career in the youth divisions of Shaktar Donetsk, making his professional debut on October 31, 2018 in a Ukrainian Cup match. In 2019, he was loaned to the same competition's team, Arsenal Kiev, where he made his debut on March 3, 2019.
After his loan period ended, he returned to Shaktar Donetsk to face the 2019-2020 season. With the team, he won the local league title and played in three games, accumulating more than 80 minutes.
In the 2020-2021 season, he was loaned again, this time to FC Desna Chernihiv in Ukraine, where he played in ten games in the first half of the season. For the end of the season he returned to Shaktar Donetsk where he played in six games, demonstrating exceptional performance which led him to be recognized as the best player of Shaktar in the months of November and December. This predicted a starring role for what would be the 2021-2022 season.
The 2021-2022 season would launch Mykhailo Mudryk as the figure of Shaktar. After playing 12 games he managed to score 7 goals and give 7 assists, which would make him the leader of his team in the local tournament. However, his international recognition came thanks to his outstanding performances in the Champions League, especially for the media impact that faced teams like Inter Milan, Celtic of Scotland, and the most times winner of the competition, the legendary Real Madrid. Mykhailo Mudryk managed to score 3 goals and give 2 assists in 6 games, besides showing a high level in each of the games played in the group stage. According to local media, Mykhailo Mudryk was recognized as the best Ukrainian footballer of the season.
Mykhailo Mudryk and his move to Chelsea F.C
After long negotiations that seemed to bring the Ukrainian player to Arsenal in England, an unexpected turn placed Mykhailo Mudryk as the new player of Chelsea F.C. On January 14, 2023, the player's transfer was officially announced for a total of 100 million euros (70 million direct and 30 million in bonuses). This operation became the highest transfer of a Ukrainian player in history and the highest of the winter market in England, at the time the operation was completed.
"Dear God,

if today I lose hope,

please remind me that

your plans are better than

my dreams…"

Tattoo on Mykhailo Mudryk's chest.
Curiosities about Mykhailo Mudryk
Mykhailo Mudryk had problems with nightmares in his childhood, but he overcame them thanks to the help of his grandmother, who helped him overcome his fear of darkness through a portrait of the archangel Michael and advising him to make the sign of the cross before going to sleep.
He is known for having religious tattoos, which indicates that religion plays an important role in his life.
He began his football career in the youth divisions of Shaktar Donetsk and made his professional debut in a match of the Ukrainian Cup in October 2018.
He was loaned twice to teams of the same competition, first to Arsenal Kiev and later to FC Desna Chernihiv, where he showed outstanding performance.
He was recognized as the best player of Shaktar in the months of November and December of the 2020-2021 season, which forecasted a leading role for what would be the 2021-2022 season.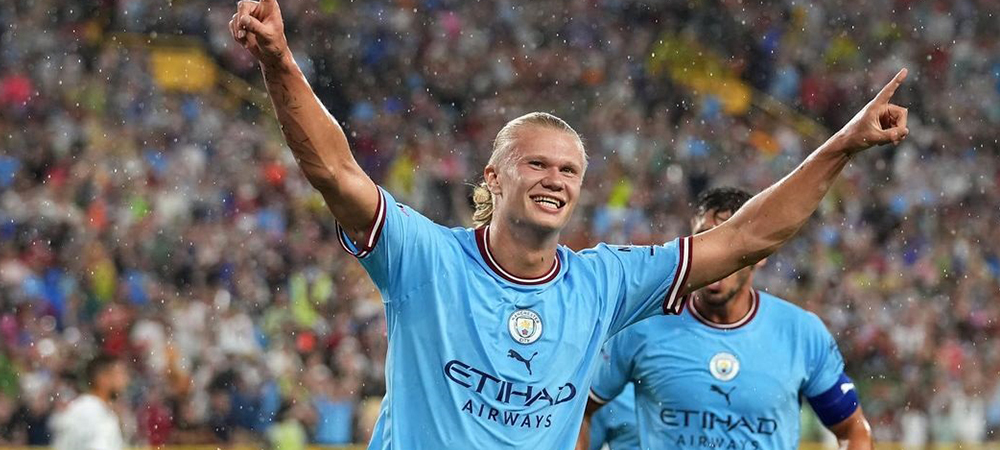 Biografía de Erling Braut Haaland
Erling Braut Haaland (born July 21, 2000) is a Norwegian-English professional footballer who plays as a forward. He achieved success with Borussia Dortmund, becoming the first player in Champions League history to score a hat trick in his debut match. Haaland began his career at Bryne F.K. at the age of 15, later moving to Molde in 2016 and signing with Salzburg in 2018. With Salzburg, he made history in 2019. With Borussia Dortmund, he became one of the most famous players in the Bundesliga. He has also been a member of the Norwegian national under-20 team.
Early Years
Haaland was born on July 21, 2000 in Leeds, England. He is the son of sports couple Alf Inge Haaland and Gry Marita. His father was a footballer who played for Leeds at the time of his birth, while his mother was an athlete and a Norwegian champion in heptathlon. From a very young age, football became his passion. Even when an injury forced his father to retire from the game, Haaland continued to play.
Erling Haaland's Early Career
Haaland began his career at the age of 15 with the Norwegian team Bryne F.K. During the 2015-16 seasons, he played for Bryne 2, the team's reserve squad, where he scored 18 goals in 14 games. In May 2016, Berntsen gave him his first chance with the first team. He made his debut on May 12, 2016 in a first division match against Ranheim. With Bryne, Haaland played in 16 games.
Molde (2017-18)
In February 2017, it was announced that he had signed with Molde. He made his debut for the team on April 26, 2017, scoring his first goal in a 3-2 victory against Volda TI in the Norwegian Cup. Two months later, on July 4, he made his league debut as a substitute against Sarpsborg 08. Haaland scored the winning goal in that match, his first in the Eliteserien. On September 17, 2017, he scored his second goal against Viking FK. Haaland ended his first season with 4 goals in 20 appearances with Molde.
During his second season under coach Ole Gunnar Solskjaer, Haaland scored 16 goals in 30 games. One of his most notable performances during his second season was on July 1, 2018, when he scored four goals against SK Brann in the first 21 minutes of the match. His impressive talent attracted the attention of Juventus and Salzburg.
Red Bull Salzburg (2018-20)
Haaland joined the Austrian team on August 19, 2018. His first season, however, did not go as expected. He played only five games and scored only one goal, so he was hardly taken into account. In the 2019-20 season, everything changed after he scored 9 goals in the under-20 match against Honduras. After this surprising match, Haaland became a key player for Salzburg. He made history with the team and in the Champions League, by scoring a hat-trick in the first half of his Champions League debut against Genk on September 17, 2019. In his second season with Salzburg, he played a total of 22 games, starting 11, and scored 28 goals.
Borussia Dortmund (2020-22)
At the beginning of 2020, Haaland signed with Borussia Dortmund of the Bundesliga. He made his debut on January 18, 2020 against FC Augsburg, scoring his first hat-trick in 23 minutes. He became the second player in the team's history to score three goals during his Bundesliga debut, after Pierre-Emerick Aubameyang. On February 18, 2020, Haaland scored both goals in the 2-1 victory against Paris Saint-Germain in the first leg of the Champions League Round of 16. He had several standout performances before the league closed due to the pandemia.
On May 16, 2020, he scored the first goal after the league break against Schalke; it was his tenth goal in domestic competition. A month later, he scored two goals in a 2-0 victory against Leipzig, securing a spot in the Champions League for the following season for Dortmund. On September 19, 2020, he scored another double in the 3-0 victory against Borussia Mönchengladbach. Then he returned to score in the 2-3 loss on September 30th against Bayern Munich in the German Super Cup and in the league again against Bayern on November 7th. On November 21st, he scored four goals in 32 minutes in the 5-2 thrashing of Hertha Berlin. On the same day, he became the first Norwegian to win the Golden Boy award. Three days later, on November 24th, he scored a double in the 3-0 victory over Club Brugge. He became the fastest player to reach 15 goals in the UEFA Champions League, with only 12 appearances in the tournament.
In December 2020, Haaland suffered a tendon injury that kept him out of action until January 2021. He returned to the team on January 3, 2021, in the match against VfL Wolfsburg. Six days later, he scored a double in the 3-1 victory as a visitor against Leipzig. Then, he scored two goals in the 2-4 defeat against Mönchengladbach on January 22nd. He scored two goals and recorded an assist in the 2-3 victory against Sevilla F.C. in the first leg of the Champions League Round of 16, and later scored two more goals in the return match to secure Dortmund's passage to the quarterfinals. Although Dortmund was eliminated, Haaland became the top goal scorer of the competition (with 10 goals).
With the season finished, Haaland was named the best player of the Bundesliga 2020-21 after scoring 27 goals in 28 matches played.
Manchester City (2022)
On June 13, 2022, the transfer to Manchester City F.C. was completed with a five-year contract. He made his debut on July 30, 2022, in Manchester's 3-1 defeat against Liverpool.
Teams
Bryne F. K. (2016)
Molde F. K. (2017-18)
C. Red Bull Salzburgo (2018-19)
Borussia Dortmund (2020-22)
Manchester City F. C. (2022-act.)