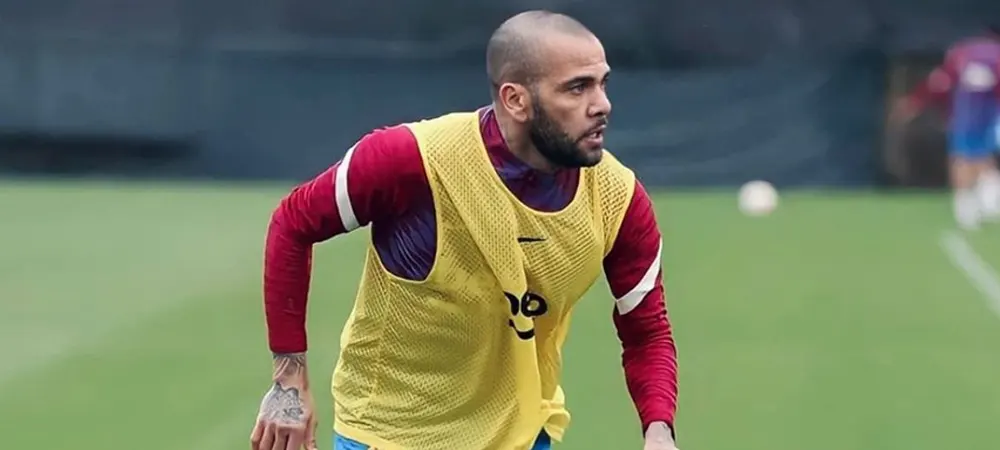 Personal information
Full name

Daniel Samuel Alves da Silva

Birthdate

May 6, 1983

Age
39 years old
Occupation

Footballer

By-name

Dani

Nationality

Brazilian

Spouse

Joana Sanz

Height
1.72 m
Parents

Domingos Alves Da Silva
Dona Lucia

Awards
Campeón Copa América 2019; Campeón Juegos Olímpicos 2020; Copa del Rey (5); Ligue 1 (2); Liga de Campeones de la UEFA (3)
Actual team
Unattached (Contract terminated)
Zodiac sign
Taurus
Biography in other languages
Biography of Dani Alves
Dani Alves (born May 6, 1983) is a professional soccer player. He was born in Juazeiro, Bahia, Brazil. He played for Paris Saint-Germain Football Club from 2017 to 2019. His full name is Daniel Samuel Alves da Silva. Since 2006, he has played for the Brazilian national team, with whom he recently won the 2019 Copa America. He made his professional debut in 2001 with Esporte Clube Bahia, winning the Campeonato Baiano and two Copas do Nordeste.
Dani in the Spanish League
He later joined Sevilla Football Club, with a transfer fee of €500,000. In January 2004, the Sevilla team acquired him permanently for €850,000. At this team he played as a fullback, but his style has always been offensive. He also performs well in the midfield and even in the forward position, he played in a game as a forward against Sevilla and Zenit St. Petersburg. In 2003, he made his official debut in the Spanish League against RCD Espanyol. His first goal came on November 9, 2003 against the renowned team Real Madrid. In the summer of 2005, he acquired Spanish nationality.
In August 2007, Dani expressed his desire to play for Chelsea F.C. in the English Premier League, but Sevilla's high financial demands prevented the transfer from happening. This caused several problems with the team, to the point where he refused to travel to play a crucial match against AEK Athens for their Champions League qualification. A year later, he was finally transferred to Football Club Barcelona.
Alves at Barcelona (2008-2016)
On July 2, 2008, Alves was officially presented as a Barcelona player, with his contract lasting until 2012. At the event, the president of the club, Joan Laporta, referred to him as "the best right-back in the world." His transfer fee of €35.5 million made him the second most expensive signing in the club's history after Marc Overmars, later surpassed by Zlatan Ibrahimović. He scored his first goal for Barcelona at the Camp Nou against UD Almería on October 25, 2008.
Alves played for Barcelona until June 2016. He became an integral part of the team's defense and established himself as the starting right-back. His contributions to the team and his performances were always admired for his attacking ability, speed, assists, and free-kick taking. In the 2013-14 season, he wore the number 22 in honor of his former teammate Éric Abidal. At that time, he was the second foreign player with the most appearances for Barcelona.
In 2014, rumors of his departure from the team began to surface. Barcelona attempted to renew his contract for one more season, until 2016, but the negotiations were unsuccessful. However, Dani later renewed his contract until 2017 with an optional extension to 2018. But in 2016, he left Barcelona to join Juventus in Turin.
From Juventus to PSG
He only played one season with the Italian club, winning two titles and reaching the final of the Champions League. In 2017, he joined Paris Saint-Germain of the French Ligue 1 and was presented as a new player for two seasons. With this team, he was the star player and became the champion of the 2017 French Super Cup.
On May 8, 2018, Dani was crowned champion of the French Cup after defeating Les Herbiers. In June 2019, it was announced through a post on his social media that he was leaving the team.
São Paulo (2019-21)
On August 1, 2019, it was confirmed that he had joined São Paulo FC, signing with the team until December 2022. However, due to delays in paying his salary, he did not show up to training on September 10, 2021, and was fired. Later it was known that the team owed him more than 11 million Brazilian Reals.
Return to Barcelona (2021-22)
Ver esta publicación en Instagram
On November 17, 2021, Alves was officially presented as the new player of Barcelona, returning to the team he had played for until 2016. He was called up for the first time since his return to the team on January 5, 2022, starting in the Copa del Rey match against Deportivo Linares. The match ended with a 1-2 victory for F.C. Barcelona. A month later, on February 6, Alves scored his first goal in a 4-2 victory against Atlético Madrid, provided an assist, and was sent off in the 69th minute. On June 15, 2022, his departure from Barca was confirmed after 6 months in the Club.
Pumas UNAM (2022)
On July 21, 2022, Alves signed with Pumas UNAM for the Apertura 2022. This signing marked his entry into the Mexican league. He will wear the #33 shirt.
Brazil National Team
Alves is an international with the Brazilian senior team, he was preparing to play in the 2018 World Cup but was unable to participate due to injury. He has played with the team since 2006, and has been a champion of the 2007 Copa America, the 2009 and 2013 Confederations Cup, and also played in the 2019 Copa America. He has accumulated over 41 national and international titles with clubs and the national team, and is one of the most decorated players in the history of football. In August 2021, Alves was also crowned Olympic champion.
Personal Life
In 2017, he married Spanish model Joana Sanz.
Scandal and Arrest for Alleged Sexual Assault
In January 2023, he was arrested in Spain on suspicion of sexual assault, and a judge ordered him to be held in pre-trial detention without bail while awaiting trial. Despite the accusations, Alves has denied any illegal or inappropriate actions and his wife, a Spanish model, has publicly supported him and stated that the accusation makes no sense. As a result of these events, his contract with Pumas UNAM was terminated.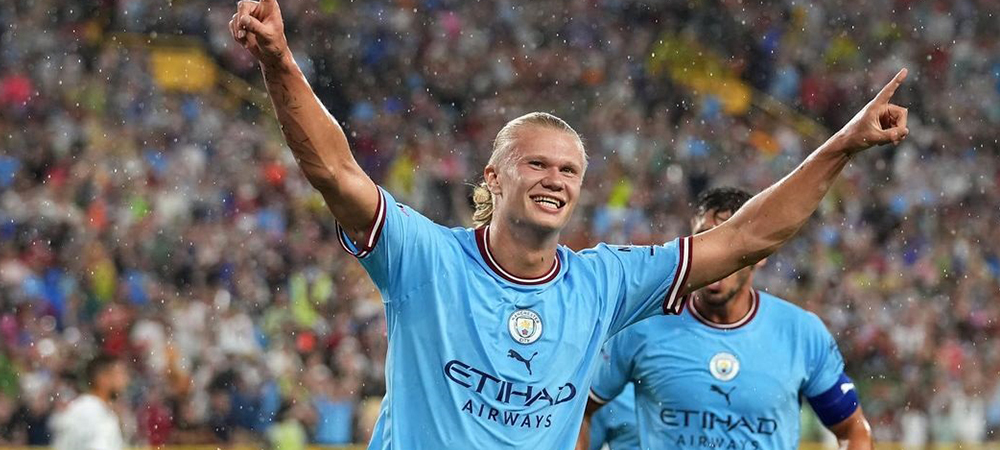 Biografía de Erling Braut Haaland
Erling Braut Haaland (born July 21, 2000) is a Norwegian-English professional footballer who plays as a forward. He achieved success with Borussia Dortmund, becoming the first player in Champions League history to score a hat trick in his debut match. Haaland began his career at Bryne F.K. at the age of 15, later moving to Molde in 2016 and signing with Salzburg in 2018. With Salzburg, he made history in 2019. With Borussia Dortmund, he became one of the most famous players in the Bundesliga. He has also been a member of the Norwegian national under-20 team.
Early Years
Haaland was born on July 21, 2000 in Leeds, England. He is the son of sports couple Alf Inge Haaland and Gry Marita. His father was a footballer who played for Leeds at the time of his birth, while his mother was an athlete and a Norwegian champion in heptathlon. From a very young age, football became his passion. Even when an injury forced his father to retire from the game, Haaland continued to play.
Erling Haaland's Early Career
Haaland began his career at the age of 15 with the Norwegian team Bryne F.K. During the 2015-16 seasons, he played for Bryne 2, the team's reserve squad, where he scored 18 goals in 14 games. In May 2016, Berntsen gave him his first chance with the first team. He made his debut on May 12, 2016 in a first division match against Ranheim. With Bryne, Haaland played in 16 games.
Molde (2017-18)
In February 2017, it was announced that he had signed with Molde. He made his debut for the team on April 26, 2017, scoring his first goal in a 3-2 victory against Volda TI in the Norwegian Cup. Two months later, on July 4, he made his league debut as a substitute against Sarpsborg 08. Haaland scored the winning goal in that match, his first in the Eliteserien. On September 17, 2017, he scored his second goal against Viking FK. Haaland ended his first season with 4 goals in 20 appearances with Molde.
During his second season under coach Ole Gunnar Solskjaer, Haaland scored 16 goals in 30 games. One of his most notable performances during his second season was on July 1, 2018, when he scored four goals against SK Brann in the first 21 minutes of the match. His impressive talent attracted the attention of Juventus and Salzburg.
Red Bull Salzburg (2018-20)
Haaland joined the Austrian team on August 19, 2018. His first season, however, did not go as expected. He played only five games and scored only one goal, so he was hardly taken into account. In the 2019-20 season, everything changed after he scored 9 goals in the under-20 match against Honduras. After this surprising match, Haaland became a key player for Salzburg. He made history with the team and in the Champions League, by scoring a hat-trick in the first half of his Champions League debut against Genk on September 17, 2019. In his second season with Salzburg, he played a total of 22 games, starting 11, and scored 28 goals.
Borussia Dortmund (2020-22)
At the beginning of 2020, Haaland signed with Borussia Dortmund of the Bundesliga. He made his debut on January 18, 2020 against FC Augsburg, scoring his first hat-trick in 23 minutes. He became the second player in the team's history to score three goals during his Bundesliga debut, after Pierre-Emerick Aubameyang. On February 18, 2020, Haaland scored both goals in the 2-1 victory against Paris Saint-Germain in the first leg of the Champions League Round of 16. He had several standout performances before the league closed due to the pandemia.
On May 16, 2020, he scored the first goal after the league break against Schalke; it was his tenth goal in domestic competition. A month later, he scored two goals in a 2-0 victory against Leipzig, securing a spot in the Champions League for the following season for Dortmund. On September 19, 2020, he scored another double in the 3-0 victory against Borussia Mönchengladbach. Then he returned to score in the 2-3 loss on September 30th against Bayern Munich in the German Super Cup and in the league again against Bayern on November 7th. On November 21st, he scored four goals in 32 minutes in the 5-2 thrashing of Hertha Berlin. On the same day, he became the first Norwegian to win the Golden Boy award. Three days later, on November 24th, he scored a double in the 3-0 victory over Club Brugge. He became the fastest player to reach 15 goals in the UEFA Champions League, with only 12 appearances in the tournament.
In December 2020, Haaland suffered a tendon injury that kept him out of action until January 2021. He returned to the team on January 3, 2021, in the match against VfL Wolfsburg. Six days later, he scored a double in the 3-1 victory as a visitor against Leipzig. Then, he scored two goals in the 2-4 defeat against Mönchengladbach on January 22nd. He scored two goals and recorded an assist in the 2-3 victory against Sevilla F.C. in the first leg of the Champions League Round of 16, and later scored two more goals in the return match to secure Dortmund's passage to the quarterfinals. Although Dortmund was eliminated, Haaland became the top goal scorer of the competition (with 10 goals).
With the season finished, Haaland was named the best player of the Bundesliga 2020-21 after scoring 27 goals in 28 matches played.
Manchester City (2022)
On June 13, 2022, the transfer to Manchester City F.C. was completed with a five-year contract. He made his debut on July 30, 2022, in Manchester's 3-1 defeat against Liverpool.
Teams
Bryne F. K. (2016)
Molde F. K. (2017-18)
C. Red Bull Salzburgo (2018-19)
Borussia Dortmund (2020-22)
Manchester City F. C. (2022-act.)