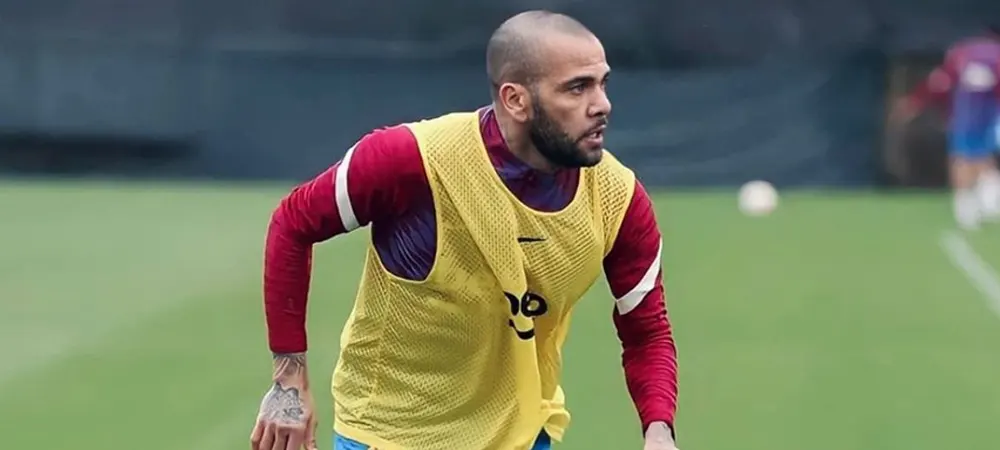 Personal information
Full name

Daniel Samuel Alves da Silva

Birthdate

May 6, 1983

Age
39 years old
Occupation

Footballer

By-name

Dani

Nationality

Brazilian

Spouse

Joana Sanz

Height
1.72 m
Parents

Domingos Alves Da Silva
Dona Lucia

Awards
Campeón Copa América 2019; Campeón Juegos Olímpicos 2020; Copa del Rey (5); Ligue 1 (2); Liga de Campeones de la UEFA (3)
Actual team
Unattached (Contract terminated)
Zodiac sign
Taurus
Biography in other languages
Biography of Dani Alves
Dani Alves (born May 6, 1983) is a professional soccer player. He was born in Juazeiro, Bahia, Brazil. He played for Paris Saint-Germain Football Club from 2017 to 2019. His full name is Daniel Samuel Alves da Silva. Since 2006, he has played for the Brazilian national team, with whom he recently won the 2019 Copa America. He made his professional debut in 2001 with Esporte Clube Bahia, winning the Campeonato Baiano and two Copas do Nordeste.
Dani in the Spanish League
He later joined Sevilla Football Club, with a transfer fee of €500,000. In January 2004, the Sevilla team acquired him permanently for €850,000. At this team he played as a fullback, but his style has always been offensive. He also performs well in the midfield and even in the forward position, he played in a game as a forward against Sevilla and Zenit St. Petersburg. In 2003, he made his official debut in the Spanish League against RCD Espanyol. His first goal came on November 9, 2003 against the renowned team Real Madrid. In the summer of 2005, he acquired Spanish nationality.
In August 2007, Dani expressed his desire to play for Chelsea F.C. in the English Premier League, but Sevilla's high financial demands prevented the transfer from happening. This caused several problems with the team, to the point where he refused to travel to play a crucial match against AEK Athens for their Champions League qualification. A year later, he was finally transferred to Football Club Barcelona.
Alves at Barcelona (2008-2016)
On July 2, 2008, Alves was officially presented as a Barcelona player, with his contract lasting until 2012. At the event, the president of the club, Joan Laporta, referred to him as "the best right-back in the world." His transfer fee of €35.5 million made him the second most expensive signing in the club's history after Marc Overmars, later surpassed by Zlatan Ibrahimović. He scored his first goal for Barcelona at the Camp Nou against UD Almería on October 25, 2008.
Alves played for Barcelona until June 2016. He became an integral part of the team's defense and established himself as the starting right-back. His contributions to the team and his performances were always admired for his attacking ability, speed, assists, and free-kick taking. In the 2013-14 season, he wore the number 22 in honor of his former teammate Éric Abidal. At that time, he was the second foreign player with the most appearances for Barcelona.
In 2014, rumors of his departure from the team began to surface. Barcelona attempted to renew his contract for one more season, until 2016, but the negotiations were unsuccessful. However, Dani later renewed his contract until 2017 with an optional extension to 2018. But in 2016, he left Barcelona to join Juventus in Turin.
From Juventus to PSG
He only played one season with the Italian club, winning two titles and reaching the final of the Champions League. In 2017, he joined Paris Saint-Germain of the French Ligue 1 and was presented as a new player for two seasons. With this team, he was the star player and became the champion of the 2017 French Super Cup.
On May 8, 2018, Dani was crowned champion of the French Cup after defeating Les Herbiers. In June 2019, it was announced through a post on his social media that he was leaving the team.
São Paulo (2019-21)
On August 1, 2019, it was confirmed that he had joined São Paulo FC, signing with the team until December 2022. However, due to delays in paying his salary, he did not show up to training on September 10, 2021, and was fired. Later it was known that the team owed him more than 11 million Brazilian Reals.
Return to Barcelona (2021-22)
Ver esta publicación en Instagram
On November 17, 2021, Alves was officially presented as the new player of Barcelona, returning to the team he had played for until 2016. He was called up for the first time since his return to the team on January 5, 2022, starting in the Copa del Rey match against Deportivo Linares. The match ended with a 1-2 victory for F.C. Barcelona. A month later, on February 6, Alves scored his first goal in a 4-2 victory against Atlético Madrid, provided an assist, and was sent off in the 69th minute. On June 15, 2022, his departure from Barca was confirmed after 6 months in the Club.
Pumas UNAM (2022)
On July 21, 2022, Alves signed with Pumas UNAM for the Apertura 2022. This signing marked his entry into the Mexican league. He will wear the #33 shirt.
Brazil National Team
Alves is an international with the Brazilian senior team, he was preparing to play in the 2018 World Cup but was unable to participate due to injury. He has played with the team since 2006, and has been a champion of the 2007 Copa America, the 2009 and 2013 Confederations Cup, and also played in the 2019 Copa America. He has accumulated over 41 national and international titles with clubs and the national team, and is one of the most decorated players in the history of football. In August 2021, Alves was also crowned Olympic champion.
Personal Life
In 2017, he married Spanish model Joana Sanz.
Scandal and Arrest for Alleged Sexual Assault
In January 2023, he was arrested in Spain on suspicion of sexual assault, and a judge ordered him to be held in pre-trial detention without bail while awaiting trial. Despite the accusations, Alves has denied any illegal or inappropriate actions and his wife, a Spanish model, has publicly supported him and stated that the accusation makes no sense. As a result of these events, his contract with Pumas UNAM was terminated.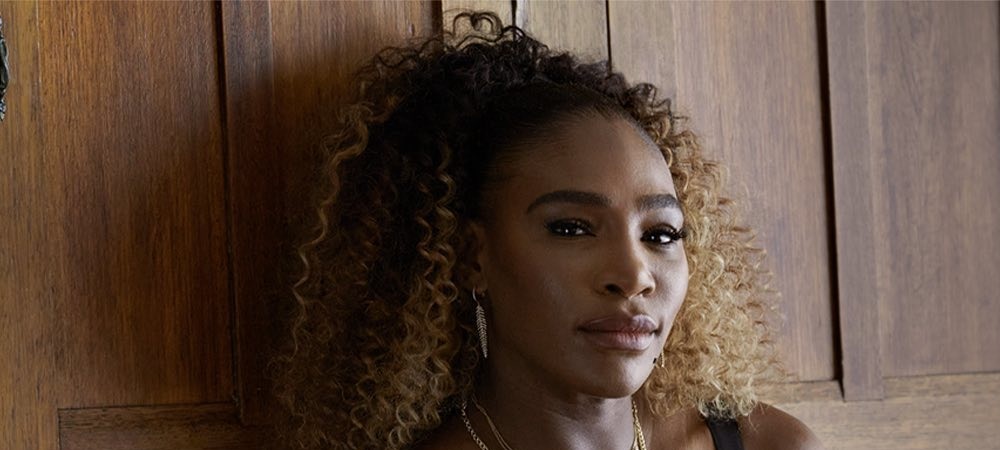 Biography of Serena Williams
Serena Jameka Williams Price (born September 26, 1981) is a professional tennis player from the United States, born in Saginaw, Michigan. Her father, Richard Williams, and her mother, Oracene, divorced in 2001. During her childhood, the family had to face difficulties due to her father's decisions, who, despite his favorable economic and social position, decided to move the family from Long Beach, on the West Coast of Los Angeles, to Compton, a closed and difficult neighborhood in the center of the city, with the goal of raising his daughters in a tough environment.
Beginnings in tennis
Since she was very young, she started training tennis, a sport that was mostly practiced by people of high economic standing. Serena trained tirelessly every day. Her father, Richard, supported her and saw her great talent, as well as his ambition to take advantage of her potential. Richard was always an ambitious and controlling man, so he became the manager of his two talented daughters. At the age of eleven, a rivalry emerged with her sister Venus, who also trained and had exceptional performance. At that time, she had won 63 consecutive regional level games.
Contract with Reebok
In 1991, Richard decided to seek out a well-known star coach located in Florida, Rick Macci. His father's decision had quick results and the family moved to a luxurious place in Florida after his daughter signed a contract with Reebok. Although Serena's progress was not as notable compared to Venus', she always showed her strength on the court. At the age of fourteen, she had the opportunity to enter the professional circuit with notable success. However, two years passed before she began to compete seriously.
How did she manage to finish her studies?
Venus has always been an inspiration to Serena. So, in 1997, when Venus reached the final stages of the US Open, but lost to then world number one Martina Hingis, it was a hard blow for the family but also a reason to keep training relentlessly. Due to their sporting responsibilities, the sisters finished school irregularly at an exclusive school of only thirty students located in Lake Placid, the Dwightwood Academy. Serena graduated in June 1999, the school administrators allowed her to graduate even though her grades were not the best because they knew that her future and talent was to compete professionally in this sport.
First African American player to win a Grand Slam
Although it seemed that the 1999 season was going to be better for Serena, it ended up being better for Venus. Then, Serena overtook Venus by winning her first Grand Slam title at the US Open. That moment in the history of Serena, her family, the United States, and also the African American population was glorious. It was the first time an African American player had won a Grand Slam. To add to the happiness, on April 5th of that year, Serena was able to enter the top ten and shortly after, in the doubles category, she and her sister won the French Open and the Federation Cup.
The Williams sisters
It is known that, on many occasions, while they were young, the Williams sisters had problems produced by competition and by the specialized press publications that usually compared them. In the year 2000, Venus defeated Serena in the final of the Lipton tournament. Serena showed great serenity and heartily congratulated her sister. Later, she won the Paris Indoor. That year, in the Wimbledon competition, Venus eliminated Serena in the semifinals, and later raised the title against Davenport. Additionally, both won doubles in two major tournaments: Roland Garros and the US Open.
By that time, the Williams' dominance was already being talked about and it was natural that when referring to one sister, the other would also be mentioned. Although they rarely competed together, their bond was very strong. Serena was already imposing herself as one of the best in the women's professional circuit. In 2002, she defeated Venus in the Wimbledon final with a score of 7-6 and 6-3. This was the best moment of her career as she reached the top spot in the Women's Tennis Association (WTA) ranking and by that time she already had sixteen international circuit titles.
On September 9th, Serena, 20 years old, amazed at the US Open with her latest display of power by defeating Venus in the final with a score of 6-4 and 6-3 in just 72 minutes. With this victory, she managed to tie with her elder sister in their personal matchups (5-5) and in Grand Slam titles, both with four each. It is important to highlight that Serena's impressive season included six titles, 45 wins and only 4 losses. An injury to her ankle prevented her from participating in the Australian Open, allowing American Jennifer Capriati to triumph.
Fifth Grand Slam title.
The following year, Serena did not win at Roland Garros, where she surprisingly fell in the semifinals to Belgian Justine Henin-Hardenne. However, she did win at Wimbledon, where the Venus-Serena final from the previous year was repeated. Serena added her fifth Grand Slam title. She was involved in a legal conflict with a German man who was harassing her. After being reported, he was arrested and imprisoned on March 3, 2002 for stripping in front of the reception of a hotel in Scottsdale (Arizona), where Serena was staying. Serena's father threatened the harasser with death and Serena threatened to kill him if her daughter suffered any harm.
Causes of her temporary retirement from tennis.
In September 2003, the family mourned when Yetunde, her sister, was murdered by a common criminal. After this, the sisters were off the courts for a while. Serena started taking acting classes with an experienced teacher in Los Angeles. In acting, she finds a moment of escape and claims to forget about her sporting commitments. Serena received the ESPY Athlete of the Year Award. Her popularity as an athlete allowed her to be a model and official image for several sports brands.
Contracts, performance, marriage.
First she signed with Puma, then with Nike, with whom she signed for an exorbitant amount of money. After studying acting, she began studying design, so now she is the designer of a sportswear brand: Aneres, she usually wears her clothes in competitions. We have not only seen her on the courts and in the advertisements but also in TV series such as ER, Law & Order, and Hair Show, among others. In 2016, she equaled the record of German Steffi Graf with 22 Grand Slam titles. In addition, she enjoyed a beautiful romantic relationship with Reddit co-founder Alexis Ohanian. They got married in 2016 and currently have a son.