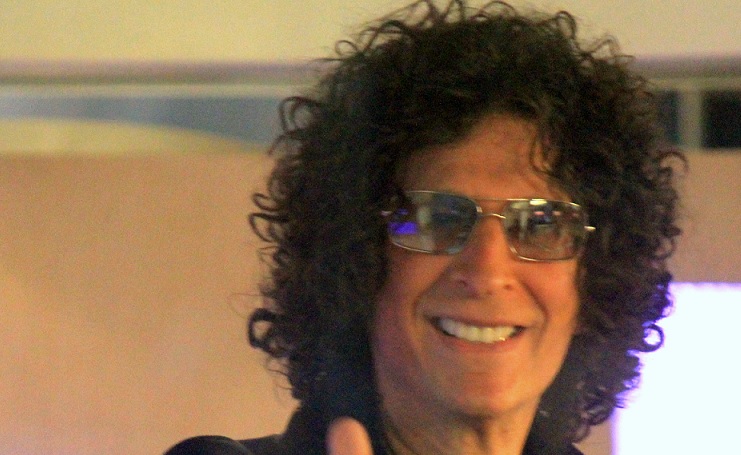 Howard Stern biography
Howard Stern (January 12, 1954) actor, comedian, and writer. He was born in Jackson Heights, New York, United States. His full name is Howard Allan Stern. His parents were Ray and Ben, from Europe. He grew up on Long Island because his family decided to start a new life there when he was a baby. His father established a recording studio and built alliances with different stations. Howard greatly admired his father's work and showed great interest in the radio and his world. Thanks to his father, he was able to know the dubbing of voices of some cartoons of which Howard was a legitimate fan, he was an unquestionable follower of Larry Storch, famous actor of comic television, famous for performing voiceovers for cartoon shows.
He studied up to sixth grade at the Washington-Rose school, due to the new move of his family in 1969, they moved to Rockville, where Howard was able to finish his basic education. When he finished, he put his longings in search of a job related to the radio. In 1973, he acquired his first contract as an announcer, in the WTBU, his main job was to read the news and organize interviews. More and more motivated by this means, he began to study in the School of Communication, obtaining his diploma in 1975. Later, he deepened his studies at the University of Boston, obtaining the title as communicator.
With his title, he started contacting and sending his professional profile to different local stations. In effect, the WRNW radio station hired him a second time to take turns at Christmas time. As a recent graduate, he started earning the sum of $ 96, then moving to $ 250. When he got a greater job and economic stability he proposed marriage to his girlfriend Allison Burns, the fruit of the marriage were born three daughters, Emily, Bet Debra and Jennifer Ashley.
From the beginning of 1980 to 1984 he was on the WCCC radio station in Hartford. And in the rock band WWWW. In that station he remained until they changed the format of rock to country, thing that distressed to Howard Stern, resigning to the radial chain. Quickly and without difficulty, he was hired by the WNBC network, worked with Robin Quivers. In a very short time, the program reached an amazing rating level, which led to the renewal of the $ 1 million contract for 5 years. We can say that this moment of his life was glorious because he was already known as the best DJ of the moment. His famous program came to an end because of the controversy that was formed about obscene comments issued by Stern. As a result, the Federal Communications Commission fined him.
Thanks to his fame among the Americans, Howard Stern created his own radio show, called The Howard Stern Show. This show manages to attract millions of listeners and maintain its audience for seven years. During these seven years, he had to face fines and demands for his indecent and libertine content. Simultaneously, he was contacted with the offer to write a book that would title Private Lives, went on to sell 225,000 copies. In his role as a writer, he produced a best-seller in 1996 called Miss America, was sold worldwide in extraordinary quantities.
In 1994, Howard Stern, using his fame in his favor, tried to enter the field of politics, appearing as a candidate for governor of New York. He used his program to spread his candidacy and his proposals such as: to reinstate the death penalty and stagger the toll to boost the flow of automobiles. Stern won the first round of the elections. But, his candidacy was withdrawn because he refused to accept the study of his personal financial information.
Before starting the 21st century, he broke his marriage relationship with Alison. Years later he became engaged to his girlfriend, model Beth Ostrosky. They celebrated their wedding a year later at the restaurant Le Cirque. One of his tastes as a couple is to find homes for unprotected cats in New York.
In the year 2006, Howard Stern would be involved in a legal problem. CBS Radio files a lawsuit against Stern, its agent, and Sirius for illicit enrichment. Months after long lawsuits, the Sirius chain would have to pay 2 million dollars to the CBS.
Stern built his fame little by little, his radio show broadcast for many years on FM stations and some of AM nationally in the United States catapulted him as a famous man, who used his program to be the same: irreverent, ruthless, risqué, controversial and explosive. In addition to his radio career, he also ventured into the press, television, music, and film, with different feature films. In 2006, Howard Stern was chosen by Time magazine as one of the 100 most influential people in our world and was ranked seventh among the 100 most important celebrities. In spite of his fame in his country, in other places around the world, he is not very popular.
Rami Malek Biography
Rami Malek (May 12, 1981) is an actor. He was born in Los Angeles, California, United States. His parents are of Egyptian origin. But they moved to the North American country to get better job opportunities. His father was a tour guide in Cairo and later in the United States worked as an insurance salesman. His mother was an accountant. His parents managed to give him and his siblings a good education, including his twin brother.
Early years
Rami Malek attended Notre Dame High School in Sherman Oaks, California, culminating in 1999. At the time, he entered theater classes with actress Kirsten Dunst. He graduated from the University of Evansville with a BA in Fine Arts in 2003. By 2004, Malek embarked on the difficult path to being a professional actor. So, he applied to be part of the series Gilmore Girls, appearing as a guest star. That same year he was a character dubber for the video game Halo 2. The following year, he earned his Screen Actors Guild card for his performance in the war drama Over There, where he appeared in two episodes. He later was in an episode of Medium and starred for two seasons on the series The War at Home.
Career
He made his big-screen debut with the production Night at the Museum (2006), playing the pharaoh Ahkmenrah.To the surprise of many, he did not reprise his role in the sequels: Night at the Museum: Battle of the Smithsonian (2009) and Night at the Museum: Secret of the Tomb (2014). He played Jamie in Keith Bunin's play The Credeaux Canvas at the Elephant Theater in Los Angeles. In 2010, Malek returned to television with the role of the terrorist Marcos Al-Zacar in the eighth season of the series 24. At that time, his work was highly applauded, critics praised him for his portrayal of Corporal Merriell "Snafu" Shelton on the 8 Emmys winning series, The Pacific. He has been highly sought after for difficult-to-play roles, such as misfits and intelligent characters with quirky and psychotic outlines.
Tom Hanks, after seeing his talent, asked him to participate in his movie Larry Crowne released in 2011. Later, we saw him in The Twilight Saga: Breaking Dawn – Part 2 giving life to the Egyptian vampire Benjamin. His Egyptian origin has been an important element because it has given him many opportunities in the world of cinema.
What awards has Rami Malek won?
He has been nominated for an Emmy Award, a Golden Globe Award, a Satellite Award, a Screen Actors Guild Award, two Dorians Awards, and won a Television Critics Award. For his starring role as Elliot Alderson in the acclaimed Mr. Robot series. He is an actor who has a successful path and has earned the love and admiration of the Hollywood world. He was part of the cast of Josh Washington, from the PlayStation 4 horror video game Until Dawn, to which he lent his voice and facial features. The video game was released on August 25, 2015.
He has had other supporting roles in film and television, such as Kenny in the Fox series The War at Home (2005-07), and Merriel "Snafu" Shelton in the HBO series The Pacific (2010). In short, he has appeared in the films Larry Crowne (2011), The Master (2012), The Twilight Saga: Breaking Dawn – Part 2 (2012), Short Term 12 (2012), Ain't Them Bodies Saints (2013) Need for Speed ​​(2014) and Buster's Mal Heart (2016).
Bohemian Rhapsody (2018)
Recently, the actor with Egyptian roots just finished filming as the protagonist in the biopic Bohemian Rhapsody (2018), where he plays the musician Freddie Mercury. This film will arrive in Colombia in November in the main cine venues. In the United States, it will be released on November 2nd. As for post-production, a trailer came out in May. The film was originally directed by Bryan Singer, but after various attitudinal problems, he was fired and replaced by English director and actor Dexter Fletcher. Within the cast, we can find important actors, for example, Ben Hardy, Joseph Mazzello, Allen Leech, and Lucy Boynton.
Malek's work is of great importance in the film because he must give life to one of the most recognized and important singers in the world. The actor must interpret it very well, such is the case that he had to make a dental prosthesis to resemble the character. Freddie Mercury had an overbite problem, which he never wanted to intervene for fear that his vocal register would change.
He won the Golden Globe for Best Actor, the Screen Actors Guild Award for Outstanding Performance in a Leading Role, the BAFTA Award for Best Actor and the Academy Award for Best Actor for his performance in Bohemian Rhapsody.
Malek starred in Mr. Robot from 2015 to 2019.