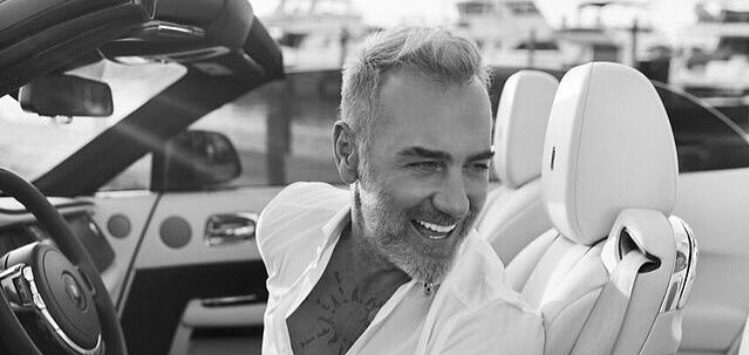 Gianluca Vacchi biography
Gianluca Vacchi (August 5, 1967) Born in Bologna, Italy. Italian businessman and artist, known for his eccentricity and the way he manages his money, throwing lavish and expensive parties. His lifestyle is frequently shared by the businessman through his social networks.
Vacchi is a man of more than 50 years who has attracted the attention of various people, not only for his eccentricity but also for his physical attractiveness. He currently has more than 15 million followers on instagram and since 2014 he has become popular with the hashtag #GVLifestyle.
There is only one life and you have to live it trying to enjoy everything you can.

Gianluca Vacchi
Family and studies
Gianluca Vacchi grew up in a wealthy family. From an early age he was interested in business. He studied economics and then began to be part of the family business. Later he founded the company IMA, a company dedicated to the creation of pharmaceuticals, cosmetics and others. Over time, Vacchi diversified his businesses, participating in different business projects. While doing this, he increased his capital, becoming a billionaire in a matter of a few years.
Change of lifestyle
After several years in the industry, Gianluca Vacchi left the family business in charge of his cousin and dedicated himself fully to enjoying his life, since at the age of forty he had not explored and enjoyed everything he achieved in those years. After thinking about the way he had lived until then, he decided to change his lifestyle. He started by working on his physique, improving his diet and exercising. He complemented this, with hours in the sauna and cryotherapy and shortly after the effort began to show.
At 47, he became known on social networks with a photo in which he was seen riding with the famous American actor Zac Efron.
Since then, he began to attract the attention of the public for his sensual dances, his eccentric and expensive parties. Likewise, through the networks he showed the large number of properties he owned: mansions, houses on the beach, yachts, motorcycles, cars and even a helicopter.
In 2016, the videos of Vacchi and his girlfriend at the time, Giorgia Gabriele, dancing to different Latin music songs, went viral. It was then that it became a trend. Many were interested in the lifestyle of the 49-year-old man, surrounded by beautiful women and with an exorbitant fortune. Since then, the daily life of the famous Italian has been shared by social networks. He is currently one of the most famous adult influencers on the platform.
The following year he ended his relationship with his girlfriend Gabriele, and a short time later he was seen with the beautiful Colombian model, Ariadna Gutiérrez. That same year he published his book Enjoy (2016), which, in Vacchi's words, is a conceptual biography. In this book, he talks about his experiences, gives advice and encourages people to enjoy life to the fullest.
During this period of his life, the Italian has been seen with famous Latin, American and European artists, which has increased his popularity. Among the artists with whom he has been associated are the singers: J. Balvin, Luis Fonsi, Sebastián Yatra, Ozuna, Daddy Yankee and Yandel, among others. In 2017, Vacchi was seized by Banco BPM. He later explained that this does not greatly affect his fortune and that it was all a disagreement with the bank.
Facet as DJ
In recent years, Gianluca Vacchi has dabbled in music as a DJ, working with great figures such as Steve Aoki, Nicola Zucchi, Christian Lena and Albertino, among others. He currently has a contract with the Spinnin 'Records label. His first song, entitled Viento, appeared under this label on August 13, 2017. This song currently has more than 27 million views on YouTube.
After Viento, Tump-it came out, a theme that quickly became a trend. In August he released the song Sigamos Bailando, his collaboration with Yandel and Luis Fonsi. Later he released the song Waglio, in collaboration with Alessio and in 2019, he released Asho mami and Mueve.
Vacchi has made several tours as a DJ and worked in clubs such as Amnesia Ibiza, Sutton Club and Sutton Barcelona, among others.
Gianluca news
Currently Vacchi, is romantically involved with the young model Sharon Fonseca. On May 10, 2020, during the celebration of Mother's Day, he announced via Instragram that he and his girlfriend were expecting their first child.
Birth of your child
On October 28, Gianluca and Sharon announced the birth of their daughter Blu Jerusalema Vacchi, true to their style, this announcement was made through their Instagram accounts.
Pepe Garza Biography
José Francisco Garza Durón (December 1, 1965) was born in Monterrey, Mexico. Composer, musician, and programmer, considered one of the most representative figures of the Mexican radio and music industry in the United States. Throughout his career, Garza has promoted numerous Mexican regional music artists such as Lupillo Rivera, Jenni Rivera, Yolanda Pérez, Rogelio Martínez, Jorge Gamboa, Valentín Elizalde, Espinoza Paz, Banda Recodo and Banda La Arrolladora, among others, which in a short time they made their way into the scene. Because of this talent in finding new voices he has been called the Starmaker. He began his career in radio as an announcer and later escalated his position as a producer of various Mexican radio stations, later he moved to the United States, a country in which he became one of the most prominent figures on the radio.
Beginnings
José Garza known as Pepe Garza began his career in the radio industry as an announcer in Monterrey, over time he gained experience and made his way into the radio industry. His talent and knowledge allowed him to scale up on the radio, becoming a radio programmer. During the first years as a programmer he stood out, being hired by important Mexican stations. While working as a programmer, he began to make his own compositions, among them, That Crazy I Am, stands out, a song performed by the Liberation group, which was nominated for Best Mexican Regional Song at the Lo Nuestro Awards. After a long time in the Mexican radio, he decided to move to the United States, a country in which Mexican regional music has a large audience, the majority of this immigrant.
Pepe on American radio
After moving to the United States, he began working at KBUE-FM or Qué Buena, a radio station in Southern California, which he has directed for several years; This is one was one the most prominent stations in the United States. It transmits the successes of Mexican regional music,  musical genre that has expanded in recent years to reach non-Mexican publishing. Becoming a trend in several Latin American countries. As a key figure in the regional music scene, Garza has promoted great stars such as El Coyote, Jenni Rivera, and Yolanda Pérez, known as La Potranquita, Rogelio Martínez, Valentín Elizalde, and Jorge Gamboa, as well as renowned bands such as Los Originales de San Juan, Cuidillos, Banda Recodo, Banda La Arrolladora, and Banda Liberación, among many others.
In the station he has promoted various radio characters that have won the audience's appreciation, among them El Morro, a restless and daring child created by Garza and his partner Tomás Rubio. This became a trend after the publication of his album with music for kids, getting nominated for the 2001 Latin Grammy Awards, as a children's producer. This character was recognized by the magazine Furia Musical as the Musical Event of the Year.
Another prominent character of the artist is Don Cheto, a character inspired by the figure of an immigrant and his life in the United States, endowed with qualities such as simplicity and kindness, which can be taken for naivety in some cases. Always loyal to their traditions, Don Cheto, represents to the Mexican who lives in the United States.
In the 2000s, Garza undertook several projects linked to the world of Mexican regional music, such as the foundation of the Los De La Radio Awards, where the most prominent artists of the regional music scene are rewarded. Later founded the company Arpa Music with his brother Alejandro Garza, in this, he gathered various composers such as Joss Favela, Luciano Luna, Horacio Palencia, and Espinoza Paz, among others, whose compositions have been performed by prominent stars such as Thalia, David Bisbal, Jenni Rivera, Banda la Arrolladora, Pedro Fernández, and Banda MS, among others.
In 2009 he became a judge for the musical reality show I Have Talent, Much Talent produced by Estrella Tv. This program is one of the most popular in the United States made exclusively for the Spanish-speaking audience. In the Garza program, he is seen as one of the most important judges due to his long career and knowledge of the music industry.
For this same period, he has excelled in his facet as a composer, being awarded multiple times in the BMI awards in the category best composition with the theme Cursed Capricho. Also won the American Society of Composers, Authors, and Publishers to the Song of the Year for the Coyote theme with the band Oro Norteño. Years later, he published Who the Devil is Durón ?, which includes successful songs that have been performed by Juan Rivera, Graciela Beltrán, Jenni Rivera, Banda Limón, La Costeña, Oro Norteño and Rieleros del Norte, among many others.
In 2016 he started recording the P program Pepe's Office, a program that is uploaded to YouTube. In this one you can see the renowned programmer advising and interviewing artists from the Mexican regional music scene, his most recent interview was to El de la Guitarra.