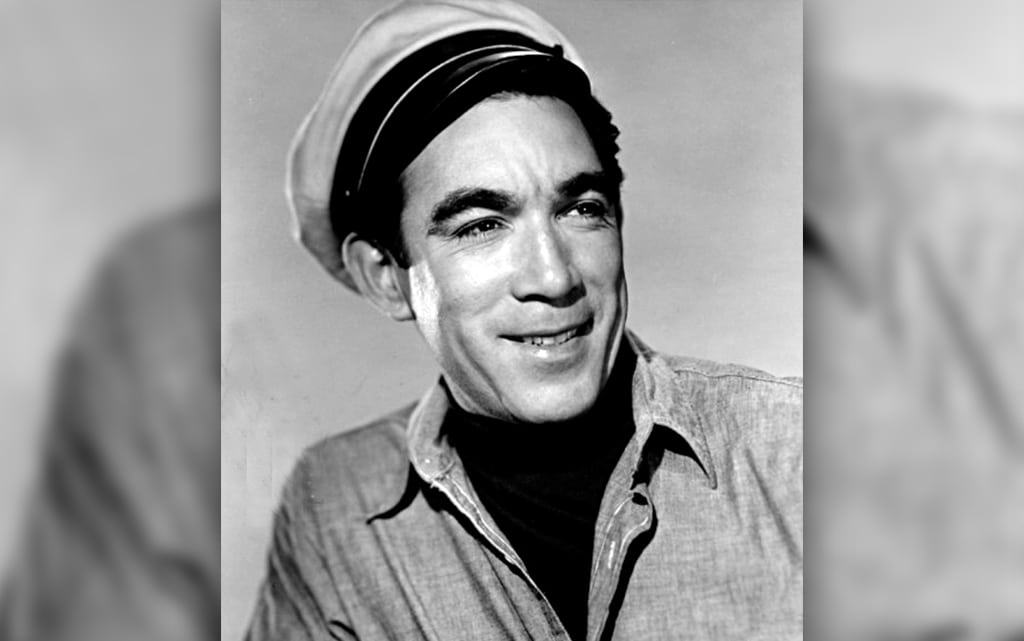 Anthony Quinn biography
Anthony Quinn was an American film actor born in Mexico, his real name was Anthony Rudolf Oaxaca. He was born in Chihuahua, Mexico in 1915 and died in Boston in 2001. His father was of Irish origin and his mother was Mexican. Since a very young age, he lived in California.
While studying at the Belvedere school, June Hight had to start working for the economy of his family and therefore learned many and varied trades as a newspaper vendor, waiter, truck driver, and boxer.
Apparently, his vocation for acting woke up since he was very young and interested in theater and attended Katherine Hamil's school. When he was twenty-one he made his debut at the great Hollytown Theater in Los Angeles. But for personal reasons, he saw himself with more future in the cinema and thus began as an extra in films like The Milky Way, by Leo McCarey and The Vultures of the Prison, by Louis Friedlander, both shot in 1936.
His physical features conditioned him to certain archetypal roles such as sex symbol, gangster or soldier, although with time he managed to get out of it and represent more varied characters such as Eskimos, Russians or Indians.
His first steps in the movies were small because he slowly rose from being an extra. He went through "It Started in the Tropic" by Mitchell Leisen (1937) and Buffalo Bill by Cecil B. de Mille (1936), being these the most famous directors with whom he worked. By that time he worked a lot with Paramount and ended up marrying the daughter of director De Mille, Katherine, a decision that created inconveniences in the middle despite what one might think.
In the forties, he moved to Warner studio where he found more interesting roles and allowed him to rub shoulders with renowned actors. By this time he appeared in City of Conquest (1940), Anatole Litvak, Blood and Sand (1940), by Rouben Mamoulian and Died with Boots on (1941), by Raoul Walsh. He never stayed in a single studio, he went through Paramount, 20th Century-Fox and RKO where he also did not adhere to a specific genre, as he went through comedies, adventures, musicals, and westerns. He had good reviews in Incident in Ox-Bow (1943) by William A. Wellman.
In 1947 he obtained the American nationality and returned to the tables of the theater to interpret in Broadway The Gentleman from Athens and a streetcar called Desire in substitution of Marlon Brando. With these works, his success in film and theater multiplied and gave him many new and more interesting roles as his role as Emiliano Zapata's brother in ¡Viva Zapata! From Elia Kazan for which he received his first Academy Award.
From then on he worked with great directors such as Federico Fellini's La Strada (1954) where he played a great role as Zampanó.
When returning to Hollywood, he returned to devastate with his paper of Gauguin, a friend of Van Gogh in the film the crazy one of the red hair (1956) of Vicente Minnelli, with this success gained his second Oscar to the Better Secondary Actor.
After this, he began to work alternating between the United States and Europe with a trajectory that fluctuated a lot in the quality of his papers. Between the works in which he reached more notoriety they are: The cannons of the Navarone (1961) of J. Lee Thompson, Barabbas (1961) of Richard Fleischer, Lawrence of Arabia (1962) of David Lean, and Zorba the Greek (1964) of Michael Cacoyannis, with whom he obtained another Oscar nomination.
Shortly after, she married Lolanda Addolori, a costume designer he met while shooting Barabbas. But before that, he had already married once with Katherine DeMille an actress with whom he married in 1937 and with whom he had five children. The marriage with Addolori ended when Quinn returns to be a father with another woman, with whom he had three children. Then he had two others with Friedel Dunbar and finally, he had an affair with his secretary Katherine Benvin with whom he married in 1997 and with whom he lived until his death. With her, he had two children. So, his offspring consists of 13 children.
In the following decade "confirmed the greatness of an actor capable of adopting a thousand and one characterizations and always be up to the demands of the script." In spite of his popularity it was in films not so well-known and with different directors like Sandals of the fisherman (1968) of Michael Anderson, the inheritance Ferramonti (1975) of Mauro Bolognini, the sons of Sanchez (1978), the lion of the desert ( 1979) by Moustapha Akkad, Valentina (1982) by Antonio J. Betancor, Wild Fever (1991) by Spike Lee.
He did not only devoted himself to theater and cinema, he also appeared on the small screen in some occasions or episodes as in the series Philco Playhouse (1949), Schlitz Playhouse of Stars (1951-55), "The Ed Sullivan Show" (1963), the series "The city" and "The man and the city" (both of 1971) and "The Mike Douglas Show" (1971).
He died at the hospital in Boston in 2001 as a result of severe pneumonia contracted after passing chemotherapy for esophageal cancer at 86 years. His ashes lie on his farm in California and a part was thrown into the Copper Canyon in Chihuahua.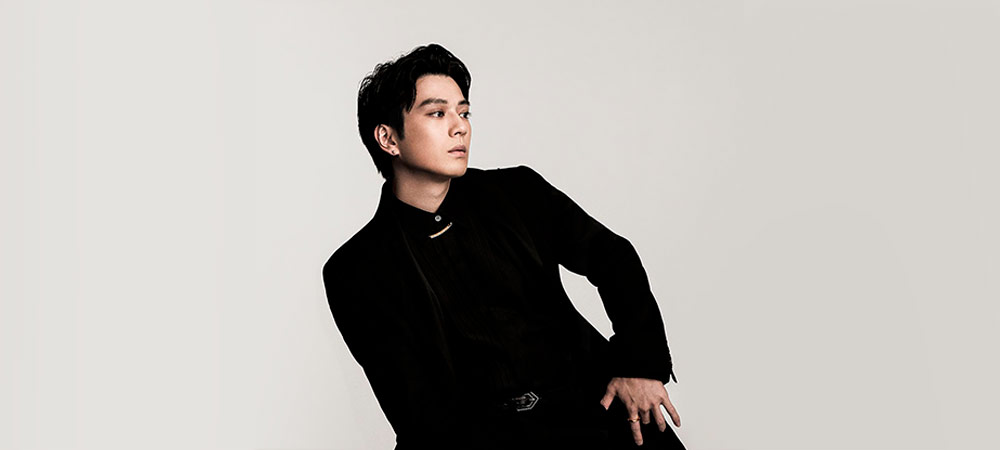 Arata Mackenyu Biography
Mackenyu Maeda (前田 真剣佑), also known artistically as Arata Mackenyu or simply Mackenyu (November 16, 1996), is an actor from Los Angeles, California, United States. He is renowned for his outstanding portrayal of Roronoa Zoro in the live-action adaptation of "One Piece".
Early years
Mackenyu Maeda, better known as Arata Mackenyu or simply Mackenyu, is an actor of Japanese descent who grew up in Los Angeles, United States. He is the son of the renowned martial artist and actor, Sonny Chiba, and Tamami Chiba. In addition, he has an older half-sister named Juri Manase and a younger brother named Gordon Maeda.
Mackenyu comes from a prominent family with a deep-rooted tradition in the world of acting. This passion for performing has been passed down from generation to generation, from his own father to his uncle Jiro Chiba, and even to his two siblings. Despite being born in the United States, Mackenyu holds Japanese nationality, a choice that involves renouncing his second nationality due to legal restrictions and cultural considerations in Japan. This commitment to his cultural heritage and his desire to reside in Japan led him to make this decision.
At Beverly Hills High School, where he successfully completed his studies and graduated.
Beginnings
In his adolescence, Mackenyu discovered his passion for acting after being inspired by Haruma Miura, with whom he would later share the lead role in "Brave: Gunjō Senki", sadly, shortly before the actor's tragic passing. Prior to this, he had been involved in projects alongside his father and other renowned performers, such as "Oyaji" and "Buzz (So-On: The Five Oyaji)".
In the year 2014, Mackenyu achieved his first leading role in a film called "Take a Chance". Additionally, he dazzled in a poignant short film portraying the life of a Japanese family affected by the aftermath of World War II, titled "Tadaima". This short film received the prestigious award for Best Narrative Short at the Asian American Film Festival in Philadelphia.
Career
His fame began to take off in 2015 when he secured the role of Eiji Tomari in "Kamen Rider Drive: Surprise Future". Just a year later, he joined the cast of the movie "Chihayafuru: Kami no Ku" ("Chihayafuru Part 1"), an adaptation of the manga "Chihayafuru", in which he portrayed Arata Wataya, a passionate karuta competitor. Subsequently, he was once again called upon to embody this iconic character in "Chihayafuru: Shimo no Ku" ("Chihayafuru Part 2").
In early 2016, Mackenyu took a significant step in his career by making his debut in the world of theater, participating in the Japanese musical "Boys Over Flowers" ("Hana Yori Dango: The Musical").
Mackenyu has experienced continuous growth in his acting career. Starting with his portrayal of Kazuya "Toji" Tojigamori in "Peach Girl", he continued to excel in the world of entertainment. In 2018, he starred in the series "Todome no Kiss" ("Kiss that Kills") as Takauji Namiki. Shortly thereafter, he reprised his iconic role as Arata Wataya in the movie "Chihayafuru: Musubi" ("Chihayafuru Part 3").
During the same period, he showcased his versatility by joining the supporting cast of "Pacific Rim: Uprising" as Ryoichi, a cadet and pilot of the jaeger Saber Athena.
Mackenyu had a successful year on the big screen in 2020. In January, he was part of the main cast in the film "Kaiji: The Final Game" as Minato Hirose. By the end of January, he took on the role of Aki Miyata in "Our 30 Minute Sessions".
A year later, in a new production, Mackenyu took on the lead role in the film "Brave: Gunjō Senki", where he portrayed Aoi Nishino, a student and member of the school archery club.
In 2021, Mackenyu made the decision to part ways with Top Coat and temporarily suspended all his activities in Japan, aiming to expand his career internationally. One of his early prominent roles in this new chapter of his acting career was that of Pegasus Seiya in the live-action adaptation of "Knights of the Zodiac", which hit the screen in May 2023. Furthermore, in 2022, we saw him in the role of Scar in "Fullmetal Alchemist: Revenge of Scar".
Furthermore, on August 31, 2023, the American audience marked the thrilling premiere of the live-action adaptation based on the popular manga and anime "One Piece". In this standout production, Arata Mackenyu took on a starring role, portraying Roronoa Zoro, a swordsman. He shared the set with Iñaki Godoy, Emily Rudd, Taz Skylar, Peter Gadiot, Morgan Davies, Jeff Ward, Jacob Gibson, among others.
Personal life
Since 2014, Mackenyu has made Tokyo, Japan, his home. In this city that has stolen his heart, he sealed his love by marrying Natsumi Okamoto. Currently, the couple is expecting their first child together.
Mackenyu is also a father to a child born when he was young. Speculation has arisen that the conception of his daughter may be related to a traumatic incident he experienced at the age of fourteen, involving a family friend. To date, Arata Mackenyu has chosen not to publicly address this matter, which has been handled with discretion and discussed very little.
Controversies and Accusations Involving Mackenyu
The Japanese actor is embroiled in multiple controversies in his home country, where several individuals, including a journalist, have publicly leveled accusations of rape and attempted murder against him. Regarding allegations of sexual abuse, three women have shared their experiences anonymously, detailing that Mackenyu would intoxicate them, stalk them, and at times, confine them, sometimes in the company of others. Additionally, there have been suggestions of more individuals making allegations, though these have not been publicly disclosed. As of now, the actor has not issued any comments on the matter.
Facts about Arata Mackenyu
He is a fan of anime, with one of his favorites being "Hunter x Hunter".
He changed his artistic name after portraying Arata Wataya.
He is fluent in English.
He resides in Tokyo.
Over the years, he has been part of live-action adaptations of famous anime series like Fullmetal Alchemist, Saint Seiya, Peach Girl, Tokyo Ghoul, Chihayafuru, and Rurouni Kenshin.
He had to pierce his ears for his role as Roronoa Mackenyu.
He learned to play the piano at the age of eleven.
Sadly, his father Sonny Chiba passed away due to complications from Covid-19.
He practices martial arts.
His father portrayed Hattori in Quentin Tarantino's film "Kill Bill Vol. 2".
He was a member of a musical band during his school years.
Filmography
Arata Mackenyu's Acting Roles:
Film
"Oyaji" (2007).
"Buzz (So-On: The Five Oyaji)" (2014).
"Tadaima" (2015).
"Kamen Rider Drive: Surprise Future" (2015).
"Take a Chance" (2015).
"Chihayafuru Parte 1" (2016).
"Chihayafuru Parte 2" (2016).
"Night's Tightrope" (2016).
"Bittersweet" (2016).
"Let's Go, Jets!" (2017).
"JoJo's Bizarre Adventure: Diamond Is Unbreakable Chapter I" (2017).
"Peach Girl" (2017).
"Pacific Rim: Uprising" (2018).
"Chihayafuru Parte 3" (2018).
"Over Drive" (2018).
"Impossibility Defense" (2018).
"Code Blue: The Movie" (2018).
"12 Suicidal Teens" (2019).
"Tokyo Ghoul S" (2019).
"NiNoKuni" (2019).
"Kaiji: Final Game" (2020).
"Our 30-Minute Sessions" (2020).
"Tonkatsu DJ Agetarō" (2020).
"Brave: Gunjō Senki" (2021).
"The Master Plan" (2021).
"Rurouni Kenshin: The Final" (2021).
"Fullmetal Alchemist: The Revenge of Scar" (2022).
"Fullmetal Alchemist: The Final Alchemy" (2022).
"Knights of the Zodiac" (2023).
TV
"Yume wo Ataeru" (2015).
"Sakurasaku" (2016).
"Tomorrow, I'll Surely Love You Again" (2016).
"Brass Dreams" (2016).
"Fugitive Boys" (2017).
"Kiss that Kills" (2018).
"Two Homelands" (2019).
"Our Dearest Sakura" (2019).
"Remote de Korosareru" (2020).
"The End of the Tiny World: Half A Year Later" (2021).
"Ichikei's Crow: The Criminal Court Judges" (2021).
"One Piece" (2023).