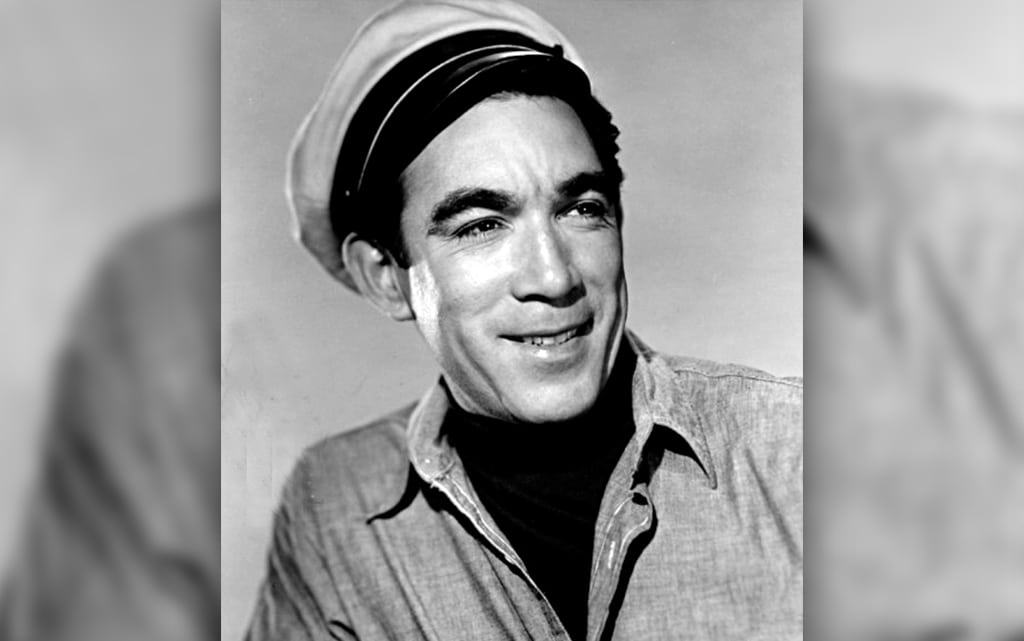 Anthony Quinn biography
Anthony Quinn was an American film actor born in Mexico, his real name was Anthony Rudolf Oaxaca. He was born in Chihuahua, Mexico in 1915 and died in Boston in 2001. His father was of Irish origin and his mother was Mexican. Since a very young age, he lived in California.
While studying at the Belvedere school, June Hight had to start working for the economy of his family and therefore learned many and varied trades as a newspaper vendor, waiter, truck driver, and boxer.
Apparently, his vocation for acting woke up since he was very young and interested in theater and attended Katherine Hamil's school. When he was twenty-one he made his debut at the great Hollytown Theater in Los Angeles. But for personal reasons, he saw himself with more future in the cinema and thus began as an extra in films like The Milky Way, by Leo McCarey and The Vultures of the Prison, by Louis Friedlander, both shot in 1936.
His physical features conditioned him to certain archetypal roles such as sex symbol, gangster or soldier, although with time he managed to get out of it and represent more varied characters such as Eskimos, Russians or Indians.
His first steps in the movies were small because he slowly rose from being an extra. He went through "It Started in the Tropic" by Mitchell Leisen (1937) and Buffalo Bill by Cecil B. de Mille (1936), being these the most famous directors with whom he worked. By that time he worked a lot with Paramount and ended up marrying the daughter of director De Mille, Katherine, a decision that created inconveniences in the middle despite what one might think.
In the forties, he moved to Warner studio where he found more interesting roles and allowed him to rub shoulders with renowned actors. By this time he appeared in City of Conquest (1940), Anatole Litvak, Blood and Sand (1940), by Rouben Mamoulian and Died with Boots on (1941), by Raoul Walsh. He never stayed in a single studio, he went through Paramount, 20th Century-Fox and RKO where he also did not adhere to a specific genre, as he went through comedies, adventures, musicals, and westerns. He had good reviews in Incident in Ox-Bow (1943) by William A. Wellman.
In 1947 he obtained the American nationality and returned to the tables of the theater to interpret in Broadway The Gentleman from Athens and a streetcar called Desire in substitution of Marlon Brando. With these works, his success in film and theater multiplied and gave him many new and more interesting roles as his role as Emiliano Zapata's brother in ¡Viva Zapata! From Elia Kazan for which he received his first Academy Award.
From then on he worked with great directors such as Federico Fellini's La Strada (1954) where he played a great role as Zampanó.
When returning to Hollywood, he returned to devastate with his paper of Gauguin, a friend of Van Gogh in the film the crazy one of the red hair (1956) of Vicente Minnelli, with this success gained his second Oscar to the Better Secondary Actor.
After this, he began to work alternating between the United States and Europe with a trajectory that fluctuated a lot in the quality of his papers. Between the works in which he reached more notoriety they are: The cannons of the Navarone (1961) of J. Lee Thompson, Barabbas (1961) of Richard Fleischer, Lawrence of Arabia (1962) of David Lean, and Zorba the Greek (1964) of Michael Cacoyannis, with whom he obtained another Oscar nomination.
Shortly after, she married Lolanda Addolori, a costume designer he met while shooting Barabbas. But before that, he had already married once with Katherine DeMille an actress with whom he married in 1937 and with whom he had five children. The marriage with Addolori ended when Quinn returns to be a father with another woman, with whom he had three children. Then he had two others with Friedel Dunbar and finally, he had an affair with his secretary Katherine Benvin with whom he married in 1997 and with whom he lived until his death. With her, he had two children. So, his offspring consists of 13 children.
In the following decade "confirmed the greatness of an actor capable of adopting a thousand and one characterizations and always be up to the demands of the script." In spite of his popularity it was in films not so well-known and with different directors like Sandals of the fisherman (1968) of Michael Anderson, the inheritance Ferramonti (1975) of Mauro Bolognini, the sons of Sanchez (1978), the lion of the desert ( 1979) by Moustapha Akkad, Valentina (1982) by Antonio J. Betancor, Wild Fever (1991) by Spike Lee.
He did not only devoted himself to theater and cinema, he also appeared on the small screen in some occasions or episodes as in the series Philco Playhouse (1949), Schlitz Playhouse of Stars (1951-55), "The Ed Sullivan Show" (1963), the series "The city" and "The man and the city" (both of 1971) and "The Mike Douglas Show" (1971).
He died at the hospital in Boston in 2001 as a result of severe pneumonia contracted after passing chemotherapy for esophageal cancer at 86 years. His ashes lie on his farm in California and a part was thrown into the Copper Canyon in Chihuahua.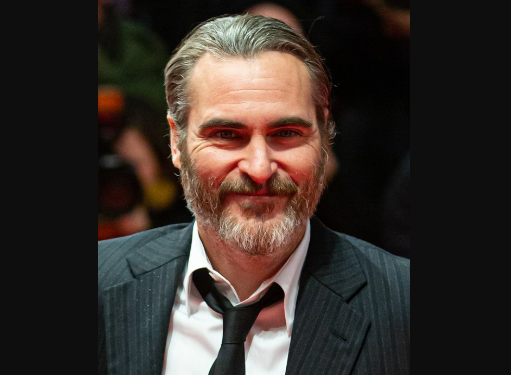 Joaquin Phoenix Biography
Joaquin Rafael Phoenix (October 28, 1974) He was born in San Juan, Puerto Rico. American actor, recognized for his performance in the films Gladiator (2000), Walk the Line (2005), Her (2013), María Magdalena (2018) and Joker (2019). Phoenix made his first appearance as a child actor in the film Space Camp (1986), by director Harry Winer and a year later he got his first starring character in the drama Russkies (1987). After leaving the big screen due to the death of his brother, he returned playing the young rebel Jimmy Emmett into Die For (1995). His obvious interpretive talent led him to become one of the most prominent actors in Hollywood cinema.
Family and beginnings
He was born into a family of missionaries and artists; his parents were the American missionaries of the "Church of God" John Bottom and Arlyn Dunitz. In the early 1970s, they were based in Puerto Rico with their children Rain, River, Liberty, and Joaquin. Three years after Joaquin was born, the family moved to Los Angeles (United States) to provide a specialized arts education for their children. A year after settling in Los Angeles, the last daughter of the family, Summer, was born.
All the brothers of Phoenix were dedicated to the interpretation from an early age, their first works were appearances in commercials and series of television. At that time Phoenix became known by the artistic name Leaf (leaf), probably influenced by the names of his brothers, Summer, River, Rain and Liberty. After appearing in small commercials, he was hired to play his first role in director Harry Winer's film, Space Camp (1986).
Acting career
Phoenix debuted at age ten in Space Camp (1986), a film in which he played Max Graham, a boy passionate about the stars and a Star Wars fan. The following year, he got his first star in Rick Rosenthal's drama, Russkies (1987), a film in which his younger sister, Summer, also worked. Two years later his career as a child actor was consolidated thanks to his appearance in the dramatic comedy, Parenthood (1989), directed by Ron Howard. After standing out in the eighties, Phoenix moved away from the world of acting for several years to move with his parents to Mexico and Cuba.
Phoenix became news in 1993, because of the tragic death of his brother River, due to an overdose. It was Phoenix who called for emergencies during the tragic event. River's death deeply affected the actor, who was reluctant to return to the world of acting, however, the insistence of his friends and family motivated him to return to acting. He returned as Joaquin Phoenix playing the young rebel Jimmy Emmett in To Die For (1995), a film in which he shared set with Nicole Kidman, Matt Dillon, Casey Affleck, and Alison Folland, among others. His interpretation of the film received excellent reviews, which made him one of the most prominent young stars of the time.
Two years later he appeared in Inventing the Abbotts (1997), a film in which he met actress Liv Tyler, with whom he dated until 1998. He also worked with it in U Turn (1997). He played Lewis McBride in Return to Paradise (1998), Clay Bidwell in Clay Pigeons (1998) and Max California in 8MM (1999). Later he appeared in The Yards (2000), playing Willie Gutierrez and shortly thereafter he was seen playing the Roman emperor Commodus in Gladiator (2000). His excellent interpretation of the Roman leader was exalted by critics and was even nominated for an Oscar and the Golden Globes as best supporting actor.
In 2005, he played the renowned singer Johnny Cash in the movie Walk the Line (2005), directed by James Mangold, in which he shared set with actresses Reese Witherspoon and Ginnifer Goodwin. Two years later he appeared in the films We Own the Night (2007) and Reservation Road (2007), followed by Two Lovers (2008) by James Gray, in which he played Leonard Kraditor. In late 2008, Phoenix announced his retirement from the world of acting to devote himself to music, however, he continued to work as a producer and actor in some films sporadically.
Two years after announcing his retirement, he presented at the Venice Festival the documentary I'm Still Here (2010), along with Casey Affleck. Years later he played Freddie Quell in the film The Master (2012), directed by Paul Thomas Anderson. That same year he was awarded the Volpi Cup for best actor, along with Philip Seymour Hoffman.
The following year he was the protagonist of the film Her (2013), directed by Spike Jonze, later worked with Paul Thomas on the adaptation of the book Inherent Vice by Thomas Pynchon. In 2017, he appeared in Lynne Ramsay's film, You Were Never Really Here (2017), playing Joe, for this role he won the award for best actor at the Cannes Film Festival.
In late 2018, Warner Bros announced that Phoenix would play the Joker in the film directed by Todd Phillips. In 2019, some news about the progress of the film and the appearance of the Joker have been published. This new film about the Joker promises to show the darker side of Gotham's fun and terrifying villain.