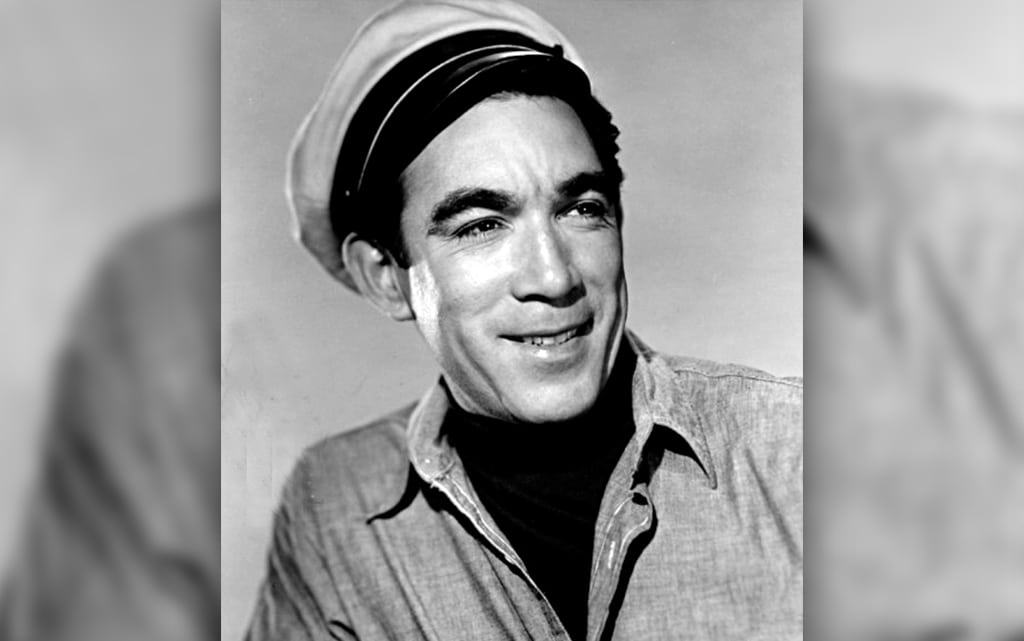 Anthony Quinn biography
Anthony Quinn was an American film actor born in Mexico, his real name was Anthony Rudolf Oaxaca. He was born in Chihuahua, Mexico in 1915 and died in Boston in 2001. His father was of Irish origin and his mother was Mexican. Since a very young age, he lived in California.
While studying at the Belvedere school, June Hight had to start working for the economy of his family and therefore learned many and varied trades as a newspaper vendor, waiter, truck driver, and boxer.
Apparently, his vocation for acting woke up since he was very young and interested in theater and attended Katherine Hamil's school. When he was twenty-one he made his debut at the great Hollytown Theater in Los Angeles. But for personal reasons, he saw himself with more future in the cinema and thus began as an extra in films like The Milky Way, by Leo McCarey and The Vultures of the Prison, by Louis Friedlander, both shot in 1936.
His physical features conditioned him to certain archetypal roles such as sex symbol, gangster or soldier, although with time he managed to get out of it and represent more varied characters such as Eskimos, Russians or Indians.
His first steps in the movies were small because he slowly rose from being an extra. He went through "It Started in the Tropic" by Mitchell Leisen (1937) and Buffalo Bill by Cecil B. de Mille (1936), being these the most famous directors with whom he worked. By that time he worked a lot with Paramount and ended up marrying the daughter of director De Mille, Katherine, a decision that created inconveniences in the middle despite what one might think.
In the forties, he moved to Warner studio where he found more interesting roles and allowed him to rub shoulders with renowned actors. By this time he appeared in City of Conquest (1940), Anatole Litvak, Blood and Sand (1940), by Rouben Mamoulian and Died with Boots on (1941), by Raoul Walsh. He never stayed in a single studio, he went through Paramount, 20th Century-Fox and RKO where he also did not adhere to a specific genre, as he went through comedies, adventures, musicals, and westerns. He had good reviews in Incident in Ox-Bow (1943) by William A. Wellman.
In 1947 he obtained the American nationality and returned to the tables of the theater to interpret in Broadway The Gentleman from Athens and a streetcar called Desire in substitution of Marlon Brando. With these works, his success in film and theater multiplied and gave him many new and more interesting roles as his role as Emiliano Zapata's brother in ¡Viva Zapata! From Elia Kazan for which he received his first Academy Award.
From then on he worked with great directors such as Federico Fellini's La Strada (1954) where he played a great role as Zampanó.
When returning to Hollywood, he returned to devastate with his paper of Gauguin, a friend of Van Gogh in the film the crazy one of the red hair (1956) of Vicente Minnelli, with this success gained his second Oscar to the Better Secondary Actor.
After this, he began to work alternating between the United States and Europe with a trajectory that fluctuated a lot in the quality of his papers. Between the works in which he reached more notoriety they are: The cannons of the Navarone (1961) of J. Lee Thompson, Barabbas (1961) of Richard Fleischer, Lawrence of Arabia (1962) of David Lean, and Zorba the Greek (1964) of Michael Cacoyannis, with whom he obtained another Oscar nomination.
Shortly after, she married Lolanda Addolori, a costume designer he met while shooting Barabbas. But before that, he had already married once with Katherine DeMille an actress with whom he married in 1937 and with whom he had five children. The marriage with Addolori ended when Quinn returns to be a father with another woman, with whom he had three children. Then he had two others with Friedel Dunbar and finally, he had an affair with his secretary Katherine Benvin with whom he married in 1997 and with whom he lived until his death. With her, he had two children. So, his offspring consists of 13 children.
In the following decade "confirmed the greatness of an actor capable of adopting a thousand and one characterizations and always be up to the demands of the script." In spite of his popularity it was in films not so well-known and with different directors like Sandals of the fisherman (1968) of Michael Anderson, the inheritance Ferramonti (1975) of Mauro Bolognini, the sons of Sanchez (1978), the lion of the desert ( 1979) by Moustapha Akkad, Valentina (1982) by Antonio J. Betancor, Wild Fever (1991) by Spike Lee.
He did not only devoted himself to theater and cinema, he also appeared on the small screen in some occasions or episodes as in the series Philco Playhouse (1949), Schlitz Playhouse of Stars (1951-55), "The Ed Sullivan Show" (1963), the series "The city" and "The man and the city" (both of 1971) and "The Mike Douglas Show" (1971).
He died at the hospital in Boston in 2001 as a result of severe pneumonia contracted after passing chemotherapy for esophageal cancer at 86 years. His ashes lie on his farm in California and a part was thrown into the Copper Canyon in Chihuahua.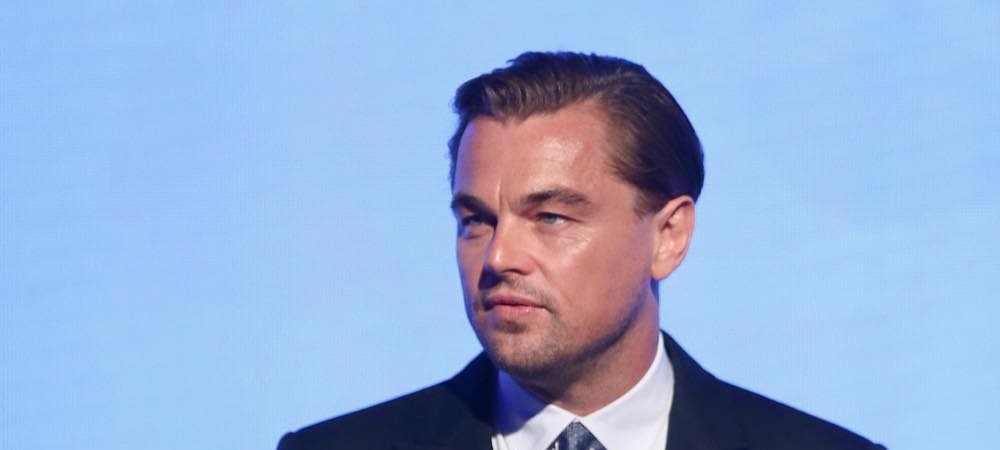 Biography of Leonardo DiCaprio
Leonardo Wilhelm DiCaprio is a renowned actor and film producer who has won numerous awards within the film industry. He was born on November 11, 1974, in Hollywood, Los Angeles, California, United States.
DiCaprio is an only child of Irmelin Indenbirken, a secretary born in Germany, and George DiCaprio, an underground comic artist and producer/distributor of comics. On his father's side, he has half-Italian (from Naples) and half-German (from Bavaria) ancestry. On the other hand, on his mother's side, his grandfather Wilhelm Indenbirken was German and his grandmother Helene Indenbirken was a German citizen born in Russia under the name Yelena Smirnova.
He was named Leonardo because, while his pregnant mother was looking closely at a painting by the great artist Leonardo da Vinci in a museum, DiCaprio gave a strong kick inside her belly. His parents divorced when he was only one year old, and they shared custody of Leonardo until 1997.
Studies, beginnings in acting.
As for his education, he did not attend university and only took basic courses at John Marshall High School in Los Angeles. His career in the world of image and acting began when he followed his older stepbrother, Adam Farrar, in television advertising, starring in a commercial for the Matchbox car brand at the age of fourteen and subsequently participating in educational films. At the age of five, he was also part of the children's television series "Romper Room", but had to leave it as it was detrimental to him.
"1990 – 1991: Debut in television and cinema"
In 1990, he made his true television debut when he was cast to be a part of the "Parenthood" ensemble, a series based on the film of the same name. He then landed minor roles in several series, including "The New Lassie" and "Roseanne," as well as a brief part in "Santa Barbara." His work in "Parenthood" and "Santa Barbara" earned him a nomination for the Young Artist Award for Best Young Actor. His big screen debut came in 1991 with the science fiction and horror movie "Critters." Later on, he became a recurring member of the cast of the ABC sitcom "Growing Pains," playing Luke Brower. However, DiCaprio didn't achieve success in the film industry until 1992, when he was selected by Robert De Niro from among 400 young actors for the lead role in "This Boy's Life," which also starred Ellen Barkin and De Niro himself.
1993 – 1996
Later, in 1993, DiCaprio played the mentally disabled younger brother of Johnny Depp in "What's Eating Gilbert Grape." The film's director, Lasse Hallström, admitted that he initially sought a less attractive actor, but he decided on DiCaprio because he had become "the most observant actor" among all who auditioned. The film was a great financial and critical success, resulting in Leonardo being highly praised for his performance, which led to him being awarded the National Board of Review for Best Supporting Actor and nominated for an Academy Award and a Golden Globe. Subsequently, he had roles in films such as "The Quick and the Dead" (1995) and was one of the leads in "Romeo + Juliet" (1996).
But his big break came with director James Cameron, who offered him the lead male role in Titanic (1997), a movie that not only won a considerable number of Academy Awards but also became a social phenomenon. Afterwards, DiCaprio gained greater acceptance in the cinematic world, so he was part of numerous films such as:
The Man in the Iron Mask (1998)
The Beach (2000)
Catch Me If You Can (2002)
The Aviator (2004)
The Assassination of Richard Nixon (2004)
Blood Diamond (2006)
Gardener of Eden (2007)
Body of Lies (2008)
Orphan (2009, as producer)
Shutter Island (2010)
Inception (2010)
Django Unchained (2012)
The Great Gatsby (2013)
Runner Runner (2013)
The Wolf of Wall Street (2013)
The Revenant (2015)
The Audition (2015).
Curiosities
Interestingly, he was nominated for an Oscar five times: Best Supporting Actor for What's Eating Gilbert Grape, Best Actor for The Aviator, Blood Diamond and The Wolf of Wall Street. This generated a lot of jokes and talk of a supposed "curse" in Hollywood. But in 2015, he finally won the award thanks to his great performance in "The Revenant".
It should also be noted that DiCaprio is a committed environmentalist who has received praise from environmental groups for choosing to fly on commercial flights instead of private planes like most celebrities, and for driving an electric hybrid vehicle and having solar panels in his home.