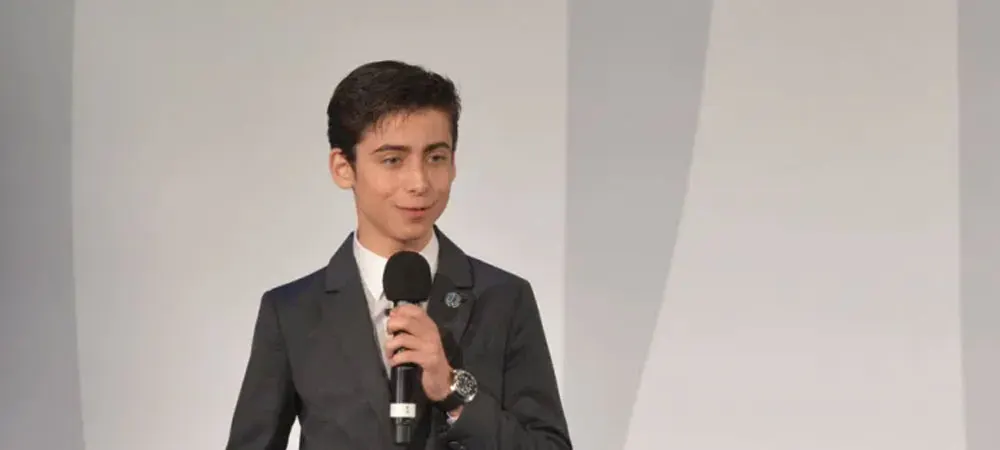 Personal information
Full name

Aidan Gallagher

Birthdate

September 18, 2003

Age
19 years old
Occupation

Actor and musician

Nationality

American

Parents

Rob y Lauren Gallagher

Awards
Honorable mention in the International Songwriting Competition 2019
Genders
Pop, Indie and Alternative
Zodiac sign
Virgo
Biography in other languages
Biography of Aidan Gallagher
Aidan Gallagher (September 18, 2003) is an American actor, known for playing Nick Harper in the Nickelodeon series Nicky, Ricky, Dicky & Daw (2014-18). He was born in Los Angeles, United States. He began acting at nine years old and at ten he made his debut in You & Me (2013), by Paula Hunziker. He later worked in Jacked Up and We Make That Lemonade; and in 2014 he rose to fame as the protagonist of the popular children's series Nicky, Ricky, Dicky & Dawn. Since 2019 he has played Number Five in the Netflix series The Umbrella Academy.
Early life
Gallagher was born on September 18, 2003 in Los Angeles, United States, the son of television manager Rob Gallagher and Lauren Gallagher. From an early age he showed an interest in production and direction: at eight years old, Aidan would work with a group of friends recording stop motions with legos and some action short films. Later, with the support of his parents, Aidan began to make his way in acting. He participated in several of his father's projects and works.
In 2013, at just ten years old, Aidan made his television debut on Modern Family. That same year, he debuted in cinema with You & Me (2013), a short film by Paula Hunziker starring Tyler Blackburn and Molly Berg. In addition, he obtained his first leading role in the comedy telefilm Jacked Up (2013) by Fred Savage, alongside Missi Pyle and Patrick Warburton.
Career of Aidan Gallagher
One year after his debut on Modern Family, Aidan obtained the role that brought him fame in the Nickelodeon series Nicky, Ricky, Dicky & Daw (2014-18), as Nick, one of the quadruplets of the Harper family who usually has answers for everything. For his comic and tender scenes, the Harper quadruplets gained the audience's appreciation and the series was extended until 2018, bringing him numerous successes.
In the meantime, Gallagher would work on We Make That Lemonade (2014), by Ian Pfaff alongside Mace Coronel and Lizzy Greene; and in the Nickelodeon specials Ho Ho Holiday Special (2015) and Summer Camp Special (2017).
The Umbrella Academy (2019-2022)
In February 2019, Gallagher began acting in The Umbrella Academy, the Netflix series based on the homonymous work by Gerard Way (of My Chemical Romance), which stars Elliot Page (Vanya Hargreeves), David Castañeda (Diego Hargreeves), Robert Sheehan (Klaus Hargreeves), Tom Hopper (Luther Hargreeves) and Emmy Raver-Lampman (Allison Hargreeves). In the series, Gallagher plays Number Five, a superhero whose power is time-jumps and who returns to the past after discovering an apocalyptic future. The sarcastic humor of his character made him the favorite of fans.
After the success of the first season, the series was renewed for a second season that premiered on July 31, 2020. In November 2020, Netflix renewed the series for a third season with a premiere date of June 22, 2022.
Aidan Gallagher's musical career
With regard to his musical career, Aidan is a consummate singer, composer, guitarist and pianist. In 2019 he debuted with the singles "TIME," "FOR YOU" and "BLUE NEON". That same year, he participated in Trinity Rose's single Miss You and later released "I LOVE YOU". After his debut, Gallagher performed at the South by Southwest's Big Break Accelerator Program Showcase (2020), making him the youngest solo artist to perform at the festival.
In July 2020, he released a third single 4 of July.
Currently, Aidan has his own YouTube channel and a patreon for exclusive paid content.
Songs
Blue Neon (2019)
Miss You with Trinity Rose (2019)
Time (2019)
For You (2019)
I Love You (2020)
4 of July (2020)
Environmental activism
In June 2018, Aidan made history by becoming the youngest Ambassador of the United Nations. As such, Aidan has represented the youth of the world in several climate action initiatives. In 2019 he participated in the Global Climate Action Summit and was invited to the Illegal Wildlife Trade Summit by the UK Government.
Personal life of Aidan Gallagher
Gallagher has been involved in several environmental organizations, such as Waterkeeper Alliance, WildAid and Oceanic Preservation Society. In 2018 he was named United Nations Goodwill Ambassador for the Environment. Gallagher is vegan and Jewish.
Regarding his love life, in his adolescence Gallagher dated model Hannah McCloud for six months. He was also romantically linked to Jessica Balkin and Trinity Rose.
Curiosities
He was cataloged as #2 in the IMDB Top 10 Breakout Stars of 2020
In 2018, Variety magazine included him in its list of 25 and under leading actors.
He was nominated for two Kids Choice Awards for his role in Nicky, Ricky, Dicky & Daw (2014-18).
His Blue Neon Tour musical tour had to be postponed due to the Covid-19 pandemic.
For his music he has received an honorable mention in the International Songwriting Competition 2019 and the Vox Pop Independent Music Awards in the acoustic category 2020.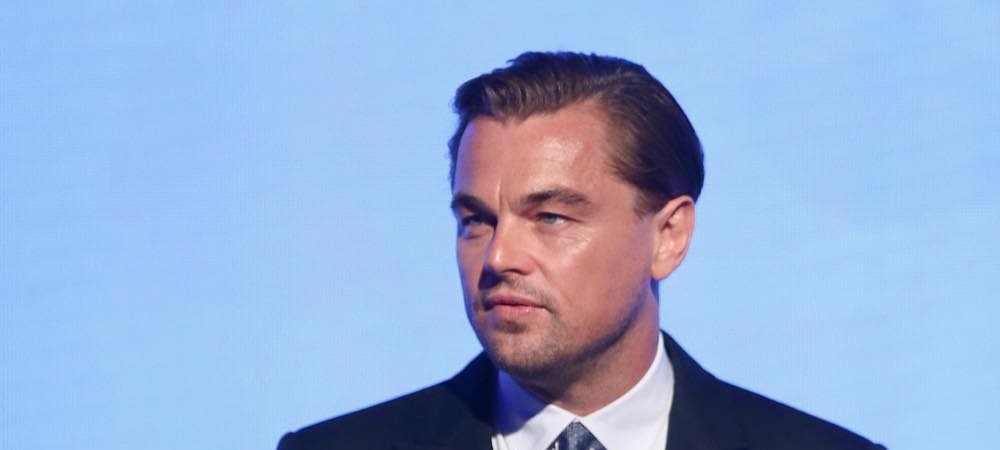 Biography of Leonardo DiCaprio
Leonardo Wilhelm DiCaprio is a renowned actor and film producer who has won numerous awards within the film industry. He was born on November 11, 1974, in Hollywood, Los Angeles, California, United States.
DiCaprio is an only child of Irmelin Indenbirken, a secretary born in Germany, and George DiCaprio, an underground comic artist and producer/distributor of comics. On his father's side, he has half-Italian (from Naples) and half-German (from Bavaria) ancestry. On the other hand, on his mother's side, his grandfather Wilhelm Indenbirken was German and his grandmother Helene Indenbirken was a German citizen born in Russia under the name Yelena Smirnova.
He was named Leonardo because, while his pregnant mother was looking closely at a painting by the great artist Leonardo da Vinci in a museum, DiCaprio gave a strong kick inside her belly. His parents divorced when he was only one year old, and they shared custody of Leonardo until 1997.
Studies, beginnings in acting.
As for his education, he did not attend university and only took basic courses at John Marshall High School in Los Angeles. His career in the world of image and acting began when he followed his older stepbrother, Adam Farrar, in television advertising, starring in a commercial for the Matchbox car brand at the age of fourteen and subsequently participating in educational films. At the age of five, he was also part of the children's television series "Romper Room", but had to leave it as it was detrimental to him.
"1990 – 1991: Debut in television and cinema"
In 1990, he made his true television debut when he was cast to be a part of the "Parenthood" ensemble, a series based on the film of the same name. He then landed minor roles in several series, including "The New Lassie" and "Roseanne," as well as a brief part in "Santa Barbara." His work in "Parenthood" and "Santa Barbara" earned him a nomination for the Young Artist Award for Best Young Actor. His big screen debut came in 1991 with the science fiction and horror movie "Critters." Later on, he became a recurring member of the cast of the ABC sitcom "Growing Pains," playing Luke Brower. However, DiCaprio didn't achieve success in the film industry until 1992, when he was selected by Robert De Niro from among 400 young actors for the lead role in "This Boy's Life," which also starred Ellen Barkin and De Niro himself.
1993 – 1996
Later, in 1993, DiCaprio played the mentally disabled younger brother of Johnny Depp in "What's Eating Gilbert Grape." The film's director, Lasse Hallström, admitted that he initially sought a less attractive actor, but he decided on DiCaprio because he had become "the most observant actor" among all who auditioned. The film was a great financial and critical success, resulting in Leonardo being highly praised for his performance, which led to him being awarded the National Board of Review for Best Supporting Actor and nominated for an Academy Award and a Golden Globe. Subsequently, he had roles in films such as "The Quick and the Dead" (1995) and was one of the leads in "Romeo + Juliet" (1996).
But his big break came with director James Cameron, who offered him the lead male role in Titanic (1997), a movie that not only won a considerable number of Academy Awards but also became a social phenomenon. Afterwards, DiCaprio gained greater acceptance in the cinematic world, so he was part of numerous films such as:
The Man in the Iron Mask (1998)
The Beach (2000)
Catch Me If You Can (2002)
The Aviator (2004)
The Assassination of Richard Nixon (2004)
Blood Diamond (2006)
Gardener of Eden (2007)
Body of Lies (2008)
Orphan (2009, as producer)
Shutter Island (2010)
Inception (2010)
Django Unchained (2012)
The Great Gatsby (2013)
Runner Runner (2013)
The Wolf of Wall Street (2013)
The Revenant (2015)
The Audition (2015).
Curiosities
Interestingly, he was nominated for an Oscar five times: Best Supporting Actor for What's Eating Gilbert Grape, Best Actor for The Aviator, Blood Diamond and The Wolf of Wall Street. This generated a lot of jokes and talk of a supposed "curse" in Hollywood. But in 2015, he finally won the award thanks to his great performance in "The Revenant".
It should also be noted that DiCaprio is a committed environmentalist who has received praise from environmental groups for choosing to fly on commercial flights instead of private planes like most celebrities, and for driving an electric hybrid vehicle and having solar panels in his home.