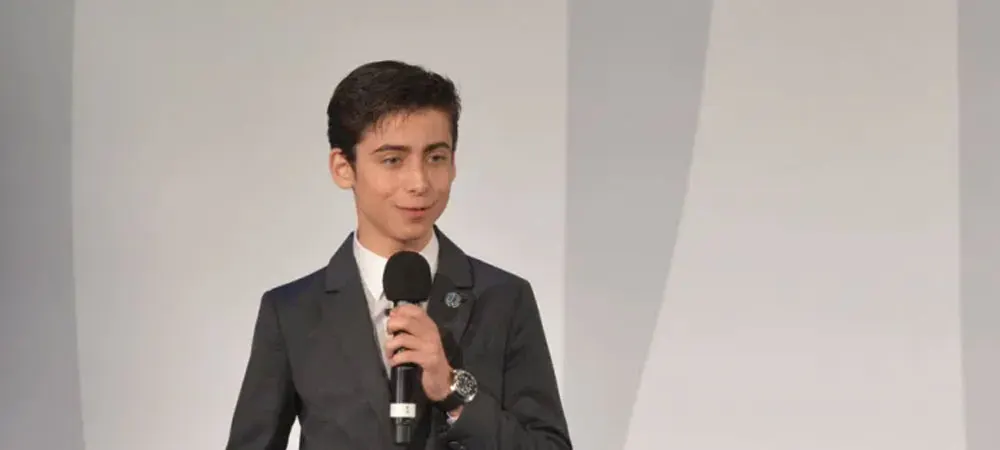 Personal information
Full name

Aidan Gallagher

Birthdate

September 18, 2003

Age
20 years old
Occupation

Actor and musician

Nationality

American

Parents

Rob y Lauren Gallagher

Awards
Honorable mention in the International Songwriting Competition 2019
Genders
Pop, Indie and Alternative
Zodiac sign
Virgo
Biography in other languages
Biography of Aidan Gallagher
Aidan Gallagher (September 18, 2003) is an American actor, known for playing Nick Harper in the Nickelodeon series Nicky, Ricky, Dicky & Daw (2014-18). He was born in Los Angeles, United States. He began acting at nine years old and at ten he made his debut in You & Me (2013), by Paula Hunziker. He later worked in Jacked Up and We Make That Lemonade; and in 2014 he rose to fame as the protagonist of the popular children's series Nicky, Ricky, Dicky & Dawn. Since 2019 he has played Number Five in the Netflix series The Umbrella Academy.
Early life
Gallagher was born on September 18, 2003 in Los Angeles, United States, the son of television manager Rob Gallagher and Lauren Gallagher. From an early age he showed an interest in production and direction: at eight years old, Aidan would work with a group of friends recording stop motions with legos and some action short films. Later, with the support of his parents, Aidan began to make his way in acting. He participated in several of his father's projects and works.
In 2013, at just ten years old, Aidan made his television debut on Modern Family. That same year, he debuted in cinema with You & Me (2013), a short film by Paula Hunziker starring Tyler Blackburn and Molly Berg. In addition, he obtained his first leading role in the comedy telefilm Jacked Up (2013) by Fred Savage, alongside Missi Pyle and Patrick Warburton.
Career of Aidan Gallagher
One year after his debut on Modern Family, Aidan obtained the role that brought him fame in the Nickelodeon series Nicky, Ricky, Dicky & Daw (2014-18), as Nick, one of the quadruplets of the Harper family who usually has answers for everything. For his comic and tender scenes, the Harper quadruplets gained the audience's appreciation and the series was extended until 2018, bringing him numerous successes.
In the meantime, Gallagher would work on We Make That Lemonade (2014), by Ian Pfaff alongside Mace Coronel and Lizzy Greene; and in the Nickelodeon specials Ho Ho Holiday Special (2015) and Summer Camp Special (2017).
The Umbrella Academy (2019-2022)
In February 2019, Gallagher began acting in The Umbrella Academy, the Netflix series based on the homonymous work by Gerard Way (of My Chemical Romance), which stars Elliot Page (Vanya Hargreeves), David Castañeda (Diego Hargreeves), Robert Sheehan (Klaus Hargreeves), Tom Hopper (Luther Hargreeves) and Emmy Raver-Lampman (Allison Hargreeves). In the series, Gallagher plays Number Five, a superhero whose power is time-jumps and who returns to the past after discovering an apocalyptic future. The sarcastic humor of his character made him the favorite of fans.
After the success of the first season, the series was renewed for a second season that premiered on July 31, 2020. In November 2020, Netflix renewed the series for a third season with a premiere date of June 22, 2022.
Aidan Gallagher's musical career
With regard to his musical career, Aidan is a consummate singer, composer, guitarist and pianist. In 2019 he debuted with the singles "TIME," "FOR YOU" and "BLUE NEON". That same year, he participated in Trinity Rose's single Miss You and later released "I LOVE YOU". After his debut, Gallagher performed at the South by Southwest's Big Break Accelerator Program Showcase (2020), making him the youngest solo artist to perform at the festival.
In July 2020, he released a third single 4 of July.
Currently, Aidan has his own YouTube channel and a patreon for exclusive paid content.
Songs
Blue Neon (2019)
Miss You with Trinity Rose (2019)
Time (2019)
For You (2019)
I Love You (2020)
4 of July (2020)
Environmental activism
In June 2018, Aidan made history by becoming the youngest Ambassador of the United Nations. As such, Aidan has represented the youth of the world in several climate action initiatives. In 2019 he participated in the Global Climate Action Summit and was invited to the Illegal Wildlife Trade Summit by the UK Government.
Personal life of Aidan Gallagher
Gallagher has been involved in several environmental organizations, such as Waterkeeper Alliance, WildAid and Oceanic Preservation Society. In 2018 he was named United Nations Goodwill Ambassador for the Environment. Gallagher is vegan and Jewish.
Regarding his love life, in his adolescence Gallagher dated model Hannah McCloud for six months. He was also romantically linked to Jessica Balkin and Trinity Rose.
Curiosities
He was cataloged as #2 in the IMDB Top 10 Breakout Stars of 2020
In 2018, Variety magazine included him in its list of 25 and under leading actors.
He was nominated for two Kids Choice Awards for his role in Nicky, Ricky, Dicky & Daw (2014-18).
His Blue Neon Tour musical tour had to be postponed due to the Covid-19 pandemic.
For his music he has received an honorable mention in the International Songwriting Competition 2019 and the Vox Pop Independent Music Awards in the acoustic category 2020.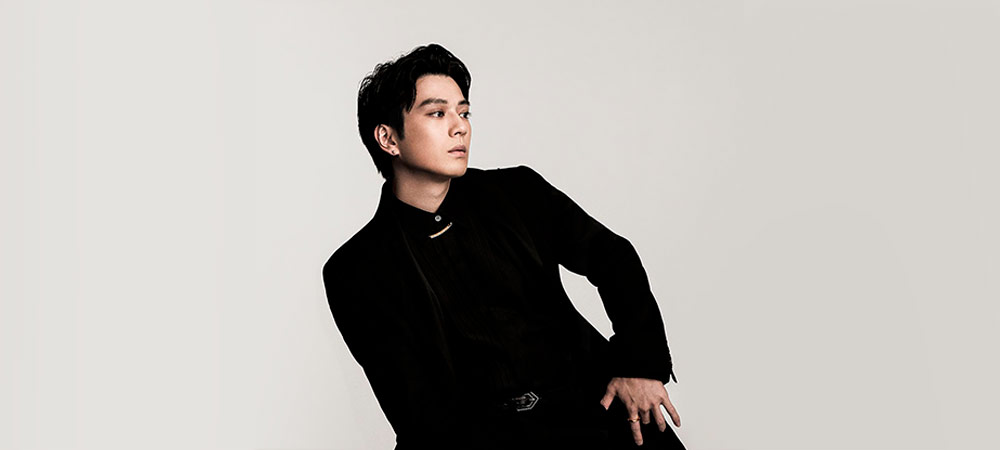 Arata Mackenyu Biography
Mackenyu Maeda (前田 真剣佑), also known artistically as Arata Mackenyu or simply Mackenyu (November 16, 1996), is an actor from Los Angeles, California, United States. He is renowned for his outstanding portrayal of Roronoa Zoro in the live-action adaptation of "One Piece".
Early years
Mackenyu Maeda, better known as Arata Mackenyu or simply Mackenyu, is an actor of Japanese descent who grew up in Los Angeles, United States. He is the son of the renowned martial artist and actor, Sonny Chiba, and Tamami Chiba. In addition, he has an older half-sister named Juri Manase and a younger brother named Gordon Maeda.
Mackenyu comes from a prominent family with a deep-rooted tradition in the world of acting. This passion for performing has been passed down from generation to generation, from his own father to his uncle Jiro Chiba, and even to his two siblings. Despite being born in the United States, Mackenyu holds Japanese nationality, a choice that involves renouncing his second nationality due to legal restrictions and cultural considerations in Japan. This commitment to his cultural heritage and his desire to reside in Japan led him to make this decision.
At Beverly Hills High School, where he successfully completed his studies and graduated.
Beginnings
In his adolescence, Mackenyu discovered his passion for acting after being inspired by Haruma Miura, with whom he would later share the lead role in "Brave: Gunjō Senki", sadly, shortly before the actor's tragic passing. Prior to this, he had been involved in projects alongside his father and other renowned performers, such as "Oyaji" and "Buzz (So-On: The Five Oyaji)".
In the year 2014, Mackenyu achieved his first leading role in a film called "Take a Chance". Additionally, he dazzled in a poignant short film portraying the life of a Japanese family affected by the aftermath of World War II, titled "Tadaima". This short film received the prestigious award for Best Narrative Short at the Asian American Film Festival in Philadelphia.
Career
His fame began to take off in 2015 when he secured the role of Eiji Tomari in "Kamen Rider Drive: Surprise Future". Just a year later, he joined the cast of the movie "Chihayafuru: Kami no Ku" ("Chihayafuru Part 1"), an adaptation of the manga "Chihayafuru", in which he portrayed Arata Wataya, a passionate karuta competitor. Subsequently, he was once again called upon to embody this iconic character in "Chihayafuru: Shimo no Ku" ("Chihayafuru Part 2").
In early 2016, Mackenyu took a significant step in his career by making his debut in the world of theater, participating in the Japanese musical "Boys Over Flowers" ("Hana Yori Dango: The Musical").
Mackenyu has experienced continuous growth in his acting career. Starting with his portrayal of Kazuya "Toji" Tojigamori in "Peach Girl", he continued to excel in the world of entertainment. In 2018, he starred in the series "Todome no Kiss" ("Kiss that Kills") as Takauji Namiki. Shortly thereafter, he reprised his iconic role as Arata Wataya in the movie "Chihayafuru: Musubi" ("Chihayafuru Part 3").
During the same period, he showcased his versatility by joining the supporting cast of "Pacific Rim: Uprising" as Ryoichi, a cadet and pilot of the jaeger Saber Athena.
Mackenyu had a successful year on the big screen in 2020. In January, he was part of the main cast in the film "Kaiji: The Final Game" as Minato Hirose. By the end of January, he took on the role of Aki Miyata in "Our 30 Minute Sessions".
A year later, in a new production, Mackenyu took on the lead role in the film "Brave: Gunjō Senki", where he portrayed Aoi Nishino, a student and member of the school archery club.
In 2021, Mackenyu made the decision to part ways with Top Coat and temporarily suspended all his activities in Japan, aiming to expand his career internationally. One of his early prominent roles in this new chapter of his acting career was that of Pegasus Seiya in the live-action adaptation of "Knights of the Zodiac", which hit the screen in May 2023. Furthermore, in 2022, we saw him in the role of Scar in "Fullmetal Alchemist: Revenge of Scar".
Furthermore, on August 31, 2023, the American audience marked the thrilling premiere of the live-action adaptation based on the popular manga and anime "One Piece". In this standout production, Arata Mackenyu took on a starring role, portraying Roronoa Zoro, a swordsman. He shared the set with Iñaki Godoy, Emily Rudd, Taz Skylar, Peter Gadiot, Morgan Davies, Jeff Ward, Jacob Gibson, among others.
Personal life
Since 2014, Mackenyu has made Tokyo, Japan, his home. In this city that has stolen his heart, he sealed his love by marrying Natsumi Okamoto. Currently, the couple is expecting their first child together.
Mackenyu is also a father to a child born when he was young. Speculation has arisen that the conception of his daughter may be related to a traumatic incident he experienced at the age of fourteen, involving a family friend. To date, Arata Mackenyu has chosen not to publicly address this matter, which has been handled with discretion and discussed very little.
Controversies and Accusations Involving Mackenyu
The Japanese actor is embroiled in multiple controversies in his home country, where several individuals, including a journalist, have publicly leveled accusations of rape and attempted murder against him. Regarding allegations of sexual abuse, three women have shared their experiences anonymously, detailing that Mackenyu would intoxicate them, stalk them, and at times, confine them, sometimes in the company of others. Additionally, there have been suggestions of more individuals making allegations, though these have not been publicly disclosed. As of now, the actor has not issued any comments on the matter.
Facts about Arata Mackenyu
He is a fan of anime, with one of his favorites being "Hunter x Hunter".
He changed his artistic name after portraying Arata Wataya.
He is fluent in English.
He resides in Tokyo.
Over the years, he has been part of live-action adaptations of famous anime series like Fullmetal Alchemist, Saint Seiya, Peach Girl, Tokyo Ghoul, Chihayafuru, and Rurouni Kenshin.
He had to pierce his ears for his role as Roronoa Mackenyu.
He learned to play the piano at the age of eleven.
Sadly, his father Sonny Chiba passed away due to complications from Covid-19.
He practices martial arts.
His father portrayed Hattori in Quentin Tarantino's film "Kill Bill Vol. 2".
He was a member of a musical band during his school years.
Filmography
Arata Mackenyu's Acting Roles:
Film
"Oyaji" (2007).
"Buzz (So-On: The Five Oyaji)" (2014).
"Tadaima" (2015).
"Kamen Rider Drive: Surprise Future" (2015).
"Take a Chance" (2015).
"Chihayafuru Parte 1" (2016).
"Chihayafuru Parte 2" (2016).
"Night's Tightrope" (2016).
"Bittersweet" (2016).
"Let's Go, Jets!" (2017).
"JoJo's Bizarre Adventure: Diamond Is Unbreakable Chapter I" (2017).
"Peach Girl" (2017).
"Pacific Rim: Uprising" (2018).
"Chihayafuru Parte 3" (2018).
"Over Drive" (2018).
"Impossibility Defense" (2018).
"Code Blue: The Movie" (2018).
"12 Suicidal Teens" (2019).
"Tokyo Ghoul S" (2019).
"NiNoKuni" (2019).
"Kaiji: Final Game" (2020).
"Our 30-Minute Sessions" (2020).
"Tonkatsu DJ Agetarō" (2020).
"Brave: Gunjō Senki" (2021).
"The Master Plan" (2021).
"Rurouni Kenshin: The Final" (2021).
"Fullmetal Alchemist: The Revenge of Scar" (2022).
"Fullmetal Alchemist: The Final Alchemy" (2022).
"Knights of the Zodiac" (2023).
TV
"Yume wo Ataeru" (2015).
"Sakurasaku" (2016).
"Tomorrow, I'll Surely Love You Again" (2016).
"Brass Dreams" (2016).
"Fugitive Boys" (2017).
"Kiss that Kills" (2018).
"Two Homelands" (2019).
"Our Dearest Sakura" (2019).
"Remote de Korosareru" (2020).
"The End of the Tiny World: Half A Year Later" (2021).
"Ichikei's Crow: The Criminal Court Judges" (2021).
"One Piece" (2023).