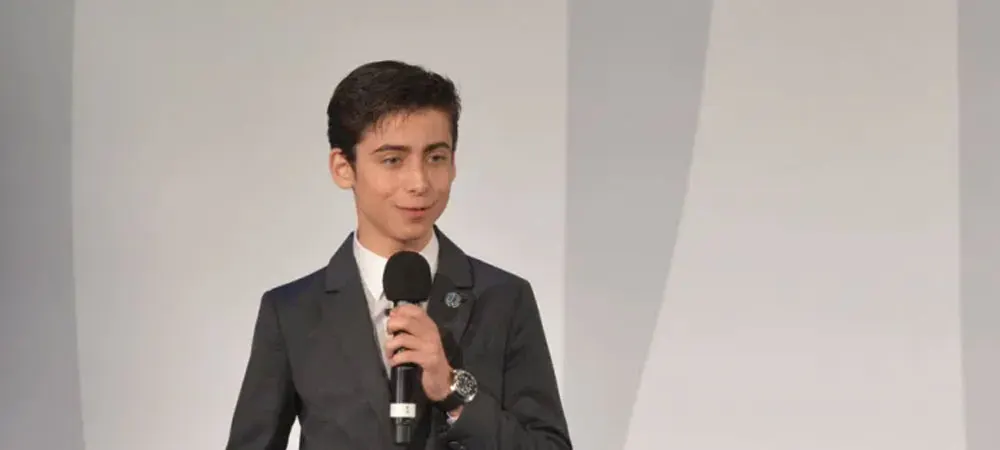 Personal information
Full name

Aidan Gallagher

Birthdate

September 18, 2003

Age
19 years old
Occupation

Actor and musician

Nationality

American

Parents

Rob y Lauren Gallagher

Awards
Honorable mention in the International Songwriting Competition 2019
Genders
Pop, Indie and Alternative
Zodiac sign
Virgo
Biography in other languages
Biography of Aidan Gallagher
Aidan Gallagher (September 18, 2003) is an American actor, known for playing Nick Harper in the Nickelodeon series Nicky, Ricky, Dicky & Daw (2014-18). He was born in Los Angeles, United States. He began acting at nine years old and at ten he made his debut in You & Me (2013), by Paula Hunziker. He later worked in Jacked Up and We Make That Lemonade; and in 2014 he rose to fame as the protagonist of the popular children's series Nicky, Ricky, Dicky & Dawn. Since 2019 he has played Number Five in the Netflix series The Umbrella Academy.
Early life
Gallagher was born on September 18, 2003 in Los Angeles, United States, the son of television manager Rob Gallagher and Lauren Gallagher. From an early age he showed an interest in production and direction: at eight years old, Aidan would work with a group of friends recording stop motions with legos and some action short films. Later, with the support of his parents, Aidan began to make his way in acting. He participated in several of his father's projects and works.
In 2013, at just ten years old, Aidan made his television debut on Modern Family. That same year, he debuted in cinema with You & Me (2013), a short film by Paula Hunziker starring Tyler Blackburn and Molly Berg. In addition, he obtained his first leading role in the comedy telefilm Jacked Up (2013) by Fred Savage, alongside Missi Pyle and Patrick Warburton.
Career of Aidan Gallagher
One year after his debut on Modern Family, Aidan obtained the role that brought him fame in the Nickelodeon series Nicky, Ricky, Dicky & Daw (2014-18), as Nick, one of the quadruplets of the Harper family who usually has answers for everything. For his comic and tender scenes, the Harper quadruplets gained the audience's appreciation and the series was extended until 2018, bringing him numerous successes.
In the meantime, Gallagher would work on We Make That Lemonade (2014), by Ian Pfaff alongside Mace Coronel and Lizzy Greene; and in the Nickelodeon specials Ho Ho Holiday Special (2015) and Summer Camp Special (2017).
The Umbrella Academy (2019-2022)
In February 2019, Gallagher began acting in The Umbrella Academy, the Netflix series based on the homonymous work by Gerard Way (of My Chemical Romance), which stars Elliot Page (Vanya Hargreeves), David Castañeda (Diego Hargreeves), Robert Sheehan (Klaus Hargreeves), Tom Hopper (Luther Hargreeves) and Emmy Raver-Lampman (Allison Hargreeves). In the series, Gallagher plays Number Five, a superhero whose power is time-jumps and who returns to the past after discovering an apocalyptic future. The sarcastic humor of his character made him the favorite of fans.
After the success of the first season, the series was renewed for a second season that premiered on July 31, 2020. In November 2020, Netflix renewed the series for a third season with a premiere date of June 22, 2022.
Aidan Gallagher's musical career
With regard to his musical career, Aidan is a consummate singer, composer, guitarist and pianist. In 2019 he debuted with the singles "TIME," "FOR YOU" and "BLUE NEON". That same year, he participated in Trinity Rose's single Miss You and later released "I LOVE YOU". After his debut, Gallagher performed at the South by Southwest's Big Break Accelerator Program Showcase (2020), making him the youngest solo artist to perform at the festival.
In July 2020, he released a third single 4 of July.
Currently, Aidan has his own YouTube channel and a patreon for exclusive paid content.
Songs
Blue Neon (2019)
Miss You with Trinity Rose (2019)
Time (2019)
For You (2019)
I Love You (2020)
4 of July (2020)
Environmental activism
In June 2018, Aidan made history by becoming the youngest Ambassador of the United Nations. As such, Aidan has represented the youth of the world in several climate action initiatives. In 2019 he participated in the Global Climate Action Summit and was invited to the Illegal Wildlife Trade Summit by the UK Government.
Personal life of Aidan Gallagher
Gallagher has been involved in several environmental organizations, such as Waterkeeper Alliance, WildAid and Oceanic Preservation Society. In 2018 he was named United Nations Goodwill Ambassador for the Environment. Gallagher is vegan and Jewish.
Regarding his love life, in his adolescence Gallagher dated model Hannah McCloud for six months. He was also romantically linked to Jessica Balkin and Trinity Rose.
Curiosities
He was cataloged as #2 in the IMDB Top 10 Breakout Stars of 2020
In 2018, Variety magazine included him in its list of 25 and under leading actors.
He was nominated for two Kids Choice Awards for his role in Nicky, Ricky, Dicky & Daw (2014-18).
His Blue Neon Tour musical tour had to be postponed due to the Covid-19 pandemic.
For his music he has received an honorable mention in the International Songwriting Competition 2019 and the Vox Pop Independent Music Awards in the acoustic category 2020.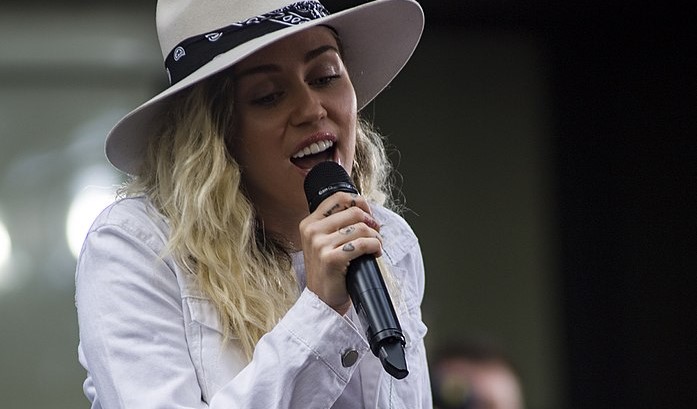 Biography of Miley Cyrus
Miley Ray Cyrus (born November 23, 1992) is an American actress, singer, and model. She was born in Franklin, Tennessee. Cyrus began acting at a young age on shows such as Doc (2001-03) and in 2006 she became a worldwide sensation for her portrayal of the teenage singer Hannah Montana on the Disney Channel series of the same name. Thanks to the success of the series, Cyrus quickly established herself as a singer, debuting in 2008 with Hannah Montana 2: Meet Miley Cyrus. In the following years, she solidified her status as one of the new stars of the pop scene with hit songs such as "7 Things," "Party In The U.S.A.," "When I Look at You," and "Wrecking Ball," among others.
Family and Early Life
Miley is the daughter of renowned country music singer-songwriter Billy Ray Cyrus and Leticia Finley. She has two brothers, Noah and Braison, and three half-siblings, Trace and Brandi, from her mother, and Cody from her father. Her birth name was Destiny Hope Cyrus, but over time she adopted the nickname Miley and later officially changed her name to Miley Ray Cyrus, with "Ray" being a tribute to her grandfather, Ronald Ray Cyrus (who passed away in 2006).
She grew up on a farm in Tennessee and showed an interest in music and the arts from a young age. She attended Heritage High School and later studied acting at the Armstrong Acting Studio in Toronto, Canada. She made her debut on the series Doc (2001-03) playing the role of young Kylie. Her father also starred in the show as the lead character, Dr. Clint Cassidy.
Career of Miley Cyrus
Two years after her television debut, Miley made her big-screen debut playing Ruthie in Tim Burton's film Big Fish (2003). A few years later, she rose to fame playing the pop star Hannah Montana in the Disney Channel series Hannah Montana (2006-11). The show revolved around a young singer who maintains a double life with the support of her family; on one hand she is the dazzling pop star Hannah Montana, and on the other, she is just a teenager who wants to have an ordinary life with her friends.
The series featured performances from Jason Earles, Emily Osment, Mitchel Musso, Moisés Arias and her father, Billy Ray Cyrus. It also had guest appearances from Nick Jonas, Taylor Swift, Selena Gomez, and Dolly Parton (who is Miley's godmother), among others. After its release, the series became a huge ratings success, running for five years and comprising four seasons, two movies, and several tours across the US. The success of the series led to Miley becoming a teenage icon, and she soon appeared in numerous films and other Disney series.
Miley Cyrus appeared in a special episode of Zack & Cody alongside Cole and Dylan Sprouse, had a small role in The Emperor's New School between 2007 and 2008, and later appeared in Wizards of Waverly Place with Selena Gomez. In 2009, she starred in Hannah Montana: The Movie alongside Lucas Till and a year later played Ronnie Miller in the dramatic film The Last Song (2010).
Later, she worked with Douglas Booth in LOL (2012) and appeared in Two and a Half Men, playing the outgoing character Misi. That same year, she had the lead role in So Undercover (2012) as an FBI agent infiltrating a university sorority. In 2015, she lent her voice to a character in Stone Quackers and a year later starred in the series Crisis in Six Scenes (2016) alongside Woody Allen and Elaine May. Recently, she had a small role in the series Black Mirror (2019).
Musical career
After becoming famous as Hannah Montana, Miley made her debut as a singer with Hannah Montana 2: Meet Miley Cyrus in 2008. The album, which marks the end of Hannah's career, contains the most popular songs from the series and some previously unreleased tracks with Miley's personal stamp. That same year she released Breakout, a twelve-song album that included the hits See You Again and 7 Things.
She then released the successful EP The Time of Our Lives (2009), which reached the top of the music charts and entered the Billboard 200. The EP included big hits like Party in the U.S.A. and When I Look at You. One year later, she returned with Can't Be Tamed, a thirteen-song album that managed to position itself in the top 10 in 15 countries. The album featured the singles Who Owns My Heart and Can't Be Tamed, with the latter debuting at number 8 on the Billboard Hot 100.
Three years later, she released the successful Bangerz album of thirteen songs that featured collaborations with Big Sean, French Montana, and Britney Spears on songs like Love Money Party, FU and SMS (Bangerz). This album included the popular song Wrecking Ball, whose video caused a stir and controversy. In 2015, she released the online download album Miley Cyrus & Her Dead Petz, which included songs like Dooo It! and BB Talk and collaborations like Tangerine with Big Sean and Tiger Dreams with Ariel Pink.
Two years later, she released Younger Now (2017), a work that featured production by Oren Yoel. Most of the songs were written by the singer and refer to her reconciliation with her ex-partner Liam Hemsworth. The album included songs like Week Without You, Inspired, and Malibu. The latter was presented at the Billboard Awards with a colorful performance.
In May of 2019, she surprised her fans with the release of She Is Coming, a six-song EP that included the singles D.R.E.A.M. and Mother's Daughter, a song that became a trend after the release of its music video.
Personal life of Miley Cyrus
The singer was in a relationship with Nick Jonas, Thomas Sturges, and Justin Gaston. In 2009, she began dating actor Liam Hemsworth, with whom she had an on-and-off relationship until their wedding in December 2018. The couple's marriage lasted for a short time, as they announced their divorce through social media after eight months of being together. According to media reports, the reasons for the separation include infidelity and drug use, but this has not been confirmed by the artists.
Recently, a series of pictures surfaced showing the singer kissing Kaitlynn Carter during her vacation in Europe. It seems that the singer and the model have been dating for two months, during the time the singer has been separated from her ex-husband.