Mike Tyson Biography
Michael Gerard Tyson, known in the world as Mike Tyson or Malik Abdul Aziz, is a former American boxer, recognized for having won the world heavyweight title and for being the youngest in history to win a title in that category. Tyson was born in Brownsville, Brooklyn on June 30, 1966, and is the son of Purcell Tyson (biological father whom he never knew) and Lorna Mae Smith. Mike always considered Jimmy Kirkpatrick as his true father because he was the one who watched over him.
His family suffered great economic hardships since his mother was the head of the household and had lost his job, so they were forced to live in abandoned buildings. Around 1973, he stopped attending school, as he was insulted by his weight, lisp and by constantly walking with his sister. Because of the difficult situation that his family was living, Mike Tyson took the wrong path and began to steal. In 1976, he was arrested for stealing a credit card and for small violent crimes.
By 1977, Mike Tyson began to participate in street fights in which people bet, so he began to be known in his city. Two years later he had already been arrested 38 times, so the judicial system sent him to special schools, where he was given chlorpromazine.
While he was detained he beat one of the inmates, so he was sent to Elmwood Correctional Facility, where he met Bobby Stewart, a former professional boxer. Stewart trained Mike Tyson for a few months and in March 1980 introduced him to the famous coach Cus D'Amato. D'Amato and his assistant Teddy Atlas began to train Mike and trying to get Tyson into the boxing world.
Tyson started fighting in the so-called smokers, places where cigarettes abounded and fights were not legal. His first fight was won in the month of May of 1981 in the third round, at the Holyoke Boys Club. After 10 fights, in that same year, he participated in the Youth Olympics. He also won all the regional tournaments, so he achieved the classification to fight for the national title in Colorado, defeating all his rivals by knockout in the first round. For his performances, he was nicknamed The Tank, since he weighed 91 kg at age 14.
In November of 1981, he fought against Ernie Bennet, a boxer with better boxing reputation than Tyson and would dispute his last amateur combat before becoming professional. He was defeated for the first time in his career.
A year later, in 1982, he defended his title of the Youth Olympics against Kelton Brown, whom he defeated in the first round. Sometime later his mother passed away, an event that greatly affected Mike Tyson and again began to steal. Finally, he reflected on the situations he was living and returned to training with D'Amato. In December of that same year, the boxer lost for the first time in a tournament, in the American Amateur Championship in Indianapolis, where he was defeated by Al Evans. After that defeat, he won the next six matches, so he could play the Golden Gloves in March 1983, where he won the silver medal after losing by unanimous decision to Craig Payne. He also won the Concacaf under 19 tournament for two consecutive years.
He started the year 1984 winning all his matches, managing to win the Golden Gloves of the heavyweights against Jonathan Littles. Mike Tyson was the favorite to win and represent his country at the 1984 Olympics. However, Tyson would lose by the decision of the judges against Henry Tillman. On September 16 of that year, he won the Tammer Tournament in Tampere, and from there he got into professional boxing.
Tyson's first professional fight was on March 6, 1985, in Albany, New York, a fight in which he beat Puerto Rican Hector Mercedes in the first round. Mike began to be recognized in boxing, and from his fourth bout in Atlantic City, his evenings were broadcast on ESPN. On November 4 of that year, his coach Cus D'Amato died. He continued the year with 4 more fights, of which three finished in the first round and the rest in the second, before the number 2 of Canada, Conroy Nelson.
On January 11, 1986, he faced Dave Jaco, and Mike ended up winning. After 2 wins, he faced Steve Zouski, whom he defeated after three rounds. However, he received several blows from his rival in an ear that had been cut in a domestic accident, which generated an acute infection. After the infection was healed, Tyson came lacking in pace to his next fight against James Tillis, but still could win by decision in ten rounds. At that time, the HBO television channel signed a contract with the boxer to broadcast all his fights.
On July 26, 1986, he faced the son of historic Joe Frazier, Marvis, who was also defeated in an assault. His next opponent was José Ribalta, whom he defeated in the second, Eighth and tenth round. After beating Ribalta, negotiations began to organize a fight for the world title in Las Vegas. On November 22, 1986, Mike Tyson fought against Trevor Berbick, heavyweight champion of the World Boxing Council, whom he defeated by knockout in the second round, making him the youngest heavyweight world champion in the world history.
By 1987, Tyson continued to face the best heavyweights of the moment, with the aim of collecting all the world's belts. He defended his title against James "Bonecrusher" Smith on March 7th in Las Vegas, Nevada, winning by points after a unanimous decision, managing to win the World Boxing Association belt. On August 1st of that year, the fight was against Tony Tucker, who owned the belt of the International Boxing Federation.
Due to depressive problems, Mike Tyson was overwhelmed by the stress before the fight to the point of thinking about the withdrawal. Days before he had left the hotel in Las Vegas, and went out many times. Tyson only trained for two weeks before the fight, the reason why he did not arrive in shape. Nevertheless, he managed to win by points and he became the undisputed world champion of all the weights.
Tyson had won 3 titles in 1986, and he wanted to win the fourth one, so he would fight against Tyrell Biggs, who had been the Olympic champion in 1984, the background did not frighten Tyson, as he beat his rival by technical knockout in seven rounds. On January 22, 1988, he faced the last unified champion Larry Holmes, whom he defeated by TKO in 4 rounds. In March, he fought against Tony Tubbs in Tokyo, in an exhibition match. One more time, Tyson was the winner. On June 27th of that same year, Michael Spinks fought against Tyson. However, Tyson won and with that victory, Mike reached the peak of his career.
Mike Tyson began to have many problems in his private life, divorce with his wife, accusations of the press for his nightlife, the denunciation of Bill Cayton among other problems, began to mark the decline of the boxer's career. On February 25, 1989, Tyson faced Frank Bruno, whom he beat by technical knockout in five rounds. The next bout was against Carl Williams, whom he won by TKO in the first round, on July 21st.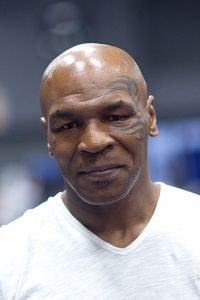 On February 11, 1990, he faced James "Buster" Douglas in Tokyo, and Tyson was defeated in the tenth round. The fight was the event of the year for The Ring magazine, so the boxer took the cover of Sports Illustrated. After the defeat, Mike hired Richie Giachetti as coach.
On July 19, 1991, in a suite at the Canterbury Hotel in Indianapolis, Mike Tyson and an 18-year-old student from Roche Island who was participating in the "Miss Black America" competition went on a date, for which time after the boxer was accused of rape. On March 26th of the following year, Judge Patricia Gifford sentenced Tyson to six years in prison and $ 30,000 in compensation to the victim. However, 3 years and 8 months later, Tyson was released for good behavior. After returning from prison, in August of 1995, he fought against Peter McNeeley, and Mike Tyson knocked down his rival on two occasions, but McNeeley's coach entered in the ring to stop the fight and they were disqualified. He beat Frank by technical knockout in three rounds, winning the WBC belt.
Having WBC belt in his possession, he wanted to unify again and that is why he decided to fight against the champion of the World Boxing Association (WBA), Bruce Seldon. The fight took place in September 1996 and Tyson managed to beat Seldon in one assault. Lennox Lewis filed a lawsuit because Mike had not defended the title before him, so WBC took the belt. After this and with only the title of the World Boxing Association, Tyson faced Evander "Real Deal" Holyfield on November 9, 1996, at the MGM Grand Garden Arena in Las Vegas. Tyson lost by TKO in eleven rounds. On June 28th of the following year, a rematch took place between the two boxers, where Mike Tyson was disqualified in the third round for biting his rival's ears. On July 9, 1997, Tyson's boxing license was revoked in the state of Nevada by unanimous vote and had to pay 3 million dollars for the payment of the costs of Holyfield's ear. However, on October 18, 1998, the commission voted to return the license.
Despite having won 114 million dollars between 1995 and 1997, Mike Tyson had spent much of his fortune and had very high tax debts. Shortly after he had a motorcycle accident, he broke a rib, a shoulder and a lung was punctured. At the end of 1998, after having been given back the license to box, he had a debt of about 13 million dollars.
On January of 1999, he fought against the South African Francois Botha, and Tyson managed to emerge victoriously. On February 6th of that year, Tyson again would have problems with justice and would be sentenced to two years in prison, a fine of 5,000 dollars, two years of probation and to perform 2000 hours of community service for hitting two motorists, after a traffic accident he had in 1998. After his release, on November 23, 1999, he faced Orlin Norris. The fight was canceled because Tyson knocked out Norris and when he fell he injured his knee and could not continue.
Around 2000, he fought against Julius Francis at the Manchester Evening News Arena, England, wherein the second round Tyson won by knock out. In June of that same year, he fought against Lou Savarese, whom he won in the first round; Although the fight was over, Tyson continued hitting his rival, and in an attempt by the referee to separate them, the American attacked him. For that action, he was fined $ 187,500.
Prior to one of his fights, Tyson tested positive for drug testing, as the urine sample showed traces of marijuana; also the authorities assured that Mike Tyson used other people's urine in anti-doping tests to avoid being discovered. For these actions, he was sanctioned with ninety days and received a fine of $ 5,000 and the donation of $ 200,000 to a charity. After he finished paying the penalty, in the course of his preparation for other battles, in 2001 he returned to be accused of rape, but this time he was acquitted of all guilt. His next bout was against Brian Nielsen in Copenhagen, whom he won in seven rounds by technical knockout.
On June 8, 2002, he again had the opportunity to win the world heavyweight title, facing the British Lennox Lewis but Tyson was unfortunately beaten by a knockout in the eighth round. His next bout took place on February 22, 2003, against Clifford Etienne, whom he managed to beat satisfactorily. In June of 2003, he was charged with assault, harassment and conduct disorderly after being involved in an altercation with two men in a Brooklyn hotel.
In the same year, in August, Tyson was filed for bankruptcy for mismanagement of his money. That year was chosen by the magazine The Ring as the number 16th in the list of the 100 best hitters of all time. On July 30, 2004, he faced the British Danny Williams, and in the fourth round, he lost by knockout. After the fight, it was revealed that he had suffered a leg injury. By June 11, 2005, he lost his last fight against the Irish Kevin McBride, being out of shape, so he announced his withdrawal from the ring after twenty years of career, affirming:
"I can not continue with this. I can not keep lying to myself. I will not continue ruining this sport. It is simply my end. It is over."
On December 29, 2006, he was arrested in Scottsdale, Arizona for driving under high levels of drugs as well as carrying lots of them. On January 22, 2007, in the county superior court of Maricopa pleaded guilty to the crime of possession of drugs and misdemeanors for driving under his influence. On September 24 of that same year, he was convicted on charges of possession of narcotics and driving under the influence of drugs and in November he was sentenced for 24 hours in jail, 360 hours of community services and three years of probation.
On April of 2012, Mike Tyson made his debut in Las Vegas with the monologue of his life. That same year he founded a charity organization to help children from unstructured homes. On August 23, 2013, he debuted as a boxing promoter with his company Iron Mike Productions.
AWARDS
Junior Olympic tournament in 1981.
Junior Olympic tournament in 1982.
Golden Gloves runner-up in Heavyweights in 1983.
Golden medal in the national U-19 Championship in 1983.
Gold medal in the U-19 National Championship in 1984.
Golden Gloves in Heavyweights in 1984.
Tammer Tournament Champion in 1984.
Champion from August 1, 1987 until February 11, 1990, of the three world belts (WBA, WBC and IBF).
Champion of the World Boxing Council from November 22, 1986 until February 11, 1990 and from March 16, 1996 to 1997.
Champion of the World Boxing Association from March 7, 1987 until February 11, 1990 and from September 7, 1996 to November 9, 1996.
Champion of the International Boxing Federation from August 1, 1987 until February 11, 1990.
Record as the youngest World Champion in the history of Heavyweights with 20 years and 4 months.
Boxer of the year by The Ring magazine in 1988.
Sports personality of the year by the BBC in 1989.
Young Athlete of the year by The Ring magazine in 1985.
WWE Hall of Fame (2012).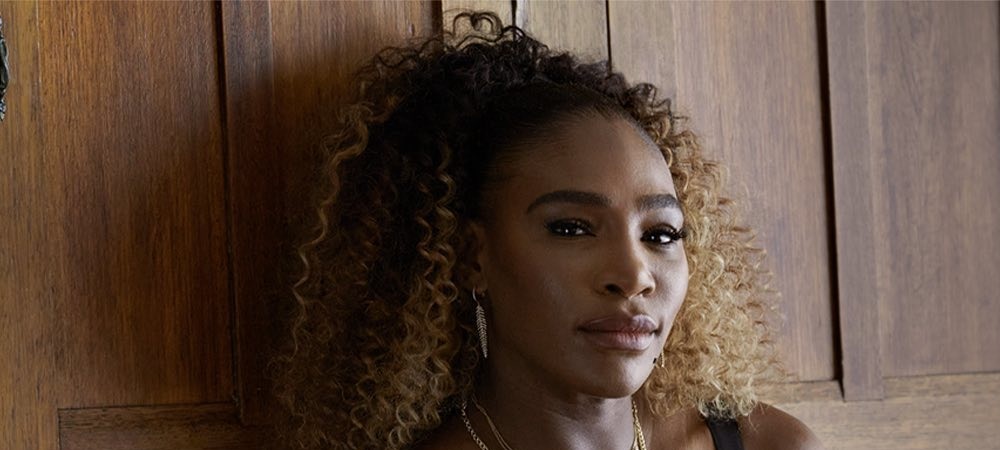 Biography of Serena Williams
Serena Jameka Williams Price (born September 26, 1981) is a professional tennis player from the United States, born in Saginaw, Michigan. Her father, Richard Williams, and her mother, Oracene, divorced in 2001. During her childhood, the family had to face difficulties due to her father's decisions, who, despite his favorable economic and social position, decided to move the family from Long Beach, on the West Coast of Los Angeles, to Compton, a closed and difficult neighborhood in the center of the city, with the goal of raising his daughters in a tough environment.
Beginnings in tennis
Since she was very young, she started training tennis, a sport that was mostly practiced by people of high economic standing. Serena trained tirelessly every day. Her father, Richard, supported her and saw her great talent, as well as his ambition to take advantage of her potential. Richard was always an ambitious and controlling man, so he became the manager of his two talented daughters. At the age of eleven, a rivalry emerged with her sister Venus, who also trained and had exceptional performance. At that time, she had won 63 consecutive regional level games.
Contract with Reebok
In 1991, Richard decided to seek out a well-known star coach located in Florida, Rick Macci. His father's decision had quick results and the family moved to a luxurious place in Florida after his daughter signed a contract with Reebok. Although Serena's progress was not as notable compared to Venus', she always showed her strength on the court. At the age of fourteen, she had the opportunity to enter the professional circuit with notable success. However, two years passed before she began to compete seriously.
How did she manage to finish her studies?
Venus has always been an inspiration to Serena. So, in 1997, when Venus reached the final stages of the US Open, but lost to then world number one Martina Hingis, it was a hard blow for the family but also a reason to keep training relentlessly. Due to their sporting responsibilities, the sisters finished school irregularly at an exclusive school of only thirty students located in Lake Placid, the Dwightwood Academy. Serena graduated in June 1999, the school administrators allowed her to graduate even though her grades were not the best because they knew that her future and talent was to compete professionally in this sport.
First African American player to win a Grand Slam
Although it seemed that the 1999 season was going to be better for Serena, it ended up being better for Venus. Then, Serena overtook Venus by winning her first Grand Slam title at the US Open. That moment in the history of Serena, her family, the United States, and also the African American population was glorious. It was the first time an African American player had won a Grand Slam. To add to the happiness, on April 5th of that year, Serena was able to enter the top ten and shortly after, in the doubles category, she and her sister won the French Open and the Federation Cup.
The Williams sisters
It is known that, on many occasions, while they were young, the Williams sisters had problems produced by competition and by the specialized press publications that usually compared them. In the year 2000, Venus defeated Serena in the final of the Lipton tournament. Serena showed great serenity and heartily congratulated her sister. Later, she won the Paris Indoor. That year, in the Wimbledon competition, Venus eliminated Serena in the semifinals, and later raised the title against Davenport. Additionally, both won doubles in two major tournaments: Roland Garros and the US Open.
By that time, the Williams' dominance was already being talked about and it was natural that when referring to one sister, the other would also be mentioned. Although they rarely competed together, their bond was very strong. Serena was already imposing herself as one of the best in the women's professional circuit. In 2002, she defeated Venus in the Wimbledon final with a score of 7-6 and 6-3. This was the best moment of her career as she reached the top spot in the Women's Tennis Association (WTA) ranking and by that time she already had sixteen international circuit titles.
On September 9th, Serena, 20 years old, amazed at the US Open with her latest display of power by defeating Venus in the final with a score of 6-4 and 6-3 in just 72 minutes. With this victory, she managed to tie with her elder sister in their personal matchups (5-5) and in Grand Slam titles, both with four each. It is important to highlight that Serena's impressive season included six titles, 45 wins and only 4 losses. An injury to her ankle prevented her from participating in the Australian Open, allowing American Jennifer Capriati to triumph.
Fifth Grand Slam title.
The following year, Serena did not win at Roland Garros, where she surprisingly fell in the semifinals to Belgian Justine Henin-Hardenne. However, she did win at Wimbledon, where the Venus-Serena final from the previous year was repeated. Serena added her fifth Grand Slam title. She was involved in a legal conflict with a German man who was harassing her. After being reported, he was arrested and imprisoned on March 3, 2002 for stripping in front of the reception of a hotel in Scottsdale (Arizona), where Serena was staying. Serena's father threatened the harasser with death and Serena threatened to kill him if her daughter suffered any harm.
Causes of her temporary retirement from tennis.
In September 2003, the family mourned when Yetunde, her sister, was murdered by a common criminal. After this, the sisters were off the courts for a while. Serena started taking acting classes with an experienced teacher in Los Angeles. In acting, she finds a moment of escape and claims to forget about her sporting commitments. Serena received the ESPY Athlete of the Year Award. Her popularity as an athlete allowed her to be a model and official image for several sports brands.
Contracts, performance, marriage.
First she signed with Puma, then with Nike, with whom she signed for an exorbitant amount of money. After studying acting, she began studying design, so now she is the designer of a sportswear brand: Aneres, she usually wears her clothes in competitions. We have not only seen her on the courts and in the advertisements but also in TV series such as ER, Law & Order, and Hair Show, among others. In 2016, she equaled the record of German Steffi Graf with 22 Grand Slam titles. In addition, she enjoyed a beautiful romantic relationship with Reddit co-founder Alexis Ohanian. They got married in 2016 and currently have a son.