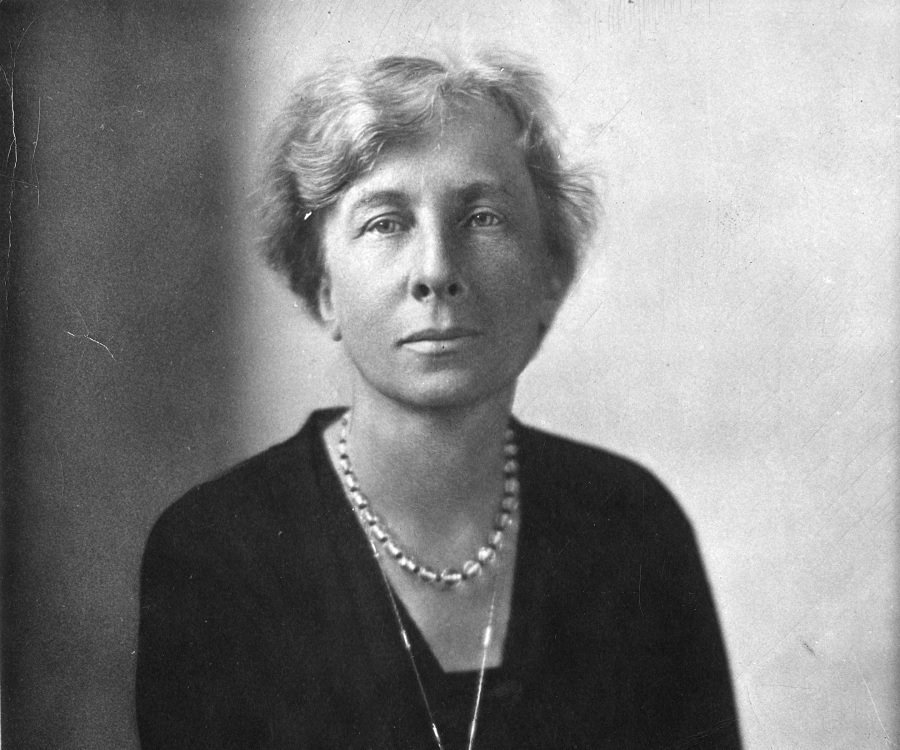 Lillian Moller GilbrethBiography
Lillian Moller Gilbreth was a psychologist and engineer, whose works were developed mainly in the area of ​​Industrial Engineering. She was also one of the first female engineers to obtain a Ph.D., and the first female industrial/organizational psychologist. Lillian was born on May 24, 1878, in Oakland-California (United States).
Lillian studied English literature, foreign language, and philosophy at the University of Berkeley. Lillian Moller Gilbreth would complete her bachelor's and master's degree in literature at the University of Berkeley and begin her doctoral studies. In 1904 she would get married to Frank Bunker Gilbreth.
Her husband, Frank, was involved in the construction business and was always very interested in saving time and doing tasks in a simpler way. He developed methods to increase the efficiency of industrial employees, mainly with the study of times and movements.
She started getting more interested and joined Frank's work for efficiency in the workplace, both collaborating by applying the social sciences to industrial management, emphasizing the worker rather than non-human factors. Her method of studying time and movement harmonized a systematic way of identifying, analyzing the number of movements and the amount of time needed to complete a specific task.
In 1911, Lillian made the first important publication of her research: "Study of the movement". In 1915, she obtained her doctorate in ​​psychology at Brown University. Her psychological experience complemented the physiological and mechanical knowledge of Frank Gilbreth in her later writings: "Fatigue Study" in 1916 and "Applied Motion Study" in 1917.
One of her main jobs was as the official economic adviser to the presidents: Herbert Hoover, Franklin Delano Roosevelt, Dwight D. Eisenhower, John Fitzgerald Kennedy and Lindon Johnson, with the latter, worked in civil defense, and production of war material.
She worked with her husband in the direction of the company Jonshon and Jonshon carrying out two different studies: time and movement and fatigue which later was called ergonomics. This studies helped to improve industrial efficiency and find a way to eliminate spare time.
After the death of her husband in 1924, Lillian Moller Gilbreth assumed the presidency of her consulting firm and remained active in research, teaching, and writing. She held teaching positions at Purdue University (1935-1948), at the University of Engineering in Newark (1941-1943) and at the University of Wisconsin (1955). Lillian would write four books and gave Industrial Engineering courses at several schools including Bryn Mawr and Rutgers. She was part of the Emergency Committee for Unemployment and created a national program called "Share the Work". During the Second World War, she worked as a consultant for the government.
Lillian also invented several objects such as The pedal trash bin and the shelves of the refrigerator door.
Lillian Moller died on January 2, 1972, at 94 years of age, in Phoenix, Arizona.
THE THERBLIGS
In the early twentieth century, Lillian Moller and Frank Gilbreth in search of a more efficient method to develop manual tasks developed a classification of 17 movements with which you can subdivide any work activity to analyze the motor productivity of a worker in his position of work and that classification of movements they called it Therbligs. They established that, once the worker is assigned a task, it can be divided into the necessary Therbligs so that it is carried out correctly.
The therbligs also classified two groups: the efficient ones that manage to add value to a task, and the inefficient ones that generate costs.
THERBLIGS CHART
RECOGNITIONS AND TRIBUTES
She is known as the "Mother of Industrial Management" and the "First Lady of the United States of America of Engineering." She was the first psychologist to obtain a seal with her own photograph and also to be a member of the Industrial Society of Engineers, she also had 20 honorary awards.
As a tribute, there is a permanent exhibition in a room exclusively dedicated to Gilbreth marriage, in the Smithsonian Museum in Washington D.C., in the American history section and her portrait is hanging in the National Portrait Gallery.
"National Hall of Fame for Women" (American Institution created in 1969 in the city of Seneca Falls-New York).
Related Content: Industrial Engineering

Luciano Benetton Biography
Luciano Benetton (May 13, 1935) Born in Ponzano, Treviso, Italy. An Italian businessman and fashion designer, co-founder of the Benetton Group company, one of the most popular and important fashion companies in the world. After working for several years as a clerk in a clothing store, Benetton ventured as an entrepreneur selling the garments her sister made. When he won recognition, he created with his brothers the firm Fratelli Benetton (1965), with which he expanded and ventured into various commercial sectors linked to the world of fashion, such as perfumery. Under his command, the company became famous in the nineties for the publication of a series of controversial advertisements directed by Oliviero Toscani. He entered politics in the 1990s and left the company in charge of his son in 2012.
FAMILY AND BEGINNINGS
Born in an Italian province with an extensive textile tradition, Benetton had as a father a small businessman who died of malaria in 1945, having emigrated to Africa to work as a truck driver. Benetton, who at that time was only nine years old, left school to work and be able to support his mother and three sisters. He got a job as a clerk in a fabric and clothing store, where he stayed for several years. In 1955, a young twenty-year-old Benetton proposed to his sister, who at the time worked weaving clothes for a workshop, who worked together and created their own business, she would cook and sell her work in various stores.
With little money the two of them started their project and understanding that they had to sacrifice their comfort to grow, they sold some of their personal items, such as a bicycle, a guitar and other objects of little value, with which they collected the money to buy their first machine to knit. At that time, his sister Giuliana spent more than 18 hours in front of the machine, creating her first jerseys, which Luciano initially sold at the store she worked on and shortly thereafter began promoting them in other stores, gradually winning a clientele faithful. Determined to grow the business, Benetton created his own sample and presented it to various merchants in the town, in a short time getting his first large order, which consisted of 700 garments.
As the demand progressively increased, the brothers began to expand and hire more artisan employees, making themselves known in the region for their work and quality. Thanks to their hard work and the recompense they had, they founded in 1965 the commercial firm Fratelli Benetton, together with their brothers Gilberto and Carlo. The four brothers continued to work and publicize the brand, which in a short time became one of the best-known clothing companies in the country. By the end of the 1960s, the company opened its first headquarters abroad, establishing a store in Paris.
LUCIANO BENETTON'S PATH
After creating his signature Fratelli Benetton with his three brothers (Giuliana, Gilberto, and Carlo), Benetton took command of the company in 1974, at which time the company was known nationally and internationally. By the mid-1970s, the Benetton group was a multinational that had nine factories, five in its country and four abroad (Scotland, Spain, the United States, and France). Over the years the company continued to grow and to reach more than 1,300 stores abroad by the end of the 1980s. In addition to stores in the United States, Spain, France, and Scotland, they had stores in Bucharest (Romania), Prague (Czech Republic) and Budapest (Hungary). Each year the group sold more than seventy million garments and earned more than 152,000 million pesetas, trading on the stock exchanges in Frankfurt, Tokyo and New York (Wall Street). These gains made him one of the most prominent textile sector entrepreneurs of the time, along with great personalities such as Amancio Ortega and Isak Andic.
Understanding that the business needed to diversify to continue growing, Benetton launched a bathroom line, created a perfume manufactured by Hermés and designed a financial holding company called Edizione, which diversified in infrastructure, beverages, food, real estate, and agriculture. In a short time Edizione bought Nordica, a renowned sporting goods and clothing company for it, with which it was not only established as one of the most relevant companies in Italy, but also as one of the most complete fashion companies in the world (casual clothes, sports clothes and work clothes, etc).
The company's success was affected in the 1990s, with the publication of a series of controversial commercials directed by photographer Oliviero Toscani. In the ads you could see a newborn baby covered in blood, a nun kissing a priest and a family accompanying a dying young man with AIDS. Although the campaign was designed to make the viewer reflect on the importance of the other, human rights and miscegenation, the message was lost and the viewers were scandalized, criticizing the firm for the proposal. Criticism continued when Benetton appeared naked covering her private parts in a newspaper to announce the Clothing Redistribution Project campaign, a charitable operation that sought to collect used clothing and send it to the Third World.
Although he was harshly criticized for his campaigns and eccentricity, Benetton entered politics in 1992. He obtained a seat in the Senate as a member of the Italian Republican Party, however, his passage through it was overshadowed by the emergence of the investigation against him for the bankruptcy of Fiorucci. Leaving politics and focused on business, Benetton secured a large number of properties in Argentina, becoming one of the most important landowners in the country. By the end of the 1990s, the company had expanded, earning more than 300,000 million pesetas a year. In the new millennium, he included in his business his sons Alessandro and Rocco, who were in charge of the company at his departure in 2012. The story of this renowned designer and businessman was collected in the Benetton autobiography, the color of success (1991).