Lewis Hamilton Biography
Lewis Carl Hamilton (January 7, 1985) was born in Twin, England. He was a Formula 1 pilot. His father is Anthony Hamilton, a Caribbean immigrant from the island of Granada, and his mother Carmen Lockhart, with British ascendence. Anthony called him Carl as a tribute to his great idol, the athlete Carl Lewis.
His parents faced a separation when he was only two years old, which made Lewis moved to Stevenage, Hertfordshire with his father and his second wife, Linda. His dad and Linda had a new baby, Lewis' half-brother. Nicholas, who was born with a severe cerebral palsy, Lewis was very attentive with his brother and devoted all his affection. With him, he would see on TV the Formula 1 races that he was so passionate about.
His father had to work hard to be able to give the best to his children, although many times he did not succeed. He was employed in the public railways, worked more than 12 hours a day, and decided to study at night in an adult school. His father enrolled Lewis at the John Henry Newman School, at this school he was a frequent victim of racist insults. However, he was not intimidated and became a respected karateka.
Racism, again became an obstacle to his father, because he could not find someone who would sponsor his son so that he could demonstrate his abilities. Hamilton ended up quitting to karate. At one point, based on the great taste for racing, his father decided to enroll him in the British Kart Championship of 1995. Lewis won. The family had to get borrowed costumes to attend the Autosport awards ceremony.
The president of McLaren congratulated him for his achievement and gave him his information so that Hamilton will contact him. This proposal was the beginning of a brilliant career as a pilot.
Three years later, Dennis McLaren, himself called Lewis to join him in his program of young promises, by that time Mika Hakkinen had won the Formula 1 World Championship. He started in Karting, with his right foot. Hamilton would become the favorite driver of Dennis, who entered him into the circuits of single-seaters in 2001. In addition, he participated in the Winter Series of Formula Renault. In his debut, Hamilton got the fifth place. However, a year after his skill made him win three races with Manor Motorsport and climb to the final podium as a third. The following year in this same test he would become champion.
His progress was such that in 2004 and 2005 he raced in the F-3 Euroseries and he was champion in the second season. This allowed him to compete in 2006 in GP2, a platform for Formula 1. He won the title easily ahead of Nelson Piquet Jr., that victory in his debut convinced McLaren to take him to Formula 1 with them. At the beginning it was hard for him to fit, he had problems in the season with his teammate, the Spaniard Fernando Alonso beside his inexperience. The following year he was world champion in 2008, in the Brazilian circuit of Interlagos, becoming the youngest champion in the history of the circuit, being only 23 years old, thus ousting Fernando Alonso who had achieved it at the age of 24.
This race in the Brazilian circuit was explosive, he was a few points away from the Brazilian Felipe Massa. In the last lap, Massa was the leader and Hamilton was sixth. In the paddock of Ferrari already celebrated the title, but surprisingly Hamilton appeared in the scene with his McLaren only 150 meters away, Hamilton overtook the German Timo Glock. In this way, Dennis and his compatriot Bernie Ecclestone, won the British championship, a fact that had not happened since the time of Damon Hill in 1996.
Hamilton besides being the youngest champion in history; he was the first black pilot.
In a short time, he had won several records. After running 35 Grands Prix, he had achieved 13 pole positions which is an absolute record. He equaled in prizes to Jacques Villeneuve when this one was his age. When the 2008 season ended, he was the driver with the best average points per year. His brilliant career, in addition to his physical appearance and ease in press conferences, made him one of the most popular athletes in the United Kingdom. The fame and admiration have been such that even Queen Elizabeth II congratulated him, and Ron Dennis gave him 138 million dollars.
He experienced a formal relationship with Nicole Scherzinger, singer, and leader of the group The Pussycat Dolls. Although clandestine love affairs were rumored with celebrities such as Naomi Campbell, and Sara Djjeh, daughter of the owner of Tag-Heuer and co-owner of McLaren. He would end his relationship with the beautiful singer. He spends his free time playing drums and guitar. He dared to participate as an actor, but his performance was very criticized, since then he did not appear in any artistic performance. He is also a fan of luxury cars and great power. For this reason, in his garage, there are several luxurious cars. He's a fan of luxury, but his dream is to have the orange McLaren F-1 LM he fell in love with when he was 10 years old. In 2017, he was the leader of the World Championship with a time of 1: 30.076 in the qualifying session and he reached the first place in the circuit of Sepang, beating the Finnish Kimi Raikkonen of Ferrari and the Dutchman Max Verstappen of Red Bull. This allowed him a great advantage in the Malaysian Grand Prix race.
His level has been excellent, in recent years has been champion in China, Spain, Canada and Great Britain. In sum, Hamilton has triumphed consecutively in Belgium, Italy, and Singapore, finished second in Malaysia and took the road to victory in Suzuka. His circuit partner since he joined Mercedes has been the Finnish Valtteri Bottas with whom has duly fitted himself. In 2017, the Englishman managed to win a fourth crown for Mercedes.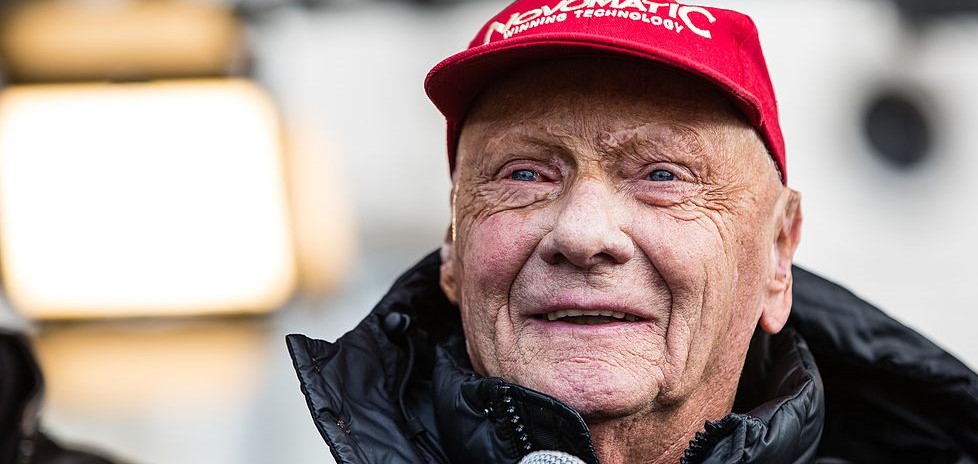 Niki Lauda Biography
Nikolaus Andreas Lauda (February 22, 1949- May 20, 2019) He was born in Vienna, Austria. Austrian motorsport driver, famous for having been Formula 1 world champion on three occasions (1975, 1977 and 1984), with the Ferrari and McLaren teams. He started as a pilot at the end of the 1960s and shortly thereafter made his debut as a Formula 3 racer (1970). He started in Formula 1 under the shield of March in 1971 and four years later got his first big win as a Ferrari racer. Having achieved his first two titles in the seventies, Lauda left Ferrari to join the McLaren team, with which he won his last title in 1984. Known for his precision and great talent, Lauda left the tracks in 1985. Since then he concentrated completely on his role as an entrepreneur while owning the airline Nikki.
FAMILY AND BEGINNINGS
Born into a wealthy family, Lauda had Elisabeth and Ernst-Peter Lauda as parents. He received a careful education oriented to the business world. However, he decided to abandon this path to devote himself completely to the world of automobile competitions at the end of the 1960s, contrary to the will of his parents, who hoped that Lauda was a man of business. He began to participate in car races in 1968 and two years entered the world of Formula 3 (1970). Demonstrating his great talent and dexterity, Lauda became a Formula 2 racer in just one year. In 1971, he made his debut as a Formula 1 racer under the team of March Engineering, a team created in the late sixties by Alan Rees Graham Coaker, Robin Herd, and Max Mosley.
CAREER AS A DRIVER
After his debut with the team March in 1971, Lauda was known in the circuits of that year and 1972 for his skill and accuracy on the tracks. However, did not get any title. In 1973, he joined the official team of BRM, a team where he remained for a short time, since, in 1974, he was hired by Ferrari, thanks to the good references that also gave the pilot Clay Regazzoni, to the team in which he worked at that time. Starting his adventure with Ferrari, Lauda managed to make his first triumphs on the tracks, getting that same year the Awards of Spain and Holland. His expertise at the wheel, allowed him to make his way to the world and get his first title of world champion in Formula 1 in 1975.
After the successful 1975 season, Lauda managed to excel in the season towards the 1976 title, winning in four of the six races, however, his path was hampered when he suffered a major accident at the German Grand Prix. In this competition, the runner lost control of the car in a curve, which caused the car to crash with the protection fence and caught fire a few seconds later in the middle of the track. After the explosion, another car collided with this causing the sinister out of proportion, shortly after this, Lauda managed to leave with some injuries on his face and limbs. He was in recovery for a month and a half and returned to the tracks months before the competitions were over.
After coming back into the competitions, Lauda obtained several triumphs that took to him to stand out in the general classification, nevertheless, lost the title before James Hunt by a point. The singular duel of these two competitors during the season of '96 became the source of inspiration for Ron Howard's film, Rush (2013). In 1977, Lauda won his second Formula 1 title, winning the Grand Prix of Germany, South Africa, and the Netherlands. Having deteriorated his relationship with the Ferrari team since 1976, Lauda decided to leave the team to join the Brabham-Alfa Romeo team in 1978. He remained in this with a less competitive vehicle until 1979, year in which, tired of the bad results, he decided to get away from the tracks to devote himself completely to his first project as an entrepreneur, the newly created airline Lauda Air (1979 -2000). After being away from the tracks for two years, Lauda returned in 1982 as a member of the official McLaren team.
Two years after joining McLaren, Lauda got his last title of champion by facing his teammate, Alain Prost. After announcing his definitive retirement in 1985, Lauda dedicated himself completely to his business as an entrepreneur, being then the owner of the low-cost airline Niki, which he had consolidated thanks to the alliance he had with Air Berlin. Although he did not return to the tracks, Lauda stayed tied to the Formula 1 until his death, he worked as a commentator and even got to be hired as a counselor of Ferrari, a company with which he worked for several years.
As an adviser of the team, Lauda impulse the signing of Michael Schumacher, a pilot that would give numerous titles to the team in the course of the first years of the new millennium. Beginning in the 2000s, he worked for Jaguar and a few years later joined the commentary team of RTL (2010). During his last years of life, he was the technical advisor and partner of Mercedes. This outstanding Austrian pilot and businessman, died on May 20, 2019, in Vienna, Austria, after suffering several health complications, linked to his advanced age.