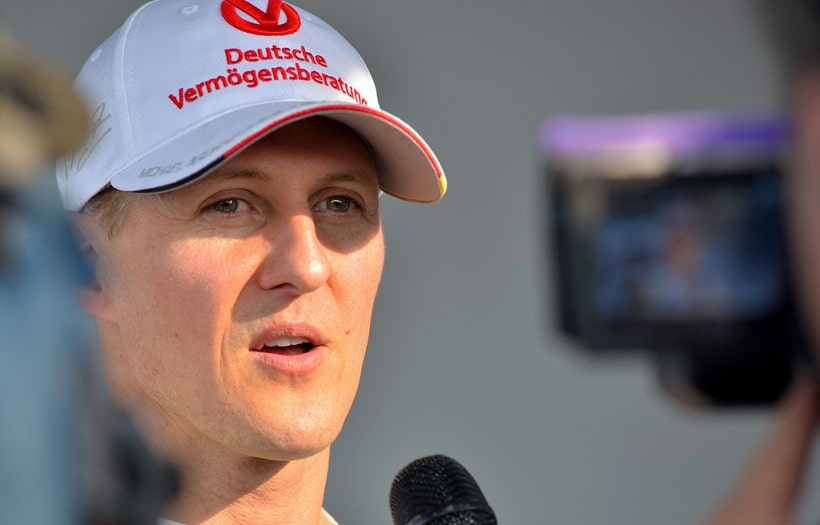 Personal information
Full name

Michael Schumacher

Birthdate

January 3, 1969

Age
54 years old
Occupation

Former Formula 1 driver

Nationality

German

Couple

Corinna Schumacher (1995-Present)

Zodiac sign
Capricorn
Michael Schumacher biography
Michael Schumacher (January 3, 1969), Formula 1 driver. Born in Hürth-Hermülheim, Germany. His family was not well off, his mother Elisabeth and his father Rolf Schumacher, who worked as a bricklayer. His father with his great skill and his great passion for cars, he modified his son Michael his pedal kart by adding a small motorcycle motor. After seeing his love for riding, his parents scored him in a karting club in Kerpen-Horrem, where he became the youngest member. Surprisingly at age six, he won his first club championship in the region. Despite the harsh situation, the love and support of his parents were such that his mother entered as a waitress in a bar on the track of the club and Rolf took a second job.
The efforts were rewarded, Michael was one of the best of the club, for that reason, he was champion in the junior category of karts. Encouraged by this, he decided to compete in the world championship of this modality, he won the silver medal. After that, in his youth, he participated and won several victories in Formula Konig, Formula Ford and Formula 3 before going on to compete in Formula 1. In 1991, he made his debut in Belgium, he was seventh in a circuit of great complexity. Not a month passed when he got the fifth place in the Grand Prix of Monza carried out in Italy. He entered as a driver of the Benetton team, participated in the drivers' championship, was third in 1991 and fourth in 1992 in Belgium and Portugal, respectively.
It would not be long until he managed to enter the Formula 1 competition and the following year proclaimed himself world champion of Formula 1 in 1994; year in which he maintained a remarkable and tough competition with Briton Damon Hill, but managed to beat them by repeating this triumph in 1995. This same year he married Corinna, from that union, were born two children: Gina-Maria and Mick.
The Ferrari team, after seeing their 19 victories since they stepped on the Formula 1, made the proposal to integrate their team in 1996. In the first season with them, was third in the final classification of drivers after winning the Grand Prix from Spain, Belgium, and Italy. Due to his good performance, Michael agreed to renew his contract with Ferrari until 2002. After the first year of renewal, he suffered a serious accident on the track at Silverstone, where he feared for his life. Fortunately, the young man recovered. The team was concerned that his performance was not the same for his long absence, but it was a surprise since in 2000 he won the first three GPs.
In 2002, Michael Schumacher was proclaimed champion of the world of Formula 1, after dominating the race in the Grand Prix of France. In just one year, on October 12, 2003, it was proclaimed world champion of Formula 1 again, it would be the fourth championship won consecutively, after its classification in the eighth position in the Grand Prix of Japan. In a short time mathematically secured the seventh world title of Formula 1, finishing in second place at Spa-Francorchamps, Grand Prix of Belgium. The success of the youngster was devastating, generating its appearance in sports channels and the sports press.
When he was 37 years and 16 seasons in Formula 1 on his shoulders, he announced his retirement from the competition in 2006. But at four years decided to resume this time with the Mercedes GP team directed by Ross Brawn. But it did not last long, it was three seasons, on October 4, 2012, expressed to the media that it would end his sports career. Since he regained his best result was a third place, reached in the Grand Prix of Europe in Valencia, in addition to the pole he achieved in Monaco, although he was withdrawn by taking a penalty of five positions of the previous race. His level was not the same, he had 13 losses.
Despite this, Michael Schumacher did not stop being admired as one of the greatest athletes in Germany and the world, therefore, on September 5, 2007, he was awarded the Prince of Asturias Award for Sports for his sports career. In the history of Formula 1, he was the most successful driver, and also the most sanctioned. Schumacher was in 312 races, was world champion seven times in 1994, 1995, 2000, 2001, 2002, 2003 and 2004. In addition, he won 91 victories throughout his career and 69 poles. His last victory was at the 2006 Chinese Grand Prix and his last race was at the 2012 Brazilian Grand Prix.
On December 29, 2013, it was a day of commotion for Formula 1, Michael Schumacher suffered a serious accident while skiing in the French Alps, specifically, off-piste in the alpine resort of Méribel, where he lived in a private residence. This accident caused him a severe head injury, which caused him to go into a coma, he was immediately operated on in the neurosurgery section. He was in a coma for six months, until June 16, 2014, resumed his brain activities. Subsequently, he left the Grenoble hospital to be rehabilitated at the University Hospital (CHUV) in Lausanne. On September 9, 2014, he was able to return home where he continued under medical treatment and rehabilitation.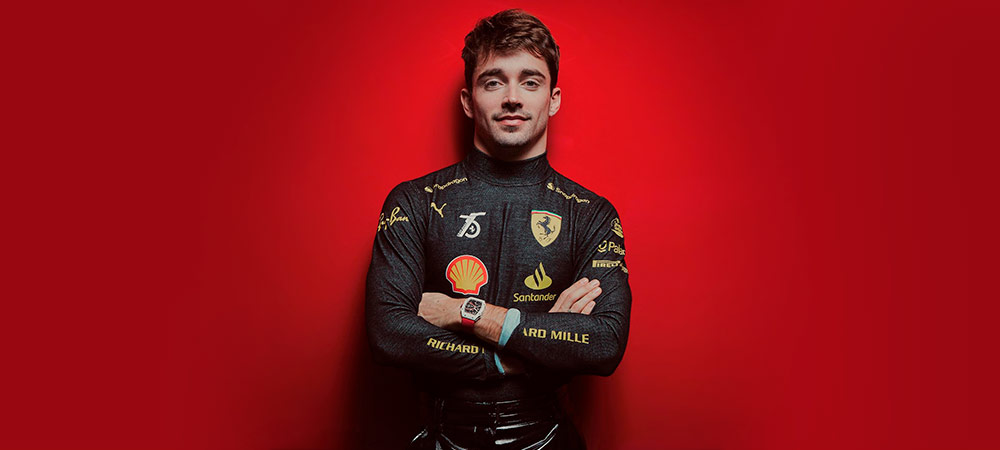 Charles Leclerc Biography
Charles Marc Hervé Perceval Leclerc (October 16, 1997), better known as Charles Leclerc, is a Formula 1 driver hailing from Monte Carlo, Monaco. He is an automotive prodigy who dominates the track with his dazzling talent. With an innate skill, Leclerc has left an indelible mark on Formula 1.
Early years
Charles Marc Hervé Perceval Leclerc, known as Charles Leclerc, was born in Monaco. He is the second child of Hervé and Pascale Leclerc. His father was a racing driver in his youth and the founder of the French automotive parts manufacturer Mecaplast, while his mother is a hairdresser and owner of a beauty salon located in the Principality of Monaco. He has two brothers: Lorenzo, the eldest, holds a degree in administration and business, and Arthur, the youngest, is currently a Formula 2 driver.
He studied at Lycée Albert 1er in Monaco, where he completed his secondary education.
Leclerc's father, who had experience up to Formula 3, played a fundamental role in his motivation and in instilling his passion for motorsport. As a result, Charles's first steps in the world of racing took place at Philippe Bianchi's track, a French friend of his father, located in Brignoles, a town between Nice and Marseille. Philippe is the father of Jules Bianchi, a driver who was eight years older than the young Leclerc, and they established a strong friendship.
Beginnings: Karting, Formula Renault 2.0, Formula 3 and Formula 2
Charles Leclerc started his career in karting at the age of 8 and quickly excelled in the sport. He won multiple championships in Monaco and abroad, establishing his reputation as a young promise in motorsport.
By mid-2010, Hervé realized that he didn't have enough money for his son to finish the karting season. At that moment, Charles received support from his close friend, Jules Bianchi, who reached out to his manager, Nicolas Todt, the director of All Road Management, a company that represents drivers. Nicolas Todt provided assistance to help Charles Leclerc move forward in his racing career.
In 2011, he became the karting world champion in the KF3 category. Leclerc has also competed in other categories, such as KF2, where he achieved significant victories. His talent in karting caught the attention of the motorsport industry, and he became a member of the ARM company.
Charles Leclerc began his single-seater career in the Formula Renault 2.0 Alps Championship with the Fortec Motorsports team in 2014. In that season, he secured seven podium finishes, including a double victory in Monza, which allowed him to finish second in the championship. Additionally, he won the Best Rookie award in the last race of the season in Jerez. Charles also participated in some races of the Formula Renault 2.0 Eurocup as a guest driver with Fortec Motorsports, obtaining three second-place podiums at Nürburgring and two second places at Hungaroring.
In 2015, Charles Leclerc took his first steps in Formula 3, competing in the European Formula 3 Championship. He had an excellent start to the season, securing a victory and two podiums in the opening round at Silverstone, followed by another win at Hockenheimring. Although the results were not as remarkable in the following races, Leclerc won the Rookie Championship title in that championship.
In the last month of 2015, Charles Leclerc had the opportunity to participate in evaluation tests with the ART Grand Prix and Arden International teams. The following year, in February 2016, his entry as a driver for the season was confirmed. ART Grand Prix placed their bet on him, and at the end of the competition, Leclerc was crowned champion after securing three victories and surpassing the second-placed driver, Alexander Albon, with a comfortable 25-point lead.
In March 2016, it was announced that Charles Leclerc would join the prestigious Ferrari Driver Academy as one of their two drivers. His skill and determination caught the attention of Ferrari, one of the most iconic Formula 1 teams, signing him for their young driver program. Additionally, he was given the role of development driver for both Haas F1 Team and Scuderia Ferrari. As part of his position as a third driver, Leclerc had the opportunity to participate in practice sessions for four Grand Prix races throughout the season.
For 2017, Charles Leclerc competed in the Formula 2 Championship with the Prema team. He won two of the first four races but faced difficulties at the Monaco round. However, he secured victories in Baku, Spielberg, and Silverstone. In October, he clinched the championship by winning the 19th race of the season, adding up to a total of six wins, with three races still to go.
Formula 1
Sauber: 2018
Leclerc was promoted to Formula 1 in 2018 as a driver for Sauber, currently known as Alfa Romeo. During his rookie season, he impressed everyone with his speed and driving skills, achieving notable results and outperforming his teammate on several occasions.
Charles Leclerc had an impressive start to the season, matching his teammate Marcus Ericsson's points tally in just 8 races, despite Ericsson having competed in 83 races previously. His standout performances, such as reaching Q3 and qualifying in eighth place in France, as well as his sixth-place finish in Azerbaijan, sparked rumors of a potential move to Scuderia Ferrari. Furthermore, at the Red Bull Ring, Leclerc contributed to Sauber securing a notable result with both drivers in the points, something that had not happened since early 2015.
Sauber: Leclerc's Teammates
The teammates that Charles Leclerc had at Sauber during his Formula 1 career with this team were as follows:
Marcus Ericsson (2018): Leclerc made his Formula 1 debut in the 2018 season alongside Marcus Ericsson as his teammate at Sauber.
Scuderia Ferrari: 2019-Present
In 2019, Charles Leclerc fulfilled his dream by joining the main team of Ferrari in Formula 1. Although he had an adaptation period in his first year, he proved his worth with impressive performances, including his first victory at the Belgian Grand Prix. His aggressive driving style and ability to handle pressure made him one of the most exciting and promising drivers on the grid.
Since his arrival at Ferrari, Leclerc has made a mark. In 2020, despite the challenges of the less competitive Ferrari, he secured a second place in Austria and continued to add podium finishes throughout the season. In 2021, he started a new chapter with Carlos Sainz as his teammate, achieving pole positions in Monaco and Baku, and securing his first Grand Chelem at the 2022 Australian GP.
Leclerc's talent and determination were once again evident in 2023 when he secured pole position at the Azerbaijan GP in the thrilling new race format. His trajectory at Ferrari has been a constant ascent, establishing himself as one of the brightest stars in Formula 1.
In 2023, Ferrari's drivers have faced setbacks with the team and technicians, which has negatively impacted the performance of Leclerc and Sainz Jr. Recently, the team has shown deficiencies in managing various situations. An example of this occurred during the qualifying session for the Canadian Grand Prix when Charles requested a tire change during his pit stop. However, the Ferrari team denied his request, citing that Max Verstappen, a driver from Red Bull Racing, had not done so yet. As a result, Leclerc missed out on the starting grid. However, due to a penalty imposed on his teammate Carlos Sainz, Charles Leclerc managed to advance to the tenth position, securing a place within the top ten.
Ferrari: Leclerc's Teammates
The teammates that Charles Leclerc had at Ferrari during his Formula 1 career with this team were as follows:
Sebastian Vettel (2019-2020): Charles Leclerc and Sebastian Vettel were teammates at Ferrari for two seasons. During this time, there were moments of close competition and rivalry between the two drivers.
Carlos Sainz Jr. (2021-Present): Leclerc shared the team with Spanish driver Carlos Sainz Jr. at Ferrari. Both drivers have formed a young and talented duo during this period, becoming fan favorites both on and off the circuits.
Charles Leclerc: 2023 season
In the thrilling ongoing 2023 Formula 1 season, the talented Monegasque driver Charles Leclerc currently holds the seventh position with 80 points, having achieved 0 wins and secured 2 podiums. The leaders of this season so far are Max Verstappen, Sergio Pérez, and Fernando Alonso, who have showcased their skill on the track and are occupying the top positions in the championship.
Personal life
Charles Leclerc, the talented Formula 1 driver, has had romantic relationships that have captured the attention of the media and followers. For three years, he was in a relationship with the Monegasque model and influencer, Charlotte Siné. However, in December 2022, both celebrities publicly announced the end of their romance through a statement shared on social media.
Before his relationship with Charlotte, Leclerc had a girlfriend named Giana Gianni, affectionately known as Gigi. Their relationship lasted for about four years but came to an end in September 2019. According to what Gigi shared on her social media, the breakup was due to Charles wanting to focus on his professional career. Interestingly, just a month later, the driver was already in a new relationship and publicly displaying it on social media.
The surprising part is that Leclerc's new girlfriend turned out to be none other than Charlotte Siné, who shockingly happened to be one of Gigi's best friends.
2023: New Relationship
Charles Leclerc is currently in a relationship with Alexandra Saint-Mleux. The official confirmation of their romance took place in May 2023, although there had been speculation about their bond for several months before, as they had been seen together on various occasions, including during Paris Fashion Week.
Alexandra Saint-Mleux is nearly five years younger than Leclerc. She is a student of Art History in Paris, France.
Father of Charles Leclerc
Charles Leclerc has faced challenges both on and off the circuits. Unfortunately, in June 2017, his father lost his life after bravely battling cancer. This tragic loss has left a deep impact on Leclerc's life.
During his stay in Monaco for the Grand Prix, as an emotional tribute to his father, Charles and his family took a photo alongside the helmet his father used to wear. It's important to note that his father was his biggest supporter and a crucial pillar in his racing career. Despite his absence, Hervé couldn't witness his son's debut or see him become a part of Formula 1.
Tragedies: Deaths of Loved Ones.
The Passing of Jules Bianchi: One of the most impactful tragedies in Leclerc's career was the death of his friend and mentor, Jules Bianchi. Bianchi, also a Formula 1 driver, suffered a serious accident during the 2014 Japanese Grand Prix and remained in a coma for nine months before passing away in July 2015. Bianchi's loss was a devastating blow to Leclerc, who saw Jules as an older brother and a source of inspiration in his career.
The Passing of His Father: In June 2017, Charles Leclerc experienced another tragic loss with the passing of his father, Hervé Leclerc. Hervé had been a pivotal figure in supporting and nurturing Charles' racing career, and his sudden death deeply affected the Monegasque driver.
Fatal Accident of Anthoine Hubert: During the Formula 2 race at Spa-Francorchamps in August 2019, a serious accident occurred involving several drivers, including Anthoine Hubert. Sadly, Hubert lost his life in the incident. Leclerc, who had been a teammate of Hubert in the lower categories, was deeply affected by the loss of his friend and rival.
Filmography
Charles Leclerc has appeared in several visual works, including:
"Lightyear" (2022): Charles Leclerc provided his voice for the Italian dubbing, for a cameo in the "Toy Story" spin-off, "Lightyear". He portrays one of the two guards sent to take away Sox the cat. In the Spanish (Spain) dubbing, the same character was covered by Carlos Sainz.
"Formula 1: Drive to Survive" (2023): This series covers various aspects of Formula 1, both on and off the track. It follows Charles Leclerc's journey from his time at Sauber (now Alfa Romeo) to his current involvement with Scuderia Ferrari. In addition to Leclerc, the series delves into all the drivers, their teams, and the racing stables in depth.
Discography
Musical works in which Charles Leclerc has participated:
Singles
"AUS23 (1:1)" (2023).
"MIA23 (1:2)" (2023).
Facts about Charles Leclerc
His racing number is 16.
He is the second-youngest driver to debut with Scuderia Ferrari.
His favorite food is tortellini pasta.
He enjoys playing paddle tennis.
His nickname Lord Perceval was given to him by his Ferrari teammate, Carlos Sainz Jr., who considered the name suited him well.
He is a music enthusiast.
He plays the piano and has released his own songs.
One of his inspirations in F1 was Ayrton Senna.
One of his favorite TV series is "La Casa de Papel".
During the pandemic, he streamed on Twitch with several other drivers, including Max Verstappen, Lando Norris, Alex Albon, and George Russell.
He speaks Italian, French, English, and some Spanish.
There is an iconic video of an interview from his youth where Charles pronounces the phrase "Nothing, just an incident on the race" in a peculiar way. This famous moment occurred after an incident on the track with Max Verstappen. Leclerc's unique gestures and pronunciation caught everyone's attention, leading to its viral spread.
In Italy, his Richard Mille watch, valued at $325,000, was stolen. Charles Leclerc chased the thieves across Italy in his Ferrari.