José Mourinho biography
José Mourinho (January 26, 1963) soccer Coach. He was born in Setúbal, Portugal. His father, José Manuel Félix Mourinho, who was a goalkeeper in his youth and later became a football coach. His mother, María Julia, worked as a teacher in Portugal. From his childhood José bequeathed a great soccer tradition, he learned the love for football of his father and also of his grandfather, who was president of the soccer club Vitória de Setúbal. From a young age, José showed the aptitude for the management and organization of a soccer team, this was developed increasingly when his father delegated him the task of making reports and records for the games he would direct.
He studied at a physical education school in Lisbon known as the ISEF (Higher Institute of Physical Education). Before that, it was a while without studying due to a conflict with a math teacher, during the period when José did not attend school, his mother enrolled him in a private school. However, José desisted to continue in this race. He began to occupy his time helping his father while serving as coach of Rio Ave. The following year Mourinho managed to enter the ISEF. Now, after obtaining his degree as a physical educator he specialized in Sports Methodology.
Then, with all intentions clear, Mourinho decided to take the UEFA course for technical director of football in Scotland. At its culmination, he returned to Portugal to work as a coach in a secondary school. But, when he received a job offer with trainer Manuel Fernandez in Estrela de Amadora decided to resign. In the 90s, he was an assistant at Vitória de Setúbal. Later he worked next to Sir. Bobby Robson first at Sporting Lisbon and then at Porto. When Robson joined Barcelona in 1996, he urged him to accompany him.
He then served as assistant coach during the 1996/97 season, his work was key for the Spanish team which ended up conquering the Cup and Supercopa of Spain and the Recopa de Europa. Then, his friend was relieved by Louis van Gaal, but Mourinho managed to win a position in the coaching staff of the new coach, so his task was to make reports on the rival teams. This was his task for two years, until, in November 1999, with the departure of Ronald Koeman, the Portuguese took his place as the second coach of the Catalan team.
After a period of instability, Lorenzo Serra Ferrer took over the management of the team and dispensed with José Mourinho, who invalidated his contract with Barcelona in July 2000. Later, he was Benfica's first coach, replaced Heynckes; then he was at Uniao Leiria, who finished fourth in the league; again the Benfica, and finally, in January 2002, the Porto, which thanks to Mourinho would reap its first triumphs, after a period of crisis. In his first season at Porto, he managed to win the League, Cup, and UEFA Cup. In the season  2003-04, won the Portuguese League and as if the Champions League was not enough.
As his popularity began to grow rumors also, the first rumors about his departure to the English team Chelsea were unleashed. And indeed, Roman Abramovich signed him for Chelsea and has made him the highest paid coach in the world. In his first season, 2004-2005, he has won the English League and the Super Cup of England. In 2004 he won recognition as the best coach of 2004, his successes are not exempt from controversy. Several players have claimed that he is an arrogant person. However, his qualities are greater.
It stands out, without doubt, his ability to lift the teams and always keep them at a good football level. For the Portuguese director, it is very important the rapport and the group conscience before the brilliant individual of the players. He has argued that trophies are won by teams, not by players. So, they are all important chips. He has exploited great soccer promises such as Deco, Lampard or Joe Cole. He is recognized as a follower of Robson in his savoir-faire when dealing with players, and of Van Gaal, in his strategy and tactics.
What makes him a great technical director is really his ability to analyze his own game and the tactics of the opponent, a question he learned thanks to his father. After a while he said goodbye to Chelsea, to relate to clubs like Real Madrid, F.C. Barcelona, ​​Valencia, and Inter Milan. It was the latter who, since June 2008, signed him for three seasons at a rate of 9 million euros each season. However, at the beginning of 2010, with a great performance, he confirmed his inclination for Real Madrid. On May 28, Florentino Pérez confirmed the services of Mourinho.
The director's performance was very good, in the second leg of the sixteenth round of the Spanish cup against the Alcoyano, Mourinho reached the 400 official victories in his sports career. After several years with the Madrid team and exceptional performance, the coach returns to Chelsea F. C in 2013. Two years later managed to put the team in box 16, classifying them in the Premier League. At that time, he makes the decision to withdraw from the team. He quickly signed for two seasons with Manchester United F. C. with this team managed to emerge victorious from the UEFA Europa League, after winning 2-0 in Solna at Ajax and thus seal their qualification for the next edition of the Champions League.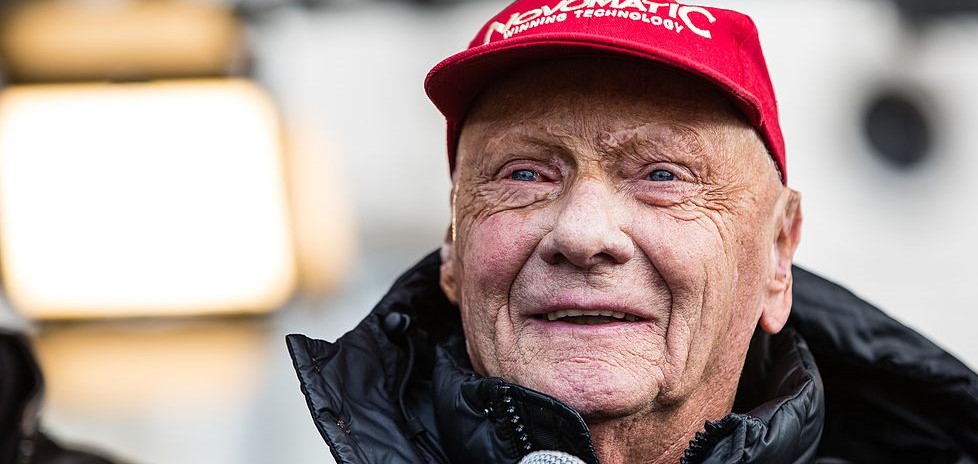 Niki Lauda Biography
Nikolaus Andreas Lauda (February 22, 1949- May 20, 2019) He was born in Vienna, Austria. Austrian motorsport driver, famous for having been Formula 1 world champion on three occasions (1975, 1977 and 1984), with the Ferrari and McLaren teams. He started as a pilot at the end of the 1960s and shortly thereafter made his debut as a Formula 3 racer (1970). He started in Formula 1 under the shield of March in 1971 and four years later got his first big win as a Ferrari racer. Having achieved his first two titles in the seventies, Lauda left Ferrari to join the McLaren team, with which he won his last title in 1984. Known for his precision and great talent, Lauda left the tracks in 1985. Since then he concentrated completely on his role as an entrepreneur while owning the airline Nikki.
FAMILY AND BEGINNINGS
Born into a wealthy family, Lauda had Elisabeth and Ernst-Peter Lauda as parents. He received a careful education oriented to the business world. However, he decided to abandon this path to devote himself completely to the world of automobile competitions at the end of the 1960s, contrary to the will of his parents, who hoped that Lauda was a man of business. He began to participate in car races in 1968 and two years entered the world of Formula 3 (1970). Demonstrating his great talent and dexterity, Lauda became a Formula 2 racer in just one year. In 1971, he made his debut as a Formula 1 racer under the team of March Engineering, a team created in the late sixties by Alan Rees Graham Coaker, Robin Herd, and Max Mosley.
CAREER AS A DRIVER
After his debut with the team March in 1971, Lauda was known in the circuits of that year and 1972 for his skill and accuracy on the tracks. However, did not get any title. In 1973, he joined the official team of BRM, a team where he remained for a short time, since, in 1974, he was hired by Ferrari, thanks to the good references that also gave the pilot Clay Regazzoni, to the team in which he worked at that time. Starting his adventure with Ferrari, Lauda managed to make his first triumphs on the tracks, getting that same year the Awards of Spain and Holland. His expertise at the wheel, allowed him to make his way to the world and get his first title of world champion in Formula 1 in 1975.
After the successful 1975 season, Lauda managed to excel in the season towards the 1976 title, winning in four of the six races, however, his path was hampered when he suffered a major accident at the German Grand Prix. In this competition, the runner lost control of the car in a curve, which caused the car to crash with the protection fence and caught fire a few seconds later in the middle of the track. After the explosion, another car collided with this causing the sinister out of proportion, shortly after this, Lauda managed to leave with some injuries on his face and limbs. He was in recovery for a month and a half and returned to the tracks months before the competitions were over.
After coming back into the competitions, Lauda obtained several triumphs that took to him to stand out in the general classification, nevertheless, lost the title before James Hunt by a point. The singular duel of these two competitors during the season of '96 became the source of inspiration for Ron Howard's film, Rush (2013). In 1977, Lauda won his second Formula 1 title, winning the Grand Prix of Germany, South Africa, and the Netherlands. Having deteriorated his relationship with the Ferrari team since 1976, Lauda decided to leave the team to join the Brabham-Alfa Romeo team in 1978. He remained in this with a less competitive vehicle until 1979, year in which, tired of the bad results, he decided to get away from the tracks to devote himself completely to his first project as an entrepreneur, the newly created airline Lauda Air (1979 -2000). After being away from the tracks for two years, Lauda returned in 1982 as a member of the official McLaren team.
Two years after joining McLaren, Lauda got his last title of champion by facing his teammate, Alain Prost. After announcing his definitive retirement in 1985, Lauda dedicated himself completely to his business as an entrepreneur, being then the owner of the low-cost airline Niki, which he had consolidated thanks to the alliance he had with Air Berlin. Although he did not return to the tracks, Lauda stayed tied to the Formula 1 until his death, he worked as a commentator and even got to be hired as a counselor of Ferrari, a company with which he worked for several years.
As an adviser of the team, Lauda impulse the signing of Michael Schumacher, a pilot that would give numerous titles to the team in the course of the first years of the new millennium. Beginning in the 2000s, he worked for Jaguar and a few years later joined the commentary team of RTL (2010). During his last years of life, he was the technical advisor and partner of Mercedes. This outstanding Austrian pilot and businessman, died on May 20, 2019, in Vienna, Austria, after suffering several health complications, linked to his advanced age.