Ferdinand Monoyer Biography
Ferdinand Monoyer was a French ophthalmologist, in charge of including in 1872 the diopter in that branch of medicine, and also by inventing the Monoyer table, with which you can measure the visual acuity of people. He was born in Lyon, France on May 9, 1836.
In 1871, he was a professor of Medical Physics at the Faculty of Medicine of the University of Strasbourg, where his performance was excellent, and he became Director of the Ophthalmic Clinic of the Faculty of Medicine of the University of Nancy between 1872 and 1877. After his important work in Strasbourg and Nancy, between 1877 and 1909, he was a professor of Physical Medicine at the Faculty of Medicine of the University of Lyon.
By 1872, the magazine Annales d'Oculistiques, released a text by Ferdinand Monoyer, entitled "Sur l'introduction du système metrique dans le numérotage des Verres de lunettes et sur le Choix d'un unité de réfraction" where the Frenchman proposed for the first time to adapt the meaning "diopter" to the power unit of a lens, expressed as the inverse of the focal distance in meters. Thanks to the ideas proposed by Monoyer, in 1875, the Congress of Ophthalmology of Brussels decided to use the diopter as an international unit of refraction in medium optics, which is used worldwide in ophthalmology.
However, Ferdinand Monoyer was not alone in including diopter in ophthalmology, but also invented an optotype chart, with which he sought to make more precise the measurement of visual acuity with adjusted optical correction. The table was composed of ten rows of letters, with two different models, one to measure visual acuity at 3 meters distance, and another at five meters. The objective was that the patient called the letter that the ophthalmologist pointed out, in order to reach the limits of visual acuity of the person.
Ferdinand Monoyer died in Lyon on July 11, 1912, at the age of 76. He was buried in the cemeteries of the Guillotière, where he was accompanied by friends and members of the Faculty of Medicine of the University of Lyon and the other places where he worked. In his funeral, Professor Hugounenq highlighted the career of Monoyer as president of the University of Lyon, Associate Professor Nogier spoke on behalf of Monoyer students and Dr. Louis Dor gave a speech on behalf of the Lyon Ophthalmological Society.
MONOYER TABLE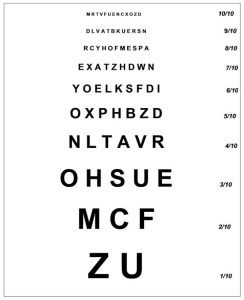 SOME PUBLICATIONS AND WORKS
Des fermentations, G. Silbermann (Strasbourg): 1862.
A portable ophthalmoscope, J. Van Buggenhoudt (Strasbourg): 1863.
Applications des sciences physiques aux théories de la circulation, G. Silbermann (Strasbourg): May 30, 1863.
Emploi du legs Strauss-Durckheim, typography by G. Silbermann (Strasbourg): 1866.
Une extraction de cataracte dans a de luxation du cristallin, avec complication du côté du tractus uveal et du corps vitré, G. Silbermann (Strasbourg): 1867.
Des anomalies de l'refraction de l'œil: notions théoriques et observations cliniques, impr. by G. Silbermann (Strasbourg): 1868
"Sur l'introduction du couteau linéaire dans la pratique de l'iridectomie" (Strasbourg): 1871.
"Description and usage of the iconarithme, nouvel instrument destiné à faciliter l'étude des images fournies par les lentilles" (Strasbourg): 1872.
Épithélioma perlé ou margaritoïde de l'iris, Berger-Levrault (Paris): 1872.
Notions générales de zymologie, Berger-Levrault et Cie (Paris): 1872.
Discours d'inauguration prononcé le 19 février 1873: cours d'ophthalmologie, Berger-Levrault et Cie (Paris): 1874.
Nouvelle formulates destinée à calculer la force réfringente ou le numéro des lunettes du presbyte, Gauthier-Villars (Paris): 1875.
Du rôle étiologique de la douche descending murale dans le développement des psychronoses, impr. of Berger-Levrault et Cie (Nancy): 1877.
Théorie des forces cosmiques basée sur les mouvements de la matière pontorable seule, non-existence of the matière imponprerable, impr. of Giraud (Lyon): 1881.
Théorie générale des systèmes dioptriques centrés, Gauthier-Villars (Paris): 1883.
Mesure et correction de la presbytie, G. Steinheil: 1898.
Physique sociale: emploi combiné du système du quotient vrai et du système du quotient fictif pour la répartition des sièges dans the representation proportionnelle, Librairie A. Rousseau (Paris): 1906.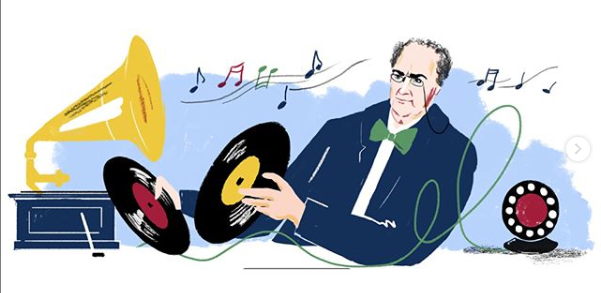 Emil Berliner Biography
Emil Berliner (May 20, 1851 – August 3, 1929) inventor. He was born in Hannover, Germany. He grew up in a Jewish environment. Due to a complex economic situation, he had to work to help his parents from a young age, so he did not attend school regularly. His first paid job was as a painter, for later, at age 16, to enter as a clerk in a food store.
According to his experience, he began to be interested in the production methods of the factory where he worked. He was a very versatile man since he built a weaving machine that improved existing ones; It was one of the many inventions of German. In 1869, when a system of repression against Jewish families was installed, Berliner obtained a position in a company located in Washington, United States. The family raised the money needed to support his trip and, especially, to prevent his son from being sent to the army ranks. Then, Emil settled in New York with the idea of ​​finding a job. He returned to Washington. Despite the economic difficulties, he studied at the Cooper Institute electricity and physics.
Motivated by scientists who were researching about the conversion of sound into electrical impulses that could be transmitted on wires; Berliner experimented with the electrical transmission of sound. Thanks to his research he was granted an assistant position of Dr. Constantine Fahlberg in his prestigious chemical laboratory. Soon he invented two electrical mechanisms that reproduced the sound more authentically and made it transmissible in the distance.
The responsibility for creating the prototypes of the microphone and the transformer was Berliner, the two basic mechanisms for electronic communication, in addition to building a carbon transmitter microphone and an iron diagram transmitter. It is clear that sometimes his inventions were inconvenient, but Berliner managed to solve these problems. Occasionally, he used objects that had not previously been used or integrated into an invention.
It was based on the telephone number of Reiss and Antonio Meucci and from there make some progress. Besides, he powered the device invented by Alexander Graham Bell. In this way, Berliner is identified as the inventor of the modern telephone. Berliner offered his invention to the subsidiary of the Bell Company in New York, the offer was finalized in the year of 1878 for $ 50,000. It was not long before the conflict with the Western Union arrived over the patent of the invention, the American courts appealed in favor of Berliner.
In 1881, together with his brother Joseph, he founded the Telephone-Fabrik Berliner, with branches in Vienna, Berlin, Budapest, London, and Paris. Later, he returned to Washington in 1883, where he advanced his independent research on the mechanical reproduction of sound. Berliner created new reproduction materials to improve his invention. One of his most significant contributions was the improvement of the phonograph, the first was patented in 1877.
I create a record player baptized gramophone, with a needle system that would be hegemonic until the end of the 20th century. In 1887 he patented his invention. A year later, the Franklin Institute in Philadelphia awarded him the Scott Medal for his contribution to the development of acoustics and sound reproduction. With collaboration, he founded the United States Gramophone Company in 1893; In 1897 he created the Berliner Gramophone Company in Montreal. He quickly arrived in Europe: he opened the Deutsche Gramaphon Gesellschaft and Britain's Gramophone Co.
We must indicate that Berliner worked in other areas such as aeronautics. Then, he was the first to use a light internal combustion engine. His work was very important because years later he joined the airplanes. His son, Henry Berliner, designed a helicopter that flew successfully in early 1919. His interest in the problems of sound reproduction was greater, which is why he strove to create acoustic tiles for use in auditoriums and concert halls. His contribution was recognized in 1913 and he was awarded the Elliot Cresson Medal in recognition of his scientific contribution to telephony and acoustics. He died on August 3, 1929, as a result of a heart attack.
WORKS
Conclusions
The Milk Question and Mortality Among Children Here and in Germany: An Observation
Some Neglected Essentials in the Fight against Consumption
A Study Towards the Solution of Industrial Problems in the New Zionist Commonwealth
Muddy Jim and other rhymes: 12 illustrated health jingles for children