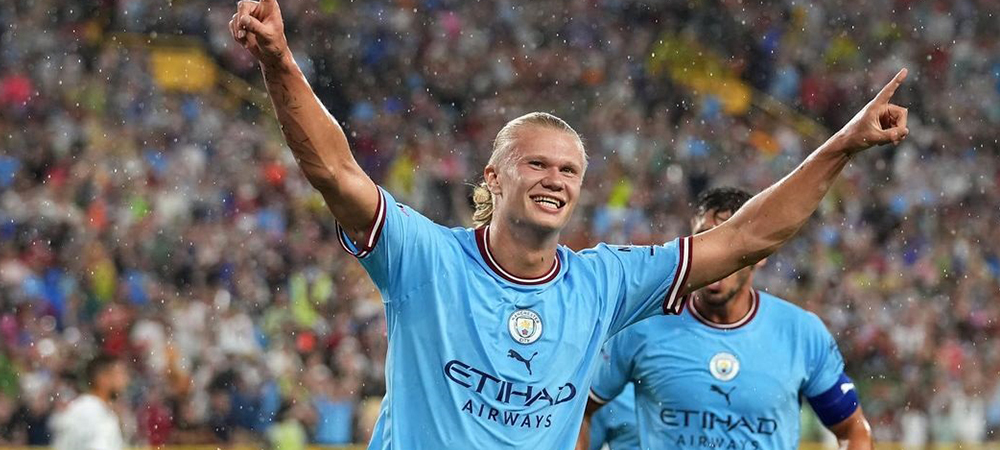 Personal information
Full name

Erling Braut Haaland

Birthdate

July 21, 2000

Age
22 years old
Occupation

Soccer player

Nationality

Norwegian

Height
1.94 m
Parents

Alf Inge Haaland
Gry Marita

Awards
Golden Boy 2020
Actual team
Manchester City
Zodiac sign
Cancer
Biography in other languages
Biografía de Erling Braut Haaland
Erling Braut Haaland (born July 21, 2000) is a Norwegian-English professional footballer who plays as a forward. He achieved success with Borussia Dortmund, becoming the first player in Champions League history to score a hat trick in his debut match. Haaland began his career at Bryne F.K. at the age of 15, later moving to Molde in 2016 and signing with Salzburg in 2018. With Salzburg, he made history in 2019. With Borussia Dortmund, he became one of the most famous players in the Bundesliga. He has also been a member of the Norwegian national under-20 team.
Early Years
Haaland was born on July 21, 2000 in Leeds, England. He is the son of sports couple Alf Inge Haaland and Gry Marita. His father was a footballer who played for Leeds at the time of his birth, while his mother was an athlete and a Norwegian champion in heptathlon. From a very young age, football became his passion. Even when an injury forced his father to retire from the game, Haaland continued to play.
Erling Haaland's Early Career
Haaland began his career at the age of 15 with the Norwegian team Bryne F.K. During the 2015-16 seasons, he played for Bryne 2, the team's reserve squad, where he scored 18 goals in 14 games. In May 2016, Berntsen gave him his first chance with the first team. He made his debut on May 12, 2016 in a first division match against Ranheim. With Bryne, Haaland played in 16 games.
Molde (2017-18)
In February 2017, it was announced that he had signed with Molde. He made his debut for the team on April 26, 2017, scoring his first goal in a 3-2 victory against Volda TI in the Norwegian Cup. Two months later, on July 4, he made his league debut as a substitute against Sarpsborg 08. Haaland scored the winning goal in that match, his first in the Eliteserien. On September 17, 2017, he scored his second goal against Viking FK. Haaland ended his first season with 4 goals in 20 appearances with Molde.
During his second season under coach Ole Gunnar Solskjaer, Haaland scored 16 goals in 30 games. One of his most notable performances during his second season was on July 1, 2018, when he scored four goals against SK Brann in the first 21 minutes of the match. His impressive talent attracted the attention of Juventus and Salzburg.
Red Bull Salzburg (2018-20)
Haaland joined the Austrian team on August 19, 2018. His first season, however, did not go as expected. He played only five games and scored only one goal, so he was hardly taken into account. In the 2019-20 season, everything changed after he scored 9 goals in the under-20 match against Honduras. After this surprising match, Haaland became a key player for Salzburg. He made history with the team and in the Champions League, by scoring a hat-trick in the first half of his Champions League debut against Genk on September 17, 2019. In his second season with Salzburg, he played a total of 22 games, starting 11, and scored 28 goals.
Borussia Dortmund (2020-22)
At the beginning of 2020, Haaland signed with Borussia Dortmund of the Bundesliga. He made his debut on January 18, 2020 against FC Augsburg, scoring his first hat-trick in 23 minutes. He became the second player in the team's history to score three goals during his Bundesliga debut, after Pierre-Emerick Aubameyang. On February 18, 2020, Haaland scored both goals in the 2-1 victory against Paris Saint-Germain in the first leg of the Champions League Round of 16. He had several standout performances before the league closed due to the pandemia.
On May 16, 2020, he scored the first goal after the league break against Schalke; it was his tenth goal in domestic competition. A month later, he scored two goals in a 2-0 victory against Leipzig, securing a spot in the Champions League for the following season for Dortmund. On September 19, 2020, he scored another double in the 3-0 victory against Borussia Mönchengladbach. Then he returned to score in the 2-3 loss on September 30th against Bayern Munich in the German Super Cup and in the league again against Bayern on November 7th. On November 21st, he scored four goals in 32 minutes in the 5-2 thrashing of Hertha Berlin. On the same day, he became the first Norwegian to win the Golden Boy award. Three days later, on November 24th, he scored a double in the 3-0 victory over Club Brugge. He became the fastest player to reach 15 goals in the UEFA Champions League, with only 12 appearances in the tournament.
In December 2020, Haaland suffered a tendon injury that kept him out of action until January 2021. He returned to the team on January 3, 2021, in the match against VfL Wolfsburg. Six days later, he scored a double in the 3-1 victory as a visitor against Leipzig. Then, he scored two goals in the 2-4 defeat against Mönchengladbach on January 22nd. He scored two goals and recorded an assist in the 2-3 victory against Sevilla F.C. in the first leg of the Champions League Round of 16, and later scored two more goals in the return match to secure Dortmund's passage to the quarterfinals. Although Dortmund was eliminated, Haaland became the top goal scorer of the competition (with 10 goals).
With the season finished, Haaland was named the best player of the Bundesliga 2020-21 after scoring 27 goals in 28 matches played.
Manchester City (2022)
On June 13, 2022, the transfer to Manchester City F.C. was completed with a five-year contract. He made his debut on July 30, 2022, in Manchester's 3-1 defeat against Liverpool.
Teams
Bryne F. K. (2016)
Molde F. K. (2017-18)
C. Red Bull Salzburgo (2018-19)
Borussia Dortmund (2020-22)
Manchester City F. C. (2022-act.)

Biography of Saúl Álvarez
Santos Saúl Alvarez Barragán, known in the world of boxing as Canelo Alvarez, was born on July 18, 1990 in San Agustín, Guadalajara, Mexico. His nickname was assigned by his manager, José "Chepo" Reynoso. At five years old, Canelo moved with his family to Juanacatlán. His decision to dedicate himself to boxing came from his brother Rigoberto, who is also a professional boxer. At 13 years old, Canelo began training boxing and quickly participated in tournaments.
2004 – beginnings in boxing
In 2004, Canelo won the silver medal in the National Juvenile Championship in Sinaloa, and a year later, he obtained the gold medal in the 2005 Youth Olympics in Tuxtla Gutiérrez. With an amateur record of 44 wins, several by KO, and two losses, Canelo entered the professional ring in 2005, making his debut at the Chololo Larios Arena in Tonalá, Jalisco, at just 15 years old. He won by technical KO in the fourth round.
2008 – welterweight title of the North American Boxing Federation
Over time, Canelo increased his skill in the ring. In 2008, he obtained the welterweight title from the Latin American Federation of Professional Boxing Commissions, recognized by the World Boxing Association (WBA), by defeating boxer Carlos Adán Jerez. He also participated in the Scotiabank Forum in Mexico City, where he surprised the audience by knocking out Tony "Mazatleco" Fitch, thus becoming welterweight champion of the North American Boxing Federation (NABF).
Latin welterweight title of the World Boxing Organization
That same year in Zapopan, Jalisco, Canelo knocked out Dominican Euri Gonzalez in a long eleven round fight. With this victory, Canelo won the Latin welterweight title of the World Boxing Organization. In 2010, he had the opportunity to debut as a boxer within Golden Boy Promotions, facing José Miguel Cotto, covering the fight between Floyd Mayweather Jr. and Shane Mosley in Las Vegas. Canelo Alvarez won by technical KO in the ninth round.
Canelo Alvarez, one of the great boxers of Mexico
With less than 30 years old, this Mexican boxer has conquered the world of boxing, captivating fans all over the world with his action-packed, charismatic and brave fighting style when facing big rivals like Kazakh Golovkin. His figure has been admired and compared to great Mexican boxers like Barrera, Morales, Sanchez and Chavez. The most relevant moment of his career was when he defeated Mathew "Magic" Hatton for the CMB Super Welterweight World Champion title in March 2011.
Since then, Canelo has defended the title against Ryan Rhodes and obtained stoppage victories over Alfonso Gomez and former world champion Kermit Cintron. He also had a fight against veteran Sugar Shane Mosley, for 12 rounds. The victory over Mosley led to the fight against Josesito Lopez on September 15, 2012, in which he knocked out Lopez before finishing the fight with a technical KO in the fifth round.
2013 – World Champion, fight with Floyd "Money" Mayweather
Canelo imposed his dominance by unanimously defeating the AMB Super Welterweight World Champion, Austin Trout, in front of 39,000 fans at the Alamodome in San Antonio, Texas, making him a world champion. On September 14, 2013, Alvarez faced Floyd "Money" Mayweather. This fight was considered the biggest of the year and the highest-grossing in history, and it was the second-highest rated boxing event on television in Mexico. Since then, Canelo has won several championships, defeating boxers such as Alfredo "Perro" Angulo, James "Mandingo Warrior" Kirkland, Erislandy Lara, James Kirkland, and Liam Smith. The confidence Canelo developed in his talent was such that he dared to challenge champion Gennady Golovkin on camera.
Fight with Gennady Golovkin.
On June 5, the T-Mobile Arena in Las Vegas was announced as the location of the fight. In the early rounds, the Kazakh imposed himself, but then Canelo showed a great ability to evade Gennady's punches. In the end, the result was a split decision draw; this was the second in Saúl Alvarez's career and the first in Gennady Golovkin's. This generated great questioning from boxers and sports businessmen. Definitely, Canelo was able to measure up to the great boxer Gennady.
World titles.
The Mexican boxer has several world titles:
WBC Super Welterweight World Champion
WBA Super Welterweight World Champion
WBO Super Welterweight World Champion
WBC and The Ring Middleweight World Champion
WBA Fedecentro Welterweight Champion
NABF Welterweight Champion
WBO Latin Welterweight Champion
WBC Youth Welterweight World Champion
WBC Silver Super Welterweight Champion.