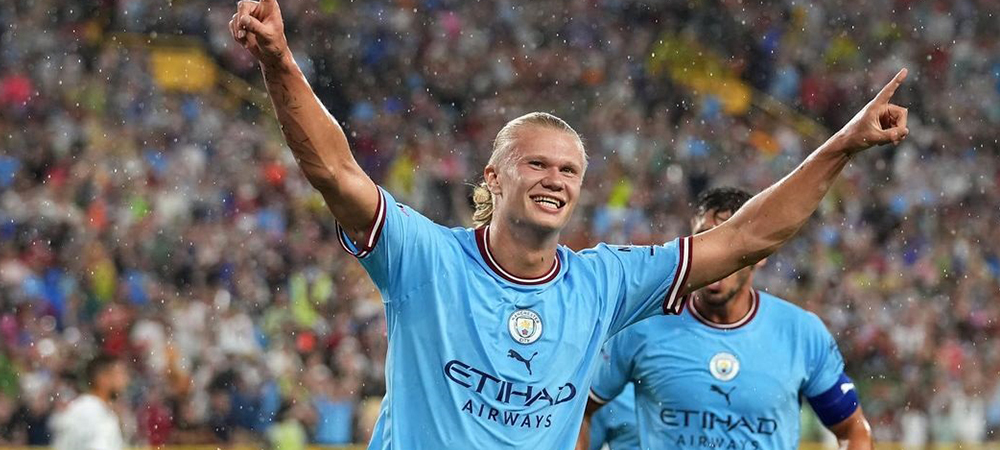 Personal information
Full name

Erling Braut Haaland

Birthdate

July 21, 2000

Age
22 years old
Occupation

Soccer player

Nationality

Norwegian

Height
1.94 m
Parents

Alf Inge Haaland
Gry Marita

Awards
Golden Boy 2020
Actual team
Manchester City
Zodiac sign
Cancer
Biography in other languages
Biografía de Erling Braut Haaland
Erling Braut Haaland (born July 21, 2000) is a Norwegian-English professional footballer who plays as a forward. He achieved success with Borussia Dortmund, becoming the first player in Champions League history to score a hat trick in his debut match. Haaland began his career at Bryne F.K. at the age of 15, later moving to Molde in 2016 and signing with Salzburg in 2018. With Salzburg, he made history in 2019. With Borussia Dortmund, he became one of the most famous players in the Bundesliga. He has also been a member of the Norwegian national under-20 team.
Early Years
Haaland was born on July 21, 2000 in Leeds, England. He is the son of sports couple Alf Inge Haaland and Gry Marita. His father was a footballer who played for Leeds at the time of his birth, while his mother was an athlete and a Norwegian champion in heptathlon. From a very young age, football became his passion. Even when an injury forced his father to retire from the game, Haaland continued to play.
Erling Haaland's Early Career
Haaland began his career at the age of 15 with the Norwegian team Bryne F.K. During the 2015-16 seasons, he played for Bryne 2, the team's reserve squad, where he scored 18 goals in 14 games. In May 2016, Berntsen gave him his first chance with the first team. He made his debut on May 12, 2016 in a first division match against Ranheim. With Bryne, Haaland played in 16 games.
Molde (2017-18)
In February 2017, it was announced that he had signed with Molde. He made his debut for the team on April 26, 2017, scoring his first goal in a 3-2 victory against Volda TI in the Norwegian Cup. Two months later, on July 4, he made his league debut as a substitute against Sarpsborg 08. Haaland scored the winning goal in that match, his first in the Eliteserien. On September 17, 2017, he scored his second goal against Viking FK. Haaland ended his first season with 4 goals in 20 appearances with Molde.
During his second season under coach Ole Gunnar Solskjaer, Haaland scored 16 goals in 30 games. One of his most notable performances during his second season was on July 1, 2018, when he scored four goals against SK Brann in the first 21 minutes of the match. His impressive talent attracted the attention of Juventus and Salzburg.
Red Bull Salzburg (2018-20)
Haaland joined the Austrian team on August 19, 2018. His first season, however, did not go as expected. He played only five games and scored only one goal, so he was hardly taken into account. In the 2019-20 season, everything changed after he scored 9 goals in the under-20 match against Honduras. After this surprising match, Haaland became a key player for Salzburg. He made history with the team and in the Champions League, by scoring a hat-trick in the first half of his Champions League debut against Genk on September 17, 2019. In his second season with Salzburg, he played a total of 22 games, starting 11, and scored 28 goals.
Borussia Dortmund (2020-22)
At the beginning of 2020, Haaland signed with Borussia Dortmund of the Bundesliga. He made his debut on January 18, 2020 against FC Augsburg, scoring his first hat-trick in 23 minutes. He became the second player in the team's history to score three goals during his Bundesliga debut, after Pierre-Emerick Aubameyang. On February 18, 2020, Haaland scored both goals in the 2-1 victory against Paris Saint-Germain in the first leg of the Champions League Round of 16. He had several standout performances before the league closed due to the pandemia.
On May 16, 2020, he scored the first goal after the league break against Schalke; it was his tenth goal in domestic competition. A month later, he scored two goals in a 2-0 victory against Leipzig, securing a spot in the Champions League for the following season for Dortmund. On September 19, 2020, he scored another double in the 3-0 victory against Borussia Mönchengladbach. Then he returned to score in the 2-3 loss on September 30th against Bayern Munich in the German Super Cup and in the league again against Bayern on November 7th. On November 21st, he scored four goals in 32 minutes in the 5-2 thrashing of Hertha Berlin. On the same day, he became the first Norwegian to win the Golden Boy award. Three days later, on November 24th, he scored a double in the 3-0 victory over Club Brugge. He became the fastest player to reach 15 goals in the UEFA Champions League, with only 12 appearances in the tournament.
In December 2020, Haaland suffered a tendon injury that kept him out of action until January 2021. He returned to the team on January 3, 2021, in the match against VfL Wolfsburg. Six days later, he scored a double in the 3-1 victory as a visitor against Leipzig. Then, he scored two goals in the 2-4 defeat against Mönchengladbach on January 22nd. He scored two goals and recorded an assist in the 2-3 victory against Sevilla F.C. in the first leg of the Champions League Round of 16, and later scored two more goals in the return match to secure Dortmund's passage to the quarterfinals. Although Dortmund was eliminated, Haaland became the top goal scorer of the competition (with 10 goals).
With the season finished, Haaland was named the best player of the Bundesliga 2020-21 after scoring 27 goals in 28 matches played.
Manchester City (2022)
On June 13, 2022, the transfer to Manchester City F.C. was completed with a five-year contract. He made his debut on July 30, 2022, in Manchester's 3-1 defeat against Liverpool.
Teams
Bryne F. K. (2016)
Molde F. K. (2017-18)
C. Red Bull Salzburgo (2018-19)
Borussia Dortmund (2020-22)
Manchester City F. C. (2022-act.)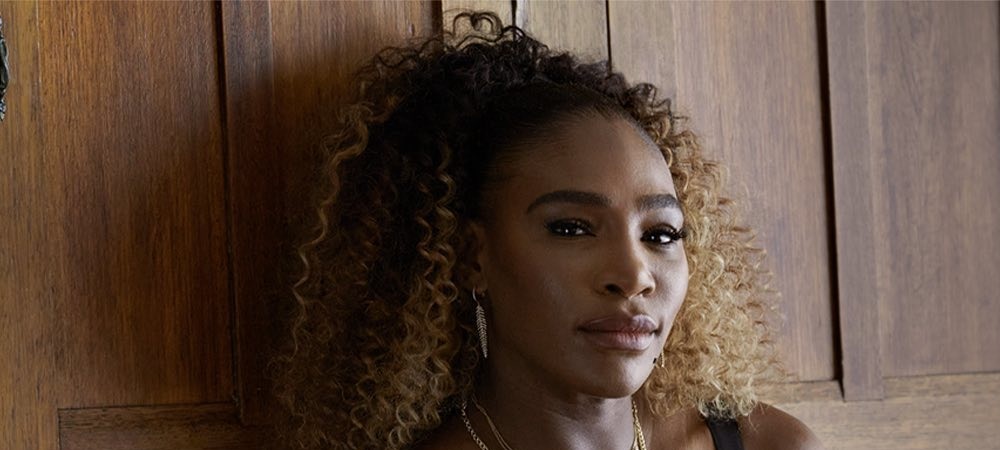 Biography of Serena Williams
Serena Jameka Williams Price (born September 26, 1981) is a professional tennis player from the United States, born in Saginaw, Michigan. Her father, Richard Williams, and her mother, Oracene, divorced in 2001. During her childhood, the family had to face difficulties due to her father's decisions, who, despite his favorable economic and social position, decided to move the family from Long Beach, on the West Coast of Los Angeles, to Compton, a closed and difficult neighborhood in the center of the city, with the goal of raising his daughters in a tough environment.
Beginnings in tennis
Since she was very young, she started training tennis, a sport that was mostly practiced by people of high economic standing. Serena trained tirelessly every day. Her father, Richard, supported her and saw her great talent, as well as his ambition to take advantage of her potential. Richard was always an ambitious and controlling man, so he became the manager of his two talented daughters. At the age of eleven, a rivalry emerged with her sister Venus, who also trained and had exceptional performance. At that time, she had won 63 consecutive regional level games.
Contract with Reebok
In 1991, Richard decided to seek out a well-known star coach located in Florida, Rick Macci. His father's decision had quick results and the family moved to a luxurious place in Florida after his daughter signed a contract with Reebok. Although Serena's progress was not as notable compared to Venus', she always showed her strength on the court. At the age of fourteen, she had the opportunity to enter the professional circuit with notable success. However, two years passed before she began to compete seriously.
How did she manage to finish her studies?
Venus has always been an inspiration to Serena. So, in 1997, when Venus reached the final stages of the US Open, but lost to then world number one Martina Hingis, it was a hard blow for the family but also a reason to keep training relentlessly. Due to their sporting responsibilities, the sisters finished school irregularly at an exclusive school of only thirty students located in Lake Placid, the Dwightwood Academy. Serena graduated in June 1999, the school administrators allowed her to graduate even though her grades were not the best because they knew that her future and talent was to compete professionally in this sport.
First African American player to win a Grand Slam
Although it seemed that the 1999 season was going to be better for Serena, it ended up being better for Venus. Then, Serena overtook Venus by winning her first Grand Slam title at the US Open. That moment in the history of Serena, her family, the United States, and also the African American population was glorious. It was the first time an African American player had won a Grand Slam. To add to the happiness, on April 5th of that year, Serena was able to enter the top ten and shortly after, in the doubles category, she and her sister won the French Open and the Federation Cup.
The Williams sisters
It is known that, on many occasions, while they were young, the Williams sisters had problems produced by competition and by the specialized press publications that usually compared them. In the year 2000, Venus defeated Serena in the final of the Lipton tournament. Serena showed great serenity and heartily congratulated her sister. Later, she won the Paris Indoor. That year, in the Wimbledon competition, Venus eliminated Serena in the semifinals, and later raised the title against Davenport. Additionally, both won doubles in two major tournaments: Roland Garros and the US Open.
By that time, the Williams' dominance was already being talked about and it was natural that when referring to one sister, the other would also be mentioned. Although they rarely competed together, their bond was very strong. Serena was already imposing herself as one of the best in the women's professional circuit. In 2002, she defeated Venus in the Wimbledon final with a score of 7-6 and 6-3. This was the best moment of her career as she reached the top spot in the Women's Tennis Association (WTA) ranking and by that time she already had sixteen international circuit titles.
On September 9th, Serena, 20 years old, amazed at the US Open with her latest display of power by defeating Venus in the final with a score of 6-4 and 6-3 in just 72 minutes. With this victory, she managed to tie with her elder sister in their personal matchups (5-5) and in Grand Slam titles, both with four each. It is important to highlight that Serena's impressive season included six titles, 45 wins and only 4 losses. An injury to her ankle prevented her from participating in the Australian Open, allowing American Jennifer Capriati to triumph.
Fifth Grand Slam title.
The following year, Serena did not win at Roland Garros, where she surprisingly fell in the semifinals to Belgian Justine Henin-Hardenne. However, she did win at Wimbledon, where the Venus-Serena final from the previous year was repeated. Serena added her fifth Grand Slam title. She was involved in a legal conflict with a German man who was harassing her. After being reported, he was arrested and imprisoned on March 3, 2002 for stripping in front of the reception of a hotel in Scottsdale (Arizona), where Serena was staying. Serena's father threatened the harasser with death and Serena threatened to kill him if her daughter suffered any harm.
Causes of her temporary retirement from tennis.
In September 2003, the family mourned when Yetunde, her sister, was murdered by a common criminal. After this, the sisters were off the courts for a while. Serena started taking acting classes with an experienced teacher in Los Angeles. In acting, she finds a moment of escape and claims to forget about her sporting commitments. Serena received the ESPY Athlete of the Year Award. Her popularity as an athlete allowed her to be a model and official image for several sports brands.
Contracts, performance, marriage.
First she signed with Puma, then with Nike, with whom she signed for an exorbitant amount of money. After studying acting, she began studying design, so now she is the designer of a sportswear brand: Aneres, she usually wears her clothes in competitions. We have not only seen her on the courts and in the advertisements but also in TV series such as ER, Law & Order, and Hair Show, among others. In 2016, she equaled the record of German Steffi Graf with 22 Grand Slam titles. In addition, she enjoyed a beautiful romantic relationship with Reddit co-founder Alexis Ohanian. They got married in 2016 and currently have a son.