Dwayne Johnson (The Rock)
Dwayne Johnson Biography
Dwayne Douglas Johnson (May 2, 1972). Former wrestler and actor. Also known as The Rock. He was born in Hayward, California, United States. His father, Rocky Johnson, and his maternal grandfather, Peter Maivia, were fighters. His life was developed in Bethlehem, State of Pennsylvania. During high school in Bethlehem, Johnson played football, participated with his team, in one of the most competitive football tournaments in the country.
Because of his talent, he received scholarship offers for several universities; He chose the University of Miami. In addition, he was on the Canadian team of the Calgary Stampeders. In 1990, he was a team player for the NCAA National Championship in Cannes. Unfortunately, a back injury professionally removed him from football.
Some years later, he recovered and began following in the footsteps of his predecessors in the career of professional wrestling. Influenced by his grandfather Peter Maivia, who was a star in the old WWF; who was a well-known fighter and had a peculiar aspect, the lower part of his body was full of tattoos. The tradition was continued by his father, Rocky Johnson, who was crowned champion in the couples version of the WWF. It was like that, as taken by the history and the family legacy, in the year 1996 began in the WWF with the name of Rocky Maivia, use the surname in honor of his grandfather.
Over time, he began to gain fame in the WWF, his style and appearance, like his grandfather's, full of tattoos. One of his most appreciated tattoos is a bull located on his right bicep, he gave it the name of The Brahma Bull. His fight nickname was modified by the commentators of the WWF, they began to call him The Rock, for his great strength and great musculature. Dwayne Johnson was 9 times World Champion during his professional wrestling career, also 7 times WWF Champion and 2 times WCW World Champion. His 7 reigns as WWF Champion catapulted him as the fighter with more reigns along with Triple H, beating Steve Austin and Hulk Hogan. He was also the winner of the Royal Rumble 2000 edition.
His fame, charisma and physical appearance helped him to enter the world of acting, although, it really was not something that he had in mind. But a proposal from a producer, made him contemplate the situation. It turned out to be as good actor as a fighter. His work as an actor began with appearances in television series, such as the case of Star Trek: Voyager or Those wonderful 70. He received very good reviews. In the year 2000, he was released to the giant screen, debuted with Longshot. Although the film that gave him international resonance was when he played the Scorpion King in The Return of the Mummy, he raised more than 400 million dollars.
After this appearance, his acting career took off, making appearances in El Tesoro Del Amazonas (2003), Doom (2005) or The Game Plan (2008), a film in which he played a football player who was visited by an unknown daughter. He also starred in The Haunted Mountain (2009), a film inspired by an Alexander Key novel in which he played a Las Vegas taxi driver named Jack Bruno. He was nominated for the 2006 Cannes Film Festival for his role in Southland Tales, directed by Richard Kelly.
Johnson wrote an autobiography, titled The Rock Says. The answer to this book was magnificent, quickly sold hundreds of copies, also, it was number one on the list of best-selling books of the New York Times.
Dwayne Johnson separated from his wife Dany García, renowned bodybuilder, in 2007, from this marriage was born his first daughter Simone Alexandra. Some years later, he started dating Lauren Hashian, a discreet singer, with whom he had his daughter Jasmine.
In Tooth fairy (2010), a mix of comedy and fantasy, he became Derek Thompson, an ice hockey player who is turned into a fairy after breaking the magical illusions of the people around him. In addition, he starred in the action film Faster. He broke all the box office records. A year later he joined the world-renowned series Fast & Furious V. Playing the agent of the Diplomatic Security Service of the United States, Luke Hobbs. His fame and recognition as an actor have been formidable, he won a leading role in the film Hercules launched in 2014.
Dwayne Johnson has also shown his human side, founded his own charity: The Rock Foundation. It works hand in hand with other foundations in order to donate games and didactic material to thousands of children residing in hospitals in the United States. It organizes every year the event called The Rock's Toy Chest.
Between 2015 and 2017 he performed in San Andreas, Central Intelligence and Baywatch: The Beach Rangers. He is currently working on several projects including the thriller Race to Witch Mountain; the comedy Tooth Fairy, where he shares set with Julie Andrewsy; and will participate in the film of the fantasy film directed by Peter Segal, Billy Batson and the Legend of Shazam.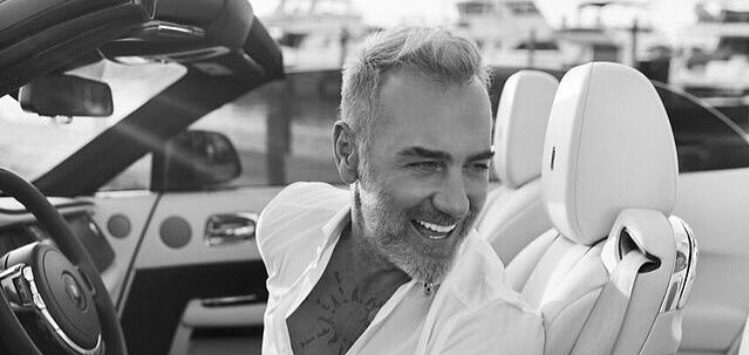 Gianluca Vacchi biography
Gianluca Vacchi (August 5, 1967) Born in Bologna, Italy. Italian businessman and artist, known for his eccentricity and the way he manages his money, throwing lavish and expensive parties. His lifestyle is frequently shared by the businessman through his social networks.
Vacchi is a man of more than 50 years who has attracted the attention of various people, not only for his eccentricity but also for his physical attractiveness. He currently has more than 15 million followers on instagram and since 2014 he has become popular with the hashtag #GVLifestyle.
There is only one life and you have to live it trying to enjoy everything you can.

Gianluca Vacchi
Family and studies
Gianluca Vacchi grew up in a wealthy family. From an early age he was interested in business. He studied economics and then began to be part of the family business. Later he founded the company IMA, a company dedicated to the creation of pharmaceuticals, cosmetics and others. Over time, Vacchi diversified his businesses, participating in different business projects. While doing this, he increased his capital, becoming a billionaire in a matter of a few years.
Change of lifestyle
After several years in the industry, Gianluca Vacchi left the family business in charge of his cousin and dedicated himself fully to enjoying his life, since at the age of forty he had not explored and enjoyed everything he achieved in those years. After thinking about the way he had lived until then, he decided to change his lifestyle. He started by working on his physique, improving his diet and exercising. He complemented this, with hours in the sauna and cryotherapy and shortly after the effort began to show.
At 47, he became known on social networks with a photo in which he was seen riding with the famous American actor Zac Efron.
Since then, he began to attract the attention of the public for his sensual dances, his eccentric and expensive parties. Likewise, through the networks he showed the large number of properties he owned: mansions, houses on the beach, yachts, motorcycles, cars and even a helicopter.
In 2016, the videos of Vacchi and his girlfriend at the time, Giorgia Gabriele, dancing to different Latin music songs, went viral. It was then that it became a trend. Many were interested in the lifestyle of the 49-year-old man, surrounded by beautiful women and with an exorbitant fortune. Since then, the daily life of the famous Italian has been shared by social networks. He is currently one of the most famous adult influencers on the platform.
The following year he ended his relationship with his girlfriend Gabriele, and a short time later he was seen with the beautiful Colombian model, Ariadna Gutiérrez. That same year he published his book Enjoy (2016), which, in Vacchi's words, is a conceptual biography. In this book, he talks about his experiences, gives advice and encourages people to enjoy life to the fullest.
During this period of his life, the Italian has been seen with famous Latin, American and European artists, which has increased his popularity. Among the artists with whom he has been associated are the singers: J. Balvin, Luis Fonsi, Sebastián Yatra, Ozuna, Daddy Yankee and Yandel, among others. In 2017, Vacchi was seized by Banco BPM. He later explained that this does not greatly affect his fortune and that it was all a disagreement with the bank.
Facet as DJ
In recent years, Gianluca Vacchi has dabbled in music as a DJ, working with great figures such as Steve Aoki, Nicola Zucchi, Christian Lena and Albertino, among others. He currently has a contract with the Spinnin 'Records label. His first song, entitled Viento, appeared under this label on August 13, 2017. This song currently has more than 27 million views on YouTube.
After Viento, Tump-it came out, a theme that quickly became a trend. In August he released the song Sigamos Bailando, his collaboration with Yandel and Luis Fonsi. Later he released the song Waglio, in collaboration with Alessio and in 2019, he released Asho mami and Mueve.
Vacchi has made several tours as a DJ and worked in clubs such as Amnesia Ibiza, Sutton Club and Sutton Barcelona, among others.
Gianluca news
Currently Vacchi, is romantically involved with the young model Sharon Fonseca. On May 10, 2020, during the celebration of Mother's Day, he announced via Instragram that he and his girlfriend were expecting their first child.
Birth of your child
On October 28, Gianluca and Sharon announced the birth of their daughter Blu Jerusalema Vacchi, true to their style, this announcement was made through their Instagram accounts.