David Copperfield Biography
David Seth Kotkin (September 16, 1956), Illusionist. Better known as David Copperfield. His place of origin was Metuchen, New Jersey, United States. He grew up in a Jewish family, his mother Rebecca, insurance agent, and his father Hyman Kotkin, owner of a haberdashery company. His mother was born in Jerusalem, while his paternal grandparents were Ukrainian Jewish immigrants.
Since he was a child he was attracted to magic shows. His family does not really know where such a taste came from. At his Metuchen High School, the clever kid sold tickets for his little magic show, he charged $ 5. He began to be recognized in his school as the magician Davino. Without finishing school, he taught magic at the University of New York, in Manhattan and left the attendees of the theater on Broadway unmoved with his act of Disappearance. His talent for magic impressed the American Magicians Society in the same way, becoming the youngest member.
He enrolled at Fordham University. He spent three years studying for his new project, a musical called The Magic Man in Chicago. As he had planned, this show was the highest grossing and most successful musical, he stayed at the Broadway in Chicago for four weeks. At this time, David Seth changed his stage name to David Copperfield, in honor of one of the protagonists of the Charles Dickens novels.
CBS offered him a contract for a series of specials known as The Magic of David Copperfield. In 1984, this program in its version number six achieved the Emmy Award and swept the TV rating. During his eighth year on CBS, his special was broadcast for the Chinese Republic. The main event was that of the impressive 4,480-kilometer wall of China. The historic structure became the illusion of David, this excellent magician, in a rapid movement managed to cross the wall, this episode generated hundreds of reactions.
"It was not a trick, but the result of a long mental exercise" David Copperfield
David Copperfield, innovated and gave a slight change to his career, founded a Magical Project, a program that sought the rehabilitation of people with disabilities to recover motor skills. The program was accredited by the American Occupational Therapy Association. Although, it was not very successful.
In 1993, he established a relationship with the German supermodel Claudia Schiffer, after he invited her to the stage to participate in an act of reading the mind. During the relationship, Schiffer appeared on several occasions on stage with David. This union generated exaggerated recognition and popularity. After a courtship of almost six years, in September 1999 announced their separation. Later, he started an affair with Chloe Gosselin, also a model and French fashion designer, 28 years younger than him. From this union, his daughter Sky was born in February 2010.
British chef Gavin Cox attended a David Copperfield show with his wife at a hotel in Las Vegas. Cox was chosen by the magician to participate in one of his tricks. It consisted of making him "disappear" with other 12 people to later appear behind the seats. But, unfortunately, Cox, during the act suffered a shoulder dislocation. Due to the operations performed, he suffered irreversible lesions in the brain and a disease similar to Parkinson's. For this serious event, the magician faced a demand.
His glory ascended and spread throughout the world, becoming the most celebrated magician in history. David Copperfield made magic a worldwide spectacle and the peak of his career took place in the nineties when he performed unimaginable acts, such as disappearing the Statue of Liberty and crossing the Great Wall of China.
Definitely, his talent has been admired since the tender age of 11 years. In his 60 years of life, several media in North America gave him recognition. The so-called Wizard of the Century and the Millennium has been awarded 21 Emmys for his special television programs; 11 Guinness Records, was honored on the Hollywood Walk of Fame with a star. All this has led to the title of Living Legend, granted by the Library of the United States Congress.
At 60, Copperfield is considered the richest and most famous magician of all time. He has a fortune of 150 million dollars, earned with his tours, his television programs and his merchandising. In his statements, he claimed to have sold more tickets to his shows than Frank Sinatra or Michael Jackson. Currently, he performs at the MGM Grand hotel and casino in Las Vegas, his show as a resident, and continues to attract hundreds of people.
As indicated by the annual publication "The list of best-paid celebrities" published by Forbes magazine, the illusionist holds the position 20 with a heritage that reaches 800 million dollars. Its capital includes 11 islands in the private Bahamas with an extension of more than 700 hectares which it has baptized as "Islands of Copperfield Bay".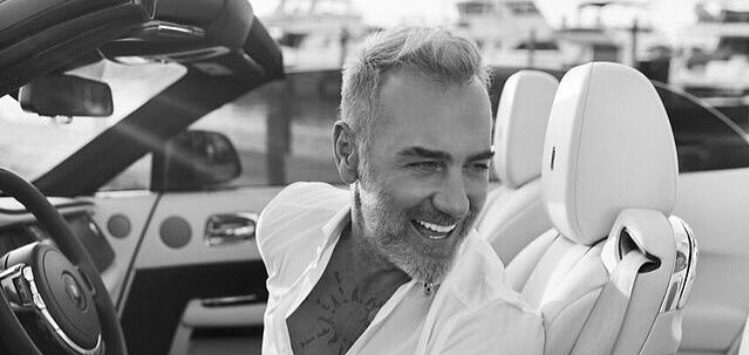 Gianluca Vacchi biography
Gianluca Vacchi (August 5, 1967) Born in Bologna, Italy. Italian businessman and artist, known for his eccentricity and the way he manages his money, throwing lavish and expensive parties. His lifestyle is frequently shared by the businessman through his social networks.
Vacchi is a man of more than 50 years who has attracted the attention of various people, not only for his eccentricity but also for his physical attractiveness. He currently has more than 15 million followers on instagram and since 2014 he has become popular with the hashtag #GVLifestyle.
There is only one life and you have to live it trying to enjoy everything you can.

Gianluca Vacchi
Family and studies
Gianluca Vacchi grew up in a wealthy family. From an early age he was interested in business. He studied economics and then began to be part of the family business. Later he founded the company IMA, a company dedicated to the creation of pharmaceuticals, cosmetics and others. Over time, Vacchi diversified his businesses, participating in different business projects. While doing this, he increased his capital, becoming a billionaire in a matter of a few years.
Change of lifestyle
After several years in the industry, Gianluca Vacchi left the family business in charge of his cousin and dedicated himself fully to enjoying his life, since at the age of forty he had not explored and enjoyed everything he achieved in those years. After thinking about the way he had lived until then, he decided to change his lifestyle. He started by working on his physique, improving his diet and exercising. He complemented this, with hours in the sauna and cryotherapy and shortly after the effort began to show.
At 47, he became known on social networks with a photo in which he was seen riding with the famous American actor Zac Efron.
Since then, he began to attract the attention of the public for his sensual dances, his eccentric and expensive parties. Likewise, through the networks he showed the large number of properties he owned: mansions, houses on the beach, yachts, motorcycles, cars and even a helicopter.
In 2016, the videos of Vacchi and his girlfriend at the time, Giorgia Gabriele, dancing to different Latin music songs, went viral. It was then that it became a trend. Many were interested in the lifestyle of the 49-year-old man, surrounded by beautiful women and with an exorbitant fortune. Since then, the daily life of the famous Italian has been shared by social networks. He is currently one of the most famous adult influencers on the platform.
The following year he ended his relationship with his girlfriend Gabriele, and a short time later he was seen with the beautiful Colombian model, Ariadna Gutiérrez. That same year he published his book Enjoy (2016), which, in Vacchi's words, is a conceptual biography. In this book, he talks about his experiences, gives advice and encourages people to enjoy life to the fullest.
During this period of his life, the Italian has been seen with famous Latin, American and European artists, which has increased his popularity. Among the artists with whom he has been associated are the singers: J. Balvin, Luis Fonsi, Sebastián Yatra, Ozuna, Daddy Yankee and Yandel, among others. In 2017, Vacchi was seized by Banco BPM. He later explained that this does not greatly affect his fortune and that it was all a disagreement with the bank.
Facet as DJ
In recent years, Gianluca Vacchi has dabbled in music as a DJ, working with great figures such as Steve Aoki, Nicola Zucchi, Christian Lena and Albertino, among others. He currently has a contract with the Spinnin 'Records label. His first song, entitled Viento, appeared under this label on August 13, 2017. This song currently has more than 27 million views on YouTube.
After Viento, Tump-it came out, a theme that quickly became a trend. In August he released the song Sigamos Bailando, his collaboration with Yandel and Luis Fonsi. Later he released the song Waglio, in collaboration with Alessio and in 2019, he released Asho mami and Mueve.
Vacchi has made several tours as a DJ and worked in clubs such as Amnesia Ibiza, Sutton Club and Sutton Barcelona, among others.
Gianluca news
Currently Vacchi, is romantically involved with the young model Sharon Fonseca. On May 10, 2020, during the celebration of Mother's Day, he announced via Instragram that he and his girlfriend were expecting their first child.
Birth of your child
On October 28, Gianluca and Sharon announced the birth of their daughter Blu Jerusalema Vacchi, true to their style, this announcement was made through their Instagram accounts.