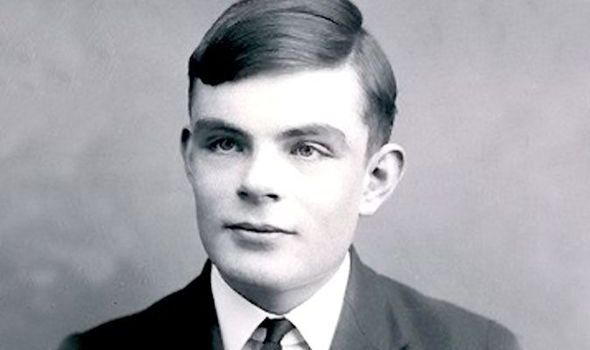 Alan TuringBiography
Alan Mathison Turing was an English mathematician, logician, computer scientist, cryptographer, philosopher, marathon runner and British ultra-distance runner. Turing is well-known for being one of the fathers of computer science and the forerunner of modern computing. He also had to do with the formalization of the concept of algorithm and computation. Alan was born on June 23, 1912, in London, England, and was the son of Julius Mathison Turing and Ethel Sara Stoney.
As a child, he lived in India for a long time because his father worked in the Colonial Administration of that country. During his childhood, he became interested in reading, puzzles, and numbers. At the age of 6, he began his studies at St. Michael's high school, where his teachers quickly saw his great abilities. At the age of 8 years, his interest in knowledge and chemical experimentation was so high that he designed a small laboratory in his house.
In 1926, Turing entered the Sherborne boarding school in Dorset, where he met Christopher Morcom and they became good friends. However, Morcom passed away sometime later, which was a big blow for Alan Turing, so much so that he became atheist. The young man began to lean towards mathematics and science, an attitude that did not attribute him respect from his professors; even so, he won a large part of the mathematical prizes that were given in the school.
He studied at King's College, the University of Cambridge, where he graduated successfully. Later, he moved to the University of Princeton in the United States, where he worked with the logician Alonzo Church and received the teachings of Godfrey Harold Hardy. After his excellent performance, in 1935 Alan Turing was appointed as professor in King's College.
By 1936, Alonzo Church and Alan Turing showed that it was impossible to write the Entscheidungsproblem, which meant decision problem and which sought to find a general algorithm that would decide whether a first-order calculation formula was a theorem. They also concluded that it is impossible to make the decision with a general algorithm if certain concrete sentences of the arithmetic are true or false.
At that time, thanks to the work done by Alan Turing and Alonzo Church, they formulated the Church-Turing Thesis, which formulated that "All algorithms are equivalent to a Turing machine." The Church-Turing thesis stated that any computational model has the same algorithmic capabilities, or was a subset of those that a Turing machine had.
In 1936, Turing also published his important study "Computable numbers, with an application to the Entscheidungsproblem" Alan Turing reformulated the results achieved by Kurt Gödel in 1931 on the limits of demonstrability and computation, replacing the formal language described by Gödel and convert it in what today is known as Turing machine, formal and simple devices. He verified that the machine was capable of solving any mathematical problem that could be represented by an algorithm. He also pioneered the concept of the universal machine (Turing), stating that that machine could perform the same tasks as any other type of machine.
In 1938, he returned to England to study philosophy of mathematics, and in that same year, he obtained a doctorate at Princeton. In his speech, he raised the concept of hypercomputing, in which he deepened the Turing machines with the so-called oracle machines, which were able to study problems that did not have an algorithmic solution.
In 1939, he would return to Cambridge, where he attended the lectures of Ludwig Wittgenstein on the foundations of mathematics, where both presented their positions: Turing supported the mathematical formalism and Wittgenstein said that mathematics was overrated and did not find absolute truths.
In the Second World War, Alan Turing was one of the main creators of the works of Bletchley Park to discover the Nazi secret codes. His studies on the Fish system helped to develop the first digital electronic programmable computer called Colossus, which was designed by Max Newman and his work group and built by the Thomas Flowers group in 1943. At that time, he also designed the bombe, which was an electromechanical machine used to break the codes of the Enigma machine and allow the allies to anticipate the attacks and Nazi military movements.
Around 1945, he arrived in Richmond, London, to perform work in the National Physics Laboratory (NPL) in the design of the ACE (Automatic Computer Engine or Automatic Computing Engine). In 1946, he exhibited a study that would become the first detailed design of an automatic computer. A year later, he wrote a work on artificial intelligence, which was not published while he was alive.
In the middle of 1948, Alan Turing was appointed deputy director of the computer lab at the University of Manchester and was commissioned to work on the software of one of the first real computers, the Manchester Mark I. In the month of October 1950, he made more abstract studies, which he published in his article "Computing machinery and intelligence."
Alan Turing worked with Norbert Wiener in the development of cybernetics, a branch of studies that was generated from the demand for control systems that required in the development of production techniques from the twentieth century. As of 1952, he worked in mathematical biology, specifically in morphogenesis. In that same year, he published a work on that subject entitled "Chemical foundations of morphogenesis" where he used reaction-diffusion equations. Also in the year 1952, Arnold Murray, who was Turing's lover, served as an accomplice to steal in the house of his partner. Alan filed the complaint with the police, but during the police investigation, he accepted his homosexuality, for which charges of gross indecency and sexual perversion were imputed to him. He considered that he should not apologize to anyone, for which he was condemned.
Alan Turing would die on June 7, 1954, in Wilmslow, Cheshire, because of a poisoning with an apple injected with cyanide.
TRIBUTES
A statue of Turing was inaugurated in Manchester on June 23, 2001, in honor of the 50th anniversary of his death.
In honor of Alan Turing, the Association for Computing Machinery annually awards the Turing Award to outstanding people for their contributions techniques to the world of computing.
The Alan Turing Institute was inaugurated in 2004.
On June 5, 2004, a commemoration of Turing's life and work was held at the University of Manchester, organized by the British Logic Colloquium and the British Society for the History of Mathematics.
On October 28, 2004, a bronze statue of Alan Turing was discovered, sculpted by John W. Mills at the University of Surrey.
On June 23, 2012, in honor of the centenary of his birth, Google dedicated a doodle in tribute to Turing.
The Imitation Game, a film of the year 2014, tells the life of the mathematician Alan Turing and his decisive influence on the development of the Second World War.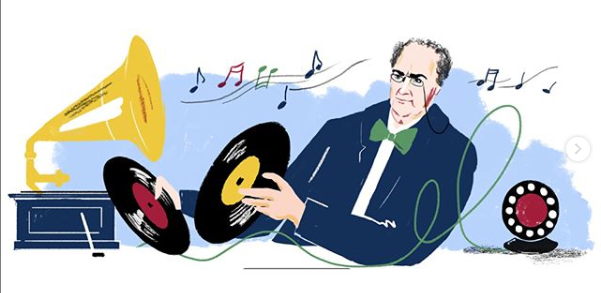 Emil Berliner Biography
Emil Berliner (May 20, 1851 – August 3, 1929) inventor. He was born in Hannover, Germany. He grew up in a Jewish environment. Due to a complex economic situation, he had to work to help his parents from a young age, so he did not attend school regularly. His first paid job was as a painter, for later, at age 16, to enter as a clerk in a food store.
According to his experience, he began to be interested in the production methods of the factory where he worked. He was a very versatile man since he built a weaving machine that improved existing ones; It was one of the many inventions of German. In 1869, when a system of repression against Jewish families was installed, Berliner obtained a position in a company located in Washington, United States. The family raised the money needed to support his trip and, especially, to prevent his son from being sent to the army ranks. Then, Emil settled in New York with the idea of ​​finding a job. He returned to Washington. Despite the economic difficulties, he studied at the Cooper Institute electricity and physics.
Motivated by scientists who were researching about the conversion of sound into electrical impulses that could be transmitted on wires; Berliner experimented with the electrical transmission of sound. Thanks to his research he was granted an assistant position of Dr. Constantine Fahlberg in his prestigious chemical laboratory. Soon he invented two electrical mechanisms that reproduced the sound more authentically and made it transmissible in the distance.
The responsibility for creating the prototypes of the microphone and the transformer was Berliner, the two basic mechanisms for electronic communication, in addition to building a carbon transmitter microphone and an iron diagram transmitter. It is clear that sometimes his inventions were inconvenient, but Berliner managed to solve these problems. Occasionally, he used objects that had not previously been used or integrated into an invention.
It was based on the telephone number of Reiss and Antonio Meucci and from there make some progress. Besides, he powered the device invented by Alexander Graham Bell. In this way, Berliner is identified as the inventor of the modern telephone. Berliner offered his invention to the subsidiary of the Bell Company in New York, the offer was finalized in the year of 1878 for $ 50,000. It was not long before the conflict with the Western Union arrived over the patent of the invention, the American courts appealed in favor of Berliner.
In 1881, together with his brother Joseph, he founded the Telephone-Fabrik Berliner, with branches in Vienna, Berlin, Budapest, London, and Paris. Later, he returned to Washington in 1883, where he advanced his independent research on the mechanical reproduction of sound. Berliner created new reproduction materials to improve his invention. One of his most significant contributions was the improvement of the phonograph, the first was patented in 1877.
I create a record player baptized gramophone, with a needle system that would be hegemonic until the end of the 20th century. In 1887 he patented his invention. A year later, the Franklin Institute in Philadelphia awarded him the Scott Medal for his contribution to the development of acoustics and sound reproduction. With collaboration, he founded the United States Gramophone Company in 1893; In 1897 he created the Berliner Gramophone Company in Montreal. He quickly arrived in Europe: he opened the Deutsche Gramaphon Gesellschaft and Britain's Gramophone Co.
We must indicate that Berliner worked in other areas such as aeronautics. Then, he was the first to use a light internal combustion engine. His work was very important because years later he joined the airplanes. His son, Henry Berliner, designed a helicopter that flew successfully in early 1919. His interest in the problems of sound reproduction was greater, which is why he strove to create acoustic tiles for use in auditoriums and concert halls. His contribution was recognized in 1913 and he was awarded the Elliot Cresson Medal in recognition of his scientific contribution to telephony and acoustics. He died on August 3, 1929, as a result of a heart attack.
WORKS
Conclusions
The Milk Question and Mortality Among Children Here and in Germany: An Observation
Some Neglected Essentials in the Fight against Consumption
A Study Towards the Solution of Industrial Problems in the New Zionist Commonwealth
Muddy Jim and other rhymes: 12 illustrated health jingles for children