Stephen Curry biography
Wardell Stephen Curry II (March 14, 1988) basketball player of the Golden State Warriors. He was born in Akron, Ohio, United States. However, because his father's job he lived most of his life in Charlotte, North Carolina. His father is former NBA player Dell Curry and his mother, Sonya Curry, former volleyball player. His brother, Seth Curry, is also a basketball player in the Dallas Mavericks. He was raised under the evangelical Christian religion. He studied elementary at Montessori School, then went to Queensway Christian College in Ontario, where he was part of the basketball team, demonstrating his great ability. He graduated from the Charlotte Christian Institute, where he managed to be champion of the conference three times in a row.
His beginnings in professional basketball were in his university stage with the Wildcats of Davidson College after receiving a scholarship, for three days. From the beginning he showed without a doubt his great skill, for example, in a game against Michigan Wolverines got 32 points, 9 rebounds, and 4 assists. He finished the season and was chosen the second best rookie scorer in the entire country behind Kevin Durant. In his second season he returned to obtain the best averages.
As a result, he was elected in the second All-American team, he was a finalist for the John R. Wooden Award. In the last season he played before finishing his university career he was a leader in the NCAA scoring, he scored a score of 28.6 points per game. He was included in the first All-American team. In 2009, thanks to his great work, he was hired for a value of 12.7 million dollars for four seasons. He debuted as a base in the NBA on October 28 against the Houston Rockets. He only needed to play the first season to be selected for the first team of the All-Rookie.
He got his first triple-double in February 2010, 36 points, 13 assists, and 10 rebounds. Curry was awarded the NBA Sportsmanship Award. But, unfortunately, the player had a series of injuries that markedly stopped his career, but his contract continued to run. He was subjected to several recovery processes. When recovering he began to improve his campaign remarkably. He earned his personal best in 54 points in a game and beat the NBA 3-pointers record in one season. He finished the year playing his first playoffs.
During the 2013 campaign, he participated for the first time in the match of the stars. He was one of the most voted players to play the All-Star that year, with this he was able to overcome his own record of triples, another achievement of the basketball player was to enter the MVP of the regular season and become the NBA champion against the Cleveland Cavaliers. He was summoned in 2007 to be part of the U-19 team of his country, the team won the silver medal. This was the way to be signed by the American absolute team. On two occasions he has achieved the gold medal at the World Basketball Championships of 2010 and 2014.
He participated in the All-Star skills contest in 2011 and won the same thing in the triple contest in 2015. The young man continued working on this ability to get the record and he managed it with 303 triples. But, that was not all, Curry continued to work to overcome this mark and in 2016 he set the record in 402. He was again indisputably named by the NBA MVP for the second year in a row. Now, for the year 2017, Stephen Curry with the help of Kevin Durant assured Golden State Warriors his second ring of NBA champions in the last three years, the fifth in his career.
The warriors finished 'playoffs' in a very strong, close and exciting match with Cleveland Cavaliers. The score was (129-120) in their favor. Curry and his team finished the final with a 4-1. The player finished with 26.8 points, 8 rebounds, 9.4 assists and 2.2 steals per game, we really must point out that they are brilliant results. Since his adolescence, he was the boyfriend of Ayesha Alexander. With her, he married on July 30, 2011, in Charlotte, North Carolina. From this union were born two daughters, Riley, and Ryan Carson, in 2011 and 2015, respectively.
At the moment he is considered by the specialists like the best shooter in basketball history, with this he has obtained the love and the admiration of the fans. Many fans of other NBA teams ask for photographs and autographs at the end of the games. He is a fast player, able to steal the ball, dribble and run, evading his opponents. One of the greatest accolades he has received throughout his career has been to be compared to the legendary star Michael Jordan.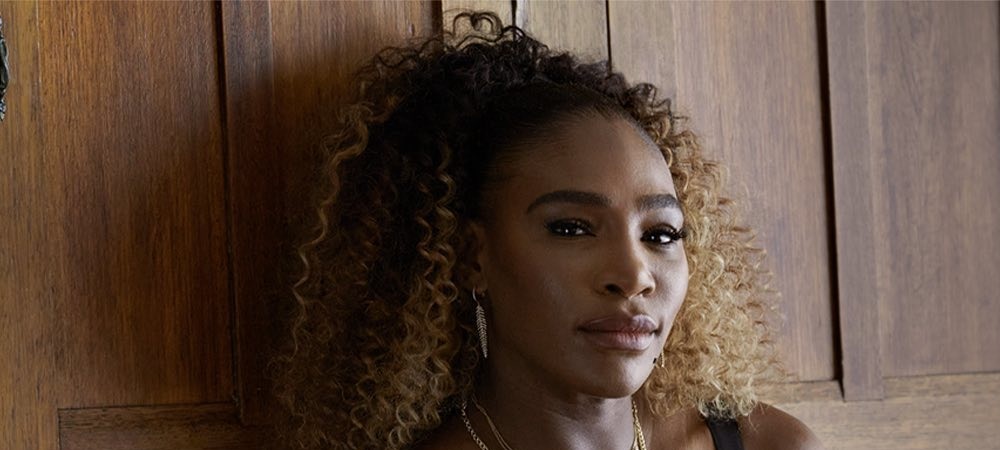 Biography of Serena Williams
Serena Jameka Williams Price (born September 26, 1981) is a professional tennis player from the United States, born in Saginaw, Michigan. Her father, Richard Williams, and her mother, Oracene, divorced in 2001. During her childhood, the family had to face difficulties due to her father's decisions, who, despite his favorable economic and social position, decided to move the family from Long Beach, on the West Coast of Los Angeles, to Compton, a closed and difficult neighborhood in the center of the city, with the goal of raising his daughters in a tough environment.
Beginnings in tennis
Since she was very young, she started training tennis, a sport that was mostly practiced by people of high economic standing. Serena trained tirelessly every day. Her father, Richard, supported her and saw her great talent, as well as his ambition to take advantage of her potential. Richard was always an ambitious and controlling man, so he became the manager of his two talented daughters. At the age of eleven, a rivalry emerged with her sister Venus, who also trained and had exceptional performance. At that time, she had won 63 consecutive regional level games.
Contract with Reebok
In 1991, Richard decided to seek out a well-known star coach located in Florida, Rick Macci. His father's decision had quick results and the family moved to a luxurious place in Florida after his daughter signed a contract with Reebok. Although Serena's progress was not as notable compared to Venus', she always showed her strength on the court. At the age of fourteen, she had the opportunity to enter the professional circuit with notable success. However, two years passed before she began to compete seriously.
How did she manage to finish her studies?
Venus has always been an inspiration to Serena. So, in 1997, when Venus reached the final stages of the US Open, but lost to then world number one Martina Hingis, it was a hard blow for the family but also a reason to keep training relentlessly. Due to their sporting responsibilities, the sisters finished school irregularly at an exclusive school of only thirty students located in Lake Placid, the Dwightwood Academy. Serena graduated in June 1999, the school administrators allowed her to graduate even though her grades were not the best because they knew that her future and talent was to compete professionally in this sport.
First African American player to win a Grand Slam
Although it seemed that the 1999 season was going to be better for Serena, it ended up being better for Venus. Then, Serena overtook Venus by winning her first Grand Slam title at the US Open. That moment in the history of Serena, her family, the United States, and also the African American population was glorious. It was the first time an African American player had won a Grand Slam. To add to the happiness, on April 5th of that year, Serena was able to enter the top ten and shortly after, in the doubles category, she and her sister won the French Open and the Federation Cup.
The Williams sisters
It is known that, on many occasions, while they were young, the Williams sisters had problems produced by competition and by the specialized press publications that usually compared them. In the year 2000, Venus defeated Serena in the final of the Lipton tournament. Serena showed great serenity and heartily congratulated her sister. Later, she won the Paris Indoor. That year, in the Wimbledon competition, Venus eliminated Serena in the semifinals, and later raised the title against Davenport. Additionally, both won doubles in two major tournaments: Roland Garros and the US Open.
By that time, the Williams' dominance was already being talked about and it was natural that when referring to one sister, the other would also be mentioned. Although they rarely competed together, their bond was very strong. Serena was already imposing herself as one of the best in the women's professional circuit. In 2002, she defeated Venus in the Wimbledon final with a score of 7-6 and 6-3. This was the best moment of her career as she reached the top spot in the Women's Tennis Association (WTA) ranking and by that time she already had sixteen international circuit titles.
On September 9th, Serena, 20 years old, amazed at the US Open with her latest display of power by defeating Venus in the final with a score of 6-4 and 6-3 in just 72 minutes. With this victory, she managed to tie with her elder sister in their personal matchups (5-5) and in Grand Slam titles, both with four each. It is important to highlight that Serena's impressive season included six titles, 45 wins and only 4 losses. An injury to her ankle prevented her from participating in the Australian Open, allowing American Jennifer Capriati to triumph.
Fifth Grand Slam title.
The following year, Serena did not win at Roland Garros, where she surprisingly fell in the semifinals to Belgian Justine Henin-Hardenne. However, she did win at Wimbledon, where the Venus-Serena final from the previous year was repeated. Serena added her fifth Grand Slam title. She was involved in a legal conflict with a German man who was harassing her. After being reported, he was arrested and imprisoned on March 3, 2002 for stripping in front of the reception of a hotel in Scottsdale (Arizona), where Serena was staying. Serena's father threatened the harasser with death and Serena threatened to kill him if her daughter suffered any harm.
Causes of her temporary retirement from tennis.
In September 2003, the family mourned when Yetunde, her sister, was murdered by a common criminal. After this, the sisters were off the courts for a while. Serena started taking acting classes with an experienced teacher in Los Angeles. In acting, she finds a moment of escape and claims to forget about her sporting commitments. Serena received the ESPY Athlete of the Year Award. Her popularity as an athlete allowed her to be a model and official image for several sports brands.
Contracts, performance, marriage.
First she signed with Puma, then with Nike, with whom she signed for an exorbitant amount of money. After studying acting, she began studying design, so now she is the designer of a sportswear brand: Aneres, she usually wears her clothes in competitions. We have not only seen her on the courts and in the advertisements but also in TV series such as ER, Law & Order, and Hair Show, among others. In 2016, she equaled the record of German Steffi Graf with 22 Grand Slam titles. In addition, she enjoyed a beautiful romantic relationship with Reddit co-founder Alexis Ohanian. They got married in 2016 and currently have a son.