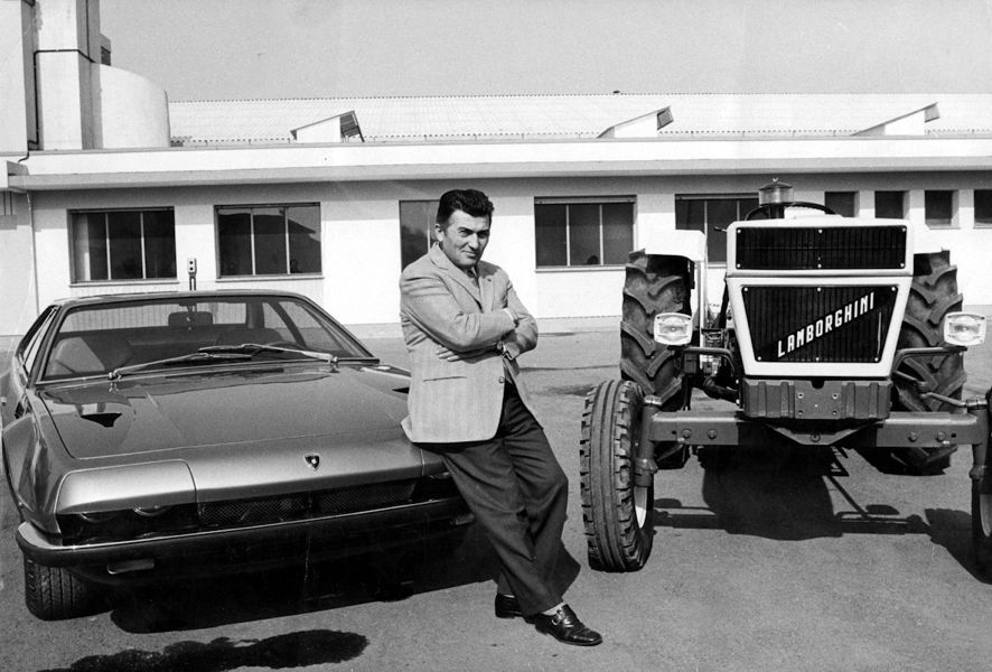 Ferruccio Lamborghini Biography
Ferruccio Elio Arturo Lamborghini was a manufacturer of tractors and sports cars, founder of the Lamborghini brand. He was born on April 28, 1916, in Cento, a small province of Ferrara, Italy. He was recognized as a wealthy person and an excellent manufacturer of tractors, heating unit systems and air conditioners.
The Italian manufacturer decided to create the Lamborghini company, with the aim of generating competition for Enzo Ferrari. It all started after the Second World War when a man acquired a Ferrari sports car, in which he observed that there were clutch components that were the same as those he used on his tractors. In addition to that, his Ferrari was presented with some flaws. For reasons like these, he decided to visit Enzo Ferrari to tell him about the problems he was presented with his car; he could not get any solution, so he decided to build a better sports car than Ferrari. That man was Ferruccio Lamborghini.
To fulfill his objective, in May 1963 Ferruccio founded the company "Automobili Ferruccio Lamborghini" and hired former Ferrari engineers Gianpaolo Dallara and Robert Wallace to design and develop his cars. The first car that was manufactured in the company was the Lamborghini 350 GT, which was far superior in terms of the defects that Ferruccio had found in the Ferrari and was presented at the Car Fair in Turin in that same year.
The year 1967 arrived, and all of the specialized media turned to admire the Miura, the prototype that catapulted the brand to a very high level of success. His name is due to a Spanish bull-fighting livestock since the founder of Lamborghini was passionate about bullfighting and hence the brand's logo. Besides to having all his cars have names of these animals.
In 1972, he made major investments to improve the production capacity of his factory, in order to comply with a massive order that had been made from South America. Sometime later, Lamborghini was informed that the order was canceled, so the Italian was forced to sell a part of his company to recover some of the money invested. In that same year, Georges-Henri Rossetti joined the company. In 1973, Ferruccio Lamborghini sold the part of the company that still had to René Leimer, to go live in a vineyard that had bought years ago and engage in agricultural work.
As a manufacturer of sports cars, Ferruccio Lamborghini was unique in his work. While other sports car manufacturers focused on demonstrating the speed, reliability, and technical superiority of their cars for participation in racing engines, Lamborghini established that their company would not participate or support the racing engines.
Ferruccio Lamborghini died in Perugia, Italy on February 20, 1993, at the age of 76, because of heart and respiratory problems.

Luciano Benetton Biography
Luciano Benetton (May 13, 1935) Born in Ponzano, Treviso, Italy. An Italian businessman and fashion designer, co-founder of the Benetton Group company, one of the most popular and important fashion companies in the world. After working for several years as a clerk in a clothing store, Benetton ventured as an entrepreneur selling the garments her sister made. When he won recognition, he created with his brothers the firm Fratelli Benetton (1965), with which he expanded and ventured into various commercial sectors linked to the world of fashion, such as perfumery. Under his command, the company became famous in the nineties for the publication of a series of controversial advertisements directed by Oliviero Toscani. He entered politics in the 1990s and left the company in charge of his son in 2012.
FAMILY AND BEGINNINGS
Born in an Italian province with an extensive textile tradition, Benetton had as a father a small businessman who died of malaria in 1945, having emigrated to Africa to work as a truck driver. Benetton, who at that time was only nine years old, left school to work and be able to support his mother and three sisters. He got a job as a clerk in a fabric and clothing store, where he stayed for several years. In 1955, a young twenty-year-old Benetton proposed to his sister, who at the time worked weaving clothes for a workshop, who worked together and created their own business, she would cook and sell her work in various stores.
With little money the two of them started their project and understanding that they had to sacrifice their comfort to grow, they sold some of their personal items, such as a bicycle, a guitar and other objects of little value, with which they collected the money to buy their first machine to knit. At that time, his sister Giuliana spent more than 18 hours in front of the machine, creating her first jerseys, which Luciano initially sold at the store she worked on and shortly thereafter began promoting them in other stores, gradually winning a clientele faithful. Determined to grow the business, Benetton created his own sample and presented it to various merchants in the town, in a short time getting his first large order, which consisted of 700 garments.
As the demand progressively increased, the brothers began to expand and hire more artisan employees, making themselves known in the region for their work and quality. Thanks to their hard work and the recompense they had, they founded in 1965 the commercial firm Fratelli Benetton, together with their brothers Gilberto and Carlo. The four brothers continued to work and publicize the brand, which in a short time became one of the best-known clothing companies in the country. By the end of the 1960s, the company opened its first headquarters abroad, establishing a store in Paris.
LUCIANO BENETTON'S PATH
After creating his signature Fratelli Benetton with his three brothers (Giuliana, Gilberto, and Carlo), Benetton took command of the company in 1974, at which time the company was known nationally and internationally. By the mid-1970s, the Benetton group was a multinational that had nine factories, five in its country and four abroad (Scotland, Spain, the United States, and France). Over the years the company continued to grow and to reach more than 1,300 stores abroad by the end of the 1980s. In addition to stores in the United States, Spain, France, and Scotland, they had stores in Bucharest (Romania), Prague (Czech Republic) and Budapest (Hungary). Each year the group sold more than seventy million garments and earned more than 152,000 million pesetas, trading on the stock exchanges in Frankfurt, Tokyo and New York (Wall Street). These gains made him one of the most prominent textile sector entrepreneurs of the time, along with great personalities such as Amancio Ortega and Isak Andic.
Understanding that the business needed to diversify to continue growing, Benetton launched a bathroom line, created a perfume manufactured by Hermés and designed a financial holding company called Edizione, which diversified in infrastructure, beverages, food, real estate, and agriculture. In a short time Edizione bought Nordica, a renowned sporting goods and clothing company for it, with which it was not only established as one of the most relevant companies in Italy, but also as one of the most complete fashion companies in the world (casual clothes, sports clothes and work clothes, etc).
The company's success was affected in the 1990s, with the publication of a series of controversial commercials directed by photographer Oliviero Toscani. In the ads you could see a newborn baby covered in blood, a nun kissing a priest and a family accompanying a dying young man with AIDS. Although the campaign was designed to make the viewer reflect on the importance of the other, human rights and miscegenation, the message was lost and the viewers were scandalized, criticizing the firm for the proposal. Criticism continued when Benetton appeared naked covering her private parts in a newspaper to announce the Clothing Redistribution Project campaign, a charitable operation that sought to collect used clothing and send it to the Third World.
Although he was harshly criticized for his campaigns and eccentricity, Benetton entered politics in 1992. He obtained a seat in the Senate as a member of the Italian Republican Party, however, his passage through it was overshadowed by the emergence of the investigation against him for the bankruptcy of Fiorucci. Leaving politics and focused on business, Benetton secured a large number of properties in Argentina, becoming one of the most important landowners in the country. By the end of the 1990s, the company had expanded, earning more than 300,000 million pesetas a year. In the new millennium, he included in his business his sons Alessandro and Rocco, who were in charge of the company at his departure in 2012. The story of this renowned designer and businessman was collected in the Benetton autobiography, the color of success (1991).