Edgar Allan Poe Biography
Edgar Allan Poe was born in Boston, United States, on January 19, 1809, and died on October 7, 1849, in Baltimore, United States. He was an American writer, critic, journalist, and poet. He is recognized as one of the fathers of the modern story, as well as the creator of the police genre. In addition, he was a great writer of both science fiction and horror works.
Edgar's father died a year after he was born, and his mother, Elizabeth, would die a year later, in 1811, due to tuberculosis. Since his older brother was already being cared for by his grandparents, Edgar and his sister Rosalie were adopted by two neighboring families in Richmond: the one by the Allan and the other by the Mackenciees. John Allan, Edgar's stepfather who would give him his last name, was a trader of Scottish origin. This one was bad-tempered, and it is said that, in addition to not supporting Poe's literary destiny, he never adopted him legally. On the contrary, his wife, Frances, put all his faith on Edgar Allan Poe and always filled him with affection.
After baptizing Edgar in 1812, the Allan family traveled to Scotland in 1815, where Poe studied in Irvine. Later, the Allan family moved to London in 1816, where Poe studied at one of Chelsea's boarding schools, where he learned to write in Latin and speak French. However, the family had traveled because John Allan had business in the old continent. As these were not successful, the Allan family returned to Richmond in 1820. Here Edgar Allan Poe received education in the best schools.
When he was 16, Edgar fell in love with his neighbor, Sarah Elmira Royster. However, after enrolling at the University of Virginia, in Charlottesville, he stopped having contact with her and worsened the relationship with his stepfather, John Allan, for the debts he had due to gambling. It is said that Poe resorted to the game as a way of survival because money was not enough for him. It is also said that in this university he had a reputation for being arrogant and pretending, on many occasions, to know more than he really knew.
Says Cortázar, who translated his work into Spanish, that in this institution Poe would relate for the first time to alcohol. Finally, after a year of staying at the University of Virginia, Poe abandoned his studies in 1827 because of the anarchist and decadent climate that surrounded him.
"When a madman seems completely sensible, it's time, in effect, to put the straitjacket on him." Edgar Allan Poe
In the middle of that same year, Poe traveled to Norfolk and then to Boston. When he discovered after several weeks that he did not have the resources to live properly, he enlisted in the army, lying about his name and his age. While he was taken along with his regiment to Charleston and was, in turn, promoted to artificer, his first book, Tamerlane and other poems, circulated in very few hands in Boston.
After two years of service, which had to be five, and being Poe sergeant major of artillery, sought the help of his stepfather to graduate and finish faster the military service. John Allan, affected by the death of his wife Frances, agreed to help him by enrolling him in the West Point Academy, although over time he had several discussions with his stepson. Because of them, Poe drastically changed his behavior and was tried in the court-martial for disobedience and leave the service in 1831. That same year he left for New York and published poems with the help of his former colleagues at the Academy. And later he moved to his aunt's house, where his brother Henry died that same year, in part, because of alcoholism.
Here, Poe focused on writing stories and starting a journalistic career. In 1833, he earned $ 50 in a prize for his story Manuscript found in a bottle. This, in turn, is read by John P. Kennedy, who positioned him as editor of the Southern Literary Messenger. Although he would later be discovered in a drunken state several times during his post and be fired. Added to this, in 1834 his stepfather, John Allan, died without leaving any inheritance. Despite this, Poe married in 1835 with his cousin Virginia Eliza Clemm, who was thirteen years old at the time and managed to return to Southern Literary Messenger swearing to behave better. Which he did until 1837 when he voluntarily retired.
In 1838, he published his only novel, The Narrative of Arthur Gordon Pym, although it had little success. The following year he became editor in chief of Burton's Gentleman's Magazine and published Tales of the Grotesque and Arabesque. In 1840, he started working for Graham's Magazine and published in it some of his most representative stories, such as The Crimes of Morgue Street and The Golden Beetle. This greatly improved his lifestyle, although from 1842 his wife Virginia began to present symptoms of tuberculosis, and this led Poe to resort to drinking more frequently.
After leaving the Graham's Magazine, and tried several positions, Poe managed to become the owner of the Broadway Journal. In 1845, he published his most famous poem, The Raven, for which he would be recognized throughout the country, but of which he would have received only $ 9 for his publication. Then he held with the poet Frances Sargent Osgood a relationship that Virginia herself consented to. This raised too much controversy between the social circle of both, so they had to stop seeing each other.
In 1847, Virginia died of tuberculosis, and Poe's behavior and mood were clearly affected, to the point of performing several erratic actions and inducing him to alcoholism. Finally, Poe returned to Richmond, where he met his love of youth, Sarah Elmira Royster. Both agreed to marry on October 17, 1849. But a delirious Edgar Allan Poe was found in the streets of Baltimore on October 3, 1849, which would be transferred to Washington College Hospital, where he would die on October 7 of that year. same year.
"Death has to be taken with courage and then invite her to a drink." Edgar Allan Poe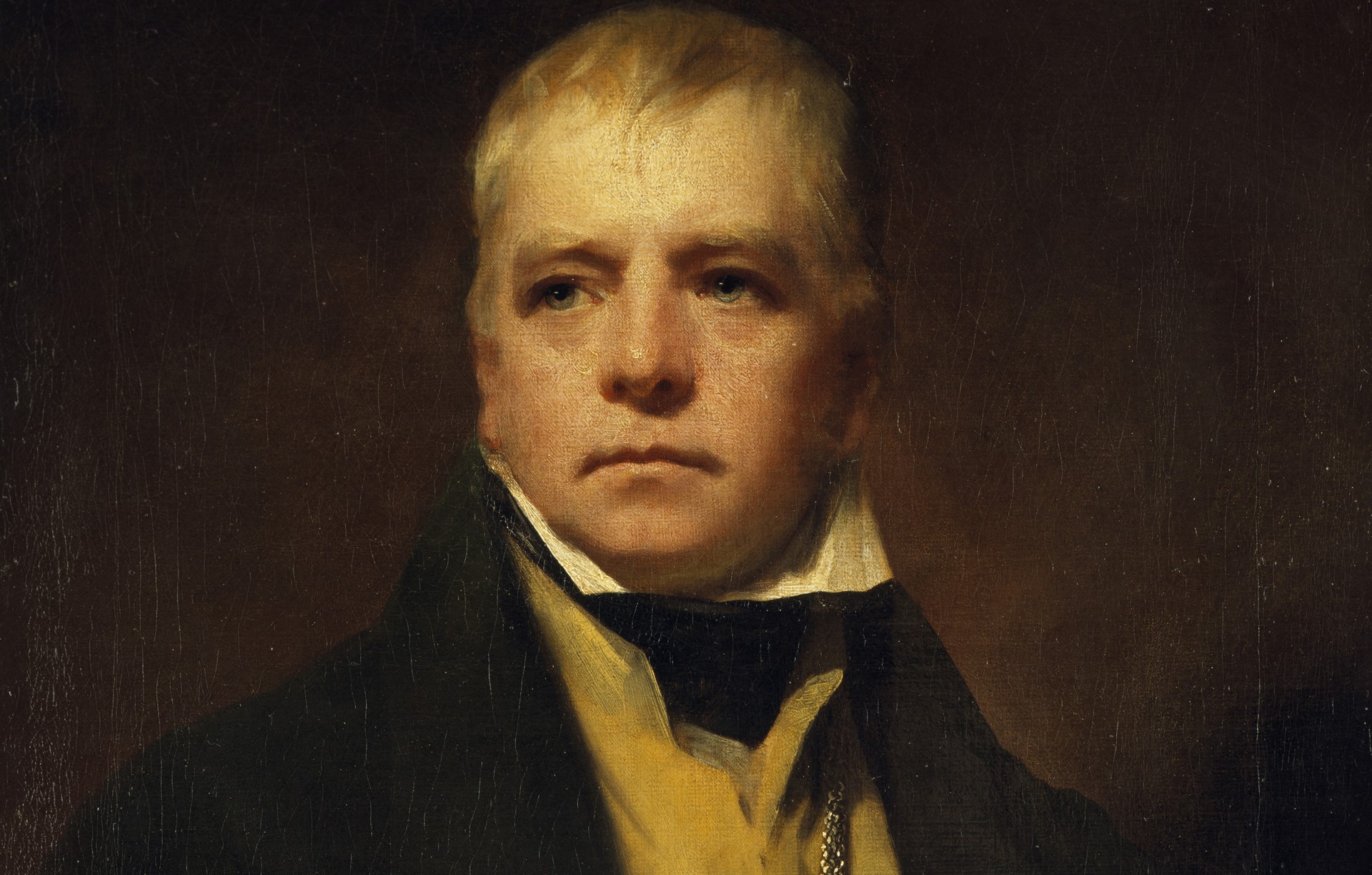 Walter Scott Biography
Sir. Walter Scott (August 15, 1771 – September 21, 1832) was born in Edinburgh, Scotland. British writer, poet, and lawyer considered the founder of the historical novel. Scott was one of the key figures of the Romantic Movement in the United Kingdom. He began his long career as a writer at the end of the 18th century, at which time he published the translation of the ballads of G.A. Bürger, The Chase, and William and Helen (1796). Among his most acclaimed writings, are The Lady of the Lake (1810), Guy Mannering (1815), Rob Roy (1817), Ivanhoe (1819), The Monastery (1820), and The Talisman (1825). Most of these works were published anonymously. However, towards the end of the 1820s, the identity of the author was revealed.
Early years
Son of Walter Scott, lawyer, and Anne Rutherford, with only two years of age, contracted polio. Disease that seriously affected his health, leaving as a limp in his right leg. At this time, he lived with his grandfather Robert Scott in Sandyknowe. After four years he returned to Edinburgh, city in which he carried out his studies. Subsequently entered the University of Edinburgh, where he studied law, as did his father.
After graduating he began to practice his profession. At this time, he began to collect information about the myths and legends of Scotland while carrying out his duties. This theme was addressed by Scott in different works.
Literary career
Towards the end of the 1790s he began his career, translating the work of Gottfried A. Bürger, Leonore, as well as the ballads included in The Chase, and William and Helen (1796). Shortly thereafter translated Götz von Berlichingen of Goethe, book based on the life of the poet and adventurer Götz von Berlichingen, known as Iron Hand. At the beginning of the 19th century, he published the collection of ballads collected during his travels, entitled Minstrels of the Scottish Border (1802). This includes famous Scottish ballads such as The Young Tamlane, The Twa Corbies, The Douglas Tragedy, The Wife of Usher's Well, The Cruel Sister and The Daemon Lover. After its publication, the work had little reception, however, the author continued to update this collection until 1830.
In the mid-1800s, he published the poem The Lay of the Last Minstrel (1805), a writing that was well-received, followed by Ballads and Lyrical Pieces (1806), a written work while serving as secretary of the courts of justice in Edinburgh. Later, Scott published Marmion: a Tale of Flodden Field (1808), a romantic historical poem that ends with the death of the protagonist in the Battle of Flodden Field. Two years later, he published The Lady of The Lake (1810), one of his most acclaimed poems by the author.
He later published The Vision of Don Roderick (1811) and The Bridal of Triermain (1813). In 1814 he published his first novel Waverley, a work set in the Jacobite uprising of 1745 in the United Kingdom; it was published anonymously since the author was a public official. After its publication, the work became a success.
Since then, he published several novels using different pseudonyms as Author of Waverley, Jebediah Cleisbotham, Crystal Croftangry, and Lawrence Templeton, among others. It should be noted that at this time the author's identity was a fairly well-known secret. After Waverley (1814) wrote Guy Mannering (1815), The Antiquarian (1816), Rob Roy (1818) and Ivanhoe (1819), a novel story set in medieval England that tells the story of Wilfredo de Ivanhoe, noble Saxon, likewise, delves into the contradictions between the Saxon people and the Normans. This is one of the most outstanding works of the author.
Three years later he published The Adventures of Nigel (1822) and Peveril of the Peak (1822), followed by Quintin Durward (1823), a novel set in France by Louis XI. Later published Redgauntlet (1824), Tales of the Crusaders (1825) and Woodstock or The Knights: A Story of 1651 (1826).
That same year the author's identity was revealed; year in which the author went through one of the most difficult moments of his life, given that his wife Charlotte Carpenter died and the Constable publishing house, in which he had invested a large amount of money he went bankrupt. Leaving a debt of 130,000 pounds, which he paid for the rest of his life.
At the end of the 1820s, he published The Life of Napoleon Buonaparte (1827), a book in which he delves into the life of Napoleon Bonaparte. The following year he published The Beautiful Young Woman of Perth (1828) and Tales of the Grandfather (1828), followed by History of Scotland (1829-1830), The Daughter of the Mist (1829), Bonnie Dundee (1830) and Letters on Demonology and Witchcraft (1831), the author's last work. At this time, Scott, stopped writing and his health began to deteriorate rapidly. Scott passed away on September 21, 1832, was buried in Dryburgh Abbey.
The author's work is considered a pioneer in the field of the historical novel, his writings are exalted by critics, since in these he realistically addresses historical events linked to his native Scotland and the Middle Ages, vividly evoking the context in which the protagonist of the history. Scott profoundly influenced the work of European writers, as well as painters and musicians; the writings of this have been represented in the theater, cinema, and television on several occasions.