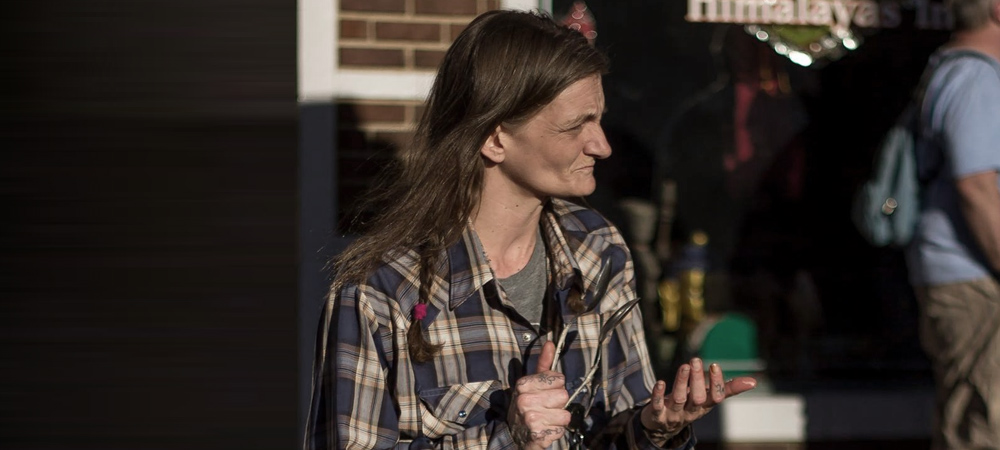 Personal information
Full name

Abby Roach

Birthdate

October 29, 1981

Age
41 years old
Occupation

Musician, Free speech, Activist, Percussionist, Storyteller

Pseudonym
Spoon Lady
Nationality

American

Genders
American folk, American roots
Zodiac sign
Libra
Abby the Spoon Lady Biography
Abby Roach (October 29, 1981) Born in Wichita, Kansas, United States. Percussionist, spoon player and American storyteller, considered one of the best-known street performers of recent times. After learning to play the spoons while touring the United States by train, Abby began her career performing country-style and folk songs in Nashville. When she settled in Asheville in 2013, she met the band man, Chris Rodrigues, who has been her musical partner since then. They rose to fame in 2017 after the video of their song Angels in Heaven went viral on Facebook and other social networks. Abby is currently one of the most respected activists in the music field for her work with the Buskers collective in Asheville.
Family
Abby was adopted by the president of Rage Inc, Dale Roach and his wife Cindy Roach. Abby has as brothers a pianist and the guitarist of the rock band Senses Fail, Zack Roach. She grew up in a good neighborhood and studied in private schools, as her parents could afford this type of training. She had a happy childhood, and everything was going well until she became pregnant with her boyfriend in high school, which is why she had to leave school and take the GED shortly after having her first child.
Personal life and beginnings
Married at eighteen and living in a trailer in Wichita, Abby got a job as a forklift operator and later as an administrative assistant. At that time the problems began to arise between the couple because her husband was an aggressive man and with various convictions for robbery began to leave home. In 2001, she had her second baby, a girl, who arrived at the time when the marriage was going through its most stable stage, at that time her husband beat her frequently, getting to inflict serious wounds and break several of her teeth. When observing this situation her parents suggest leaving her two children under their care, a proposal that she accepted, because she knew that she could not take care of them properly.
After giving up the last children she had with her husband in 2004 and 2005, she decided to leave the city and find a place to start again. At age 25 she left Kansas and settled for a short time in Colorado, where she began her life of travel on trains and stays in the streets and abandoned houses. After spending several nights in a tent, she met a group of young tramps and backpackers, who taught her to survive alone and travel by train. She quickly learned strategies to travel and live on trains, her only problem was money, for a time she asked for money on the streets, but determined not to live on charity, she looked for a way to earn it honestly.
It was at that time that she learned to play the spoons with the help of her then travel companion, Gil, a Peruvian artist who knew how to touch the spoons. He taught her with a couple of spoons that he had on hand how to hold them and produce sounds with them, she practiced for several hours and soon knew how to handle them. The next day she got her spoons, as some children of the group stole them to give them as a gift. With her instrument, she began to practice and improve her skills progressively. When she felt ready she began performing in the streets of New Orleans, San Francisco and later moved to Nashville, where she began to become known as a street artist.
Abby the Spoon Lady's Career
After becoming known in Nashville and gathering for the first time an audience that interested her in her unique style and sounds inspired by country and folk music, Abby decided to move to Asheville, a city located in western North Carolina, where she felt she should stay. Something from the acclaimed city attracted her, so she decided to establish it in June 2013. That same year she began to be known in the streets as a professional street artist, with her characteristic sound that caught the attention of the inhabitants and tourists who walked in the holiday seasons.
While playing in the streets she met another artist who was also known in the city for his talent and skill, this was Chris Rodrigues, the band man. After playing on some occasions together they decided to work together because they earned more money and attracted more public attention. It should be mentioned that at that time the artists earned little money, the money they needed to survive and that was all. Without many needs and with personalities in order, the two were artistically complemented, soon began to appear in musical events and gain recognition in the artistic environment.
When her collaboration with Chris began to bear fruit, she created with other street artists the Bus Collective of Asheville, an association that aims to defend the rights of artists and the promotion of street art. As a social activist, Abby has become one of the leading figures of street performers in the United States. The recognition she had won led her to appear in various audiovisual and cinematographic projects such as the film Jug Face (2013), by Chad Crawford Kinkle and the documentary Buskin 'Blues (2015), by Erin Derham.
In 2017, she rose to fame after the video of his theme Angels in Heaven went viral, on Facebook and other social networks. In the video, she is seen playing the spoons with mastery with the band man, Rodrigues, who plays the guitar while singing. In a short time, the video reached 200 million views on Facebook and 10 million views on YouTube.
The success of the video led to Abby and Chris gaining recognition and starting to perform on various stages, this time filling and selling tickets completely, as their unique style completely captivated viewers. In recent years Abby has performed in various countries, becoming one of the first spoon builders to achieve such a feat. While feeling happy for fame, Abby prefers to stay and do her career in Asheville, where she will currently direct the Busker Broadcast radio show, a radio space that focuses on street musicians and street art. In 2017 she published the album Working on Wall Street, which includes the song Angels in Heaven and other songs such as Satan Your Kingdom Must Come Down, Gospel Plow and Don't Let the Devil Ride, among others. That same year he participated in the Fbnr Stomp I theme of Fly by Night Rounders.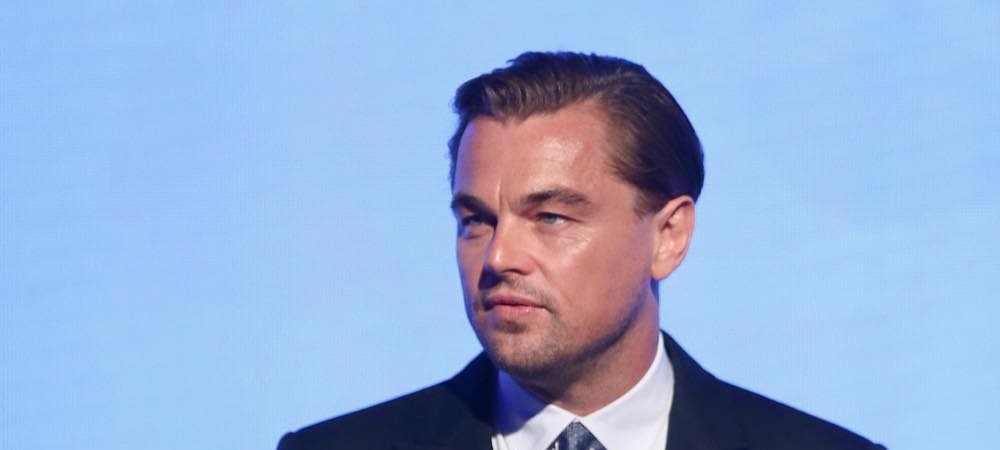 Biography of Leonardo DiCaprio
Leonardo Wilhelm DiCaprio is a renowned actor and film producer who has won numerous awards within the film industry. He was born on November 11, 1974, in Hollywood, Los Angeles, California, United States.
DiCaprio is an only child of Irmelin Indenbirken, a secretary born in Germany, and George DiCaprio, an underground comic artist and producer/distributor of comics. On his father's side, he has half-Italian (from Naples) and half-German (from Bavaria) ancestry. On the other hand, on his mother's side, his grandfather Wilhelm Indenbirken was German and his grandmother Helene Indenbirken was a German citizen born in Russia under the name Yelena Smirnova.
He was named Leonardo because, while his pregnant mother was looking closely at a painting by the great artist Leonardo da Vinci in a museum, DiCaprio gave a strong kick inside her belly. His parents divorced when he was only one year old, and they shared custody of Leonardo until 1997.
Studies, beginnings in acting.
As for his education, he did not attend university and only took basic courses at John Marshall High School in Los Angeles. His career in the world of image and acting began when he followed his older stepbrother, Adam Farrar, in television advertising, starring in a commercial for the Matchbox car brand at the age of fourteen and subsequently participating in educational films. At the age of five, he was also part of the children's television series "Romper Room", but had to leave it as it was detrimental to him.
"1990 – 1991: Debut in television and cinema"
In 1990, he made his true television debut when he was cast to be a part of the "Parenthood" ensemble, a series based on the film of the same name. He then landed minor roles in several series, including "The New Lassie" and "Roseanne," as well as a brief part in "Santa Barbara." His work in "Parenthood" and "Santa Barbara" earned him a nomination for the Young Artist Award for Best Young Actor. His big screen debut came in 1991 with the science fiction and horror movie "Critters." Later on, he became a recurring member of the cast of the ABC sitcom "Growing Pains," playing Luke Brower. However, DiCaprio didn't achieve success in the film industry until 1992, when he was selected by Robert De Niro from among 400 young actors for the lead role in "This Boy's Life," which also starred Ellen Barkin and De Niro himself.
1993 – 1996
Later, in 1993, DiCaprio played the mentally disabled younger brother of Johnny Depp in "What's Eating Gilbert Grape." The film's director, Lasse Hallström, admitted that he initially sought a less attractive actor, but he decided on DiCaprio because he had become "the most observant actor" among all who auditioned. The film was a great financial and critical success, resulting in Leonardo being highly praised for his performance, which led to him being awarded the National Board of Review for Best Supporting Actor and nominated for an Academy Award and a Golden Globe. Subsequently, he had roles in films such as "The Quick and the Dead" (1995) and was one of the leads in "Romeo + Juliet" (1996).
But his big break came with director James Cameron, who offered him the lead male role in Titanic (1997), a movie that not only won a considerable number of Academy Awards but also became a social phenomenon. Afterwards, DiCaprio gained greater acceptance in the cinematic world, so he was part of numerous films such as:
The Man in the Iron Mask (1998)
The Beach (2000)
Catch Me If You Can (2002)
The Aviator (2004)
The Assassination of Richard Nixon (2004)
Blood Diamond (2006)
Gardener of Eden (2007)
Body of Lies (2008)
Orphan (2009, as producer)
Shutter Island (2010)
Inception (2010)
Django Unchained (2012)
The Great Gatsby (2013)
Runner Runner (2013)
The Wolf of Wall Street (2013)
The Revenant (2015)
The Audition (2015).
Curiosities
Interestingly, he was nominated for an Oscar five times: Best Supporting Actor for What's Eating Gilbert Grape, Best Actor for The Aviator, Blood Diamond and The Wolf of Wall Street. This generated a lot of jokes and talk of a supposed "curse" in Hollywood. But in 2015, he finally won the award thanks to his great performance in "The Revenant".
It should also be noted that DiCaprio is a committed environmentalist who has received praise from environmental groups for choosing to fly on commercial flights instead of private planes like most celebrities, and for driving an electric hybrid vehicle and having solar panels in his home.