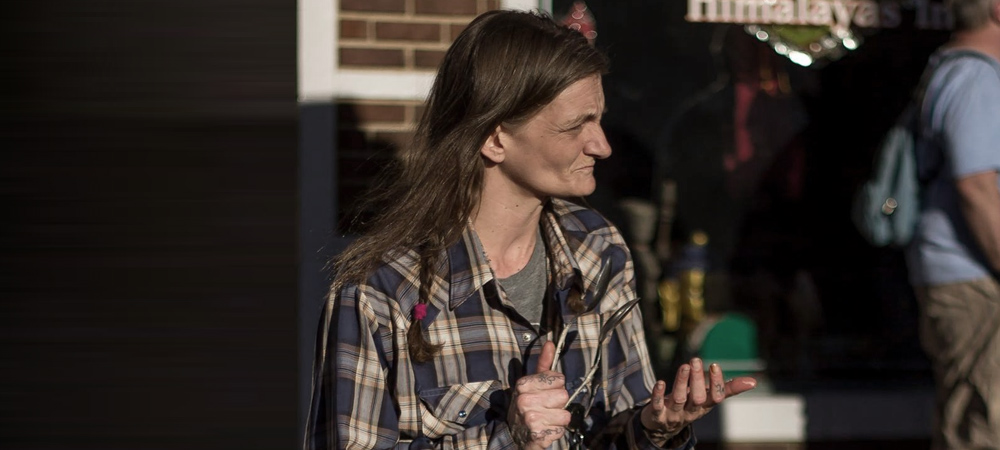 Personal information
Full name

Abby Roach

Birthdate

October 29, 1981

Age
39 años
Occupation

Musician, Free speech, Activist, Percussionist, Storyteller

Pseudonym
Spoon Lady
Nationality

American

Genders
American folk, American roots
Zodiac sign
Libra
Abby the Spoon Lady Biography
Abby Roach (October 29, 1981) Born in Wichita, Kansas, United States. Percussionist, spoon player and American storyteller, considered one of the best-known street performers of recent times. After learning to play the spoons while touring the United States by train, Abby began her career performing country-style and folk songs in Nashville. When she settled in Asheville in 2013, she met the band man, Chris Rodrigues, who has been her musical partner since then. They rose to fame in 2017 after the video of their song Angels in Heaven went viral on Facebook and other social networks. Abby is currently one of the most respected activists in the music field for her work with the Buskers collective in Asheville.
Family
Abby was adopted by the president of Rage Inc, Dale Roach and his wife Cindy Roach. Abby has as brothers a pianist and the guitarist of the rock band Senses Fail, Zack Roach. She grew up in a good neighborhood and studied in private schools, as her parents could afford this type of training. She had a happy childhood, and everything was going well until she became pregnant with her boyfriend in high school, which is why she had to leave school and take the GED shortly after having her first child.
Personal life and beginnings
Married at eighteen and living in a trailer in Wichita, Abby got a job as a forklift operator and later as an administrative assistant. At that time the problems began to arise between the couple because her husband was an aggressive man and with various convictions for robbery began to leave home. In 2001, she had her second baby, a girl, who arrived at the time when the marriage was going through its most stable stage, at that time her husband beat her frequently, getting to inflict serious wounds and break several of her teeth. When observing this situation her parents suggest leaving her two children under their care, a proposal that she accepted, because she knew that she could not take care of them properly.
After giving up the last children she had with her husband in 2004 and 2005, she decided to leave the city and find a place to start again. At age 25 she left Kansas and settled for a short time in Colorado, where she began her life of travel on trains and stays in the streets and abandoned houses. After spending several nights in a tent, she met a group of young tramps and backpackers, who taught her to survive alone and travel by train. She quickly learned strategies to travel and live on trains, her only problem was money, for a time she asked for money on the streets, but determined not to live on charity, she looked for a way to earn it honestly.
It was at that time that she learned to play the spoons with the help of her then travel companion, Gil, a Peruvian artist who knew how to touch the spoons. He taught her with a couple of spoons that he had on hand how to hold them and produce sounds with them, she practiced for several hours and soon knew how to handle them. The next day she got her spoons, as some children of the group stole them to give them as a gift. With her instrument, she began to practice and improve her skills progressively. When she felt ready she began performing in the streets of New Orleans, San Francisco and later moved to Nashville, where she began to become known as a street artist.
Abby the Spoon Lady's Career
After becoming known in Nashville and gathering for the first time an audience that interested her in her unique style and sounds inspired by country and folk music, Abby decided to move to Asheville, a city located in western North Carolina, where she felt she should stay. Something from the acclaimed city attracted her, so she decided to establish it in June 2013. That same year she began to be known in the streets as a professional street artist, with her characteristic sound that caught the attention of the inhabitants and tourists who walked in the holiday seasons.
While playing in the streets she met another artist who was also known in the city for his talent and skill, this was Chris Rodrigues, the band man. After playing on some occasions together they decided to work together because they earned more money and attracted more public attention. It should be mentioned that at that time the artists earned little money, the money they needed to survive and that was all. Without many needs and with personalities in order, the two were artistically complemented, soon began to appear in musical events and gain recognition in the artistic environment.
When her collaboration with Chris began to bear fruit, she created with other street artists the Bus Collective of Asheville, an association that aims to defend the rights of artists and the promotion of street art. As a social activist, Abby has become one of the leading figures of street performers in the United States. The recognition she had won led her to appear in various audiovisual and cinematographic projects such as the film Jug Face (2013), by Chad Crawford Kinkle and the documentary Buskin 'Blues (2015), by Erin Derham.
In 2017, she rose to fame after the video of his theme Angels in Heaven went viral, on Facebook and other social networks. In the video, she is seen playing the spoons with mastery with the band man, Rodrigues, who plays the guitar while singing. In a short time, the video reached 200 million views on Facebook and 10 million views on YouTube.
The success of the video led to Abby and Chris gaining recognition and starting to perform on various stages, this time filling and selling tickets completely, as their unique style completely captivated viewers. In recent years Abby has performed in various countries, becoming one of the first spoon builders to achieve such a feat. While feeling happy for fame, Abby prefers to stay and do her career in Asheville, where she will currently direct the Busker Broadcast radio show, a radio space that focuses on street musicians and street art. In 2017 she published the album Working on Wall Street, which includes the song Angels in Heaven and other songs such as Satan Your Kingdom Must Come Down, Gospel Plow and Don't Let the Devil Ride, among others. That same year he participated in the Fbnr Stomp I theme of Fly by Night Rounders.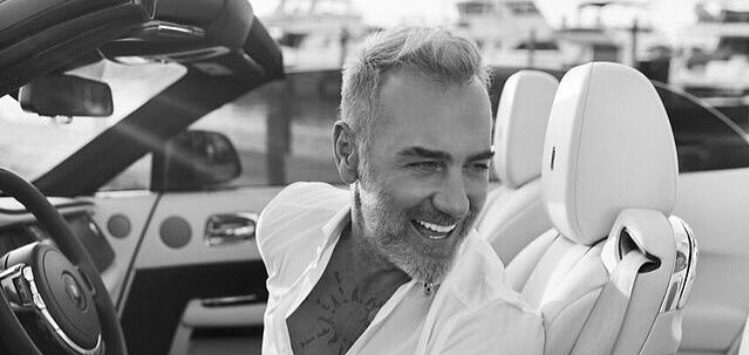 Gianluca Vacchi biography
Gianluca Vacchi (August 5, 1967) Born in Bologna, Italy. Italian businessman and artist, known for his eccentricity and the way he manages his money, throwing lavish and expensive parties. His lifestyle is frequently shared by the businessman through his social networks.
Vacchi is a man of more than 50 years who has attracted the attention of various people, not only for his eccentricity but also for his physical attractiveness. He currently has more than 15 million followers on instagram and since 2014 he has become popular with the hashtag #GVLifestyle.
There is only one life and you have to live it trying to enjoy everything you can.

Gianluca Vacchi
Family and studies
Gianluca Vacchi grew up in a wealthy family. From an early age he was interested in business. He studied economics and then began to be part of the family business. Later he founded the company IMA, a company dedicated to the creation of pharmaceuticals, cosmetics and others. Over time, Vacchi diversified his businesses, participating in different business projects. While doing this, he increased his capital, becoming a billionaire in a matter of a few years.
Change of lifestyle
After several years in the industry, Gianluca Vacchi left the family business in charge of his cousin and dedicated himself fully to enjoying his life, since at the age of forty he had not explored and enjoyed everything he achieved in those years. After thinking about the way he had lived until then, he decided to change his lifestyle. He started by working on his physique, improving his diet and exercising. He complemented this, with hours in the sauna and cryotherapy and shortly after the effort began to show.
At 47, he became known on social networks with a photo in which he was seen riding with the famous American actor Zac Efron.
Since then, he began to attract the attention of the public for his sensual dances, his eccentric and expensive parties. Likewise, through the networks he showed the large number of properties he owned: mansions, houses on the beach, yachts, motorcycles, cars and even a helicopter.
In 2016, the videos of Vacchi and his girlfriend at the time, Giorgia Gabriele, dancing to different Latin music songs, went viral. It was then that it became a trend. Many were interested in the lifestyle of the 49-year-old man, surrounded by beautiful women and with an exorbitant fortune. Since then, the daily life of the famous Italian has been shared by social networks. He is currently one of the most famous adult influencers on the platform.
The following year he ended his relationship with his girlfriend Gabriele, and a short time later he was seen with the beautiful Colombian model, Ariadna Gutiérrez. That same year he published his book Enjoy (2016), which, in Vacchi's words, is a conceptual biography. In this book, he talks about his experiences, gives advice and encourages people to enjoy life to the fullest.
During this period of his life, the Italian has been seen with famous Latin, American and European artists, which has increased his popularity. Among the artists with whom he has been associated are the singers: J. Balvin, Luis Fonsi, Sebastián Yatra, Ozuna, Daddy Yankee and Yandel, among others. In 2017, Vacchi was seized by Banco BPM. He later explained that this does not greatly affect his fortune and that it was all a disagreement with the bank.
Facet as DJ
In recent years, Gianluca Vacchi has dabbled in music as a DJ, working with great figures such as Steve Aoki, Nicola Zucchi, Christian Lena and Albertino, among others. He currently has a contract with the Spinnin 'Records label. His first song, entitled Viento, appeared under this label on August 13, 2017. This song currently has more than 27 million views on YouTube.
After Viento, Tump-it came out, a theme that quickly became a trend. In August he released the song Sigamos Bailando, his collaboration with Yandel and Luis Fonsi. Later he released the song Waglio, in collaboration with Alessio and in 2019, he released Asho mami and Mueve.
Vacchi has made several tours as a DJ and worked in clubs such as Amnesia Ibiza, Sutton Club and Sutton Barcelona, among others.
Gianluca news
Currently Vacchi, is romantically involved with the young model Sharon Fonseca. On May 10, 2020, during the celebration of Mother's Day, he announced via Instragram that he and his girlfriend were expecting their first child.
Birth of your child
On October 28, Gianluca and Sharon announced the birth of their daughter Blu Jerusalema Vacchi, true to their style, this announcement was made through their Instagram accounts.