Saint Augustine of Hippo biography
Aurelio Agustín de Hipona (November 13, 354 – August 28, 430) theologian. He was born in Tagaste, currently Algeria. His father named Patricio was a pagan, violent, drinker and infamous official at the service of the Empire. His mother Monica, on the other hand, was sweet and self-sacrificing, living her life under the Christian religion. She educated her son in her religion, although, she did not baptize him. Agustín had an irascible personality, a superb and unruly attitude, although exceptionally intelligent. For this reason, he took charge of his studies, although he was slow to apply them; After completing the grammar classes in his native land, he studied the liberal arts in Metauro and then rhetoric in Carthage. In his youth, he certainly did not follow the moral precepts instilled by his mother and until he was 32 years old, he led a licentious life, clinging to the Manichean heresy.
At eighteen, Agustín met his first concubine, with whom he had a son whom they named Adeodato. He was not really an exemplary father, he lived among the excesses, he had an inordinate fondness for theater and other public spectacles, he was also blamed for some robberies. This lifestyle made him renounce his mother's religion. He claimed that Christianity was an imposed faith and was not founded on reason. He began to take an interest in philosophy, and in these postulates found accommodation for some time, he leaned towards moderate skepticism. However, in Carthage joins a group that preached Manichaean dogma, from that moment he was able to resolve his many concerns about various moral problems, which would accompany him throughout his life, was determining his adherence to Manichaeism, the religion of fashion at that time. Basically, he argued that there are two principles of all things, dualism, a principle of good and another of evil. The first has created spiritual things and the second the materials.
In 384 Agustín de Hipona travels to Milan to practice as a professor of oratory. There he delves into the ancient thinkers and devours some texts of Neoplatonic philosophy. The reading of the Neoplatonic authors probably weakened the Manichean convictions of Augustine and modified his conception of the divine essence and of the nature of evil; equally influential would be the sermons of St. Ambrose, bishop of Milan, who argued on the basis of Plotinus to demonstrate the dogmas and whom St. Augustine listened to with complacency, and this bishop had the ability to give brilliant interpretations of the bible.
"Pray as if everything depended on God. Work as if everything depended on you." Saint Augustine of Hippo
In his search for the truth he studied the epistles of St. Paul, through them he discovered the affirmation that only the grace of Christ can save man, a doctrine that was another pillar of his thinking in the future. Over time he gave himself up to burning hymns, fasting, and various abstinences. Fully converted, in 387, when he was 33 years old, he was baptized by St. Ambrose and consecrated himself definitively to the service of God. He began to share more time with his mother, to share the word of God, unfortunately, the time was short because death interrupted it.
For the year 388, he returned to Africa. Some years later he was ordained a priest in Hippo by Bishop Valerio, who entrusted him with the mission of preaching among the faithful the word of God, a task that St. Augustine fulfilled with enthusiasm. To do this, Bishop Valerio donated a garden where he instituted a monastery, where he held preachings, even to enunciate a sermon before the bishops of Africa, gathered in Hippo, in 393. His recognition aroused admiration and hatred among people, for example, he received strong criticism from heretical currents and schisms that threatened Catholic orthodoxies, such as the Manichaeans, Pelagians, and pagans.
The situation in the Roman Empire for the year 410 was complex, the pagans reorganized their attacks against Christianity. In response, St. Augustine wrote his great work The City of God. It is a compendium of postulates divided into 22 books, expressing a new form of civil society, which aims to promote the values ​​of humanity by virtue of living according to Christian doctrine. In conclusion, for Hippo, a fully Christian Rome could move from an earthly empire to a spiritual one.
"The measure of love is to love without measure." Saint Augustine of Hippo
His philosophical works such as the Soliloquies, the Confessions and The City of God, are the sample of his extraordinary testimonies of faith and his theological wisdom. His dissertations usually had as a central theme the relationship of the soul, lost by sin and saved by divine grace. In short, man contains an immortal rational soul that serves, as an instrument, a material, and mortal body. Hence his character essentially spiritualist, against the cosmological tendency of Greek philosophy. Augustine of Hippo lived 40 years of his life consecrated to the service of God, he died at the age of 72, in the year 430.
The thought of Saint Augustine of Hippo extended a bridge between the classical world and the medieval world, also laid the foundations of philosophy and Christian doctrine.

Peter the Apostle (Saint Peter)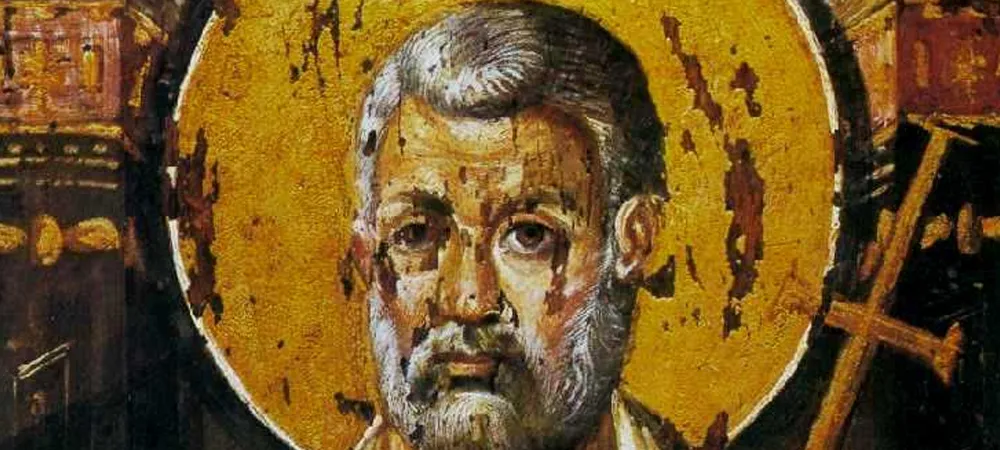 Biography of Saint Peter
Saint Peter (late 1st century BC – 64 AD) was an apostle of Jesus Christ and the first leader of his Church. He was born in Bethsaida, Galilee, Israel. He worked as a fisherman on the Sea of Galilee, usually with his brother Andrew, who was also an apostle. He lived with his wife, children, and mother-in-law in Capernaum. Peter began to hear Jesus of Nazareth frequently until he decided to accept his call and join his work to share his teachings. Gradually, a group of mostly brotherly fishermen was formed, including his brother Andrew and his sons Zebedee, James, and John. They were called the twelve apostles.
Among the apostles
Of the twelve apostles, Peter was one of the most distinguished for his strong personality and his closeness to the teacher. Therefore, he assumed a leadership and spokesman role for the group. In the Gospels, his personality is exposed: simple, generous, and impulsive in his interventions. Hence, Jesus showed a predilection for his person from the beginning. Along with Apostle James and Evangelist John, Peter had the opportunity and privilege to participate in intimate rituals that excluded the other apostles. It is said that Jesus must have often been a guest of Peter's family..
Baptism
Peter's name was Simon, but Jesus baptized him Peter by pointing to him as the "rock" on which his Church would be built. This happened in Caesarea Philippi, northeast of the Sea of Galilee. Saint Peter affirmed Jesus' divinity, which is written in Matthew 16:16-19. When Peter says, "You are the Christ, the Son of the living God," Jesus conferred the highest authority on Peter: "Blessed are you, Simon, son of Jonah, for flesh and blood has not revealed this to you, but my Father who is in heaven. And I tell you that you are Peter, and on this rock I will build my church, and the gates of hell will not prevail against it."
Although his personality was impetuous, he also had moments of weakness. According to the Gospel, Saint Peter denied knowing Jesus three times the night he was arrested, fulfilling a prophecy that the teacher had made to him. But, repentant of that act, his faith never wavered again and, after the crucifixion and resurrection, he was privileged with the first appearance of Jesus and devoted himself to popularizing his teachings.
"Then he began to curse and swear, 'I do not know the man!' And immediately a rooster crowed. And Peter remembered the words of Jesus, 'Before the rooster crows, you will deny me three times.' And he went out and wept bitterly." Matthew 26:74-75
Saint Peter, leader of the Church
In the year 30 AD, after the death of Jesus, Saint Peter took on the challenge of being the undisputed leader of the tiny community of the first Christian believers in Palestine for fifteen years: he led prayers, responded to accusations of heresy from Orthodox rabbis, and admitted new followers (he was responsible for accepting the first non-Jews). Years later, he was imprisoned by King Herod Agrippa's orders, but he was able to escape and leave Jerusalem, dedicating himself to spreading the new religion in Syria, Asia Minor, and Greece.
At that time, his leadership was less evident, with other apostles, such as Paul or James, contesting his primacy among Christians. He attended the Council of Jerusalem (48 or 49) in order to support Paul's line of opening Christianity to the gentiles, who followed him by linking him to the Jewish tradition. Very little is known about his last years of life, the information that is known is thanks to reconstructions of very later accounts. It is most likely that he moved to Rome, where he would have exercised a long apostolate justifying the future seat of the Papacy: the Roman Church considers Saint Peter the first of its popes.
Martyrdom
According to Catholic tradition, Saint Peter was persecuted by Nero in Rome, when he was fighting against Christians. He died crucified upside down (John 21:18) and his tomb was buried on the Vatican Hill, where Emperor Constantine built the Basilica of Saint Peter and Saint Paul in the 4th century.
Epistles
The epistles of Saint Peter that are preserved in the New Testament. Saint Peter expounds on the dignity of the Christian, the sublimity of his vocation, and the holiness of the life that should be its consequence. In addition, the apostle recommends obedience, patience, respect for authority, love for enemies, and harmony among brothers. Throughout the epistle he mentions Jesus Christ, with his sufferings and his advice.
"Love each other as brothers, be compassionate and humble. Do not repay evil for evil. Instead of insulting those who insult you, ask God to bless them, for you yourself were called to receive a blessing"1 Peter 3:8-9
The second epistle is presented as a continuation of the first and is addressed to the same people. It is generally assumed that Saint Peter dictated it shortly before his martyrdom. Saint Peter recalls the general principles according to which Christians must adhere to the doctrine received and the practice of virtues. He expounds on the subject of the greatest condemnations and customs of false doctors. In the last part, he attacks the frivolous arguments that these sectarians use to discredit the doctrine of the faithful. The style of writing of these epistles is highly admired.
Throughout it, there is a special liveliness and an impressive splendor of metaphors. Therefore, the Church included it in the Tridentine Canon, among the Catholic epistles of the New Testament. The life of Saint Peter has been an object of admiration for believers. Later, several paintings were made, for example: Detail of The Denial of Peter, by Carl Bloch and the Crucifixion of Saint Peter (oil by Caravaggio, 1600).
Feast
His feast and that of Saint Paul, known officially as the joint solemnity of Saint Peter and Saint Paul, is celebrated on June 29 in commemoration of the martyrdom that both suffered in Rome. The two apostles perished persecuted in the times of Nero.
Phrases from Saint Peter
"Try to have the same thought and the same feeling: with fraternal affection, with tenderness, with humility. Do not repay evil with evil or insult with insult; on the contrary, respond with a blessing, because your vocation looks to this: to inherit a blessing."
"Just as the one who called you is holy, so you be holy in all your conduct."
"Love each other constantly with a pure heart, as those who have been born again."
"Renounce all evil and all deceit, hypocrisy, envy, and all kind of slander."
"The will of God is that you, practicing good, put a brake on the ignorance of the foolish."
"Each one put at the service of others the gift he has received, as good administrators of the manifold grace of God."
"Who can do you harm, if you follow good? Blessed are you, if you suffer for the sake of justice!"
Works
First Epistle of Saint Peter.
Second Epistle of Saint Peter.