Tony Bennett Biography
He was born under the name of Anthony Dominick Benedetto, better known as Tony Bennett, on August 3, 1926, in Astoria, Queens, New York, (USA). He is a well-known singer. Son of shopkeeper John Benedetto and seamstress Anna Suraci. His father was born in Podàrgoni, Calabria, Italy and his mother in the United States. After his parents also emigrated from Calabria. He grew up with an older sister: Maria, and an older brother: John Jr. His father died when he was only 10 years old.
At that age, one of his uncles who was a tap dancer brought him closer to the world of entertainment. Since Anthony already sang.
In 1936, he acted before the mayor of New York at the inauguration of the Triborough Bridge. Thus, he began to sing while he was studying at the High School of Industrial Art where he not only studied music but also painting, an art he continues to practice successfully (his paintings are signed by Benedetto). But he had to abandon such studies at the age of 16 in order to help his family financially.
He started his musical career singing in several Italian restaurants in Queens. In 1944, when he was 18, he was enlisted to fight in Germany during World War II with the 63rd Infantry Division, where he took part in the liberation of the Landsberg concentration camp.
After the end of the conflict, he remained for a time in that country, forming part of a musical band that entertained the occupying forces. The hard experiences lived in the war, ended by reaffirming their pacifist ideology.
Back in the United States, Anthony continued singing without pretension until he was discovered by the actress and singer: Pearl Bailey, who chose him as the support act in a show that she offered in the Greenwich Village neighborhood. In such a show, he was seen by the popular Bob Hope, who immediately realized the great talent of the young man and decided to take him with him on a tour, but he suggested that he change his name: Anthony Benedetto would be called: Tony Bennett.
In this way, Bob Hope launched him to musical stardom in 1950 and that same year, he got a contract with CBS, in which he met Percy Faith, who since then became his musical producer. His first stage of great artistic and commercial reception embraced the 1950s and early 60s.
Some of his greatest hits are: "Stranger in Paradise" the recorded song to promote "Kismet" a Broadway musical, also the melody "Blue Velvet" hits that caused the hysteria of teenage fans as happened with Elvis Presley and Franz Sinatra. Such was his welcome at that time that he offered seven concerts a day (from 10:30 in the morning to 3 in the morning) at the Paramount Theater in New York.
"Blue Velvet" returned to the present thirty years later, with the homonymous film by David Lynch (Translated as Blue Velvet).
In the summer of 1956, Tony Bennett presented a weekly variety show on NBC television (The Tony Bennett Show), replacing Perry Como, and repeated two years later.
In 1957, he released the album "The Beat of My Heart" an approach to jazz that was well received and became the first popular music singer to collaborate with Count Basie and his orchestra.
In 1962, Tony Bennett got his first two Grammy Awards in the categories: Record of the Year and Best Male Vocal Performance as a Soloist with the song "I Left My Heart in San Francisco."
In the seventies and eighties, he made several collaborations with jazz figures such as Jimmy McPartland, Bill Evans, George Benson, Dizzy Gillespie and Dexter Gordon.
His formula for not losing force in the competitive music industry was to make new versions of classic jazz artists such as Billie Holiday, Frank Sinatra, Duke Ellington, and Louis Armstrong. However, a few years later his success began to decline because then the public was more inclined towards The Beatles and Rock & Roll.
This decline led him to consume cocaine and suffer economic problems. In 1966, he tried his luck in the film with the movie "The Oscar" which received no good reviews and was not shoot again in thirty years.
Before these new musical trends, Tony Bennett was pressured by the president of CBS Records, to play a more youthful repertoire, but Tony was reluctant to enter the Rock world.
Finally, in 1970, he agreed to record an album of "Successes of today" which failed to convince anyone. Thus, in 1972, he left Columbia Records to sign with MGM Records, but he also did not have good results and soon he saw himself without a record company.
Then he founded his own label: "Improv" which failed because it did not have an adequate distribution network.
In this way, he ran out of manager and, seen only as an "old glory" was called exclusively to sing in the casinos of Las Vegas. Tired of this, he moved to the United Kingdom looking for a more receptive market, but again failed. In 1979, Tony bottomed out. He spent more money than he could, suffered a terrible overdose of cocaine that almost took his life, moreover his house in Los Angeles ran the risk of being seized by the US Treasury. Desperate, he asked for help from his sons Danny and Dae and undertook a progressive relaunch. Which led to that in December of the same year he made an amazing comeback, acting as a guest of honor celebrating his 40th professional anniversary.
His children had formed a musical group that did not work, as they lacked parental talent. However, they had a better eye for business; Danny became his manager and got his economic and artistic recovery. Also, thanks to a more rational management, managed to settle the debts with the US Treasury and in the early 80's Tony reappeared in small stores in New York, trying to get rid of the decadent figure associated with Las Vegas. In 1986, Tony re-signed with the company of his greatest successes: Columbia Records, and expanded his audience towards a younger generation, all this, maintaining his musical style and his classic image of gentleman suit.
Thus, his resurgence was materialized with "The Art of Excellence" that entered in the best-selling lists in 1986, leaving behind the commercial failures. From then on, and wisely advised by his son Danny, Tony Bennett made several collaborations in radio and television that made him popular among the new generations: he participated in charity acts of small radio stations, went to the programs of David Letterman and the renowned Muppets and even came to appear in the animated series "The Simpsons".
According to his own words, the young audience ignored all the melodic tradition of the early twentieth century that he carried with him, but he connected with that market. Tony Bennett has received 18 Grammy Awards in total, plus two Emmy Awards. He was married to Patricia Beech, a fan (1952 to 1971) with whom he had two children: Danny and Dae. After divorcing, he remarried Sandra Grant in 1971, and after divorcing again in 2007, he married Susan Crow that same year.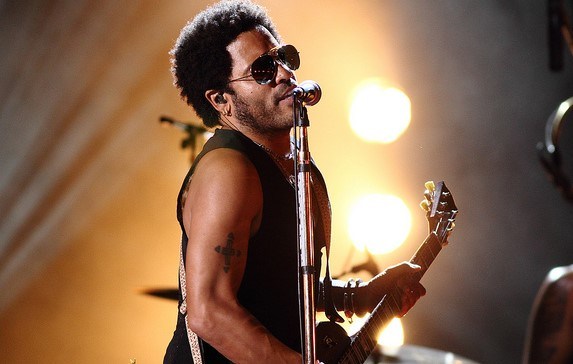 Lenny Kravitz Biography
Leonard Albert Kravitz (May 26, 1964) was born in New York, New York, United States. American singer-songwriter, actor and music producer, considered one of the most prominent artists of the American music scene. Kravitz has excelled throughout his career for his compositions and way of performing, as well as his instrumental and rhythmic versatility, mixing styles such as blues, soul, funk, rock, pop, and reggae, among others. In the course of his successful career, he has collaborated with prominent artists such as Slash, Madonna, Alicia Keys, and the rock band Aerosmith, among others. Among his greatest hits are Mr. Cab driver, It Ain't Over 'Til It's Over, Are You Gonna Go My Way and Thinking of You.
Early years
He was born into a family dedicated to the world of performing arts and television, his mother was the renowned actress Roxie Roker and his father was the television producer Sy Kravitz. From an early age he was interested in music, an aspiration that was supported by the family, began playing the drums. In the 1970s the family moved to Los Angeles, due to their mother's job, who began the recordings of The Jeffersons series, subsequently appeared in the popular Roots series. Upon settling in Los Angeles Lenny continued training as an artist, was a member of the California Boys Choir, in which he excelled for his vocal technique. For this same period of time he learned to play the guitar and bass, subsequently attended Beverly Hills High School, and learned to play the piano.
After years of training, he tried to make himself known artistically by the artistic name of Romeo Blue. However, he had little success. He later moved to New York where he married Lisa Bonet, actress of The Show De Bill Cosby, with the help of this met Henry Hirsch, sound engineer, who became one of the key figures in the career of singer, along with this he took his first steps as a professional singer.
Professional career
The professional career of the prominent singer began in the late 1980s, at which time he released his first album, titled Let Love Rule (1989), a record released under the Virgin Records label; This includes the hits Mr. Cab Driver, Let Love Rule, My Precious Love and Sittin 'on Top of the World. In the album, Kravitz mixes styles such as rock, funk, soul, and psychedelic, influenced by the music of The Beatles and Prince. In the 1990s, he rose to fame collaborating with Madona in the composition of Justify My Love, a song that quickly positioned itself at number 1 on the top of Billboard. The following year his relationship with Lisa Bonet faced hard moments that led to these separating shortly thereafter.
That same year Kravitz published Mama Said (1991), an album that had the collaboration of the former guitarist of the band Guns N 'Roses, Slash, which performed the guitar on the songs Always on the Run and Fields of Joy. This album conveyed Kravitz's feelings for his wife, was even dedicated to her. It included the hits It Ain't Over 'Till It's Over, Stand by My Woman, Flowers for Zoë and All I Ever Wanted, a song composed with the collaboration of Sean Lennon. After the breakup of the couple, Lenny had various romantic relationships with celebrities such as actress Nicole Kidman, model Kate Moss, and Barbara Fialho, among others.
In 1992, he collaborated in the composition and production of the homonymous LP of Vanessa Paradis, in which the themes Sunday Mornings and Be My Baby stand out. The following year, Are You Gonna Go My Way (1993) was released, an album inspired by the sounds of the 70s such as psychedelic rock, soul, funk and reggae. In this, Kravitz stood out for his interpretation of the guitar and the songs Are You Gonna Go My Way Believe, Is There Any Love In Your Heart and Come On and Love Me. That same year he collaborated with Mick Jagger on the cover of the song Use Me by Bill Withers, which was included in Jagger's Wandering Spirit album. Two years later, he released Circus (1995), one of the bleakest albums of his career, in which he delved into his mother's cancer and themes related to his spiritual growth; this included Rock And Roll is Dead, Circus and Can't Get You Off Of My Mind, among others.
At the end of the 90s, he published 5 (1998) album in which he renews styles, leaving aside his retro style so criticized in recent years. In this the successful Fly Away theme is included, one of the most prominent themes of his career. Two years later he released Greatest Hits (2000), an album that included the single Again, followed by Lenny (2001), an album in which ballads A Million Miles Away and Yesterday Is Gone stand out; a short time later he collaborated and produced the album Goddess In The Doorway (2001) by Mick Jagger. Three years later, Baptism (2004) came out, whose single was Where Are We running.
In 2008 he released It Is Time for a Love Revolution, an album that included the hits I'll Be Waiting and Bring It On. Three years later he released Black And White America, then Strut (2014), an album that includes the songs New York City and The Chamber. In 2018 he published Raise Vibration, an album whose single is It's Enough. Currently, the singer is carrying out the presentations of the 2019 Raise Vibration Tour.