Personal information
Full name

Angel Jair Quezada Jasso

Birthdate

November 29, 1999

Age
23 years old
Occupation

Rapper, singer, and composer.

Stage name
Santa Fe Klan
Nationality

Mexican

Spouse

Maya Nazor.

Height
1.70 m
Band
Santa Fe Klan (2013-17); Colectivo 473 Music
Awards
Independent Song Award by the Mexican Society of Authors and Composers, 2021.
Genders
Rap, hip-hop, trap,
Zodiac sign
Sagittarius
Biography of Santa Fe Klan
Angel Jair Quezada Jasso (November 29, 1999), better known artistically as Santa Fe Klan, is a Mexican rapper, singer, and songwriter who stands out in the rap scene. He began his career in 2013 as a member of the Santa Fe Klan group, which dissolved in 2017. Then, he continued as a solo artist under the same name. In 2017, the group released its first album, titled Por Costumbre. Two years later, Klan debuted as a solo artist with Bendecido. Since then, he has enjoyed great success, becoming one of the favorites of the Mexican rap scene. Among his most outstanding hits are Cumbia pandillera, Ya se hizo costumbre, En Espera, Así Soy, Diente por Diente, and Infiel.
Early stages
From a humble family, Klan was born in Guanajuato, Mexico, on November 29, 1999. He grew up in the Santa Fe neighborhood, which gave him his name, and has mentioned several times that the experience in the neighborhood was crucial for the development of his career. Without the support of his family and friends, he would not have come so far. There he learned the most important lessons of his life. He grew up listening to rap, inspired by the atmosphere of the streets, graffiti, and breakdancing.
At the age of twelve, he began composing, recording his first single at 13. However, it was not until he turned 15 that he began to take music more professionally, being signed by the record label Alzada Records.
The first hip hop album he listened to was by Cypress Hill, when he was 14 years old. Other influences on Klan come from norteño music.
Santa Fe Klan: Debut and career as a group
The story of Santa Fe Klan as a group began in 2013, when Angel was fourteen years old. His first songs, La misma vida de locos, appeared on YouTube and later came Bien Sanos, Lagrimas de una Madre, Ojos tristes and Corazón Flechado. Despite the success they had achieved, in 2016 the group began to fragment and in 2017, several members left the band.
It was in 2017 that the group released its first album, titled Por Costumbre. This included 14 songs, among which stood out Otro Día Mas, Triste Realidad, La Última Carta and Ya Se hizo Costumbre.
Later that year, the group released its second album, Seguimos radicando (2017), followed by El Inicio, vol 1, 2 and 3. The three volumes were released in 2017, showing the group's tireless talent. During that year, Santa Fe Klan would release around 80 songs (sum of the songs on each album).
Among the most popular songs were: Cumbia pandillera, Días Grises, and Un poco enamorado, as well as collaborations: Marihuana with Sid MSC, Rompiendo Reglas with Bipo Montana, Señorita Juana with Liriko Wan, Relax with Tramas, De Donde vengo with Niteck, and En un avión de papel with Mistyko.
Santa Fe Klan as a solo artist
Maintaining the name of Santa Fe Klan, Klan made his solo debut on June 26, 2019 with the release of Bendecido, his first solo album. The album was a great success, with 10 songs, several music videos, and a short film directed by Jos Macias. Among the most notable tracks on the album were: Familia, Hambre, and Religión.
That year he also released the singles Tu y yo and De la calle Somos, as well as the collaborations Ni Ángel Ni Demonio with Neto Peña, Akapellah, and Gona, Te iré a buscar with Nanpa Basico and Infiel with Afaz Natural. He also composed the song Mi Guanajuato, which was part of the soundtrack of Huachicolero. Infiel was especially popular on streaming sites and social networks such as TikTok.
Other successes in 2019 were Entre El Bien y El Mal (feat. Big Stan), Debo Entender, Si Me Caigo, and Corazón Criminal.
Established in the rap scene, his successes continued in 2020. He started the year with the release of the single Mi Vicio, followed by Si Me Quieren Matar (with Delaossa), Varias Madrugadas, and Alerta with Sid MSC. He also collaborated with Robot on the single Diente por Diente and repeated success with Afaz Natural on the single Luna.
Necesidad (2020)
His second album, Necesidad, was released in June 2020 in collaboration with Lefty Sm. The album included a total of 10 songs, among which Por mi México, Soy Mercenario, Está Caliente, and Mi Decepción stand out. The following month he released Siempre High (ft. Jozue) with Gera MX and Neto Peña, and Lentos Oscuros with Chikis RA.
In September 2020, Ojos Tumbados was released, in collaboration with Dharius, Tiro Loko, Neto Peña, and Gera Mx. A month later, Escandalosos came out, followed by Gallo de Pelea, Cuatro Paredes (with Big Soto), and the double single Vuelve, María.
In 2020, Klan was also named La Voz de la juventud latina and was one of the finalists in the "Acelerador de Talento" of MIDEM. In December 2020, Klan returned with Liga Malandra 2, a collaboration that included the participation of Tren Lokote, La Santa Grifa, El Pinche Mara, Sid MSC, Unex MSC, and Bear Busby.
2021: Santa Cumbia
During the COVID-19 pandemic, Klan approached cumbia and learned to play the accordion, resulting in the album Santa Cumbia. Santa Cumbia was released on February 5, 2021 with a total of nine songs, including Luna y Mar, Soledad, Esta Noche, Carmen and Sonidero. On March 9, 2021, Vida Mala was released. In April, he presented Grandes ligas, a single he recorded with Snoop Dogg and Lupillo and premiered Cumbianbera, where he continues with the cumbia genre.
Later that year, Crónicas De Mi Vecindario was released. On June 4, 2021 he premiered Cumbia Callejera (with Alberto Pedraza) and a few days later he released Pánico (with 473 Music and Neto Reyno). He was followed by other collaborations such as Entre la Muerte y el Peligro with Tren Lokote; Todo Va a Estar Bien with Big Soto and Neto Peña; Cuidando el Territorio with Calibre 50 and Beto Sierra; and Fuma Fuma with Neutro Shorty.
In November 2021 he released Dos Mundos, in collaboration with Banda MS, and Malvivientes (feat. Karlos Loayzat). Also that month, together with 473 Music, he collaborated on Kódigo con Tornillo. Finally, in December, he released Wuero, being his last song of the year.
Socios I y Socios II (2022)
On February 24, 2022, Klan released the collaborative EPs Socios I and Socios II with Gera MX. Both EPs contain four songs, including the tracks Te escondes, Telaraña, Último Adiós, Sin Miedo and Socios.
Prior to these releases, in January 2022, Klan had released Problemático and Callejera with MC Davo. In March, he collaborated with La Internacional on the single El Hombre Necio and with Bhavi on Dios y La Muerte. His next single, Mar y Tierra, was released on April 4, 2022.
Currently, Klan is part of the collective and record label 473 music.
Discography
albums
Bendecido (2019).
Necesidad (with Lefty Sm; 2020).
Santa Cumbia (2021).
EPs
Socios I (with Gera MX; 2022).
Socios II (with Gera MX; 2022).
singles of Santa Fe Klan
Un loco enamorado (2016)
Ayer (2017)
Soy aquel (2017).
Cumbia pandillera (2017)
Cumbia de la santa (2017)
Ya se hizo costumbre (2017)
Prohibida (2018)
Silencio en el callejón (2018)
Silencio en el callejón (2018).
De pies a cabeza (2018).
No me dijeron (2019)
Debo entender (2019).
Infiel (2019)
Así soy (2020)
Mi vicio (2020)
Planta medicinal (2020)
Por mi México (2020)
Grandes ligas (2020)
Ojos tumbados (2020)
De México song (2020)
Mi decepción (2020)
Diente por diente (2020)
Varias madrugadas (2020)
Te iré a buscar (2021)
Cuidando el territorio (2021)
Soledad (2021)
Cumbianbera (2021)
Todo va a estar bien (2021)
Dos mundos (2021)
Vida mala (2021)
Fuma fuma (2021)
Maria (2021)
Esta noche (2021)
Nunca imaginé (2021)
Socios (2022)
¿What is Santa Fe Klan called?
His birth name is Angel Jair Quezada Jasso.
¿Who is Santa Fe Klan's girlfriend?
In 2022, he started dating influencer Maya Nazor.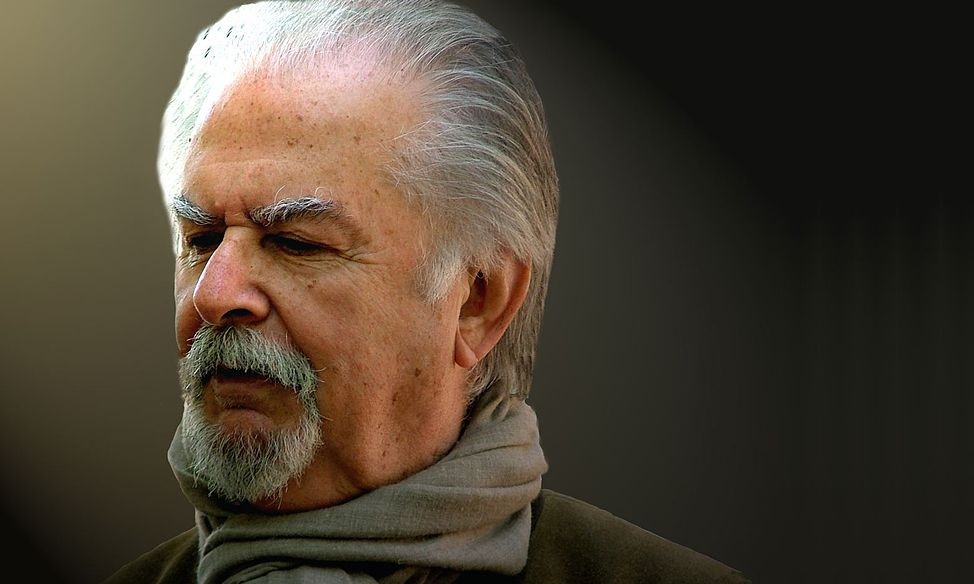 Fernando Botero Biography
Fernando Botero Angulo (April 19, 1932 – September 15, 2023) was a sculptor, painter, muralist, and draftsman, hailing from Medellín, Antioquia, Colombia. He was a Colombian artist known and celebrated for infusing a substantial volume to human and animal figures in his works.
Early Years and Beginnings
Fernando Botero was born into an affluent Paisa family, composed of his parents, David Botero and Flora Angulo, along with his older brother Juan David, who was four years his senior, and his younger brother, Rodrigo, who would be born four years after Fernando, in the same year that their father passed away. In 1938, he enrolled in primary school at the Ateneo Antioqueño and later entered the Bolivariana to continue his high school education. However, he was expelled from the institution due to an article he published in the newspaper El Colombiano about Picasso, as well as his drawings that were considered obscene. As a result, he graduated from high school at the Liceo of the University of Antioquia in 1950.
In parallel to his studies, Fernando attended a bullfighting school in La Macarena at the request of one of his uncles. However, due to an issue related to bullfighting, Botero left the bullring and embarked on a journey into painting. In 1948, he held his first exhibition in Medellín. Two years later, he traveled to Bogotá where he had two more exhibitions and had the opportunity to meet some intellectuals of the time. He then stayed at Isolina García's boarding house in Tolú, which he paid for by painting a mural. Once again in Bogotá, he won the second prize at the IX National Artists Salon with his oil painting "Facing the Sea".
"Ephemeral art is a lesser form of expression that cannot be compared to the concept of art conceived with the desire for perpetuity. What many people fail to understand is that Picasso is a traditional artist"- Fernando Botero
Due to the prize from the IX Salon and the sale of several of his works, Fernando Botero traveled to Spain in 1952 to enroll at the Royal Academy of Fine Arts of San Fernando in Madrid. There, he lived by selling drawings and paintings in the vicinity of the Prado Museum. In 1953, he went to Paris with filmmaker Ricardo Irrigarri, and later, they both traveled to Florence. Here, he entered the Academy of San Marco, where he was heavily influenced by Renaissance painters such as Piero della Francesca, Titian, and Paolo Uccello.
Career and Personal Life
In 1955, Botero returned to Colombia to hold an exhibition featuring several of his works created during his time in Europe, but it was met with a lukewarm reception from the public.
In 1956, he married Gloria Zea, with whom he would later have three children: Fernando, Juan Carlos, and Lina. The couple traveled to Mexico City, where Fernando Botero was eager to see the works of Mexican muralists, but this experience left him disillusioned. Consequently, he began searching for his own artistic style, drawing influence from both the Mexican artist Rufino Tamayo and the Colombian artist Alejandro Obregón. In this quest, he started experimenting with volume, initially in still lifes, and gradually extending this approach to other elements.
In 1957, he successfully exhibited in New York, showcasing his new artistic sensibility. The following year, he returned to Bogotá, where he was appointed as a professor at the School of Fine Arts at the National University of Colombia. He presented his work "La Camera Degli Sposi" at the X Colombian Artists Salon, winning the first prize and becoming the country's most prominent painter. This piece sparked some controversy as it was initially censored for being almost a parody of Andrea Mantegna's "La Cámara de los Esposos". However, it was later reinstated in the exhibition on the advice of Marta Traba. Subsequently, Fernando Botero exhibited his works in various spaces in the United States, where a businessman from Chicago purchased "La Camera Degli Sposi".
"Fernando Botero and his works are the finest ambassadors of our country in this land of navigators and discoverers, of poets and fado singers"- Juan Manuel Santos
In 1960, Botero separated from Gloria Zea and traveled to New York. He led a modest life here as the New York art scene was primarily inclined towards abstract expressionism. Consequently, Botero was influenced by artists like Pollock, which led him to experiment with color, brushwork, and format, to the point of nearly abandoning his distinctive style characterized by the manipulation of volume. Aware of this, Botero returned to his usual style of flat colors and figurative representations.
Starting in 1962, he began a series of exhibitions in both Europe and the United States, as well as in Colombia. By 1970, the year his son Pedro was born to his second wife, Cecilia Zambrano, Fernando Botero had already become the world's most sought-after sculptor. However, in 1974, his son Pedro tragically died in a traffic accident, leading to his second divorce and leaving significant marks on his artistic endeavors.
In 1978, the Colombian painter married Sophia Vari, a renowned Greek artist with whom he shared a significant part of his life, until sadly, she passed away in May 2023.
Since 1983, Fernando Botero has been exhibiting his works and donating them to various cities around the world. As a result, we can find his pieces in the streets of Medellín, Barcelona, Oviedo, Singapore, and Madrid, among others. In 2008, the Autonomous University of Nuevo León in Mexico conferred upon him an honorary Doctorate.
Death
Renowned Colombian artist, Fernando Botero, died on September 15, 2023, in Monaco at the age of 91 due to pneumonia. His artistic legacy will endure forever. In his hometown, seven days of mourning were declared.
Top 10 Famous works by Fernando Botero
Some of the most recognized works by Colombian painter and sculptor Fernando Botero:
"Pedrito on Horseback" / "Pedrito a Caballo" (1974): This is an oil painting on canvas measuring 194.5 cm x 150.5 cm. For Botero, this work is his masterpiece and a refuge during a personal tragedy. The child depicted is Pedro, his son from his second marriage, who tragically passed away in an accident when he was young.
"Mona Lisa at 12 Years Old" / "Mona lisa a los 12 años" (1978): This piece stands out as a unique version of Leonardo da Vinci's famous painting, the Mona Lisa. Painted in oil on canvas and measuring 183 cm x 166 cm, Botero incorporates his characteristic style of voluptuous and rounded figures into this work, which has become one of his most distinctive pieces.
"Woman's Torso" / "Torso de Mujer" (1986): It is a majestic bronze sculpture that rises to an impressive height of approximately 2.48 meters. It is often affectionately referred to as "La Gorda" ("The Fat One"). This artwork finds its home in Parque de Berrío, located in the captivating city of Medellín.
"Woman with Mirror" / "Mujer con Espejo" (1987): An imposing bronze sculpture weighing 1000 kg. It is located in Plaza de Colón, in the heart of Madrid, Spain. The artwork captivates the gaze with the portrayal of a woman peacefully lying face down on the ground, holding a mirror in her hands. Her expression reflects deep introspection and enigmatic melancholy.
"The Orchestra" / "La Orquesta" (1991): In this oil on canvas artwork, measuring 200 cm x 172 cm, Botero presents a band of musicians with a singer, all immersed in a spirit of celebration. The artist aims to convey a sense of harmony and joy through his portrayal.
"Woman Smoking" / "Mujer Fumando" (1994): It is a creation executed in watercolor, spanning dimensions of 122 cm x 99 cm. In this work, Maestro Botero skillfully captures the essence of a woman elegantly holding a cigarette between her fingers. His meticulous focus on voluptuous forms, posture, and the serene expression of the figure masterfully combine to emphasize the sensuality and profound intimacy of the moment captured in the artwork.
"Man on Horseback" / "Hombre a Caballo" (1996): This bronze sculpture is one of the most iconic works in the artist's career. It depicts a rider in a majestic and proud posture. Over the years, this imposing work has been exhibited in multiple cities around the world, solidifying its place as a prominent piece in the sculptor's body of work.
"The Horse" / "El Caballo" (1997): This iconic sculpture showcases a horse of majestic presence and a distinctive rounded form, sculpted in bronze and measuring approximately 3 meters in height. This masterpiece reflects Botero's profound passion for horses while also serving as a powerful representation of the mythical Trojan Horse.
"The Death of Pablo Escobar" / "La muerte de Pablo Escobar" (1999): This artwork, created using the oil on canvas technique, has dimensions of 58 cm x 38 cm. While not considered a masterpiece, this artistic piece represents one of the most significant moments in Colombia's history. Fernando Botero captures, in his distinctive style, the moment of the death of the drug lord Pablo Escobar, addressing issues related to violence and criminality that have marked the country's history.
An interesting detail is that, although Pablo Escobar admired Fernando Botero's art, it cannot be said that the admiration was mutual. The painter created two works depicting the death of the drug trafficker.
"Boterosutra Series" / "Serie Boterosutra" (2011): This work by Botero is part of an erotic art collection called Boterosutra, marking a milestone in the history of Colombian art as the first artistic representation of sexual intimacy between lovers. This series comprises around 70 small-sized pieces created using various techniques, including colored drawings, watercolors, brushstrokes, and also black and white, all of which constitute one of the most contemporary works by the painter.