Personal information
Full name

Angel Jair Quezada Jasso

Birthdate

November 29, 1999

Age
23 years old
Occupation

Rapper, singer, and composer.

Stage name
Santa Fe Klan
Nationality

Mexican

Spouse

Maya Nazor.

Height
1.70 m
Band
Santa Fe Klan (2013-17); Colectivo 473 Music
Awards
Independent Song Award by the Mexican Society of Authors and Composers, 2021.
Genders
Rap, hip-hop, trap,
Zodiac sign
Sagittarius
Biography of Santa Fe Klan
Angel Jair Quezada Jasso (November 29, 1999), better known artistically as Santa Fe Klan, is a Mexican rapper, singer, and songwriter who stands out in the rap scene. He began his career in 2013 as a member of the Santa Fe Klan group, which dissolved in 2017. Then, he continued as a solo artist under the same name. In 2017, the group released its first album, titled Por Costumbre. Two years later, Klan debuted as a solo artist with Bendecido. Since then, he has enjoyed great success, becoming one of the favorites of the Mexican rap scene. Among his most outstanding hits are Cumbia pandillera, Ya se hizo costumbre, En Espera, Así Soy, Diente por Diente, and Infiel.
Early stages
From a humble family, Klan was born in Guanajuato, Mexico, on November 29, 1999. He grew up in the Santa Fe neighborhood, which gave him his name, and has mentioned several times that the experience in the neighborhood was crucial for the development of his career. Without the support of his family and friends, he would not have come so far. There he learned the most important lessons of his life. He grew up listening to rap, inspired by the atmosphere of the streets, graffiti, and breakdancing.
At the age of twelve, he began composing, recording his first single at 13. However, it was not until he turned 15 that he began to take music more professionally, being signed by the record label Alzada Records.
The first hip hop album he listened to was by Cypress Hill, when he was 14 years old. Other influences on Klan come from norteño music.
Santa Fe Klan: Debut and career as a group
The story of Santa Fe Klan as a group began in 2013, when Angel was fourteen years old. His first songs, La misma vida de locos, appeared on YouTube and later came Bien Sanos, Lagrimas de una Madre, Ojos tristes and Corazón Flechado. Despite the success they had achieved, in 2016 the group began to fragment and in 2017, several members left the band.
It was in 2017 that the group released its first album, titled Por Costumbre. This included 14 songs, among which stood out Otro Día Mas, Triste Realidad, La Última Carta and Ya Se hizo Costumbre.
Later that year, the group released its second album, Seguimos radicando (2017), followed by El Inicio, vol 1, 2 and 3. The three volumes were released in 2017, showing the group's tireless talent. During that year, Santa Fe Klan would release around 80 songs (sum of the songs on each album).
Among the most popular songs were: Cumbia pandillera, Días Grises, and Un poco enamorado, as well as collaborations: Marihuana with Sid MSC, Rompiendo Reglas with Bipo Montana, Señorita Juana with Liriko Wan, Relax with Tramas, De Donde vengo with Niteck, and En un avión de papel with Mistyko.
Santa Fe Klan as a solo artist
Maintaining the name of Santa Fe Klan, Klan made his solo debut on June 26, 2019 with the release of Bendecido, his first solo album. The album was a great success, with 10 songs, several music videos, and a short film directed by Jos Macias. Among the most notable tracks on the album were: Familia, Hambre, and Religión.
That year he also released the singles Tu y yo and De la calle Somos, as well as the collaborations Ni Ángel Ni Demonio with Neto Peña, Akapellah, and Gona, Te iré a buscar with Nanpa Basico and Infiel with Afaz Natural. He also composed the song Mi Guanajuato, which was part of the soundtrack of Huachicolero. Infiel was especially popular on streaming sites and social networks such as TikTok.
Other successes in 2019 were Entre El Bien y El Mal (feat. Big Stan), Debo Entender, Si Me Caigo, and Corazón Criminal.
Established in the rap scene, his successes continued in 2020. He started the year with the release of the single Mi Vicio, followed by Si Me Quieren Matar (with Delaossa), Varias Madrugadas, and Alerta with Sid MSC. He also collaborated with Robot on the single Diente por Diente and repeated success with Afaz Natural on the single Luna.
Necesidad (2020)
His second album, Necesidad, was released in June 2020 in collaboration with Lefty Sm. The album included a total of 10 songs, among which Por mi México, Soy Mercenario, Está Caliente, and Mi Decepción stand out. The following month he released Siempre High (ft. Jozue) with Gera MX and Neto Peña, and Lentos Oscuros with Chikis RA.
In September 2020, Ojos Tumbados was released, in collaboration with Dharius, Tiro Loko, Neto Peña, and Gera Mx. A month later, Escandalosos came out, followed by Gallo de Pelea, Cuatro Paredes (with Big Soto), and the double single Vuelve, María.
In 2020, Klan was also named La Voz de la juventud latina and was one of the finalists in the "Acelerador de Talento" of MIDEM. In December 2020, Klan returned with Liga Malandra 2, a collaboration that included the participation of Tren Lokote, La Santa Grifa, El Pinche Mara, Sid MSC, Unex MSC, and Bear Busby.
2021: Santa Cumbia
During the COVID-19 pandemic, Klan approached cumbia and learned to play the accordion, resulting in the album Santa Cumbia. Santa Cumbia was released on February 5, 2021 with a total of nine songs, including Luna y Mar, Soledad, Esta Noche, Carmen and Sonidero. On March 9, 2021, Vida Mala was released. In April, he presented Grandes ligas, a single he recorded with Snoop Dogg and Lupillo and premiered Cumbianbera, where he continues with the cumbia genre.
Later that year, Crónicas De Mi Vecindario was released. On June 4, 2021 he premiered Cumbia Callejera (with Alberto Pedraza) and a few days later he released Pánico (with 473 Music and Neto Reyno). He was followed by other collaborations such as Entre la Muerte y el Peligro with Tren Lokote; Todo Va a Estar Bien with Big Soto and Neto Peña; Cuidando el Territorio with Calibre 50 and Beto Sierra; and Fuma Fuma with Neutro Shorty.
In November 2021 he released Dos Mundos, in collaboration with Banda MS, and Malvivientes (feat. Karlos Loayzat). Also that month, together with 473 Music, he collaborated on Kódigo con Tornillo. Finally, in December, he released Wuero, being his last song of the year.
Socios I y Socios II (2022)
On February 24, 2022, Klan released the collaborative EPs Socios I and Socios II with Gera MX. Both EPs contain four songs, including the tracks Te escondes, Telaraña, Último Adiós, Sin Miedo and Socios.
Prior to these releases, in January 2022, Klan had released Problemático and Callejera with MC Davo. In March, he collaborated with La Internacional on the single El Hombre Necio and with Bhavi on Dios y La Muerte. His next single, Mar y Tierra, was released on April 4, 2022.
Currently, Klan is part of the collective and record label 473 music.
Discography
albums
Bendecido (2019).
Necesidad (with Lefty Sm; 2020).
Santa Cumbia (2021).
EPs
Socios I (with Gera MX; 2022).
Socios II (with Gera MX; 2022).
singles of Santa Fe Klan
Un loco enamorado (2016)
Ayer (2017)
Soy aquel (2017).
Cumbia pandillera (2017)
Cumbia de la santa (2017)
Ya se hizo costumbre (2017)
Prohibida (2018)
Silencio en el callejón (2018)
Silencio en el callejón (2018).
De pies a cabeza (2018).
No me dijeron (2019)
Debo entender (2019).
Infiel (2019)
Así soy (2020)
Mi vicio (2020)
Planta medicinal (2020)
Por mi México (2020)
Grandes ligas (2020)
Ojos tumbados (2020)
De México song (2020)
Mi decepción (2020)
Diente por diente (2020)
Varias madrugadas (2020)
Te iré a buscar (2021)
Cuidando el territorio (2021)
Soledad (2021)
Cumbianbera (2021)
Todo va a estar bien (2021)
Dos mundos (2021)
Vida mala (2021)
Fuma fuma (2021)
Maria (2021)
Esta noche (2021)
Nunca imaginé (2021)
Socios (2022)
¿What is Santa Fe Klan called?
His birth name is Angel Jair Quezada Jasso.
¿Who is Santa Fe Klan's girlfriend?
In 2022, he started dating influencer Maya Nazor.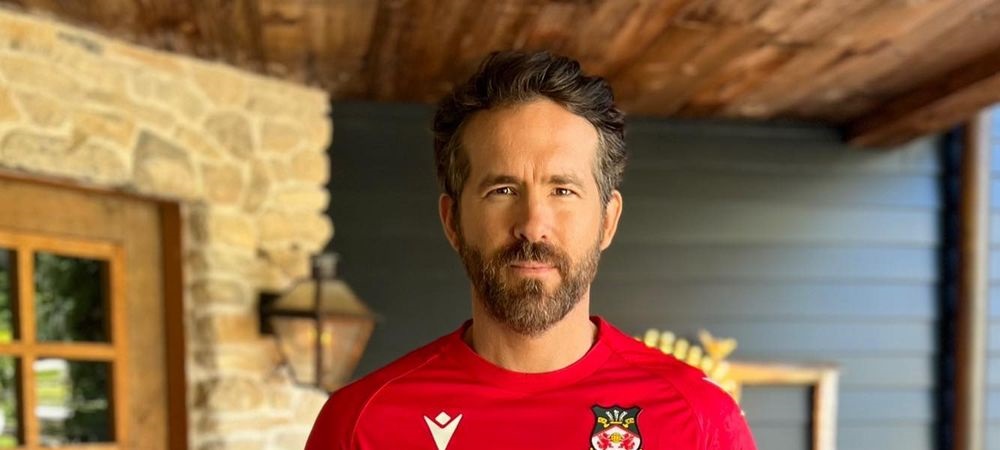 Biography of Ryan Reynolds
Ryan Rodney Reynolds was born on October 23, 1976 in Vancouver, Canada, and he is a well-known actor. When Ryan was born, his mother, Tammy, was a student and a salesperson, while his father, Jim, worked in wholesale food sales and also excelled as a semi-professional boxer. In addition, Ryan has three older siblings.
He studied in his hometown of Vancouver until 1994 when he decided to join a theater group as an extracurricular activity while attending Kwantlen College. However, his passion for acting became a vocation, and Ryan dropped out of college to devote all his time and energy to his acting career.
Debut as an actor
He quickly landed small roles in successful and memorable TV series such as "Sabrina the Teenage Witch" and "The X-Files". In 1998, his big break came with the series "Two Guys, a Girl and a Pizza Place", which ran until 2001 and catapulted him to fame. The show became very popular thanks to its great comedic content, an area where Reynolds demonstrated perfect skill, but this was not the first time that Ryan had made a name for himself in a Hollywood comedy, as he had already been in "Life During Wartime" in 1997.
Films
After working in several minor jobs, Ryan got his first major role as a protagonist in the crazy "Van Wilder – Animal Party", where he played a college party organizer. The success of the film opened doors for him to work alongside Michael Douglas in "Till Death Do Us Part", support Wesley Snipes in "Blade Trinity" or star in the horror movie "The Amityville Horror". However, at this stage of his career, Ryan stood out mainly as a protagonist in comedies such as "Just Friends", "Waiting" and "Harold & Kumar Go to White Castle". This led him to want to leave his comedic side behind, getting involved in different projects such as the thriller "Smokin' Aces", the independent film "Adventureland" and the action film "X-Men Origins: Wolverine". Later on, he also participated in romantic films such as "The Proposal" and "Definitely, Maybe". However, recognition of his acting ability did not come until Ryan was nominated for a Goya Award for his demanding role in "Buried". It is worth noting that he also brought to life the comic book hero "Green Lantern" and the renowned "Deadpool".
Contracts, curiosities
Prestigious brands like Hugo Boss have not been oblivious to Ryan Reynolds' popularity, charisma, and good looks, offering him contracts to be the face of one of their fragrances: Boss Bottled Night, a fragrance that, through great advertising, managed to convey an irresistible seductive effect.
Two curiosities can be highlighted from his work: first, the nearly 10 kilos of solid muscle he gained thanks to rigorous physical training to bring Hannibal King to life in "Blade: Trinity"; and second, his appearance on the animated TV series Zeroman, in which he lent his voice to the character Ty Cheese. In addition, like many Hollywood stars, Ryan Reynolds has an eccentricity outside the world of entertainment: a great passion for motorcycles, of which he owns three collector's items, one of which was designed exclusively for him and is none other than a Harley Davidson.
Romantic relationships
Regarding his personal life, Ryan Reynolds was in a romantic relationship with singer Alanis Morissette from 2002 to 2007. The couple got engaged in 2004, but in July 2006, People magazine reported that they had separated, although neither of them officially confirmed the news. Shortly after, in February 2007, they decided to end their engagement by mutual agreement. In May 2008, Reynolds announced his engagement to actress Scarlett Johansson, and they got married on September 27 of the same year. However, in December 2010, the couple announced in a statement to People magazine that they had decided to end their marriage.
So, on September 9, 2012, he married the actress Blake Lively in Mount Pleasant, South Carolina. In October 2014, they announced that they were expecting their first child, and in December of that same year, Ryan Reynolds and his wife Blake Lively became parents with the birth of their daughter: Ines. Later, on April 14, 2016, his wife's second pregnancy was confirmed, and on September 30, 2016, he became a father for the second time to a boy named James.