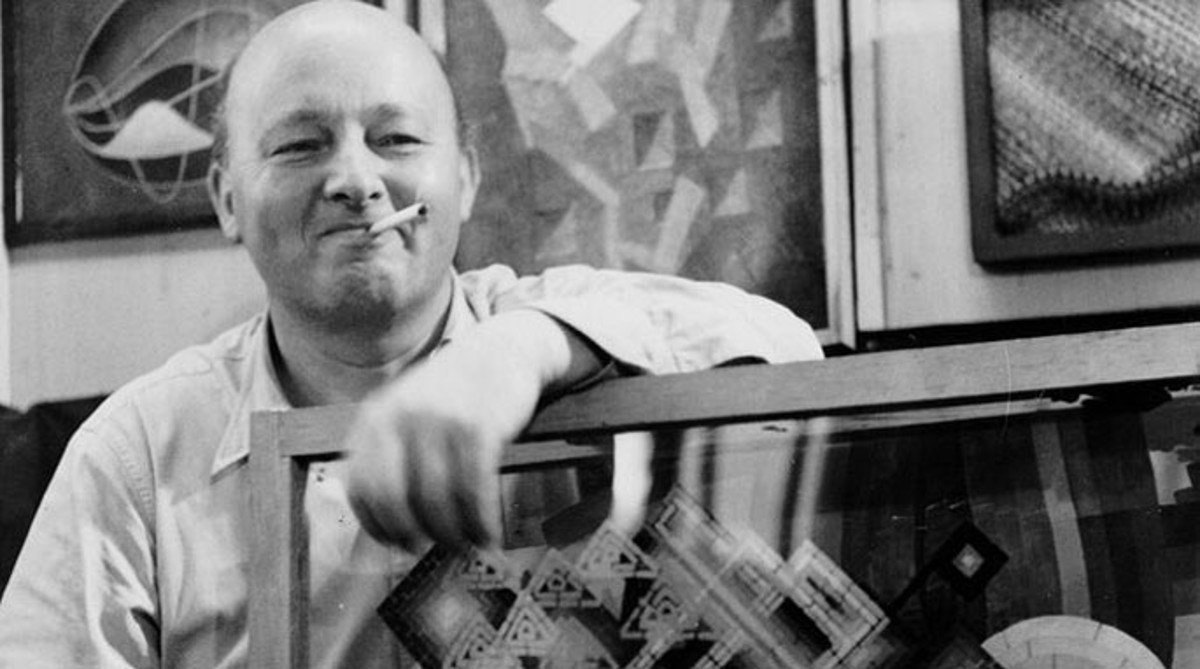 Oskar Fischinger Biography
Oskar Fischinger was an animator, painter, and a German cinematographic director, recognized for his abstract works and combined with the geometry of music. He was born on June 22, 1900, in Gelnhausen, Germany, and from an early age, he was interested in abstract art. Before being an animator and filmmaker, he was a musician, a technician in architectural design and tools.
In 1920, he traveled to Frankfurt, where he met Bernhard Diebold, a Swiss writer, and critic, who saw his abstract sketches and recommended him to start working on the filming of abstract films. In 1921, he made the film "Opus I" by Walter Ruttmann, which was the first public screening of an abstract film at that time, which motivated Fischinger to decide to leave his engineering work to move to Munich, with the goal of becoming a filmmaker.
Fischinger's early films, which were recorded in the early 1920s, are among the most radical because he was challenged to produce something different from the romantic choreography of small figures that were shown in Ruttmann's films or the static work of graphical labyrinths in the work of Viking Eggeling.
Between 1925 and 1927 he created "Wax Experiments"; "R-1, A Form-Play" and "Spirals" where Fischinger designed very well structured visual parameters, which were constantly moving in hypnotic cycles and then interrupted with a radical montage of single frames with contrast-filled images.
By 1927, he moved from Munich to Berlin, as he was hired to work on special effects of rockets, star landscapes and planetary surfaces for the science fiction film "Woman on the Moon" directed by Fritz Lang. During his stay in the German capital, he, unfortunately, broke his ankle, so he had to continue drawing and creating from the hospital. It took place in the invention of the Gasparcolor process, which allowed him to produce audiovisual pieces such as "Composition in Blue" his second color film, in which he used small geometric models. In that same year, he recorded "Munich Berlin walking" a short film that was shot with an innovative technique.
Made exhibitions in foreign festivals without receiving the required authorizations, managed to win the "King's Prize" at the Universal Exhibition in Brussels in October 1935, thanks to "Composition in Blue."
For the Nazi Germany of Adolf Hitler, his works were considered as denied art, so in 1936 Oskar Fischinger had to seek acyl in the United States. There he was hired by Paramount, with the condition that he could not continue working in color. Later, the company bought his short "Allegretto" to pass it to color, which was considered one of the most complete pieces of visual music, thanks to the layers of celluloid that caused a revolution in the world of animation at that time, and those that Fischinger could use. The attempts of Oskar Fischinger to be able to film in the United States always were failed, since they always placed many restrictions and complications for him.
He composed the composition of "An Optical Poem" (An Optical Poem) which was used for the "Second Hungarian Rhapsody" by Liszt; for that work, he did not receive any economic benefit. He also made a scene for the Disney movie "Fantasia" but he was not successful either since all his designs were modified or eliminated to be more "representative."
After doing more than 50 shorts, he decided to dedicate himself to oil painting; and also had the idea of ​​creating an apparatus, called the Lumigraph, which produced fantastic chromatic screens with hand movements.
Oskar Fischinger is considered the precursor of music videos and video clips, since his work allowed access to advanced filming technologies, which, added to his own technical innovations, led him to the interest of Hollywood studios. He was also considered one of the great experimental artists of the early twentieth century.
Oskar Fischinger died on January 31, 1967, in Los Angeles, at the age of 67.
On June 22, 2017, Google paid tribute with a doodle to the 117th anniversary of his birth.
FILMOGRAPHY
Silhouette: 1920.
Stäbe: 1920.
Wachs Experiment: 1921
Studies 1 to 4: 1921-1925.
Spiralen: 1925
München-Berlin Wanderung: 1927.
Seelische Konstruktionen: 1927.
Study Nr. 2: 1929.
Study Nr. 3: 1930.
Study Nr. 4: 1930.
Study Nr. 5: 1930.
Study Nr. 6: 1930.
Study Nr. 7: 1930-1931.
Study Nr. 8: 1931.
Study Nr. 9: 1931.
Study Nr. 12: 1932.
Study Nr. 13: 1933-1934.
Kreise (Alle kreise erfasst Tolirag): 1933-1934.
Muratti greift ein: 1934.
Komposition in Blau: 1935.
Muratti Privat: 1935
Allegretto: 1936
An Optical Poem: 1937.
Organic Fragment: 1941
Am American March: 1941.
Motion Painting Nr. 1: 1947.
Muntz TV Commercial: 1952.
Anime history
Japanese anime or animation emerged at the beginning of the 20th century influenced by animation and the world of cinema developed in the United States, later it was modified and claimed Japanese culture. The anime-style as we know it began to develop in the late 1950s, when the production company Toei Studios and the different series based on short sleeves or cartoons, such as Tetsuwan Atomu, also known as Astro Boy. From the 1980s and 1990s, the anime became popular, appearing large cult series such as Dragon Ball, Neon Genesis Evangelion, Sailor Moon, Detective Conan, Rurouni Kenshin, and Cowboy Bebop, among others. In the new millennium, the Japanese animated industry has been booming, providing new content every season based on successful manga, light novels, video games, and music.
Beginnings
The first Japanese animations were small short films developed at the end of the 1910s, largely inspired by American animation, in these, folk and comic themes were addressed. The first short film was Namakura Gatana by Junichi Kouchi, it was two minutes long, the story told the story of a man with his katana (Japanese sword or saber). In the following decade, the duration of the short films was extended to ten or fifteen minutes, in which typical oriental tales were represented. Among the pioneer artists of this era are Oten Shimokawa, Junichi Kouchi, Seitaro Kitayama and Sanae Yamamoto; by this time the short film Obasuteyama (The Mountain Where Old Women Are Abandoned) by Yamamoto was published.
During the 30s and 40s, the Japanese animated industry went through a series of changes, the stories were neglected and western stories were taken into account. A short time later the anime Norakuro (1934) of Mituyo Seo, one of the first animations based on a manga. Since then this became a frequent practice. By the end of the 1930s, World War II broke out, a warlike confrontation in which Japan was involved as a member of the Axis powers, at which time the animations became war propaganda. At the end of the war, the country was occupied by the allied powers led by the United States, which seriously affected the country that was going through a deep economic crisis.
Industry development and international boom
In the course of the crisis, the manga and anime industry became popular in the country, thus establishing the basis for the development of the own animated style that occurred around the middle of the 20th century. It was around this time that Toei Studios, an animation film producer, emerged as one of the key figures in the history of anime. This company was a pioneer in the animation of Japan, provided various productions that allowed the advancement of animation in the country. The company's first animation was Koneko no rakugaki, a short thirteen-minute film published in 1957. The following decade the company grew by focusing on the development of feature films. Other companies such as Mushi Pro, a producer that made the animation of Tetsuwan Atomu (Astro Boy) by Osamu Tezuka, mangaka and animator, one of the most relevant artists of the Japanese animated industry of the 20th century.
Between the 1960s and 1970s, the anime of robots (mecha) became popular appearing iconic series such as Tetsujin 28-gō and Mazinger Z or Gundam, for this same period the popular Doraemon series (1973), based on the homonymous anime, began to air Fujiko Fujio, a series that tells the story of a cosmic robot cat that has attached to its body a bag from which it subtracts various artifacts which are used in the adventures of Doraemon and his human friend Nobita. In the 1980s and 1990s, Japanese animation boomed internationally, which led to many series beginning to dub into English and Spanish, in these years cult series such as Dragon Ball, based on the manga of Akira Toriyama. Saint Seiya also known as The Knights of the Zodiac, Captain Tsubasa, exported as Super champions; Rurouni Kenshin, known in the west as Samurai X, Neon Genesis Evangelion of Hideaki Anno; Pokémon, Ranma ½, and Sakura Card Captor, among others.
In 2000, the already booming anime is largely massified by the acceptance and the huge fan base that it had acquired at the time, these followers known as otakus, boosted the Japanese animated industry. Since then there have been numerous animated productions that have been distributed worldwide, among the most prominent series of the new millennium are One Piece, Naruto, Bleach, Fullmetal Alchemist, Inuyasha, Yu-Gi-Oh, Rozen Maiden, Kuroshitsuji, and Death Note, all are ace based on sleeves that when becoming successful, allowed the development of the animated series.
At present, any manga that has a large number of followers is very likely to have adapted in an animated series, such as Hunter x Hunter, Pandora Hearts, Ao no Exorcist, Mirai Nikki, Bakuman and Shingeki no Kyojin, among many others, light novels have been adapted that have become popular as Durarara!!, Boku wa Tomodachi ga Sukunai, Sword Art Online, and My Youth Romantic Comedy Is Wrong, As I Expected, among others. In recent years, the Yaoi and Yuri genres have been popularized in which romantic relationships between people of the same sex are addressed, among these series it is possible to rescue Junjō Romantica, Sekaiichi Hatsukoi, No. 6, Aoi Hana, Sasameki Koto and Yagate Kimi ni Naru
At present, the Japanese animated industry produces numerous series, ova, and films per year, becoming one of the strongest industries in the world of animation. Among the most prominent people in this industry is Hayao Miyazaki, founder of Studio Ghibli, a studio where films such as My Neighbor Totoro, The Incredible Vagabond Castle, The Journey of Chihiro, and Ponyo, among others, likewise, stand out in the present, artist Makoto Shinkai, creator of 5 centimeters per second, Hoshi Wo Ou Kodomo, Kotonoha no Niwa and Kimi no Na Wa.