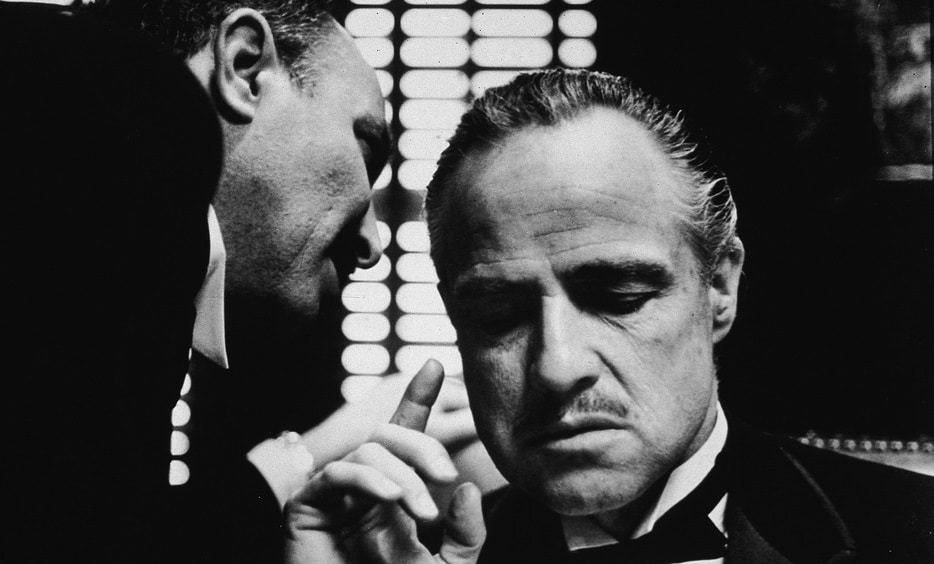 Marlon Brando Biography
Marlon Brando (April 3, 1924 – July 1, 2004) was an American actor, film director, and activist. Brando was born in Omaha, Nebraska, United States. Son of Dorothy Pennebaker, a passionate artist and promoter of theater art of Irish descent, and Marlon Brando Sr who was characterized by being strict with his children and very rigid in religious matters. He belonged to the community of the Episcopal Church, working as a representative of a chemical factory, so the family had to change residence in several times (Illinois, California, Minnesota), when they settled permanently on a farm in Libertyville, Illinois, in 1937, Dorothy decided to create a theater group.
In his childhood, Marlon was a restless and somewhat conflictive, so, in adolescence, he earned the nickname of Bud. When he was 16, his father forced him to enter the Shattuck Military Academy in Faribault, Minnesota, in order to acquire discipline and correct their rebellious habits. However, far from being that way, the young man was expelled after his second year in the military institution.
Brando was forced to perform various jobs to sustain himself. He worked as a bricklayer and crane driver. Brando wanted to move to New York to try his luck in the theater, a legacy his mother had left them. One of his sisters, who was still in the city Marlon was, decided to offer him lodging. He had to work in temporary jobs: sodas salesman, dishwasher, bellboy and as the elevator operator in a department store. While he waited for his opportunity. However, at that time; the family situation was not good. There was an unfortunate incompatibility of marriage, the discussions were constant, and Dorothy would become alcoholic, for this reason, the theater group started being led by some friend of her.
"The more sensitive you are, the more certain you are to be brutalized, develop scabs, never evolve. Never allow yourself to feel anything, because you always feel to much." ― Marlon Brando
Brando and his brothers with certain maturity and independence decided to leave home.
Soon after, Marlon would get enough money to go to New York, where he would meet Erwin Piscator, director of the Dramatic Workshop at the New School for Social Research, founder of the Actor's Studio. He attended the classes of Stella Alder, who enjoyed great prestige in Moscow.
Between 1944 and 1947, Brando began to participate in different plays, such as Molière, Shakespeare, Ben Hetch, Cocteau, Bernard Shaw, in which his talent was tested. After seeing his big potential, Tennessee Williams was convinced that Marlon's talent was ideal to incarnate for the first time a character named Stanley Kowalski in the film "A Streetcar Named Desire" (1951) directed by Elia Kazan and with the cast of Vivien Leigh, Marlon Brando, Kim Hunter and Karl Malden. This film that would obtain an Oscar Award.
Brando became very popular in Broadway because of the scenes in which he demonstrated his power of seduction, and they were a real success, which caused great fury in the viewers. By this leading role, a legend of cine was born. An icon that was admired and tried to imitate by his colleagues and that half a century later has not been extinguished.
After, he participated in various productions with great success due to his proud spirit that since childhood he had developed. This naturalness in his performance and representation of rebellious characters caused the best criticism. For instance, films like "The wild one" (1954), by László Benedek, or "The fugitive kind" (1959), by Sidney Lumet helped him to show his skills and made the fall in love with his characters. Another remarkable film was "The young lions" (1958) where Brando was able to show his interpretative versatility by embodying the role of a German Wehrmacht captain, playing a more human role, different from the prevailing style of the war films in that moment.
Six years after his debut, Brando had become a prestigious actor; he had been an Oscar-nominated five times, for his participation in the following films: ¡Viva Zapata! (1952) directed by Elia Kazan, Julius Caesar (1953) directed by Joseph L. Mankiewicz, and On the Waterfront (1954), in which he played Terry Malloy, a former boxer from New York, tormented by the ghost of the betrayal after having contributed to the sinister witch hunt led by Senator Joseph McCarthy.
Brando, showed an attitude of dissatisfaction with many actions and attitudes of the controversial stars of Hollywood, for his arrogance or egocentrism. He claimed that he worked against the star-system, as he called it. His style attracted the attention of producers and film companies. It is true that rejected many offers from Hollywood, but more for saturation than by ideology.
In the 50s when his career was in the climax, Marlon would direct and act in the film One-eyed Jacks (1961). This work was not valued at the time but much later. He worked with Bertolucci and Coppola in the film The Godfather an American film released in 1972 directed by Francis Ford Coppola, produced by Albert S. Ruddy, and Paramount Pictures company. Marlon would win an Oscar thanks to his excellent performance.
"Privacy is not something that I'm merely entitled to, it's an absolute prerequisite." ― Marlon Brando
In 1978, he participated in Superman, by Richard Donner, in which he would receive the best monetary benefit, with a salary of 14 million dollars. After that, he tried out mercenary roles, which characterized the last stage of his acting career.
Despite his good salaries, his economic life was disorderly, and he had several debts due to real estate investments in Tahiti. On the other hand, his failed relationship with Joanna O'Callaghan, with whom he appeared in court for years in order to have custody of their first child, Christian, who, in 1990 was prosecuted for the murder of his stepsister's boyfriend Cheyenne. Christian's stepsister would fall into a severe depression, five years after the event and hanged herself in her room, ending her life, which was a hard blow for Brando.
Years later, Brando, known as "the best actor of all time" would be hospitalized in a Los Angeles medical center for a health problem related to being overweight. The 80-year-old actor suffered a respiratory failure that ended with his existence on July 1, 2004. After his death, the testament was known in which he left an estate of about 22 million dollars for ten children, conceived in different relationships. His ashes were scattered in a special act in the Valley of Death.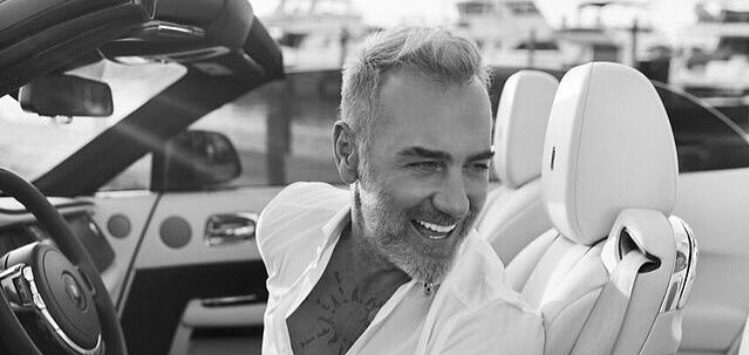 Gianluca Vacchi biography
Gianluca Vacchi (August 5, 1967) Born in Bologna, Italy. Italian businessman and artist, known for his eccentricity and the way he manages his money, throwing lavish and expensive parties. His lifestyle is frequently shared by the businessman through his social networks.
Vacchi is a man of more than 50 years who has attracted the attention of various people, not only for his eccentricity but also for his physical attractiveness. He currently has more than 15 million followers on instagram and since 2014 he has become popular with the hashtag #GVLifestyle.
There is only one life and you have to live it trying to enjoy everything you can.

Gianluca Vacchi
Family and studies
Gianluca Vacchi grew up in a wealthy family. From an early age he was interested in business. He studied economics and then began to be part of the family business. Later he founded the company IMA, a company dedicated to the creation of pharmaceuticals, cosmetics and others. Over time, Vacchi diversified his businesses, participating in different business projects. While doing this, he increased his capital, becoming a billionaire in a matter of a few years.
Change of lifestyle
After several years in the industry, Gianluca Vacchi left the family business in charge of his cousin and dedicated himself fully to enjoying his life, since at the age of forty he had not explored and enjoyed everything he achieved in those years. After thinking about the way he had lived until then, he decided to change his lifestyle. He started by working on his physique, improving his diet and exercising. He complemented this, with hours in the sauna and cryotherapy and shortly after the effort began to show.
At 47, he became known on social networks with a photo in which he was seen riding with the famous American actor Zac Efron.
Since then, he began to attract the attention of the public for his sensual dances, his eccentric and expensive parties. Likewise, through the networks he showed the large number of properties he owned: mansions, houses on the beach, yachts, motorcycles, cars and even a helicopter.
In 2016, the videos of Vacchi and his girlfriend at the time, Giorgia Gabriele, dancing to different Latin music songs, went viral. It was then that it became a trend. Many were interested in the lifestyle of the 49-year-old man, surrounded by beautiful women and with an exorbitant fortune. Since then, the daily life of the famous Italian has been shared by social networks. He is currently one of the most famous adult influencers on the platform.
The following year he ended his relationship with his girlfriend Gabriele, and a short time later he was seen with the beautiful Colombian model, Ariadna Gutiérrez. That same year he published his book Enjoy (2016), which, in Vacchi's words, is a conceptual biography. In this book, he talks about his experiences, gives advice and encourages people to enjoy life to the fullest.
During this period of his life, the Italian has been seen with famous Latin, American and European artists, which has increased his popularity. Among the artists with whom he has been associated are the singers: J. Balvin, Luis Fonsi, Sebastián Yatra, Ozuna, Daddy Yankee and Yandel, among others. In 2017, Vacchi was seized by Banco BPM. He later explained that this does not greatly affect his fortune and that it was all a disagreement with the bank.
Facet as DJ
In recent years, Gianluca Vacchi has dabbled in music as a DJ, working with great figures such as Steve Aoki, Nicola Zucchi, Christian Lena and Albertino, among others. He currently has a contract with the Spinnin 'Records label. His first song, entitled Viento, appeared under this label on August 13, 2017. This song currently has more than 27 million views on YouTube.
After Viento, Tump-it came out, a theme that quickly became a trend. In August he released the song Sigamos Bailando, his collaboration with Yandel and Luis Fonsi. Later he released the song Waglio, in collaboration with Alessio and in 2019, he released Asho mami and Mueve.
Vacchi has made several tours as a DJ and worked in clubs such as Amnesia Ibiza, Sutton Club and Sutton Barcelona, among others.
Gianluca news
Currently Vacchi, is romantically involved with the young model Sharon Fonseca. On May 10, 2020, during the celebration of Mother's Day, he announced via Instragram that he and his girlfriend were expecting their first child.
Birth of your child
On October 28, Gianluca and Sharon announced the birth of their daughter Blu Jerusalema Vacchi, true to their style, this announcement was made through their Instagram accounts.