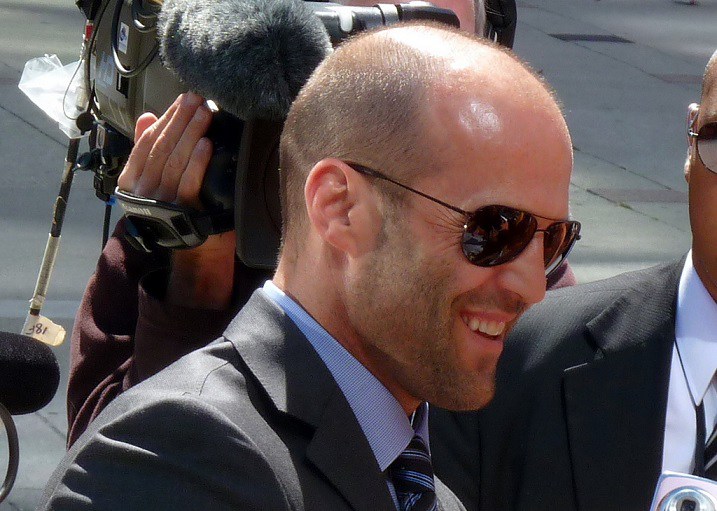 Jason Statham Biography
Jason Statham (July 26, 1967) is a British actor. He was born in Shirebrook, Derbyshire, United Kingdom. His mother, Eileen Yates, which was a dancer, and his father Barry Statham, whom in the beginning was a street merchant and then started singing lounge music. His parents also would set up fake auctions with which they swindle the spectators.
At the age of nine, Jason was surrounded by gangsters and people specialized in swindling people. Over time, Statham began swindling people as well and he did it very well. His family moved to Great Yarmouth, United Kingdom town in which he would meet professional soccer player, Vinnie Jones, who brought him to soccer. He decided to join the team at his elementary school. At that time, he also dabbled in diving. In fact, he was part of the British National Diving Team for twelve years. Jason was a known national athlete and ranked 12th in England.
Once he graduated from high school, he enlisted to the Army but discovered that that was not his way. Then, he quit the Armed Forces to devote himself to martial arts, another of his passions since he was a child. What he learned with this discipline would help him in his future participation in action films.
In 1990, he represented the British National Team in the Commonwealth Games in springboard diving.
To make money for a living, he would go to the fake auctions, and sell perfumes and fake jewelry in the street. At the same time, he would engage with street acting performances which were very appreciated by the people.
Soon after, Jason would be hired to be a model for the French Connection brand. At that moment, he was in a relationship with Kelly Brook, who was a model, actress, swimsuit designer and English television hostess. The relationship will ended by Kelly due to problems related to long hours away from home.
In the world of fashion, he met Guy Ritchie, who later would help him to get a role in his first production in 1998, named "Lock, stock and two smoking barrels" an English comedy that tells the story of four friends who commit different robbery crimes after Eddie (Nick Moran) lost a bet for £ 500,000 against a mafia gangster in a called "three card brag" which was rigged by the gangster. To pay off the debt, he and his friends decide to rob some drug dealers and then, the robbers in turn. This film had a great impact on the English audience. Some years later, Total Film magazine nominated "Lock, Stock and two smoking barrels" as one of the best British films of all time, ranking it in the top 40.
In 2000, after his debut, he starred in "Snatch" directed by Guy Ritchie. Statham shared cast with Brad Pitt, Dennis Farina, and Benicio del Toro. However, what made him a very popular actor internationally was the "Transporter" saga in which he starred. The first movie of the saga was produced in 2002, the second in 2005 and "Transporter 3" 2008.
Statham's performance was so outstanding that caught the attention of many american directors and critics, who later would call him to be part of different Hollywood productions. Also, he participated in the saga of "The Expendables" (2010, 2012 and 2014) in which he performed with Sylvester Stallone, as well as Jet Li, Dolph Lundgren, Mickey Rourke, Arnold Schwarzenegger, Bruce Willis, Eric Roberts, Stone Cold and Randy Couture. In 2007, the production of the movie "Hitman" offered him to play the character of Agent 47 after Vin Diesel was excluded from the project, but Jason did not accept the offer. The paper was later accepted by Timothy Olyphant.
His successful acting development allowed him to work in The Italian Job (2003) and Collateral (2004), appeared in Crank (2006), War (2007), The Bank Job (2008), Death Race (2008), Crank: High Voltage (2009), The Mechanic (2011), Blitz (2011), The Killer Elite (2011), Parker (2013), Fast & Furious 6 (2013), Furious 7 (2015) and Mechanic: Resurrection (2016) among others. As of 2010, he had a relationship with the English model Rosie Huntington-Whiteley, best known for her work with the brands as Victoria's Secret and Burberry, occasionally as an actress.
For his martial arts skills, he eventually developed the risky scenes in the films he was acting. Due to his popularity, he was invited to participate in music videos, Comin 'On (1993) by The Shamen, Run to the Sun (1994) by Erasure and Dream a Little Dream (1995) by The Beautiful South. He was represented in some video games such as: Red Faction II, in this video game he recorded the voice of Shrike, Call of Duty, where he was the voice of Sergeant Waters, and Sniper X with Jason Statham.
His participation in the spin-off of the ninth film of the Fast & Furious saga produced by the important brand Universal Pictures is rumored. The company recently announced that the expected release was to be delayed until the spring of 2020.
Rami Malek Biography
Rami Malek (May 12, 1981) is an actor. He was born in Los Angeles, California, United States. His parents are of Egyptian origin. But they moved to the North American country to get better job opportunities. His father was a tour guide in Cairo and later in the United States worked as an insurance salesman. His mother was an accountant. His parents managed to give him and his siblings a good education, including his twin brother.
Early years
Rami Malek attended Notre Dame High School in Sherman Oaks, California, culminating in 1999. At the time, he entered theater classes with actress Kirsten Dunst. He graduated from the University of Evansville with a BA in Fine Arts in 2003. By 2004, Malek embarked on the difficult path to being a professional actor. So, he applied to be part of the series Gilmore Girls, appearing as a guest star. That same year he was a character dubber for the video game Halo 2. The following year, he earned his Screen Actors Guild card for his performance in the war drama Over There, where he appeared in two episodes. He later was in an episode of Medium and starred for two seasons on the series The War at Home.
Career
He made his big-screen debut with the production Night at the Museum (2006), playing the pharaoh Ahkmenrah.To the surprise of many, he did not reprise his role in the sequels: Night at the Museum: Battle of the Smithsonian (2009) and Night at the Museum: Secret of the Tomb (2014). He played Jamie in Keith Bunin's play The Credeaux Canvas at the Elephant Theater in Los Angeles. In 2010, Malek returned to television with the role of the terrorist Marcos Al-Zacar in the eighth season of the series 24. At that time, his work was highly applauded, critics praised him for his portrayal of Corporal Merriell "Snafu" Shelton on the 8 Emmys winning series, The Pacific. He has been highly sought after for difficult-to-play roles, such as misfits and intelligent characters with quirky and psychotic outlines.
Tom Hanks, after seeing his talent, asked him to participate in his movie Larry Crowne released in 2011. Later, we saw him in The Twilight Saga: Breaking Dawn – Part 2 giving life to the Egyptian vampire Benjamin. His Egyptian origin has been an important element because it has given him many opportunities in the world of cinema.
What awards has Rami Malek won?
He has been nominated for an Emmy Award, a Golden Globe Award, a Satellite Award, a Screen Actors Guild Award, two Dorians Awards, and won a Television Critics Award. For his starring role as Elliot Alderson in the acclaimed Mr. Robot series. He is an actor who has a successful path and has earned the love and admiration of the Hollywood world. He was part of the cast of Josh Washington, from the PlayStation 4 horror video game Until Dawn, to which he lent his voice and facial features. The video game was released on August 25, 2015.
He has had other supporting roles in film and television, such as Kenny in the Fox series The War at Home (2005-07), and Merriel "Snafu" Shelton in the HBO series The Pacific (2010). In short, he has appeared in the films Larry Crowne (2011), The Master (2012), The Twilight Saga: Breaking Dawn – Part 2 (2012), Short Term 12 (2012), Ain't Them Bodies Saints (2013) Need for Speed ​​(2014) and Buster's Mal Heart (2016).
Bohemian Rhapsody (2018)
Recently, the actor with Egyptian roots just finished filming as the protagonist in the biopic Bohemian Rhapsody (2018), where he plays the musician Freddie Mercury. This film will arrive in Colombia in November in the main cine venues. In the United States, it will be released on November 2nd. As for post-production, a trailer came out in May. The film was originally directed by Bryan Singer, but after various attitudinal problems, he was fired and replaced by English director and actor Dexter Fletcher. Within the cast, we can find important actors, for example, Ben Hardy, Joseph Mazzello, Allen Leech, and Lucy Boynton.
Malek's work is of great importance in the film because he must give life to one of the most recognized and important singers in the world. The actor must interpret it very well, such is the case that he had to make a dental prosthesis to resemble the character. Freddie Mercury had an overbite problem, which he never wanted to intervene for fear that his vocal register would change.
He won the Golden Globe for Best Actor, the Screen Actors Guild Award for Outstanding Performance in a Leading Role, the BAFTA Award for Best Actor and the Academy Award for Best Actor for his performance in Bohemian Rhapsody.
Malek starred in Mr. Robot from 2015 to 2019.