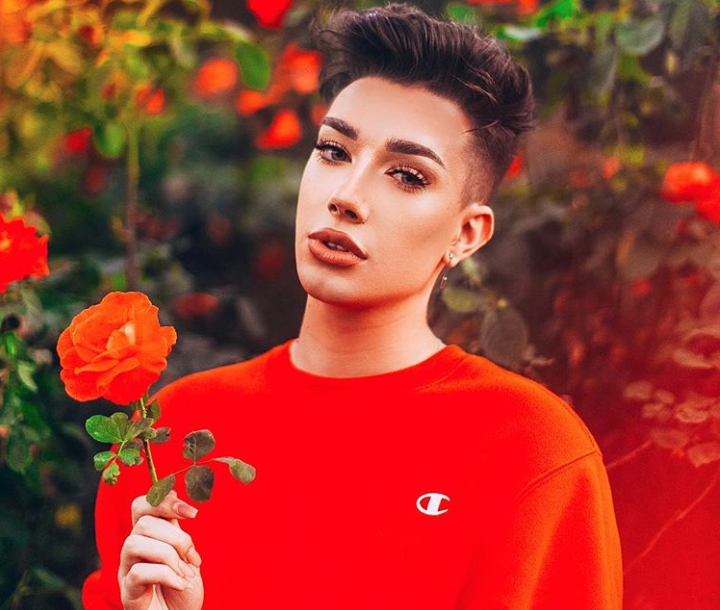 James Charles Biography
James Charles Dickinson (May 23, 1999). He was born in Albany, New York, United States. Youtuber, makeup artist, and American model considered one of the most prominent Internet personalities of recent years. James Charles, began his rise to fame in 2015, after starting to upload his makeup tutorial videos to YouTube. In a short time, his artistic works gained recognition in social networks, becoming viral on all platforms. He rose to fame in 2016, being elected as the first male ambassador for the CoverGirl makeup brand, being sponsored at that time by singer Katy Perry. Since then, he has been considered one of the most prominent figures in the world of makeup. His image has been affected by various controversies. Currently, his YouTube channel has lost a large number of subscribers due to the controversial video by Tati Westbrook.
FAMILY AND BEGINNINGS
Son of a contractor and a conservative mother, James Charles has as brother Ian Jeffrey, makeup artist, and designer known in social networks as Ian Charles. At age twelve he talked about his sexual orientation with his parents and since then he has been openly homosexual. While he was studying at the Bethlehem Central High School, he began to be interested in artistic makeup. With the support of his parents, he began to practice his artistic skills using the basement that his father had adapted for him. At that time he practiced makeup on his friends and himself.
Influenced by the world of social media and interested in becoming known as a makeup artist, he opened his YouTube channel on December 2015, to which he started uploading various tutorial videos and tips on makeup. In his first video, he is seen practicing different combinations of colors on himself, demonstrating his great talent to create incredible looks. Among his first tutorials stand out: Fake Freckles Makeup, Boy Glam Makeup, Chunky Glitter Festival, and Essay Burn Special FX Halloween Makeup.
In a short time, his videos became viral and his account happened to have millions of subscribers. This success on YouTube was also reflected in the social networks of the makeup artist such as Instagram and Twitter, platforms to which she usually uploads images of his creative process (before and after) on friends, clients or himself.
The popularity of the artist in social networks led to various brands of makeup and fashion to put their eyes on him, among these CoverGirl, renowned makeup brand that appointed him his first male ambassador in October 2016. At that time Charles was a trend for his tweet about his graduation photos and his amazing makeup, which he highlighted by taking his lighting with him. Thanks to this, he was appointed CoverGirl's ambassador, being the first man to become that brand image. As CoverBoy, James Charles rose to fame by appearing the cover of the magazine, with strong makeup, made by him, also, he was seen in several advertising campaigns accompanied by the singer and brand ambassador Katy Perry.
JAMES CHARLES CAREER
After being appointed CoverGirl ambassador, James Charles became the image of the advertising campaign for the product So Lashy! BlastPro Mascara, appearing in several ads with renowned brand ambassadors such as Katy Perry, Sofia Vergara, Nura Afia, and the duo Chloe and Halle Bailey (Chloe x Halle). Later he appeared on The Ellen DeGeneres Show, talking about his experience as the first male ambassador for CoverGirl and later he was seen carrying out the CoverGirl Makeup Challenge with actress and model Zendaya. That same year, he was invited to Los Angeles Fashion Week and parade for the first time before a large audience on the Six 1/2 catwalk of Marco Marco. After finishing his term as the brand ambassador, James Charles continued his work in social networks and other prominent fashion events, standing out for his talent and creativity.
Active in social networks, James Charles has uploaded numerous tutorial videos and other samples of his talent, of which his Extreme Drag Transformation, makeup to Iggy Azalea, his reviews on the makeup brand of Kim Kardashian and Rihanna, as well as his creations for Halloween Neon skull makeup and I.T. Pennywise, inspired by the remake of the film based on the work of Stephen King. He recently worked as a makeup artist in the filming of the music video Sally Walker by Iggy Azalea.
SCANDALS
While James Charles is seen as one of the most prominent makeup gurus of recent times, his career has been marked by several scandals and controversies, linked to the inappropriate behavior of the makeup artist. In 2017, he was heavily criticized for his racist joke about Ebola and Africa, in which he mentioned: "I can't believe we're going to Africa today omg what if we get Ebola." A short time later he deleted his comment and published an apology in which he claimed to regret his actions. When everything seemed to return to normal, another scandal broke out, this time his friend Thomas Halbert accused him of having lied about the photo that made him famous (graduation photos), which led many of his fans to criticize him again.
He was recently accused of harassing young people and abusing their influence and power in the networks. In this regard, the Gage Gomez model published a video that comments that the makeup artist pressured him on several occasions to have sexual relations with him in Coachella 2019, even though he had already refused several times. Gomez's comments began to be taken more seriously after the controversy between James Charles and Tati Westbrook, after he began promoting the brand of sugar vitamins for SugarBearHair hair, competition from his friend, Westbrook.
Feeling betrayed, she published the video Bye Sister in which she talks about her relationship with the Youtuber and the inappropriate behavior she has witnessed in recent years, she commented that the young makeup artist has used his power to harass young people.
A short time later, the young man published the video Tati, in which he apologizes for his behavior with her since she has been like a mentor, however, the video has been criticized by fans and other viewers. Currently, both his image and his channel have been affected by the controversy, in a few days, he has lost more than two million subscribers.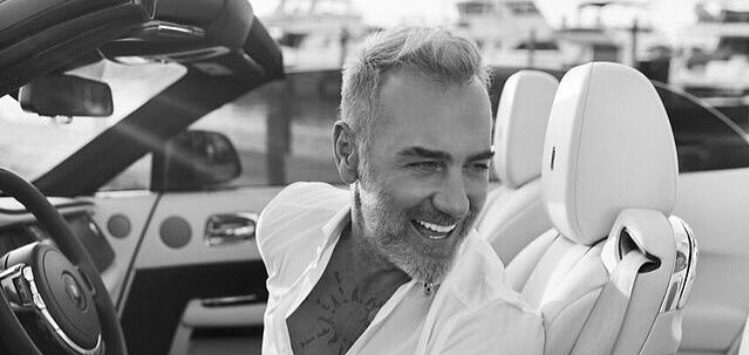 Gianluca Vacchi biography
Gianluca Vacchi (August 5, 1967) Born in Bologna, Italy. Italian businessman and artist, known for his eccentricity and the way he manages his money, throwing lavish and expensive parties. His lifestyle is frequently shared by the businessman through his social networks.
Vacchi is a man of more than 50 years who has attracted the attention of various people, not only for his eccentricity but also for his physical attractiveness. He currently has more than 15 million followers on instagram and since 2014 he has become popular with the hashtag #GVLifestyle.
There is only one life and you have to live it trying to enjoy everything you can.

Gianluca Vacchi
Family and studies
Gianluca Vacchi grew up in a wealthy family. From an early age he was interested in business. He studied economics and then began to be part of the family business. Later he founded the company IMA, a company dedicated to the creation of pharmaceuticals, cosmetics and others. Over time, Vacchi diversified his businesses, participating in different business projects. While doing this, he increased his capital, becoming a billionaire in a matter of a few years.
Change of lifestyle
After several years in the industry, Gianluca Vacchi left the family business in charge of his cousin and dedicated himself fully to enjoying his life, since at the age of forty he had not explored and enjoyed everything he achieved in those years. After thinking about the way he had lived until then, he decided to change his lifestyle. He started by working on his physique, improving his diet and exercising. He complemented this, with hours in the sauna and cryotherapy and shortly after the effort began to show.
At 47, he became known on social networks with a photo in which he was seen riding with the famous American actor Zac Efron.
Since then, he began to attract the attention of the public for his sensual dances, his eccentric and expensive parties. Likewise, through the networks he showed the large number of properties he owned: mansions, houses on the beach, yachts, motorcycles, cars and even a helicopter.
In 2016, the videos of Vacchi and his girlfriend at the time, Giorgia Gabriele, dancing to different Latin music songs, went viral. It was then that it became a trend. Many were interested in the lifestyle of the 49-year-old man, surrounded by beautiful women and with an exorbitant fortune. Since then, the daily life of the famous Italian has been shared by social networks. He is currently one of the most famous adult influencers on the platform.
The following year he ended his relationship with his girlfriend Gabriele, and a short time later he was seen with the beautiful Colombian model, Ariadna Gutiérrez. That same year he published his book Enjoy (2016), which, in Vacchi's words, is a conceptual biography. In this book, he talks about his experiences, gives advice and encourages people to enjoy life to the fullest.
During this period of his life, the Italian has been seen with famous Latin, American and European artists, which has increased his popularity. Among the artists with whom he has been associated are the singers: J. Balvin, Luis Fonsi, Sebastián Yatra, Ozuna, Daddy Yankee and Yandel, among others. In 2017, Vacchi was seized by Banco BPM. He later explained that this does not greatly affect his fortune and that it was all a disagreement with the bank.
Facet as DJ
In recent years, Gianluca Vacchi has dabbled in music as a DJ, working with great figures such as Steve Aoki, Nicola Zucchi, Christian Lena and Albertino, among others. He currently has a contract with the Spinnin 'Records label. His first song, entitled Viento, appeared under this label on August 13, 2017. This song currently has more than 27 million views on YouTube.
After Viento, Tump-it came out, a theme that quickly became a trend. In August he released the song Sigamos Bailando, his collaboration with Yandel and Luis Fonsi. Later he released the song Waglio, in collaboration with Alessio and in 2019, he released Asho mami and Mueve.
Vacchi has made several tours as a DJ and worked in clubs such as Amnesia Ibiza, Sutton Club and Sutton Barcelona, among others.
Gianluca news
Currently Vacchi, is romantically involved with the young model Sharon Fonseca. On May 10, 2020, during the celebration of Mother's Day, he announced via Instragram that he and his girlfriend were expecting their first child.
Birth of your child
On October 28, Gianluca and Sharon announced the birth of their daughter Blu Jerusalema Vacchi, true to their style, this announcement was made through their Instagram accounts.