Gilberto Rodríguez Orejuela
Gilberto Rodríguez Orejuela biography
Gilberto Rodríguez Orejuela (January 30, 1939) born in Mariquita, Tolima. He grew up in a family of modest incomes, his father was a self-taught painter and his mother was dedicated to the care of the home. They decided to move to Santiago de Cali, when Gilberto was a child, to find more job opportunities. While studying the baccalaureate, his father left their home which made the young man leave his studies to take charge of the home. At age thirteen he worked as a delivery guy in a drugstore, delivering medication on a bicycle.
Gilberto began to appreciate delinquent life with his brother Miguel, they were tired of having a limited economic life. Therefore, they began to carry out small criminal acts in the city of Cali. Later, the Rodriguez brothers formed a dangerous criminal gang that would later be known in the 70s as Los Chemas, this band was joined by José Santacruz. This band went from the assault of cargo trucks to kidnapping and extortion. They were accused of kidnapping two foreigners, after that an endless list of crimes was deployed.
For the 80's Los Chemas were forgotten and the Cali Cartel was established; It was already an illegal organization with strength in Valle del Cauca; his organization controlled a chain of pharmacies throughout the country, called Drogas La Rebaja, a network of radio stations, the Colombian Radial Group, a pharmaceutical laboratory and a bank in Panama and another in Colombia. In 10 years, El Cartel was considered the illegal organization with the highest incidence of cocaine trafficking to the US, imported coca paste from Peru and Bolivia, and was responsible for 80% of the drug that arrived on American soil.
His impact on Valle del Cauca social life was remarkable, by 1977 he had good relations with the members of the most distinguished upper classes; politicians and high military commanders. In addition, he made economic contributions to some sports leaders in Cali; He tried to be a majority partner of the Deportivo Cali but the president of the team, Alex Gorayeb rejected his proposal. On the contrary, in the America de Cali, he was lucky and was able to make several economic investments. Being responsible for the achievement of several titles of said team.
In 1984, the rumor was running between the authorities that Gilberto Rodríguez Orejuela and Jorge Luis Ochoa were creating a network for the distribution of cocaine in Europe, the authorities acted cautiously in obtaining the capture of Gilberto in Spain in February 1986, he was seized a large sum of cash, plus several assets in your name. The North American justice requested the Spanish government the extradition of Rodriguez and Ochoa. But the Colombian authorities also requested that the detainees be sent to the country.
In mid-1986, Gilberto Rodríguez Orejuela and Ochoa were sent to Colombia to be accused of drug trafficking; Rodríguez was placed under the orders of a judge from Cali and Ochoa to a judge in Cartagena. Gilberto Rodríguez Orejuela managed to get his way by claiming that he knew cocaine for his profession as a pharmacist, claiming to be a businessman in Valle del Cauca. Undoubtedly, this situation did not become greater because Gilberto had strategically allied with influential people in the region. Thus facilitating cocaine trade and trafficking, they had their operations center in the city of Cali.
At the national level, he maintained close relations of cordiality, up to a certain point, with Pablo Escobar. The breakdown of relations was due to the refusal of Gilberto and Helmer Herrera to validate a proposal by Escobar on the extradition of Colombian drug traffickers. For this reason, Gilberto Rodríguez and his partners declared a military objective in response to his threat. Herrera convinces Rodriguez to attempt against Escobar. Rodríguez supports this decision and actively joins this cause. The first attempt they made was on January 11, 1988, with the installation of the car bomb in front of the Monaco Building where Escobar and his family resided, and from there the war against the Medellin Cartel broke out.
In 1993, with the death of Escobar, the government of President Ernesto Samper, who was accused of having received donations from the Cali Cartel, a scandal known as the 8,000 processes, sets his sights on the search for Gilberto Rodríguez Orejuela and the Cartel From Cali. The authorities began to carry out a detailed and meticulous follow-up of Gilberto; by means of their relatives and possible lovers, but this did not work. Until, they began to follow Alberto Madrid, his accountant.
At this moment, the so-called Process 8000 explodes, one of the most popular political corruption scandals in the country, denounced by the Attorney General's Office and the United States Government. numerous personalities of public life, even President Ernesto Samper himself, who was accused of having received an important sum of dollars for his presidential campaign. But a rigged ruling absolved the president of all responsibility. Then President Samper decides to reinforce the Search Block with members of the Police and elite commandos in order to dismantle the drug cartels, which was already running in a timid manner.
Subsequently, the Search Block and the Joint Special Command CEC find the whereabouts of the accountant and Rodriguez, proceeding to give notice to the authorities; They arrived at a house with a very common façade located on Ninth Street. But at the moment when the CEC officers hit and immediately entered the house, it contained very expensive objects. In the building was Alberto Madrid, two girls in the service and another man with a corpulent appearance. The investigators searched the building, where they found dollars, two million pesos in cash, a communication radio and some key documents for their capture.
In that sense, he was sentenced on June 9, 1995, to fifteen years in prison, ended up paying seven years for confession and good behavior. He was released in November 2002, thanks to a questionable judicial ruling issued by Judge Pedro José Suárez, who relied on the habeas corpus to make such a decision. Two years later, the US authorities discovered a crime he had not confessed, he sent 150 kilos of cocaine to the United States in 1990. For that reason, Gilberto was recaptured and extradited to the United States in December 2004. He was accused of having continued his illegal activities while incarcerated.
Since May 2014 Humberto, Jaime and María Alexandra Rodríguez Mondragón, Gilberto's children; and María Fernanda and Juan Miguel Rodríguez Arbeláez, Miguel's children, face a trial in which Gilberto Rodríguez has declared, by video conference from prison, that his children and nephews have nothing to do with drug trafficking crimes carried out by him And his brother. Defendants face charges for money laundering because they are partners of Drogas La Rebaja and Laboratorios Klessfor.
Gilberto stated emphatically to the First Specialized Court of Bogotá that his relatives were not frontmen and that he stopped intervening in these companies since 1998.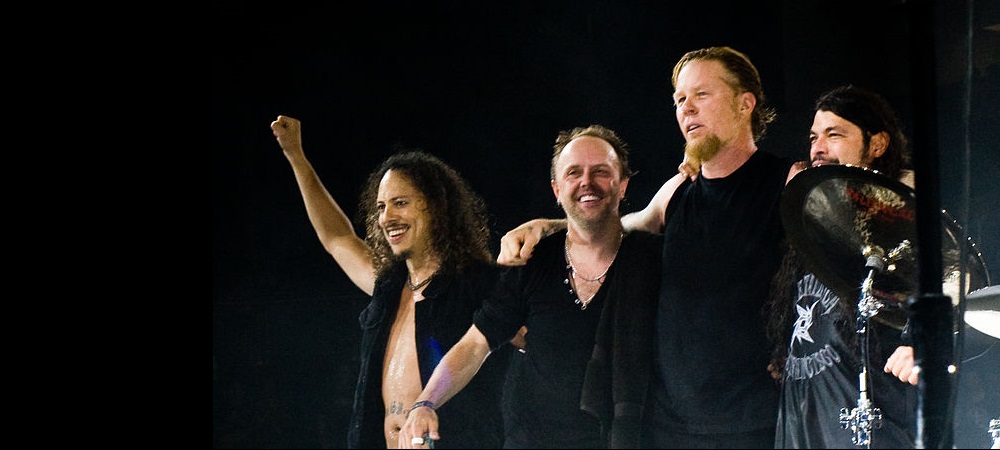 Metallica history
Metallica is an American thrash metal band from Los Angeles and based in San Francisco. It is considered one of the leading groups in the subgenre and throughout its 35-year career it has won numerous awards, including 9 Grammys, 2 American Music Awards, 2 MTV awards, 2 Billboard awards, and a star on the Hollywood Walk of Fame.
1980 – Beginnings
The history of the band begins in 1980 when Lars Ulrich, the son of tennis player Torben Ulrich, placed an ad in the magazine Recycler looking for a guitarist for a metal band influenced by the British New Wave of Heavy Metal. James Hetfield responded to the ad and joined Ulrich as the first members of the band. Ron McGovney joined as bassist and Lloyd Grant as lead guitarist. With this first formation, the band recorded its first demo, Hit the Lights, considered one of the first thrash metal songs. However, they soon realized that the lineup was not working and Lloyd was replaced by Dave Mustaine.
Despite the early disastrous performances due to the lack of experience of the members, the band continued and released No Life 'till Leather, showing a more aggressive sound. Additionally, Ron McGovney was replaced by Cliff Burton as bassist and Dave Mustaine was replaced by Kirk Hammett due to his alcohol addiction. Since then, James Hetfield has taken on both the role of rhythm guitarist and singer.
1983 – Release of 'Kill 'Em All'
With this new lineup and having Johnny Zazula as their manager, the band released in 1983 Kill 'Em All, which gained notoriety in the metal scene and sold more than 300,000 copies. After a tour of the United States and a concert in Holland where they reached their largest audience to date, with 5,000 people, the band released the album Ride the Lightening with Megaforce Records in 1984, which received critical acclaim for its melodic sound.
"1991 – Release of the 'The Black Album'"
After this work, the band released Master of Puppets in 1986 and embarked on a promotional tour that was cut short by an accident in which the bassist Cliff Burton died. After reflecting on their future, the band incorporated Jason Newsted and recorded …And Justice for All, an album with a denser sound that, despite its commercial success and a Grammy nomination, received criticism for being unoriginal and moving away from heavy metal. However, it wouldn't be until the release of their album Metallica in 1991, known as The Black Album, that they reached great success, selling half a million copies in the first week of sales in the United States and reaching the top of the Billboard chart. This work led to two similar albums, Load in 1996 and ReLoad in 1997, which received negative reviews for their proximity to alternative rock and their distance from traditional heavy metal, disappointing their older fanbase.
"2001 – Documentary, Tours, Awards"
In 2001, Jason Newsted left the band and Metallica struggled to find a suitable replacement for some time. Therefore, they had to record their next album, St. Anger, with their producer Bob Rock playing bass. However, Robert Trujillo soon joined the band's lineup. Three years later, the documentary Some Kind of Monster was released, which portrays the recording process of the last album and the internal conflicts that the band had with Dave Mustaine. After a tour in 2006 in which they played Master of Puppets again to celebrate its 20th anniversary, and the release of a compilation of their videos titled The Videos, Metallica was inducted into the Rock and Roll Hall of Fame. Later, they released Death Magnetic in 2008 and the conceptual album Lulu in 2011, which was poorly received by their fans. In 2012, the band founded their own record label, Blackened, and performed a concert in Antarctica to raise awareness about polar melting and environmental crisis. In 2016, they released Hardwired… to Self-Destruct. Currently, the band is still active.