Emilia Clarke biography
Emilia Clarke (October 23, 1986) actress. She was born in London, England. Her birth name is Emilia Isabelle Euphemia Rose Clarke. At an early age, she moved with her family to the English town of Berkshire. Her father was a theater audio engineer. For her part, her mother, Jennifer Clarke, is a businesswoman who directed The Anima Foundation. Emilia accompanied her father to his work and at one point she was a spectator of the adaptation of the musical Show Boat, where her father worked and was really delighted with the performance of the artists. When she grew up she joined the Rye St Antony School and then went to St Edward's School in Oxford.
At the time she received her degree she enrolled in the School of Dramatic Arts in London. In 2009 she completed her artistic preparation. After graduating, Clarke began attending various castings until, not long after, to win a role in the series of BBC Doctors, the British series tells the life stories of the staff of the Mill Health Center hospital and in its plot is focuses on their relationship with patients and their partners. This series that lasted several years on the air was very popular, so it was nominated for a large number of awards and received several.
The actress also obtained a co-protagonist role in the North American telefilm Triassic Attack. Since 2011 she has given life to Daenerys Targaryen in the fantastic and highly successful series of HBO Game of Thrones, based on the series of novels Song of Ice and Fire, written by George R. R. Martin. Thanks to her good work in the series she won three Primetime Emmy Award nominations in the category of Best Supporting Actress in Drama Series. Since then her work has been more recognized. In 2012 she was called to participate in the comedy film entitled Spike Island, directed by Mat Whitecross, her role is that of Sally Harris.
Shortly after, she took part in the short film Shackled as Malu. A year later she played Holly Golightly on Broadway; a great theatrical adaptation of Truman Capote's 1958 classic called Breakfast at Tiffany's. At that time she lent her voice to Marianne in the animated series Futurama in the episode "Stench and Stenchibility." Clarke has shared scenes with Jude Law and Demián Bichir in the film Dom Hemingway that was released by Fox Searchlight Pictures in 2014.
She starred with Arnold Schwarzenegger in the movie Terminator Genesis playing Sarah Connor. This science fiction and action film directed by Alan Taylor and written by Patrick Lussier and Laeta Kalogridis was really famous and had great attendance in theaters. The character of Clarke is a young waitress, and suddenly her quiet life is affected by a relentless murderer, the Terminator T-800 model 101 that begins to pursue her. Sarah died of Leukemia but in this sequel, a new timeline is created. AT-1000 mission is to kill Sarah, but she is raised by a T-800 sent to save her.
After this important production, she was called to play the role of Anastasia Steele in the movie Fifty Shades of Gray but rejected because during the film she had to make several nudes. In 2016 she played Louisa Clark in the movie called Me Before You based on the homonymous book by Jojo Moyes. Her participation was very significant and until now their performances had generated good comments from critics. Then, she participated in Above Suspicion giving life to Susan Smith, premiered in 2017.
In November 2016, it was Qi'Ra in the Star Wars Solo spin-off: A Star Wars Story had the opportunity to work alongside actors like Alden Ehrenreich and Donald Glover. Recently, the film The Beauty Inside was released, in which she participated. Now, if we refer to the private life of this English actress we must say that it is very reserved, it was known that it came out with the comedian and filmmaker Seth MacFarlane. But the relationship that lasted six months did not work and they resolved to remain friends. One of her greatest fortunes is her house of $ 4.64 million located in Venice Beach, California. Although he lives in Hampstead, London.
Clarke is a very attractive actress, so she won the position of the most desirable woman in the world by AskMen readers in 2014. She was also named the Sexiest Woman Alive by Esquire the following year. On International Women's Day in 2017, she published an excellent opinion piece in HuffPost UK about modern feminism and the promotion of gender equality, her beauty has allowed her to be the cover of the July 13, 2017 edition of Rolling Stone One of her hobbies is singing, playing the piano, the flute, and the guitar.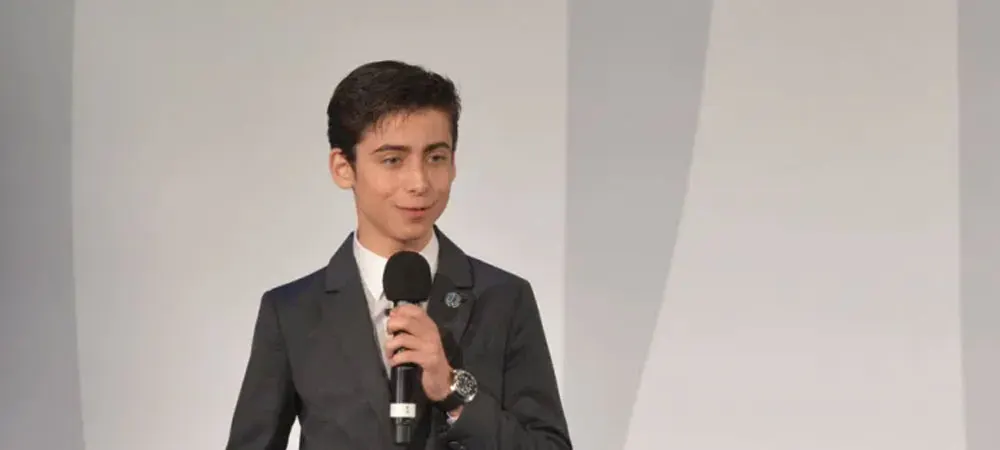 Biography of Aidan Gallagher
Aidan Gallagher (September 18, 2003) is an American actor, known for playing Nick Harper in the Nickelodeon series Nicky, Ricky, Dicky & Daw (2014-18). He was born in Los Angeles, United States. He began acting at nine years old and at ten he made his debut in You & Me (2013), by Paula Hunziker. He later worked in Jacked Up and We Make That Lemonade; and in 2014 he rose to fame as the protagonist of the popular children's series Nicky, Ricky, Dicky & Dawn. Since 2019 he has played Number Five in the Netflix series The Umbrella Academy.
Early life
Gallagher was born on September 18, 2003 in Los Angeles, United States, the son of television manager Rob Gallagher and Lauren Gallagher. From an early age he showed an interest in production and direction: at eight years old, Aidan would work with a group of friends recording stop motions with legos and some action short films. Later, with the support of his parents, Aidan began to make his way in acting. He participated in several of his father's projects and works.
In 2013, at just ten years old, Aidan made his television debut on Modern Family. That same year, he debuted in cinema with You & Me (2013), a short film by Paula Hunziker starring Tyler Blackburn and Molly Berg. In addition, he obtained his first leading role in the comedy telefilm Jacked Up (2013) by Fred Savage, alongside Missi Pyle and Patrick Warburton.
Career of Aidan Gallagher
One year after his debut on Modern Family, Aidan obtained the role that brought him fame in the Nickelodeon series Nicky, Ricky, Dicky & Daw (2014-18), as Nick, one of the quadruplets of the Harper family who usually has answers for everything. For his comic and tender scenes, the Harper quadruplets gained the audience's appreciation and the series was extended until 2018, bringing him numerous successes.
In the meantime, Gallagher would work on We Make That Lemonade (2014), by Ian Pfaff alongside Mace Coronel and Lizzy Greene; and in the Nickelodeon specials Ho Ho Holiday Special (2015) and Summer Camp Special (2017).
The Umbrella Academy (2019-2022)
In February 2019, Gallagher began acting in The Umbrella Academy, the Netflix series based on the homonymous work by Gerard Way (of My Chemical Romance), which stars Elliot Page (Vanya Hargreeves), David Castañeda (Diego Hargreeves), Robert Sheehan (Klaus Hargreeves), Tom Hopper (Luther Hargreeves) and Emmy Raver-Lampman (Allison Hargreeves). In the series, Gallagher plays Number Five, a superhero whose power is time-jumps and who returns to the past after discovering an apocalyptic future. The sarcastic humor of his character made him the favorite of fans.
After the success of the first season, the series was renewed for a second season that premiered on July 31, 2020. In November 2020, Netflix renewed the series for a third season with a premiere date of June 22, 2022.
Aidan Gallagher's musical career
With regard to his musical career, Aidan is a consummate singer, composer, guitarist and pianist. In 2019 he debuted with the singles "TIME," "FOR YOU" and "BLUE NEON". That same year, he participated in Trinity Rose's single Miss You and later released "I LOVE YOU". After his debut, Gallagher performed at the South by Southwest's Big Break Accelerator Program Showcase (2020), making him the youngest solo artist to perform at the festival.
In July 2020, he released a third single 4 of July.
Currently, Aidan has his own YouTube channel and a patreon for exclusive paid content.
Songs
Blue Neon (2019)
Miss You with Trinity Rose (2019)
Time (2019)
For You (2019)
I Love You (2020)
4 of July (2020)
Environmental activism
In June 2018, Aidan made history by becoming the youngest Ambassador of the United Nations. As such, Aidan has represented the youth of the world in several climate action initiatives. In 2019 he participated in the Global Climate Action Summit and was invited to the Illegal Wildlife Trade Summit by the UK Government.
Personal life of Aidan Gallagher
Gallagher has been involved in several environmental organizations, such as Waterkeeper Alliance, WildAid and Oceanic Preservation Society. In 2018 he was named United Nations Goodwill Ambassador for the Environment. Gallagher is vegan and Jewish.
Regarding his love life, in his adolescence Gallagher dated model Hannah McCloud for six months. He was also romantically linked to Jessica Balkin and Trinity Rose.
Curiosities
He was cataloged as #2 in the IMDB Top 10 Breakout Stars of 2020
In 2018, Variety magazine included him in its list of 25 and under leading actors.
He was nominated for two Kids Choice Awards for his role in Nicky, Ricky, Dicky & Daw (2014-18).
His Blue Neon Tour musical tour had to be postponed due to the Covid-19 pandemic.
For his music he has received an honorable mention in the International Songwriting Competition 2019 and the Vox Pop Independent Music Awards in the acoustic category 2020.